Travel Tips for The Bahamas
A couple that Ted and I are friends with asked us on a trip to the Bahamas to celebrate her 30th bday and we're so happy we could join! I went went to high school with her husband and have become really close with her this year. We all get along together really well so knew we'd have fun on vacay together! I know traveling, especially internationally can be a little confusing and overwhelming in general and especially right now, so outline how to plan a trip to the Bahamas and places to stay if you're planning a vacation there in the future!
---
Pre-Trip Requirements
We had to do a lot of research to see if the Bahamas were even open to visitors right now and to learn about all of their travel requirements before booking our trip. The requirements also change a lot and very quickly so I would definitely keep checking before you travel to make sure you have up to date info. It is open for travel right now, however, there are different guidelines for vaccinated and unvaccinated travelers regarding COVID testing, so you'll need to do some research. Everyone visiting the country must present some form of a COVID test, but the most important thing you'll need to travel to the Bahamas is get a travel visa! According to the BHS.gov:
All Visitors traveling to The Bahamas are required to create a Bahamas Travel
Health Visa (BTHV) account/profile, submit a BTHV international trip
application, be accepted, then purchase the BTHV in order to receive the
approved BTHV w/QR Code for their trip to The Bahamas. This document is to
be presented to airline agents/pilots and boat captains/operators before
boarding takes place along with COVID-19 vaccination certificate/card and
COVID-19 test result.
Getting the Travel Visas
There are lots of other websites saying you can apply for a quick visa through them, but Bahamas.com says to apply for the Bahamas Travel Health Visa at travel.gov.bs. We followed the checklist and used that site to start our applications a week before our trip. Visas can take up to 36 hours to be approved, so make sure you're giving yourself enough time for them to process. A part of the application is submitting a negative COVID test and Ted's first application was actually rejected due to low image quality. They said they couldn't read his results to we had to redo the entire application. Make sure you read the application thoroughly and get as clear of photos as you can! Once your application is processed, you get notified via email and then you have to go online and pay for the visa.
Costs for applications vary, so make sure you read the detailed info on the website. After paying, the visa is approved then each traveler gets their visa via QR code which you can save to your phone and screenshot (can also print if you prefer a hard copy). That's what you'll show to Customs when you get to the Bahamas!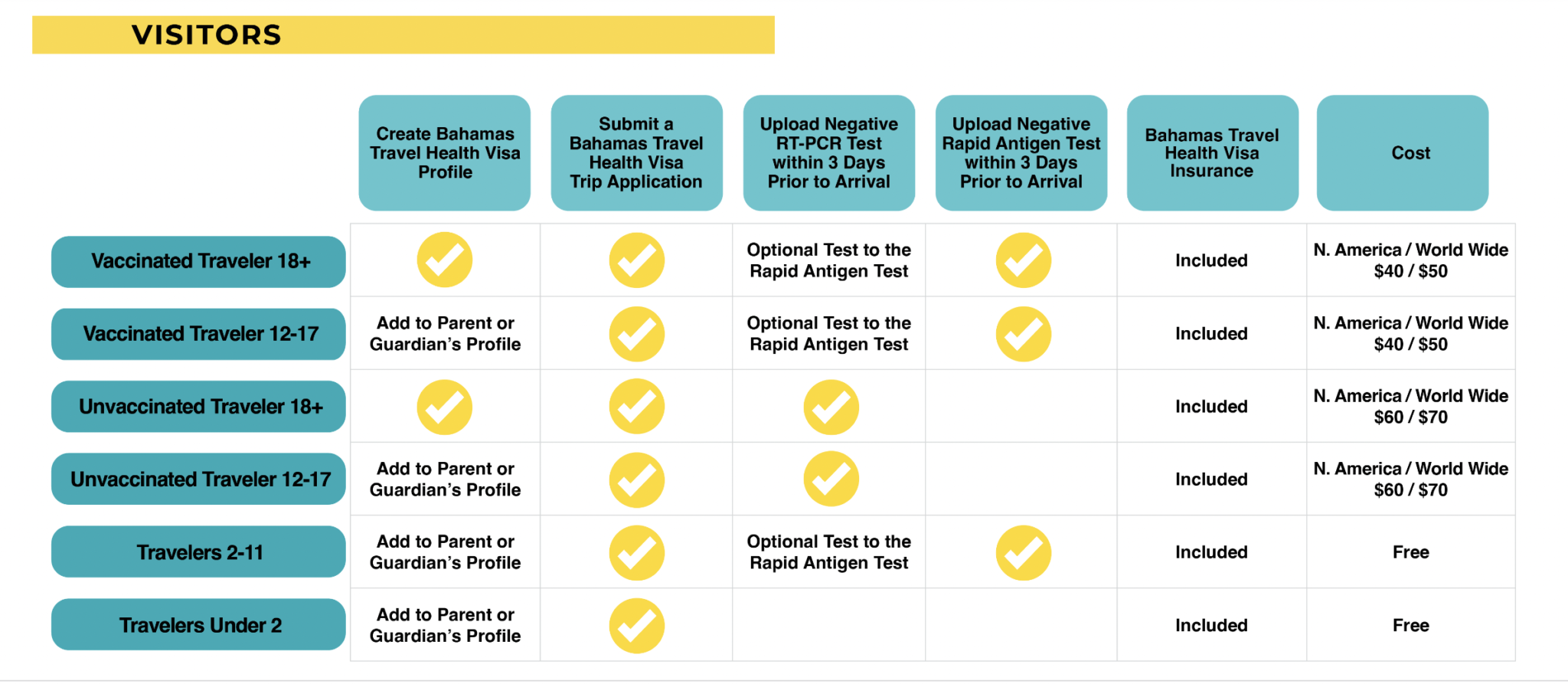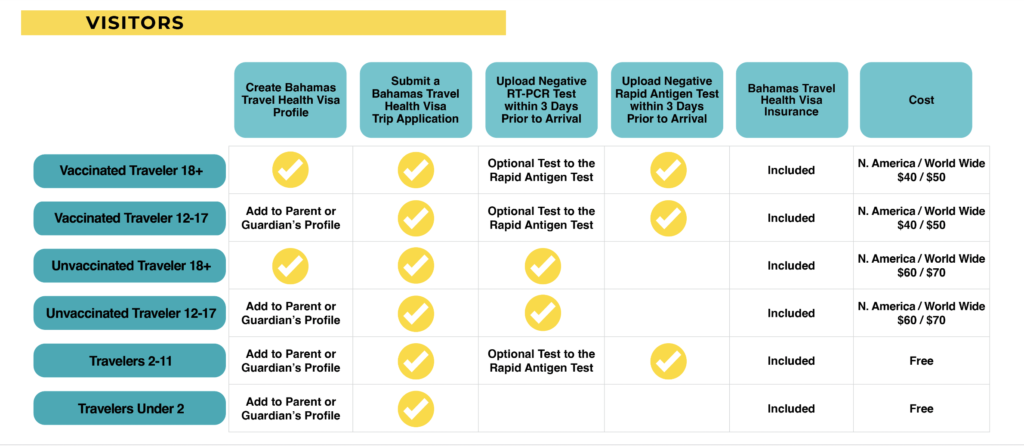 Where We Stayed
This was our third time going to the Bahamas and we've stayed at a different hotel every time! The first time we visited we stayed at Atlantis, for our babymoon we stayed at the SLS Resort, and this time we stayed at the Rosewood Baha Mar! The SLS, Rosewood and the Grand Hyatt are all properties on Baha Mar, a huge resort complex in Nassau. If you're looking for something more vibey/young and has a Vegas pool club feel, the SLS is your best bet. We saw a lot of spring breakers there. The Grand Hyatt is family-friendly, and the Rosewood is more for adults and a little more chill than the other hotels on the property so we really liked it this time around! Baha Mar is very clean, modern and updated and has great service.
There's literally so much to do on the property, you really don't ever have to leave! I will say the hotels at Baha Mar are little far from the beach. The thing I like about Cabo is that you can see the ocean from almost anywhere at a resort, but the resorts in the Bahamas are so huge, everything is spread out, so you'll walk at least like 10-15 minutes to the beach. If you like the pools and care less about the beach, it's the perfect place for you!
Is Baha Mar All-Inclusive?
The Atlantis and the resorts at Baha Mar aren't all-inclusive, so be prepared to pay for your food and drinks while you're there. I wouldn't say the Bahamas are a very budget-friendly place to travel, so want to be transparent about that if you're considering a trip there. We noticed some of the restaurants were a little overpriced, especially the bottles of wine at dinner (the mom of our friend who we went with owns a wine shop, so she knew the retail price of the bottle we ordered and said it was really marked up).My friend compares it to Disney—you overpay for food and drinks, but the amount of things to do really makes it worth it if you're looking for a jam-packed and fun getaway! Just make sure you've budgeted or anticipate paying a little more for some things during your stay.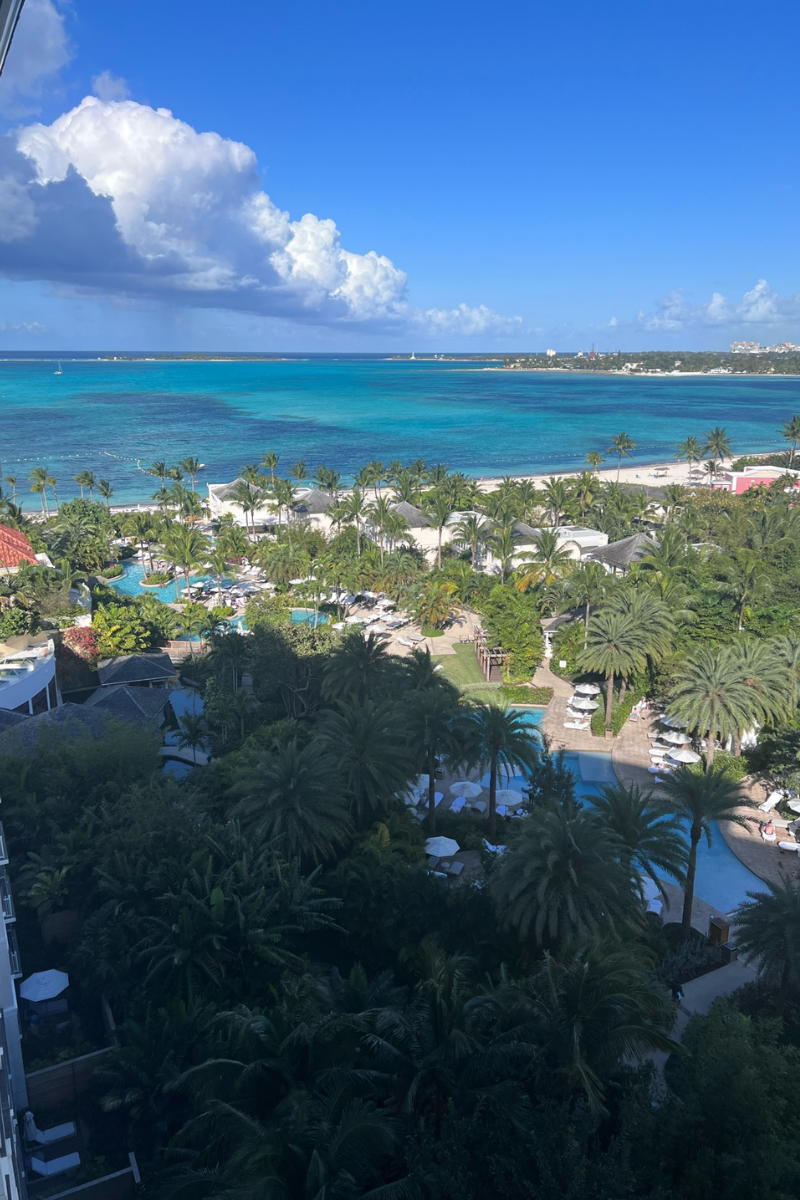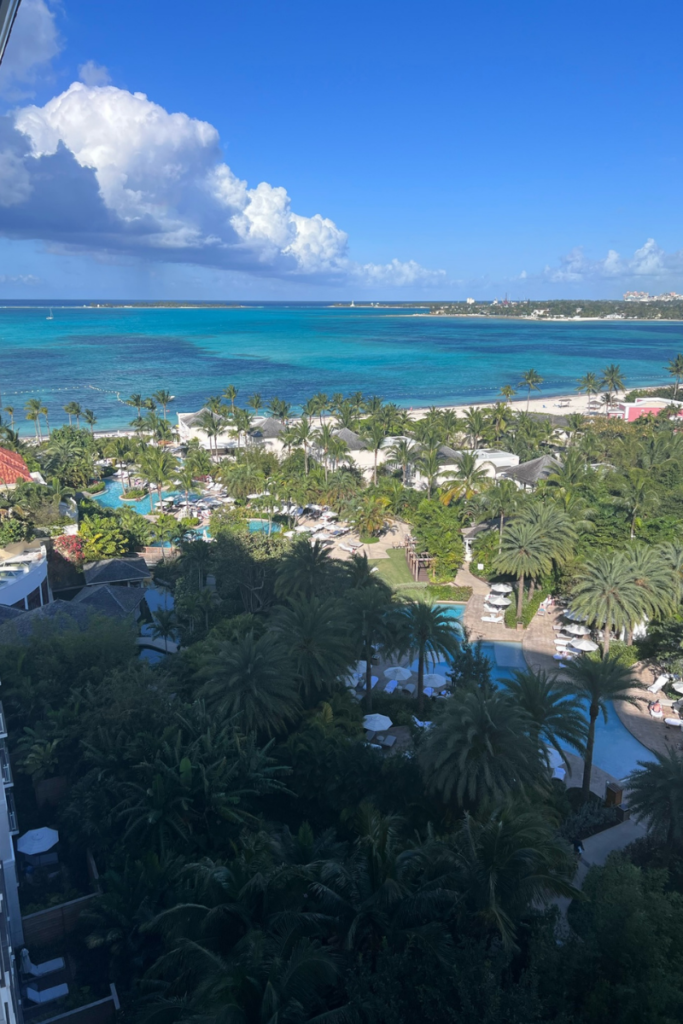 COVID Protocols & Mask Mandates
Vaccinated and unvaccinated guests are welcome to stay at Baha Mar. According to their website:
Baha Mar resort guests who have been vaccinated and have passed the two-week immunity period are exempt from COVID-19 testing when checking in.
For our unvaccinated resort guests, Baha Mar requires those over the age of ten to take a complimentary COVID-19 Rapid Antigen Test upon arrival in an effort to ensure the health and well-being of guests and associates during their stay.
To fly back to the US, a negative COVID test is still required, so you also have to test before checkout. Baha Mar did offer free COVID testing which I feel like is rare—when we were in Mexico there was a fee per test.
Mask mandates are obviously still in place while traveling/flying, but they weren't enforced on the property at Baha Mar. The only place that required guests to wear them was on the casino floor. None of the restaurants at Baha Mar required them, but Atlantis did ask guests to wear masks present a negative COVID result when we got onto the Atlantis property.
We were talking with a cab driver who told us they're predicting that the country will lift all COVID protocols soon to bring in more tourism. He said this year they're expected to get 1M visitors on the island which will be their best season they've ever had!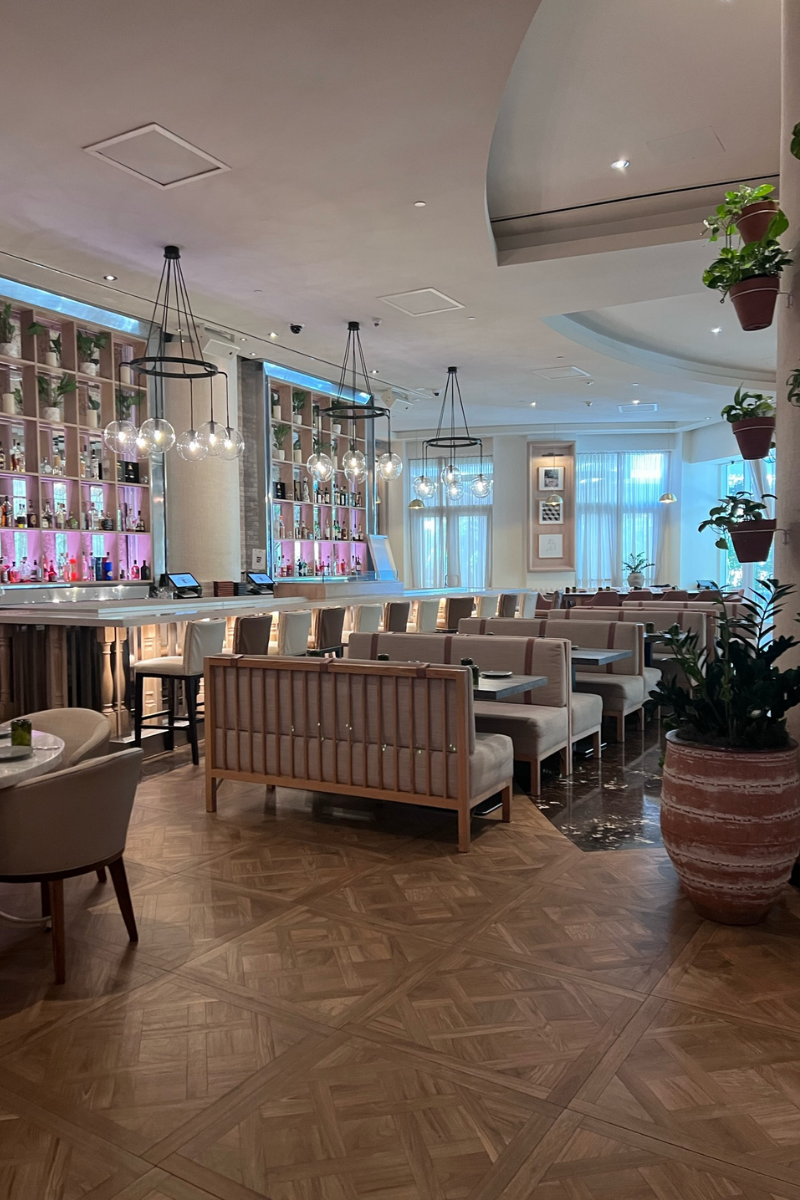 Transportation
We booked transportation to and from the airport ahead of time through the concierge at Baha Mar and then used them when we needed a car to go to Atlantis and golfing! Really easy to grab a cab or transportation if you're leaving the resort.
Places To Eat
The first night we were there, we ate dinner at Carna Baha Mar which is a yummy steakhouse (get the chocolate cake, we couldn't stop talking about it!!), Fi'lia, the Italian restaurant the second night, then went to Nobu at Atlantis the last night which was about 20 minutes from our hotel. Our friends had never been to Atlantis so it was cool to show them that. I feel like Atlantis is the most well-known resort in the Bahamas, but most people don't know you don't have to stay there to visit! They have restaurants like Nobu there, so you're able to go for dinner and walk around and see the resort without actually having a room there.
The restaurants at Baha Mar do take reservations (mostly through Open Table), so would recommend making reservations in advance! Fi'lia told us they didn't have a reservation until 8pm the night we wanted to go, but we were starving so showed up an hour early and they were able to seat us at a table outside right away which worked out perfectly!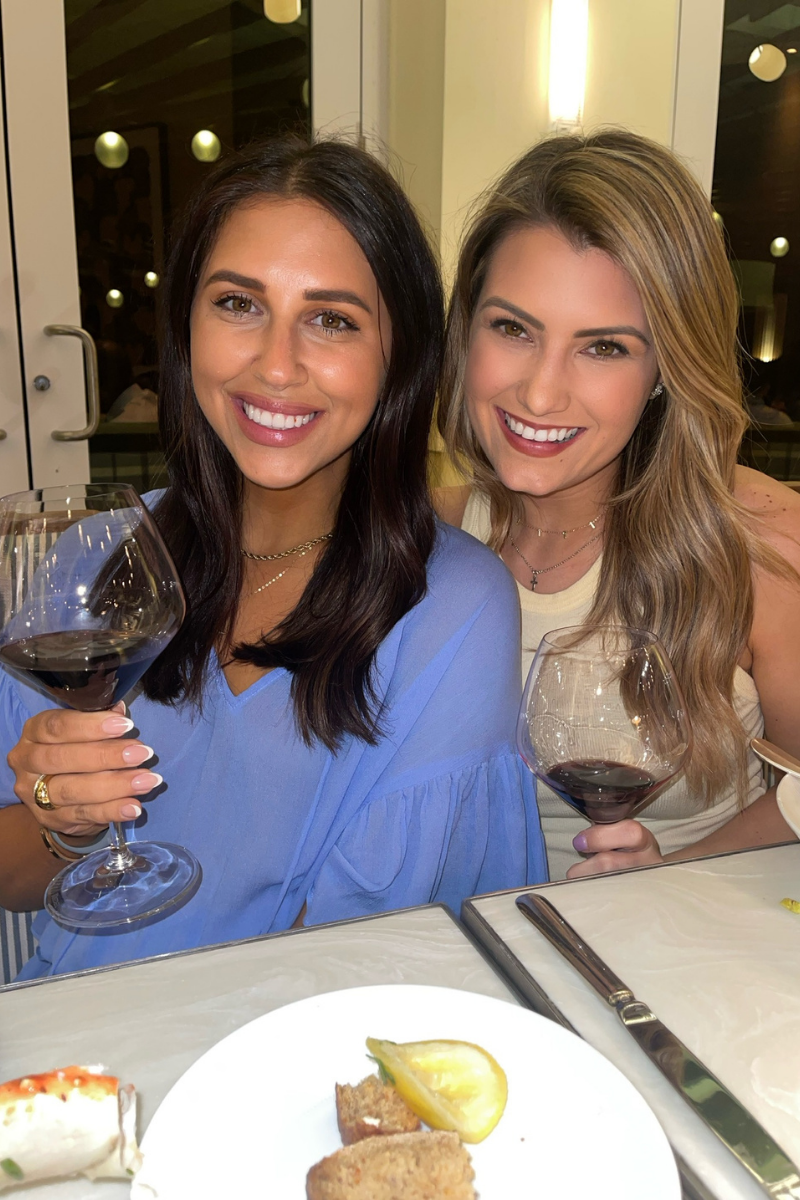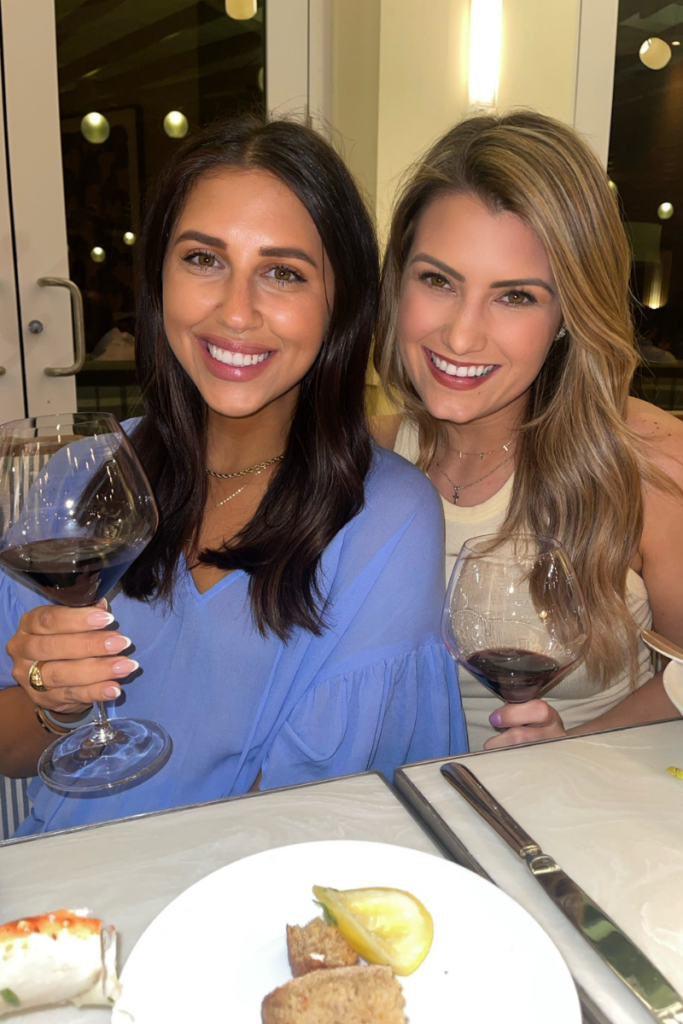 Things To Do
There's honestly no shortage of things to do at Baha Mar. From pool parties, to family water slides, to gambling, the resort complex has it all. If you stay at the Rosewood, you have access to the SLS and Grand Hyatt facilities (pools, restaurants, etc.) too! Baha Mar didn't have the The Baha Bay Water Park last time we were there, so we spent so much time on the slides and at the pools this time around haha. Baha Mar also has their own pro-designed golf course, a spa, a casino (the largest in the Caribbean!), cigar lounge, and over 40 restaurants and clubs. Literally like Vegas on the beach haha there is so much to do without leaving the resort!
Ted really wanted to golf (are we surprised?!) so a month before our trip, we booked a tee time for an afternoon at the Ocean Club Golf Course. I came along for the ride while the rest of the group golfed, but the views were so pretty! The Bahamas are obviously a beach destination, so would recommend spending as much time outside at the beach or the pools as you can.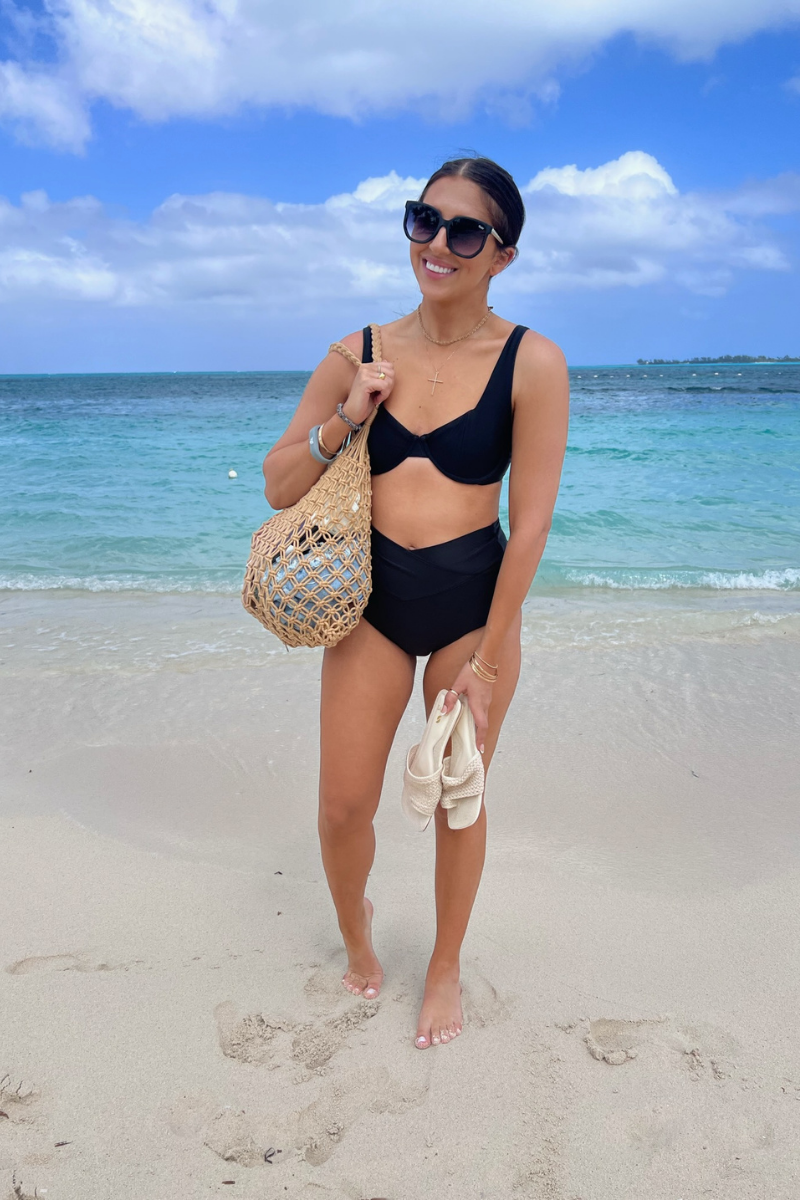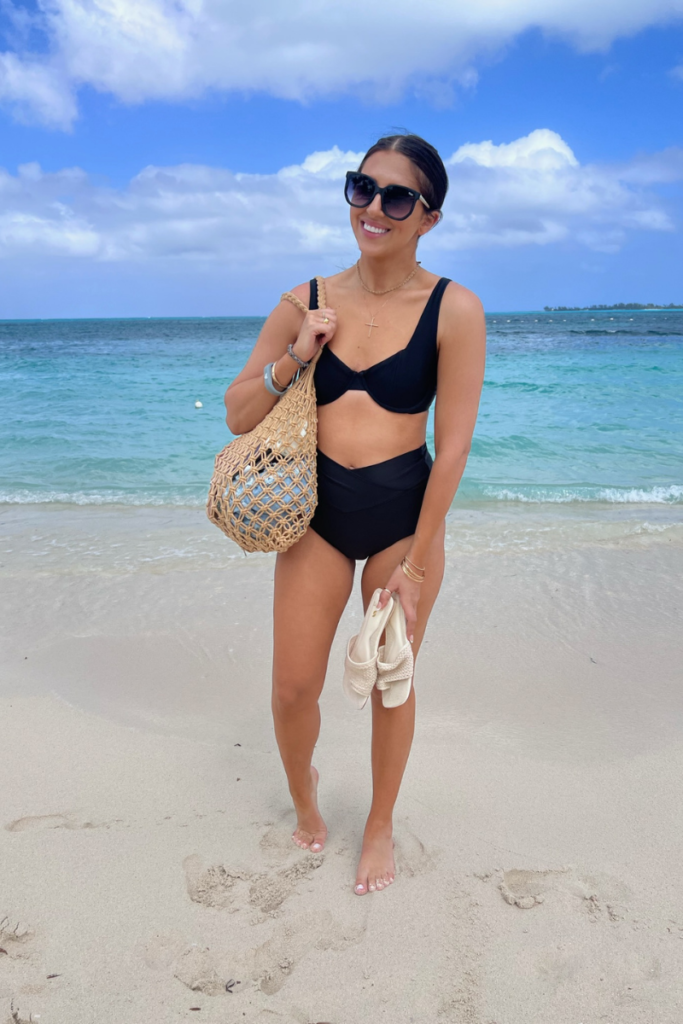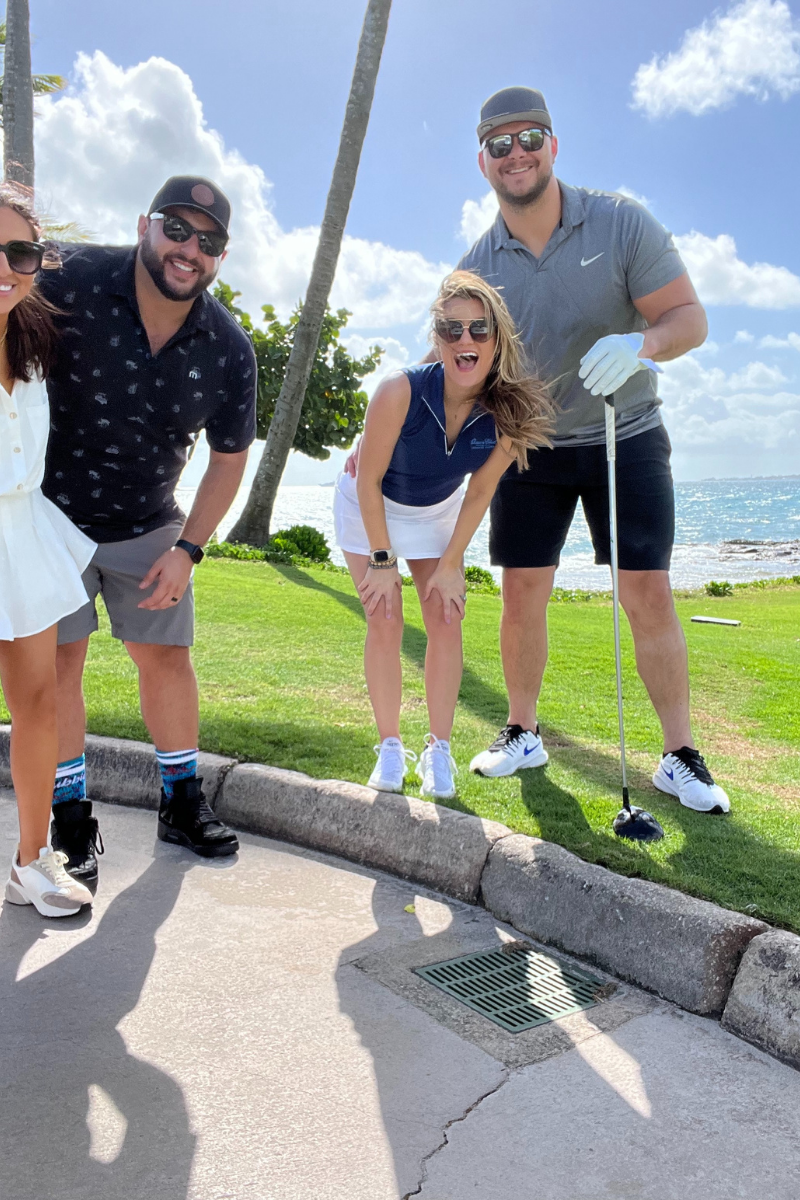 What I Packed
I feel like I've gotten really good at packing over the years, but still definitely a classic over packer because I like to have options! I shared some of my packing tips and process including these the list below in this blog post that I wrote when we went to Cabo last summer!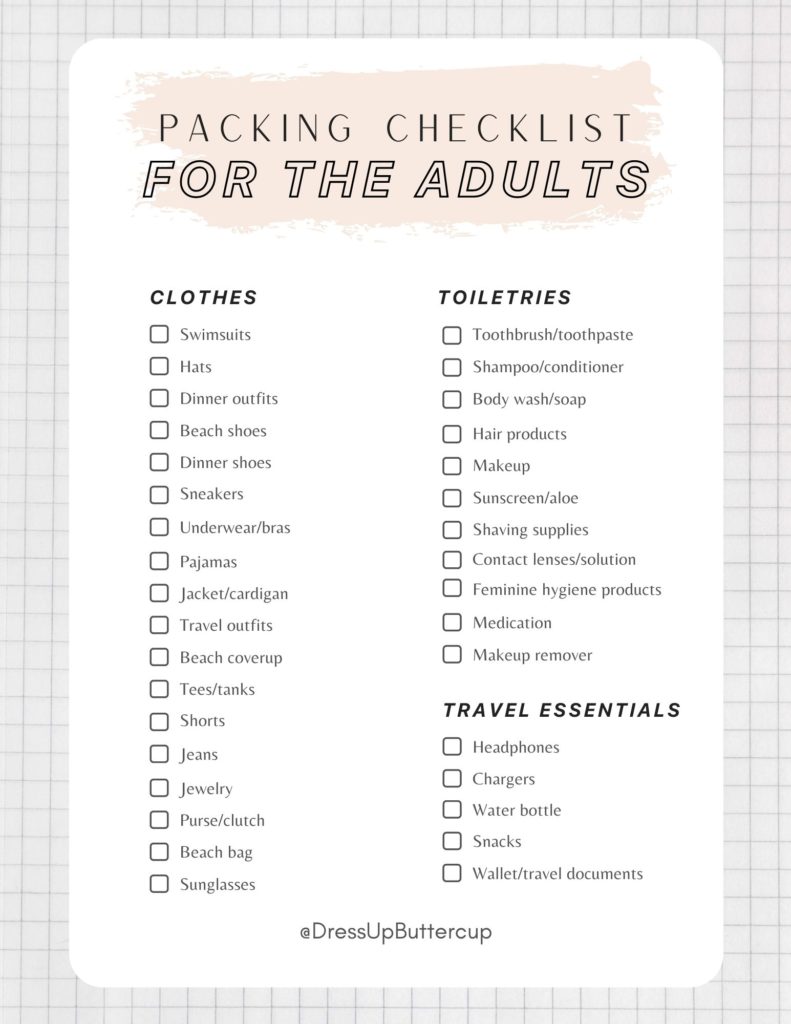 Before getting into clothes, I'd definitely say to pack cash if you're going to Baha Mar. We used cash to tip our servers, the staff and also need it if you're going to the casino. Our friends' credit cards wouldn't work to withdraw money for the casino.
For this trip, I packed lots of sandals, straw bags, hats, sunnies and swims! Knew that we would be spending most of the day by the pool, but also golfing one day, so got this cute tank + skort from Show Me Your Mumu. Splurge but worth it since I'll wear it every time I go golfing with Ted! Threw a few dresses for options to wear to dinner, this Petal and Pup set, and of course some shorts and beach cover ups. Linking all of my looks below!
SHOP BEACH VACATION FAVS

---