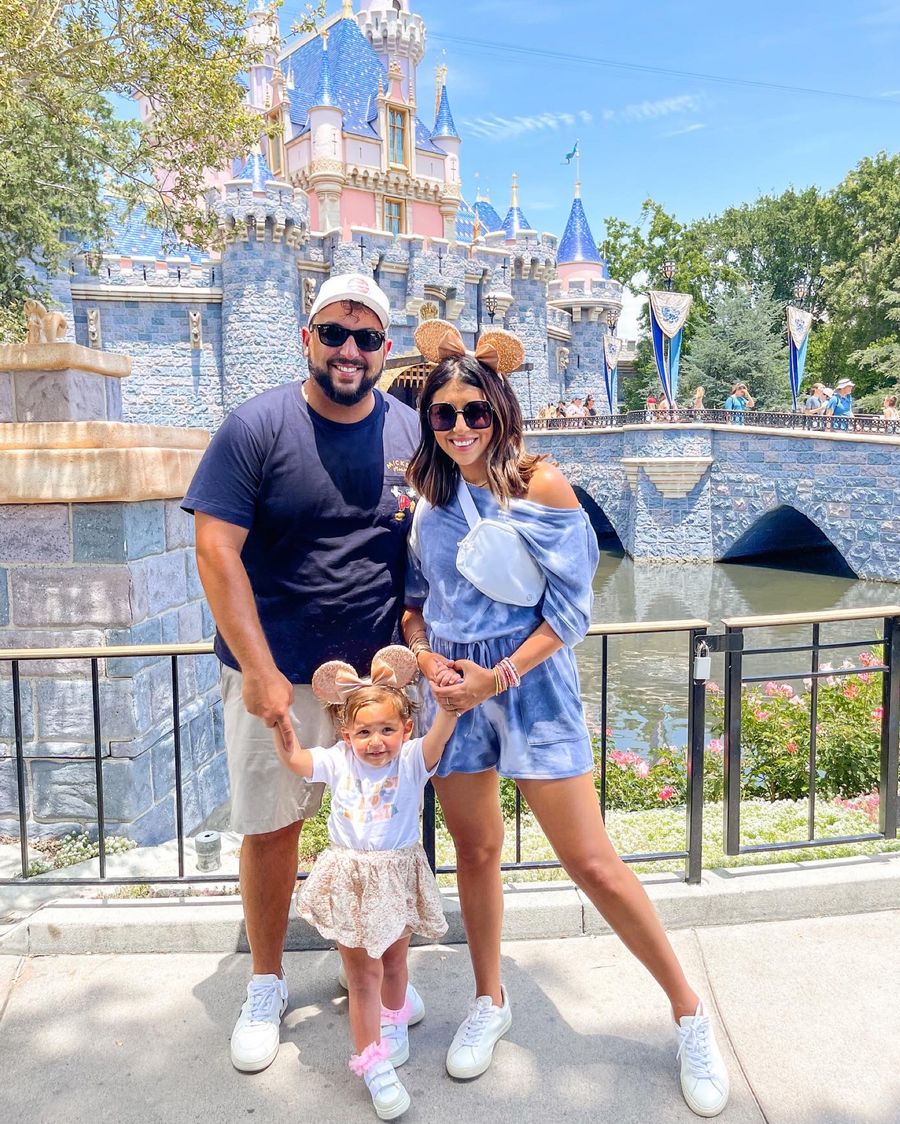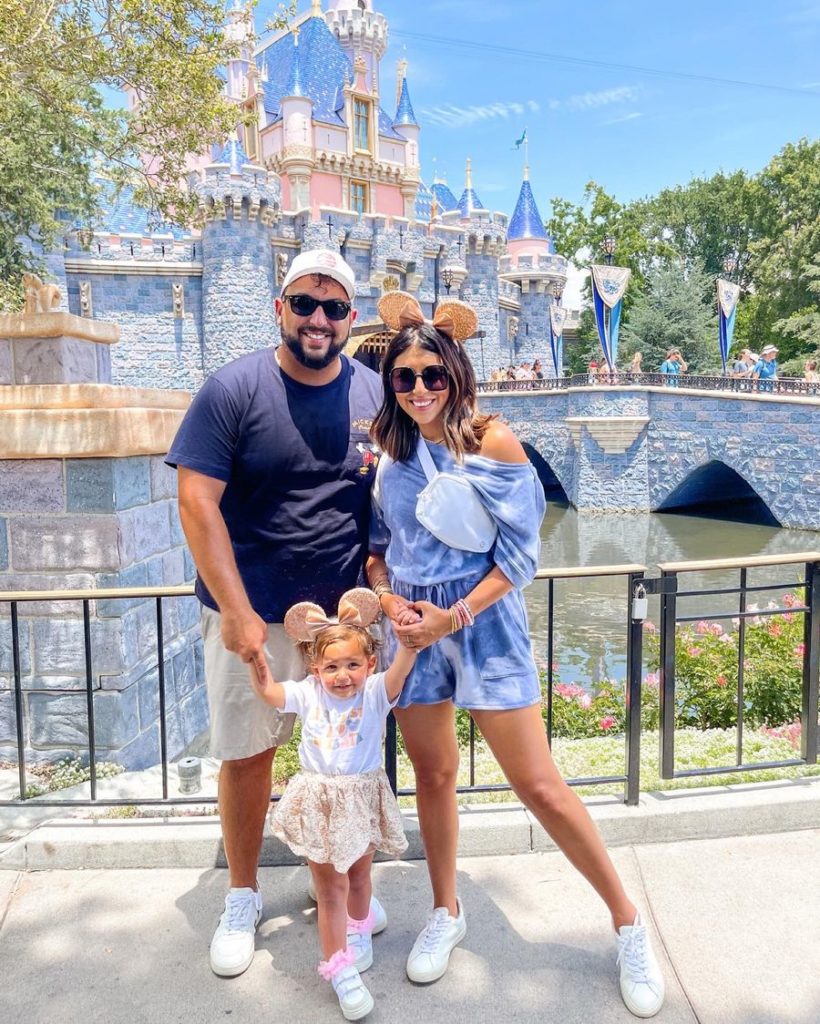 We're back from our family trip and we loved our day at Disney! We visited Ted's family in California last week and they had a jam packed day full of activities for us, including a trip to Disney! I know that this is a big trip planned in the future for some of you guys so going to give some details below! Rosie is small and probably won't remember anything (good thing kids under 3 get in for free!) but it was something Ted and I will remember and was just as much fun for us. We're excited to bring her back when she's older so she can make her own memories and experience even more of the park.
We were super grateful that Ted's mom stayed back at the house with Jet so we could do all the fun stuff with Rosie girl. We only spent one day in the park, but thought it was the perfect amount of time for a 2 year old to enjoy it. We loved seeing Rosie's reactions to the characters (not a fan of Minnie) and the rides. She was hot and cold throughout the day—some things she loved and others not so much. By the end of the day she was sleeping in her stroller and we were all in desperate need of a shower and couldn't wait to put our feet up. Walking around that park all day is no joke! If you're heading to Disney in the near future hopefully you'll learn from us and actually wear some comfy shoes lol (we wanted to be that matching family). Recapping our trip for y'all and linking all things Disney below!
What to bring
Not even going to lie, packing for Disney was tricky. Definitely did some research before we left to see what we could rent/get inside Disney vs. what we needed to bring with us. I'm listing some recs to bring and what Disney has for you below!
Pack with you
Empty water bottle – fill up at any of the stations around
Backpack – brought my Lulu Belt Bag to carry my phone and small things, threw the baby stuff in the bottom of the stroller
Stroller
Sunscreen – for adults we like Supergoop and for the kids we switch between the Baby Supergoop & Babyganics
Snacks
Spray fans – we bought ours inside the park, but I'd bring this with you if you can!
Hand sanitizer
Diapers
Wipes
Get at Disney
Stroller – we almost didn't bring ours because we knew that you could rent them there. According to their website, they're $15/day for a single and $30/day for a double
Charging stations – I recommend bringing portable charger yourself but if you need to you can stop by any of their charging station if your phone is running low
Extra baby supplies – I didn't even know that Disneyland had baby centers where you can breastfeed and even purchase items like diapers and bottles if you need them
What to do
If you're traveling to Disney with younger kids, I'd do some research ahead of time to see what rides they'll actually be able to go on. Rosie was too small for most of the rides (I think there's a 40 inch height minimum) but here are the main things we did with her:
Teacups – decided to skip this one lol spinning rides are not my cup of tea (pun intended)
Sword in the Stone – really just included this in here to say that this was Ted's favorite haha
Looney Toones area – had a lot of fun here and is really age appropriate
Carousel
Little Mermaid ride
It's a Small World ride
Pro tips
Make reservations ahead of time: We bought our tickets at the gate the day of and didn't wait super long, but it would be smart to buy them ahead of time to avoid waiting in a long line in the sun with small children…doesn't sound like my idea of fun haha.
Wear comfy shoes: Can't even stress this enough! Honestly I wouldn't recommend wearing anything besides Hokas or a supportive running shoe + good socks. You spend so much time walking and standing, your feet will be so swollen and sore in the morning if you're not wearing something comfy. Comfort over fashion 100%.
Plan your route: We thought we had a rough idea of what we would do, but we totally should've planned more. The park is so big! Sit down with a map ahead of time and pull up the Disney website and decide what rides/attractions you want to see, then plan out your route on the map. There's a Disneyland app that you can use, but lots of people use the physical map so you don't drain your phone battery while you're there. Since we didn't plan our route very well, I feel like we walked twice as long as we needed to and also ended up circling back to the same spot haha.
Hydrate! Standing and walking outside all day + sweating means you gotta keep up that water intake. We bought so many water bottles throughout the day for us and the kids. Turns out that you can bring your own water bottles into the park with you and refill them at any of the drinking stations.
Keep the outfits simple: The amount of Disney outfits and accessories out there is crazy haha it makes it super easy to plan cute outfits for the fam while you're there, but remember that less is more! We found some really fun things on Amazon and got the kids' shirts from Etsy. I'd keep it pretty simple and stick to a shirt and maybe a pair of ears. They make for a cute photo, but they'll probably take them off for the rest of the day lol. I opted for lots of rompers this trip because I wanted something breathable and comfy for walking in!
What to wear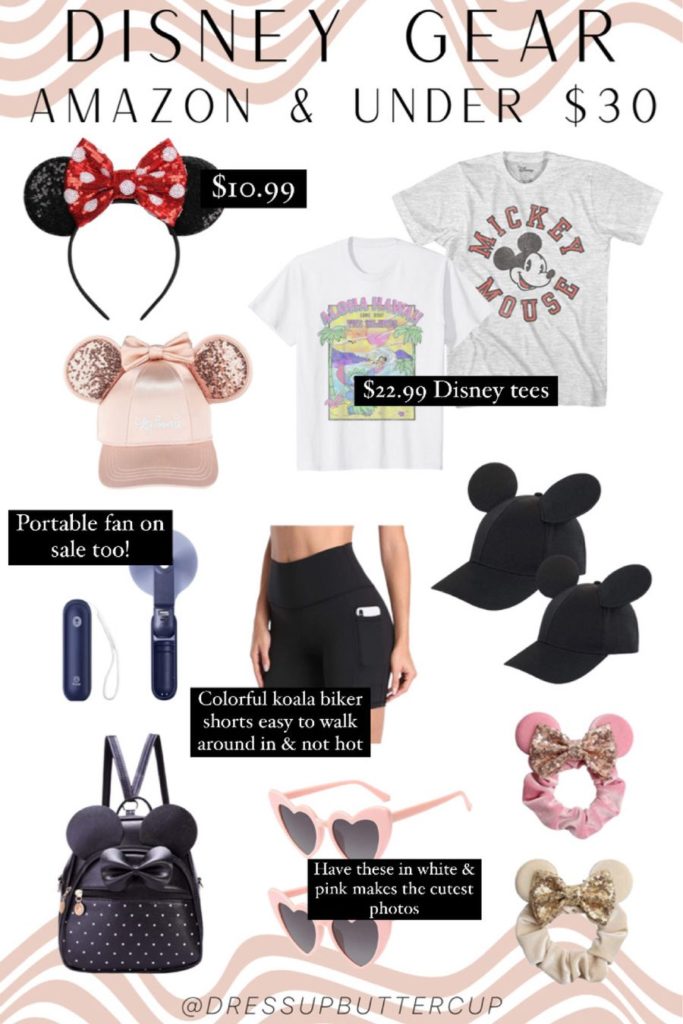 SHOP ALL DISNEY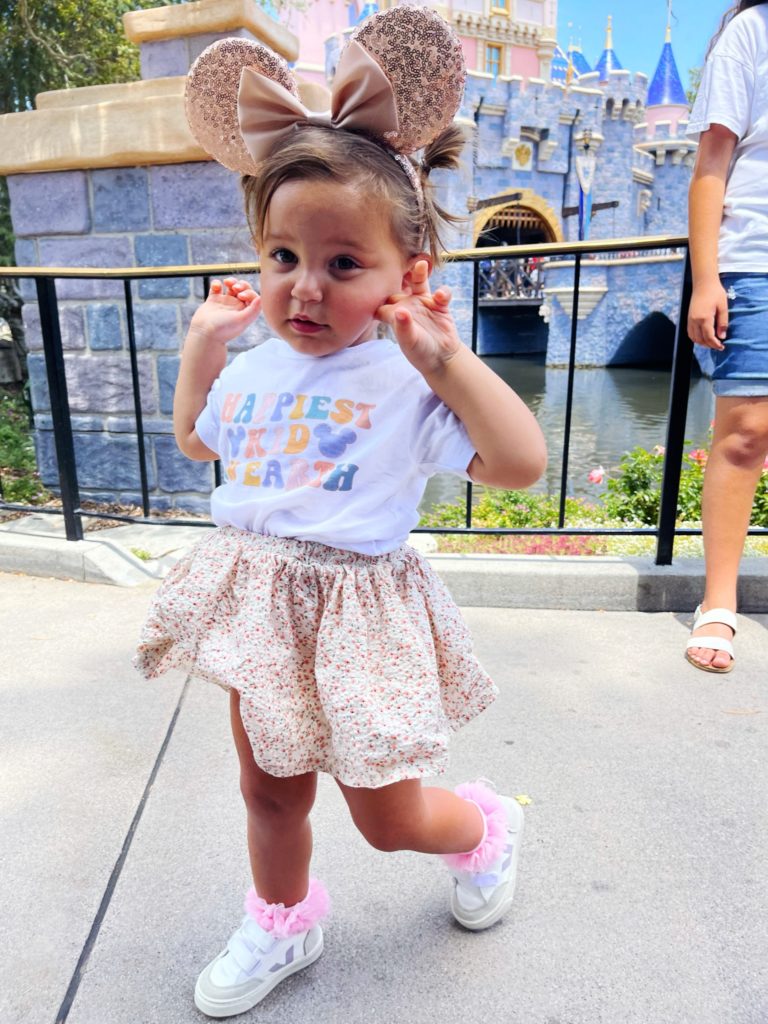 Ears | Shoes (similar) | Socks | Shirt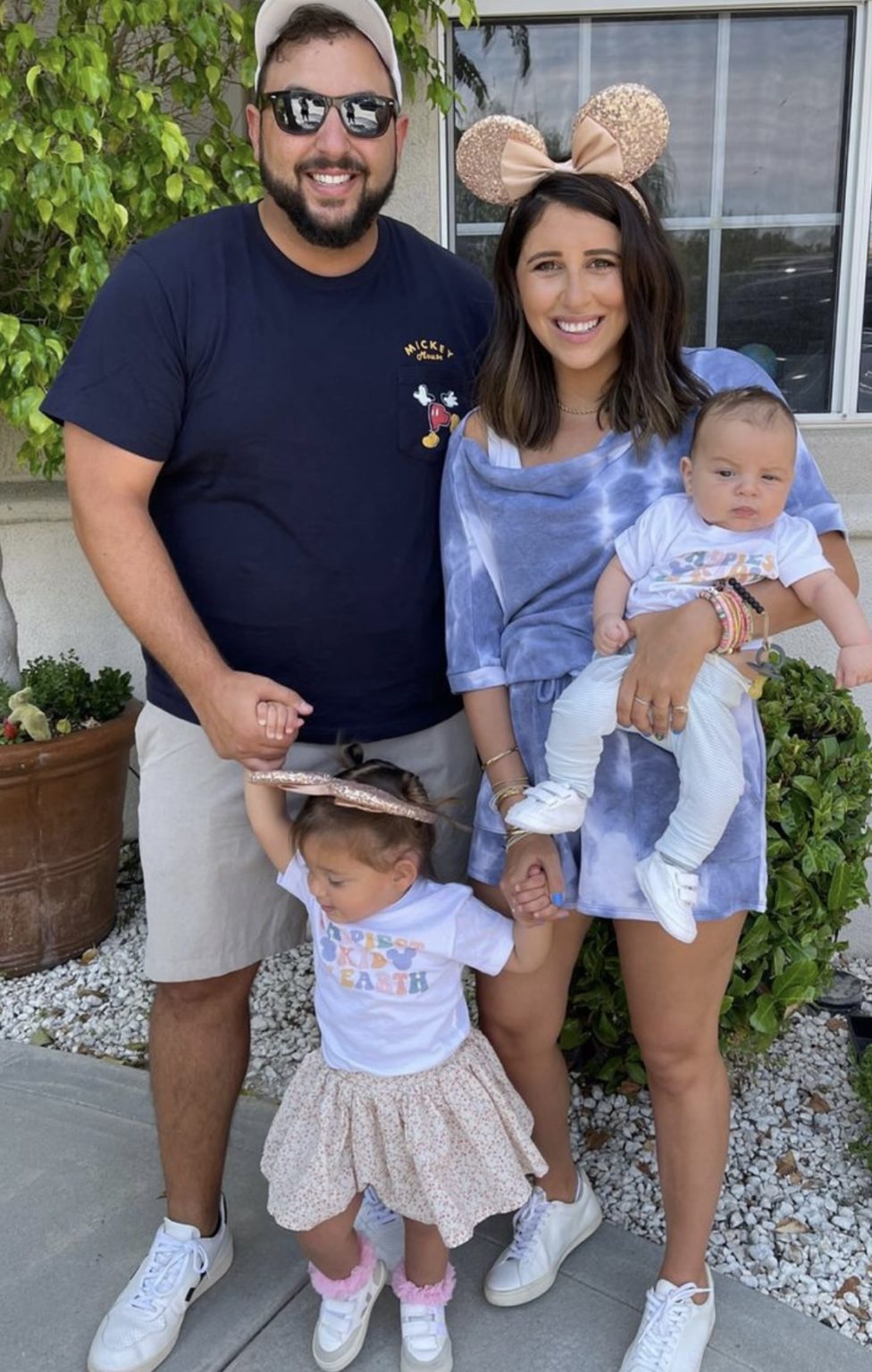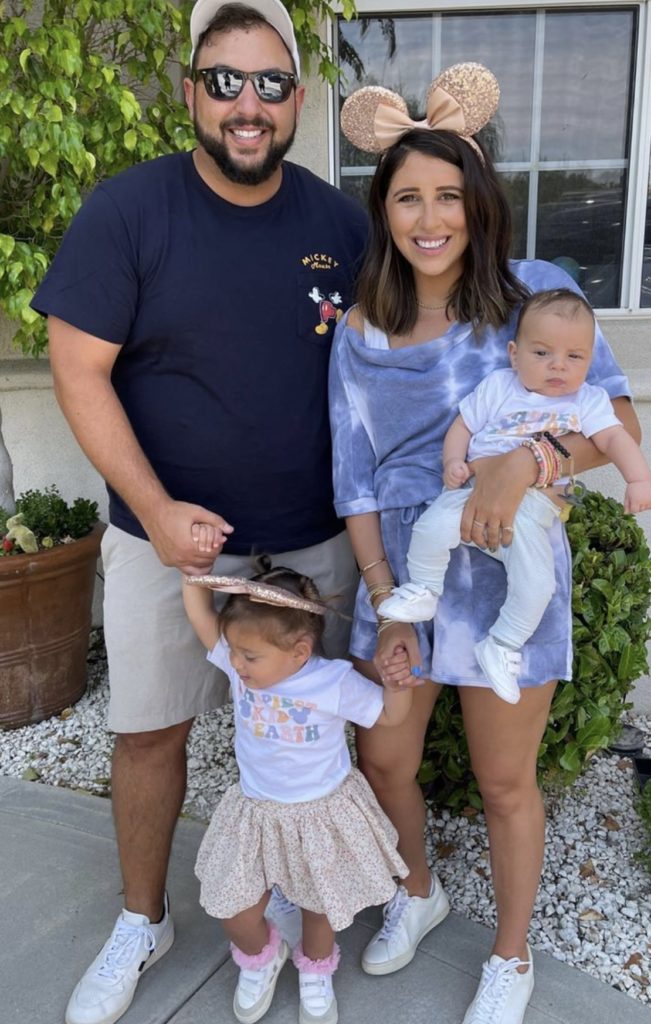 My outfit: Romper | Shoes | Ears | Sunglasses
Ted's outfit: Shoes | Sunglasses
Other Cali Looks
SHOP ALL OUTFITS