DM Round Up
Can you share what supplements you're taking and why?
Seed probiotic – have looked into this a little bit and is supposed to be really good for your gut and helping with digestion and bloating. Ive never been a consistent probiotic taker and so many people say there are so many benefits!
Thorne Basic Prenatal – I haven't stopped taking this since I had Jet. I pretty much use as my multivitamin. My nutrition cousin recommended this one, only reason why I take it! I feel like I need to disclose these are just what I take, so consult your doctor obviously before!
Saffron extract, D3 + K2, and Zinc 30 – Katy gave all of these to me for my 30th birthday…I honestly don't really know the benefits of these haha I think just for immune system support and general wellness! Her and Sean always notice that I catch the kids colds so they came up with this concoction. Also they call the saffron pills mood boosters which I think is cool! Again use google for what you're looking for!
What milk to you give Jet?
We just switched from formula to whole milk for Jet! Formula: we have tried Similac, HIPP, and Bobbie. For milk: Horizon Organic Whole Milk. I know lots of mamas use different things, so just personal preference and what you feel is best for your babies!
Can you link your white sneakers?
Ordered these On Clouds a few months ago after Sam got a pair and said how much she loved them! Pretty much work out in these and my Adidas. I like how closer they are to the ground lol
Necklace stack details!
Usually switch up my necklaces but the shorter chain I've been wearing this week is older from Electric Picks but this one is similar. The rose coin on the longer chain is also Electric Picks (code blameitondede) Just added this paperclip necklace…Sam's Club sent to me but is more of a splurge necklace since it's real gold! (here is a similar paper necklace)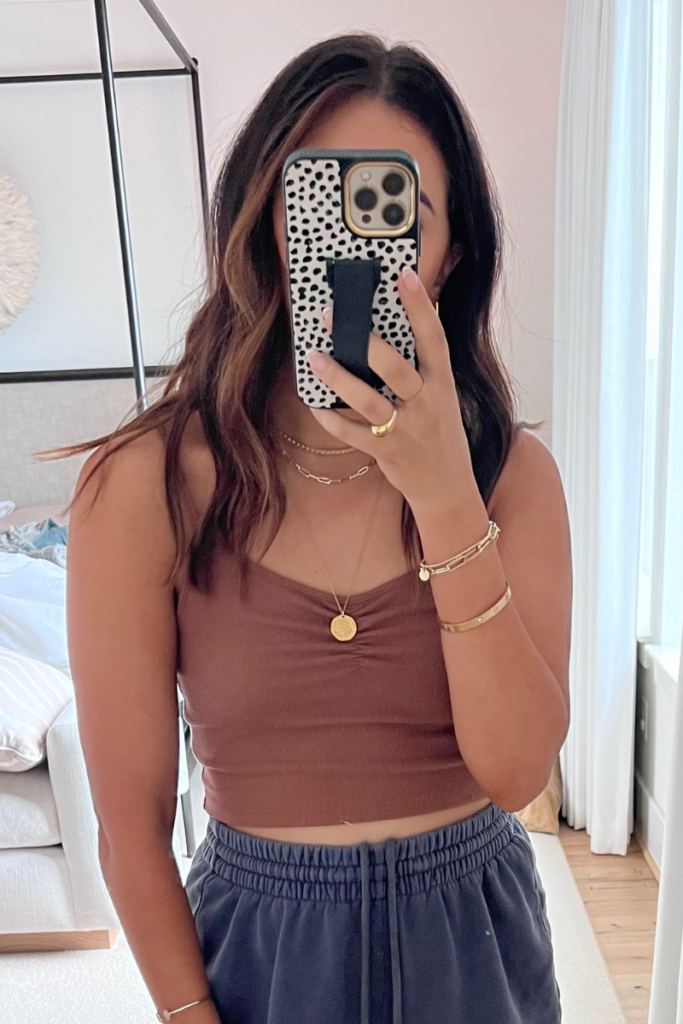 What sippy cup does Rosie use?
She loves these!
How is sizing on the Amazon lace up sandals?
I would say they run TTS! I'm usually an 8 which is what size I ordered in these and think they fit perfectly. These sandals is SO similar to this pair I got years ago from Nordstrom. Ordered because I can't find that pair in nude anywhere! With any lace up they do fall off but I still love the look and I love that since you tie them, they stick to your feet so your sandals ever fall off.
What sneakers did you wear to the Justin Bieber concert?
They're the Air Force one boots! Ariel's a sneakerhead and spotted these for me haha.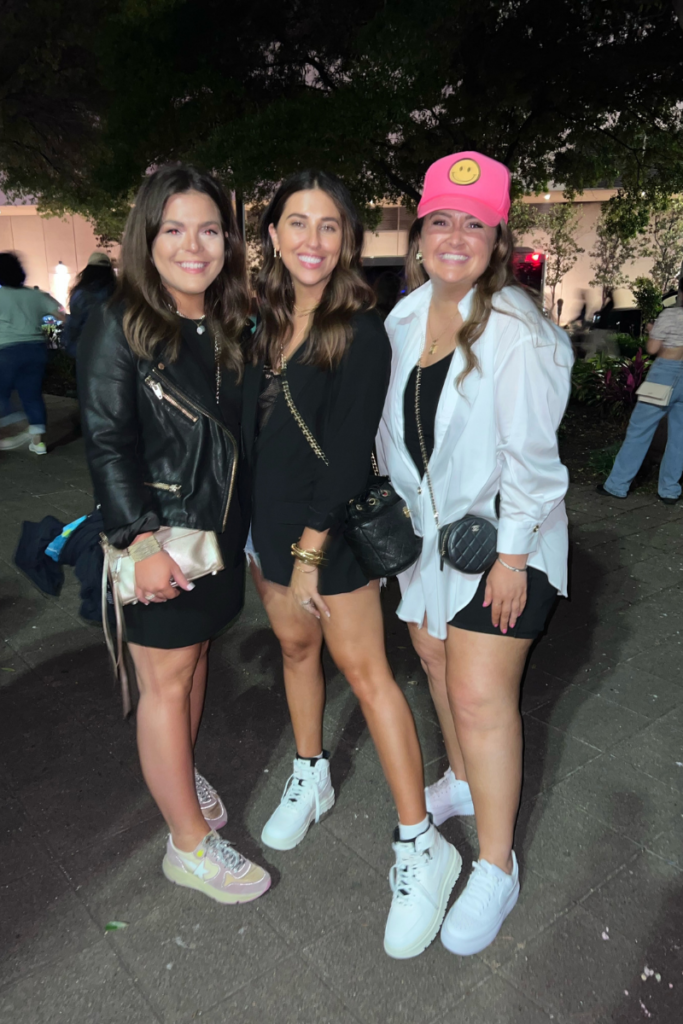 Where did you get the caddy uniforms and baby green blazer from?
We were trying to recreate the Masters green blazer looks so found the mini blazer from Etsy and was so perfect. Comes in a set with pants! Added the onesie that Katy got for him and this little cap from Amazon. We also found the caddy uniforms from Etsy and added thee custom name patches for them. Will share full party details on the blog soon!
Can you share details on your Nike sweatshirt?
This sweatshirt is from Nordstrom! I ordered it a few months ago but it's been out of stock ever since. Just checked and looks like they have all sizes right now! I think I am wearing a medium. I love that its not tight at the bottom. I have about 3 colors in them!