DM Round Up
May Week 4 & June Week 1
Where are your white slides from?
The pair I wore the other weekend are from Nordstrom! I also have an Amazon pair and have seen this pair at Target that are all the same style. I love the bright white color of the Nordstrom pair, I think they're easier to match than the off white Amazon ones. These shoes feel like you're walking on a cloud and are actually really comfy. I think they're the updated "water shoe" version of the double strap plastic Birks style from last year. One of my friends said the arch of the white Nordstrom one wasn't as high and fit her foot better and the rubber was softer and another friend said the Target ones rubbed the top of her foot the wrong way, so would say to try a few pairs to see which ones you like best!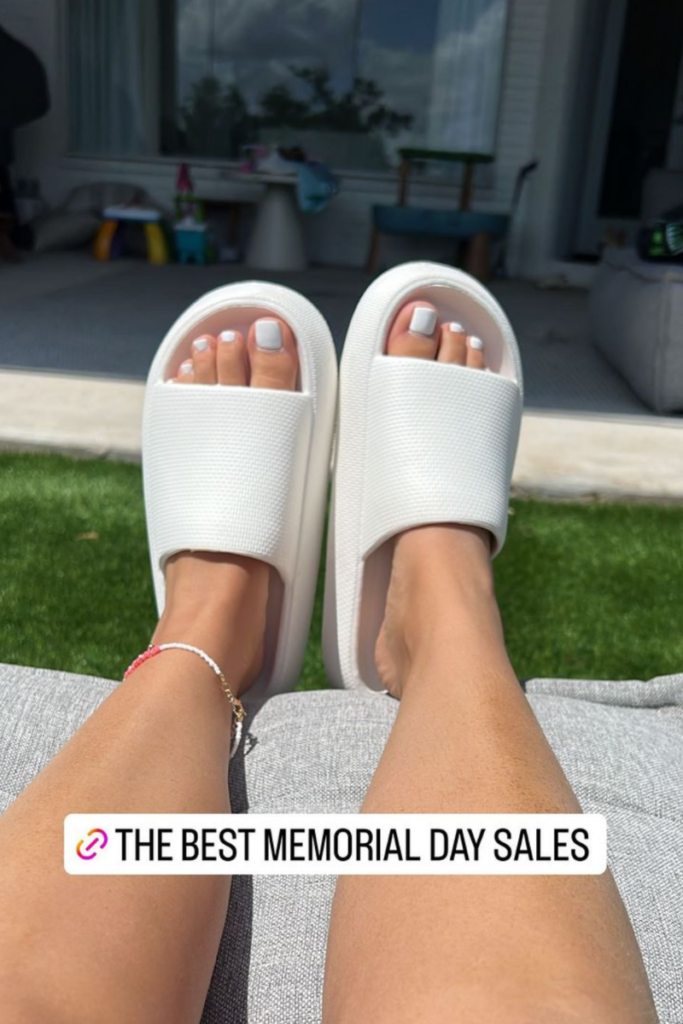 What were the nipple covers you recommended from again?!
I've been using the Nippies brand from Amazon for the past few years. One of my most reordered items since I lose them a lot lol. Love that they come in a case for travel too!
Can you link the child proof latch you have for your doors?!
We use these for most of the doors in our house. They worked great until Rosie figured out how to use them so would be great for little ones! We also use these for all of the cabinets in our house—they open with a magnet so no ugly latches on everything.
Does your wagon come with a sun shade?
Unfortunately the Veer doesn't come with all of the attachments, you have to buy separately. We have the sun shade and the toddler seat for Jet. You can't collapse the wagon with the attachments on which is a little annoying but still love the thing overall, especially for traveling!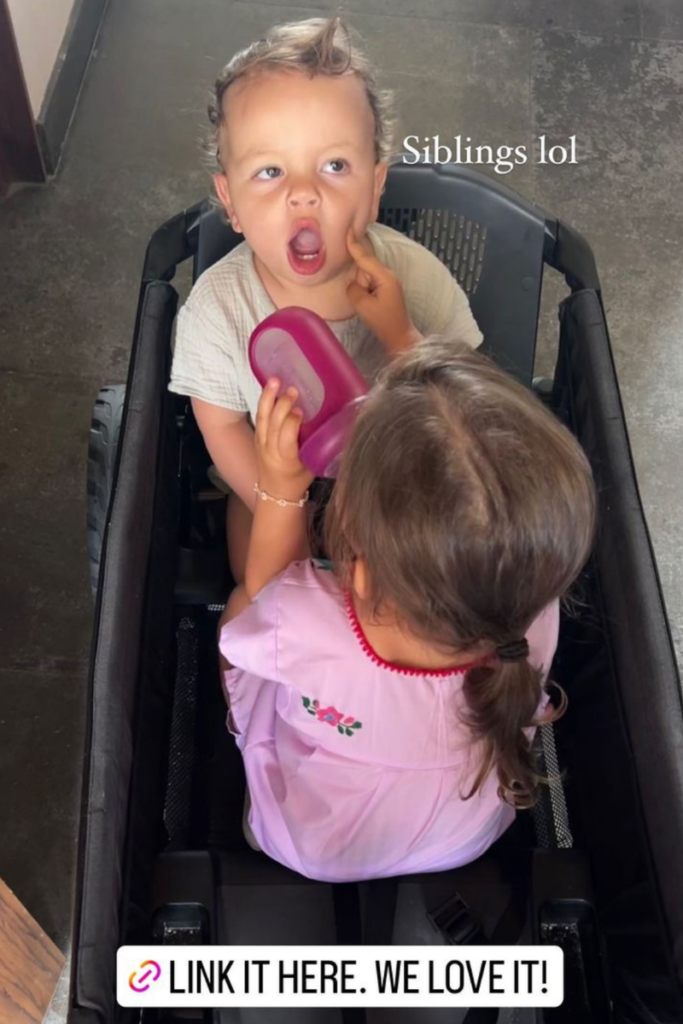 Can you please share your phone case and popsocket?
Both of these are Amazon finds! I ordered the hot pink case first, then reordered in this mocha color and then got a clear popsocket to match.
Where is your chunky gold bracelet from?
I recently got this bracelet from Amazon! It's a little pricey, but is real gold so it won't tarnish. I found this one that looks really similar and is a little cheaper. A lot of the other gold bracelets I wear are Electric Picks or Kendra Scott!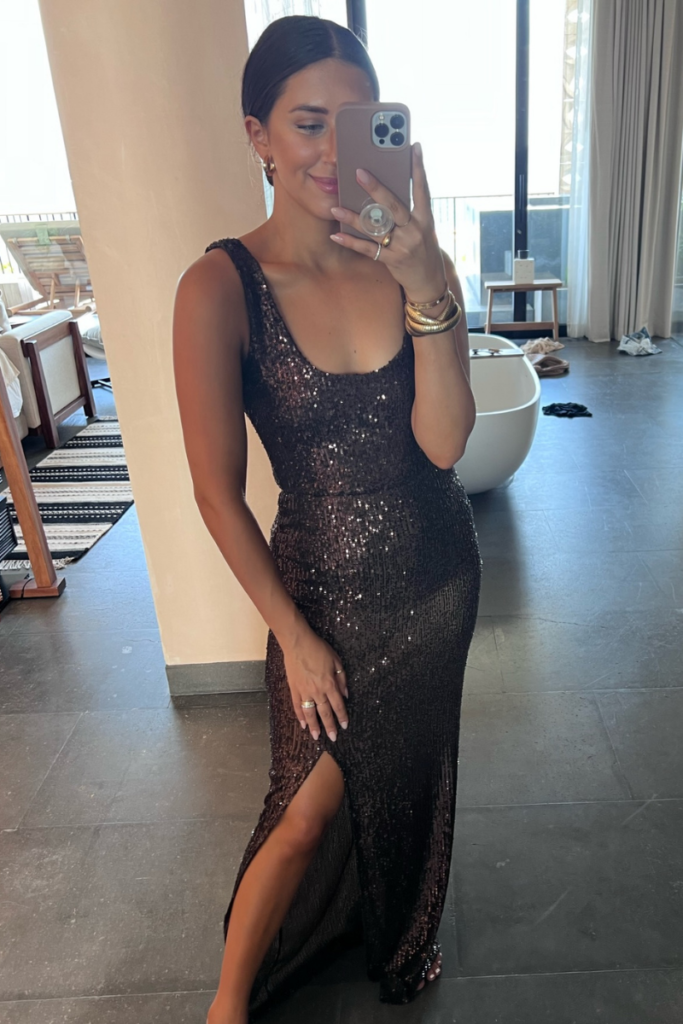 Can you link your straw crossbody bag?
Just ordered this sling bag from Altar'd State! I got an ad on IG and thought it was so cute. Reminds me more of a backpack than a crossbody bag and bigger than the Lulu Belt Bag if you're looking for something that holds more stuff
Where is the green dress from your Reel from?
It's Red Dress from last month but I'm bummed it's sold out right now! Linked in case it restocks so you can grab, but also sharing some pretty green dresses below like this Amazon one shoulder one I have!

What nude heels did you wear with the green set at the launch party?
Those were my Schutz heels I've had for a while! They have a pretty low heel so they're so comfy to wear for hours at a time. They run TTS, I have them in an 8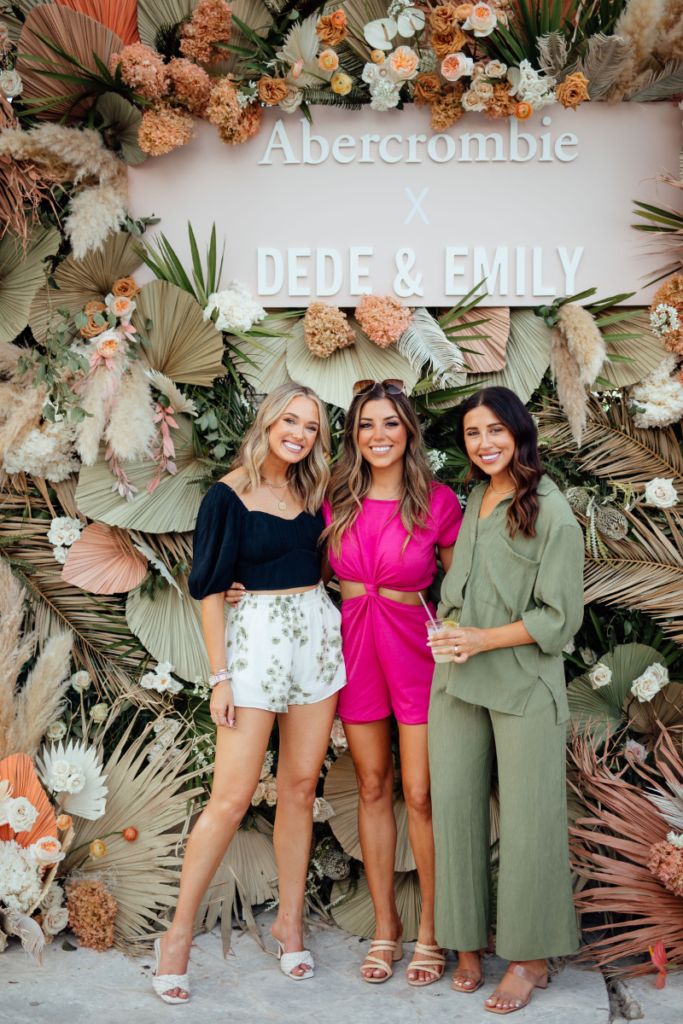 Where is your straw headband from?
This is the headband I wore this weekend, but here's a similar one that's on sale for under $20 right now!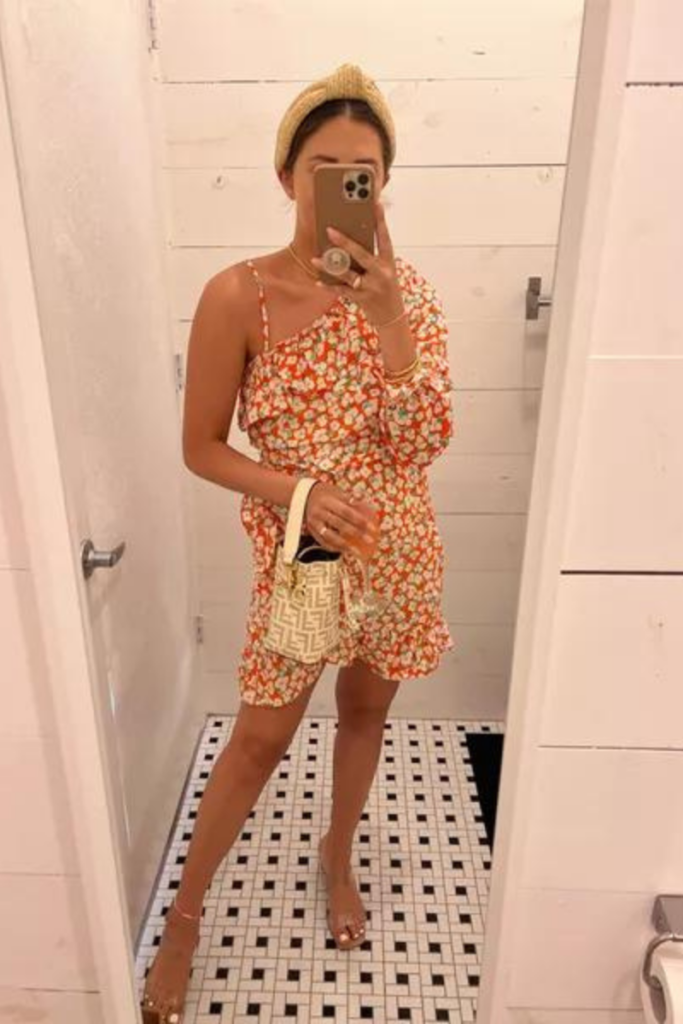 Who won the Fendi Bag for May?!
The winners are @vanessajmaiolo & @kimberlyoliver! Winners have been messaged and will also share on my stories this week! Here's the full list of all other May giveaway winners:
Hello Bello 1 year worth of diapers
@blanca_g_reyes
May Fendi Bucket Bags
@vanessajmaiolo
@kimberlyoliver
5/12 $10 Starbucks gift card – Facebook group
Elizabeth Porcayo-Hernandez
5/18 $100 newsletter giveaway
Sara Barca
5/23 $10 Starbucks gift card – newsletter
@talar_belios
@ashleyfeste
@lmgaffney
@morganmariahwetzel
@christinekublinski
@skaffy_brand
@michellek.xo
@miczekristen
@jaderama
@jenangoodwin
Abercrombie x Dede & Emily Collection
Ashley McKennedy
Kelsey Atchison