What I Wore In Colombia: Katy's Bachelorette Party Recap
We're back from Katy's bachelorette party and want to give y'all the recap! I knew early on that Katy would want a unique bach party so we planned this fun trip to Cartagena, Colombia, a place neither of us had been to before! With the help of my friend, we planned this long weekend and it was way more amazing than any of us could've expected. From the food, the architecture, the people and the shopping, It was just what my adventure heart needed! We had a full itinerary planned by our friend BPKTRAVEL who went a few months ago and sealed the deal for us to make this is reality! Sharing some details of our trip below with some of my recommendations if you're planning a trip there along with all my looks linked from the weekend!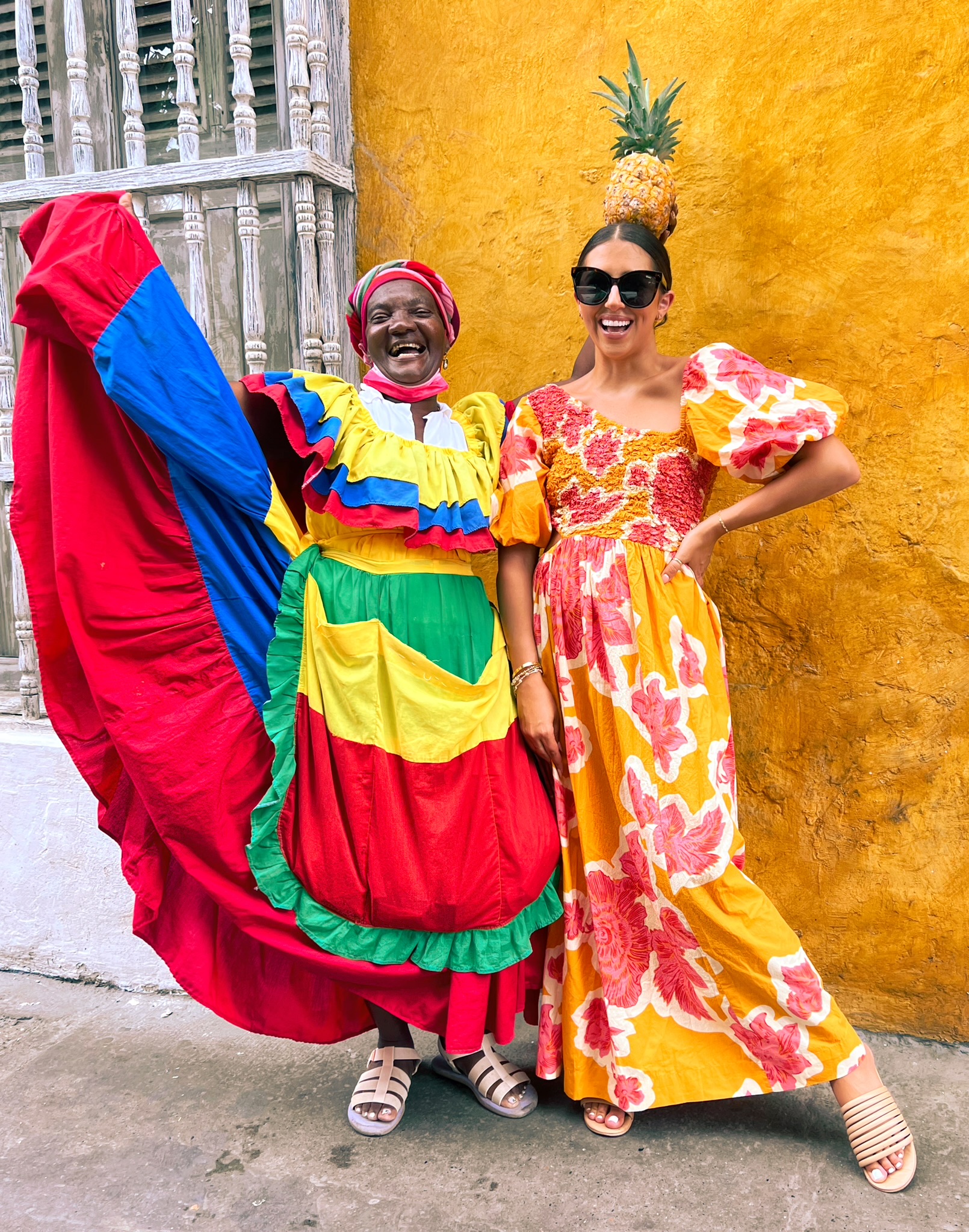 Travel Details
It might depend on where you fly out of, but from Houston there weren't any direct flights to Cartagena. We had a layover in Miami so it was a long travel day like 7 hours. Keep that in mind when you're deciding how long to stay for since 2 days will be spent traveling! Right now Colombia is letting people in the country if you're vaccinated (no COVID test needed), unvaccinated travelers must present a negative test. Before you leave the airport in the US you also have to fill out some forms, including a Colombia migration form. Most of us downloaded app that the Verifly app so we could upload all our docs ahead of time, some of the girls also printed them out.
Where We Stayed
My friend Blair helped us find a place to stay that was centrally located and in a safe neighborhood. Colombia definitely has dangerous parts like most cities, so it's important to research the area you're planning to stay in ahead of time. We were warned not to wear flashy jewelry and watch out for pickpockets since we walked everywhere (farthest place was like 10 mins away). Just be aware of your surroundings! She found us this Airbnb in Old City Cartagena and it was soo perfect! The best location that was central to all the places we wanted to go and had enough rooms for all of the girls. We loved that it came with security so we never felt unsafe and the staff went above and beyond the whole weekend!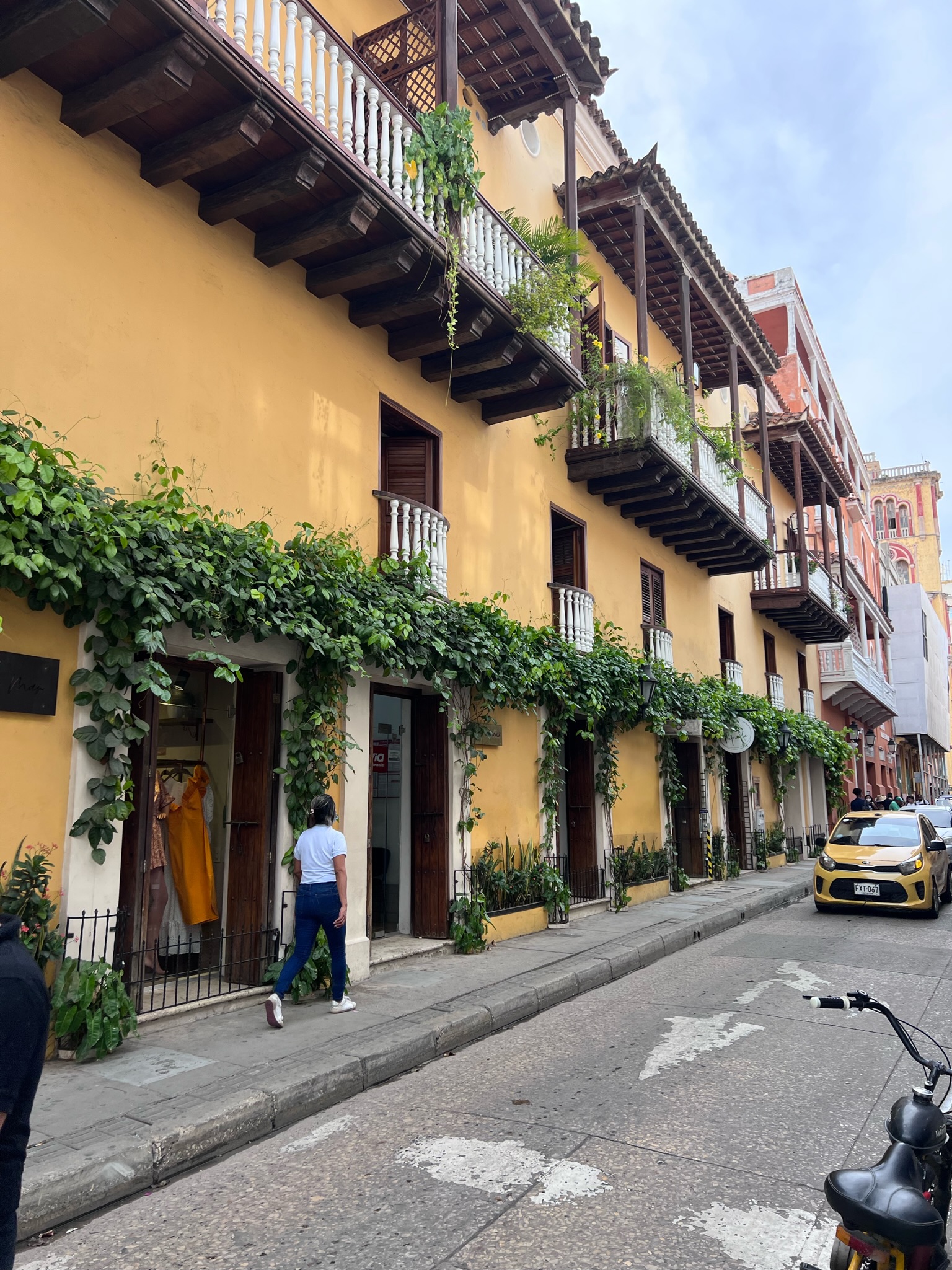 What We Did + Recommendations
Colombia is soo rich in culture, walking around and eating was like half the fun last weekend! Oh also an American dollar goes a long way there. You can get a beer on the street for a few bucks and a five star meal for like $40. Cartagena is tropical and very hot and humid, little to no AC most places so just a heads up! Detailing our bach party itinerary below!
DAY 1: We left Houston on Thursday and had a pretty long travel day to get there. We flew from IAH to Miami then took a flight from there to Cartagena. We pre-booked a fun Chiva Limo that took us from the airport in Colombia to our Airbnb to check-in. Thursday night we did our animal night theme haha and headed to dinner at Cande Cocina which was soo good. Had the best watermelon margs and the prettiest decor. Would make reservations ahead of time for all dinner reservations! Had a few rooftop drinks after dinner at The Townhouse then headed back to the Airbnb!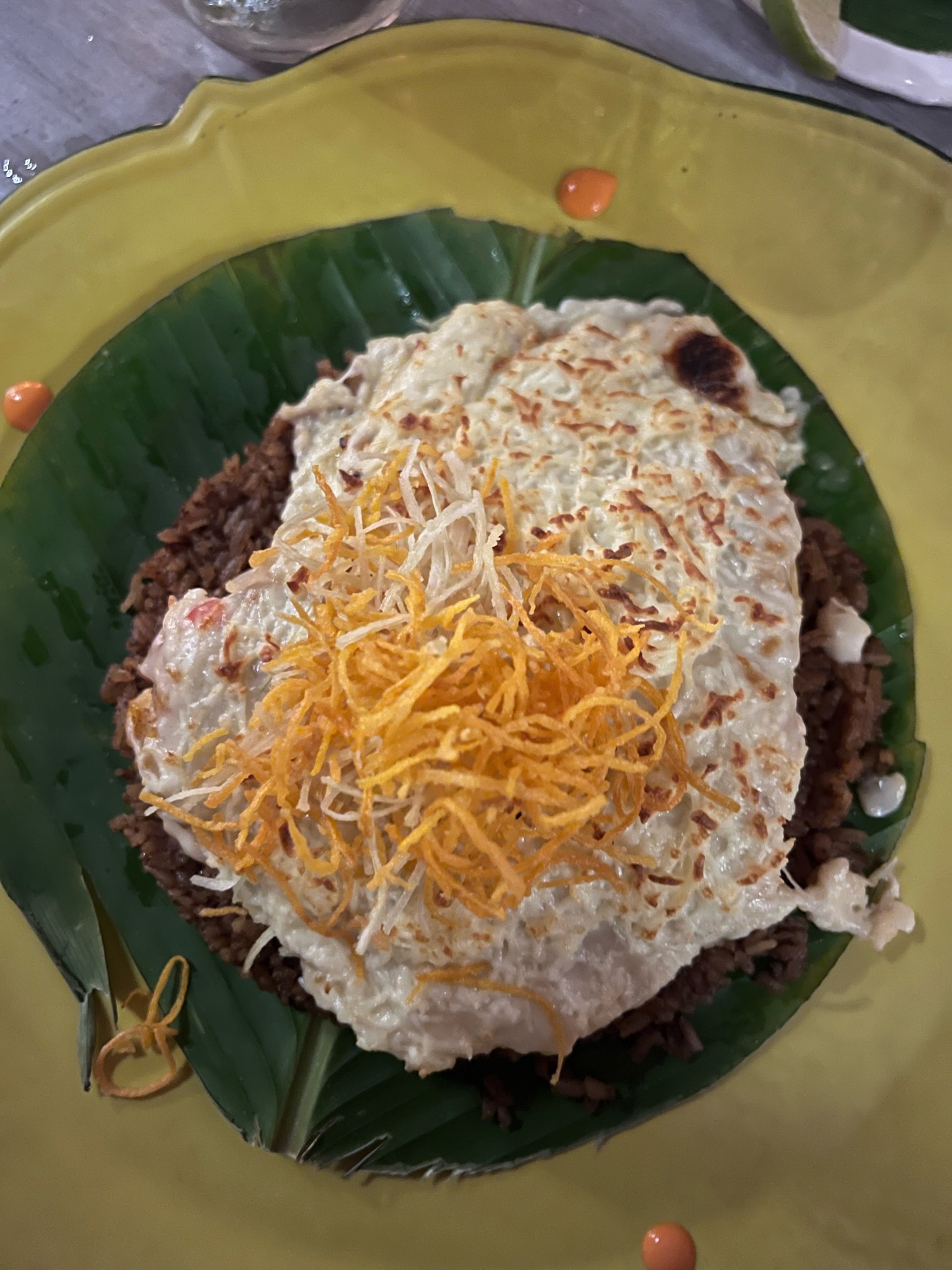 DAY 2: On Friday we had breakfast at the Airbnb then spent the day exploring Cartagena in our matching overalls. Did a little window shopping, lots of people watching, and stopped at a local place for lunch and gelato. Most places accepted credit cards but would have cash on you (get currency at airport in US before you leave!) just in case. Saw lots of street peformers that we took some pictures with (don't forget to tip if you take a picture with them!) We were all pretty hot from walking around all day, so spent the afternoon in the pool. The weather is really hot and humid, just a heads up! Got ready for dinner that evening (colorful theme!) and went to eat at Mar Y Zielo for our more formal dinner night. Honestly my fav restaurant there, I had the fish and it was amazing. Very moody and dark but a fun spot! After dinner we went to Alquimico for drinks after. This was one of the most recommended bars to visit—definitely more of a club vibe and lines to get in can get long. Would go earlier like we did to beat lines if you're trying to visit!
DAY 3: Saturday we booked a boat that picked us up early to take us to a beach club called Bora Bora! We left around 9:30 and took 45 mins to go to a beach club outside of Cartagena that we booked for the day! If you're looking to go to the beach or swim you'll have to head outside of Cartagena. Most of the waters in the city aren't as clear or swimmable. Had so much fun swimming and hanging out at the beach club all day, definitely a tropical party vibe and lots of fun. Just a warning the boat ride back can be crazyyy haha it was so windy and choppy and rainy we were not prepared. I guess it just depends on the time you leave to head back?! After we survived the rip back we we all showered and got ready for dinner at the house. We stayed in this night and did all the bachelorette party games and dressed up in Katy wigs to surprise her at dinner haha.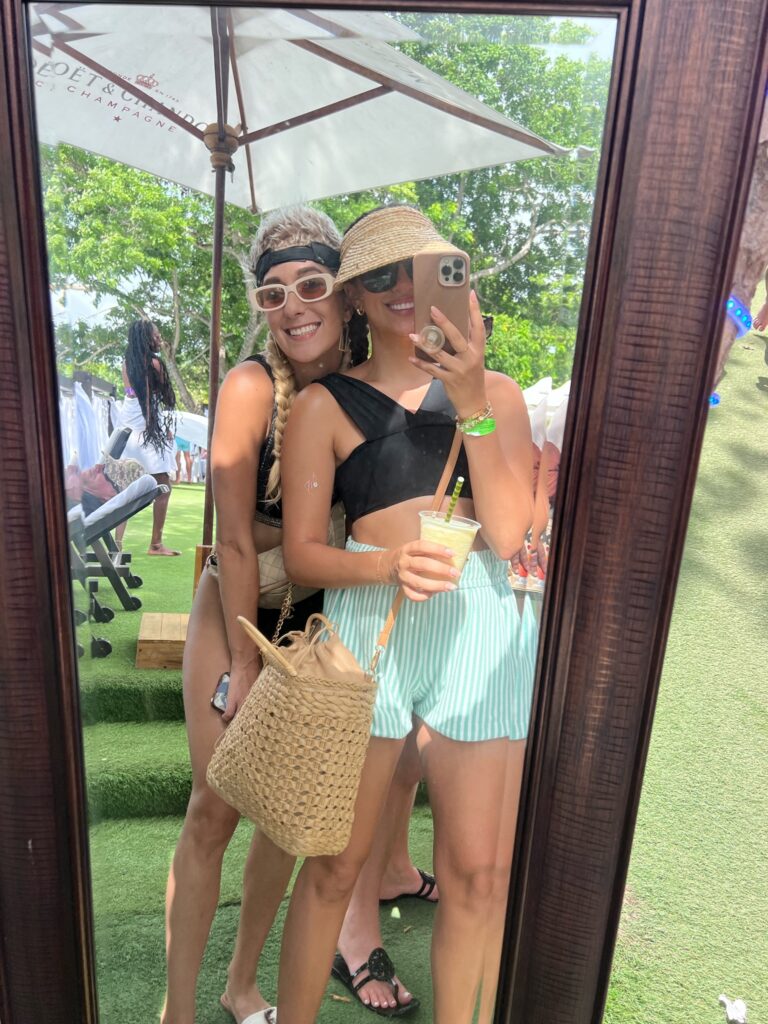 DAY 4: Sunday morning we had breakfast then headed back to the airport! Brought my BEIS luggage with me this trip like always + used my beach tote as my personal item on the plane!
What I Wore
Other Things I Packed With Me