Western Inspired Style: Houston Rodeo Outfits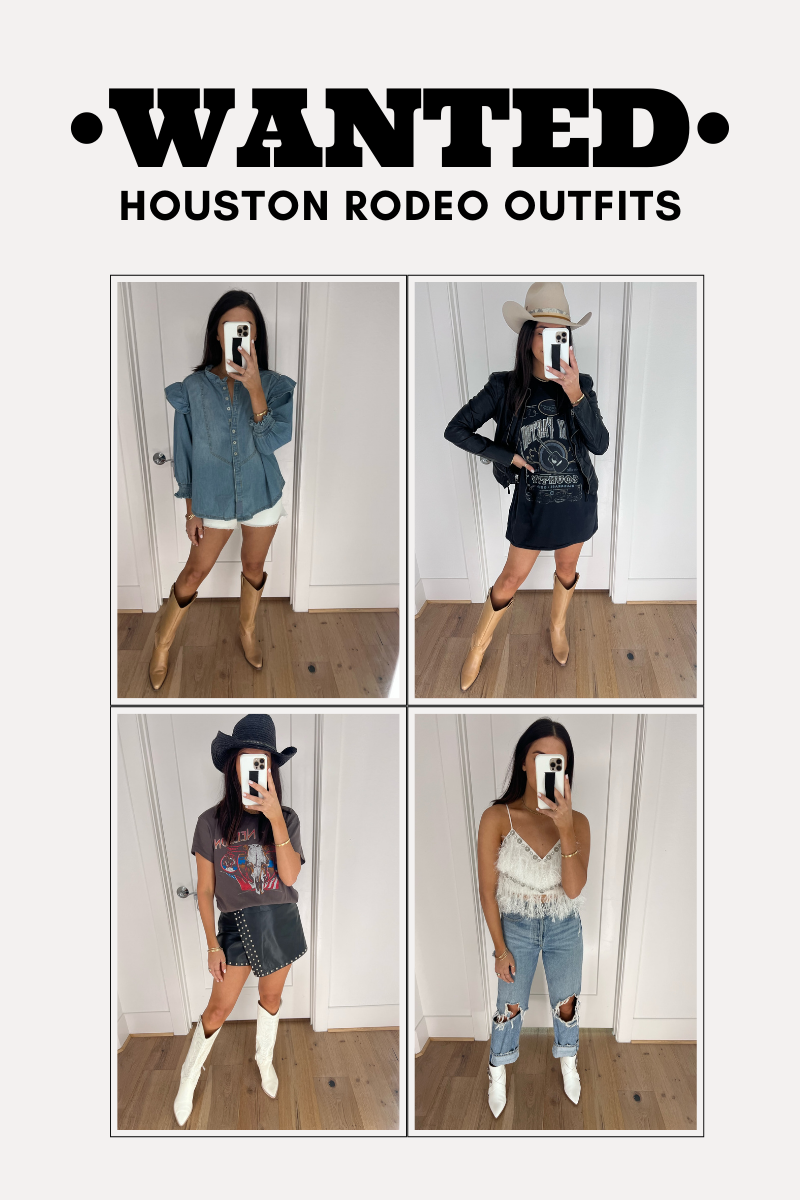 In Houston, March means one thing: rodeo season! The Rodeo is the world's largest livestock show and is full month of livestock shows and real rodeos, along with a country concert every single night! We just grabbed our tickets to see Christ Stapleton and Sam Hunt!
Aside from the fun concerts, dressing up for the rodeo is probably the best part! It's so fun to go all out with the country/Texas look and break out your cowboy boots, hats, and any other items you don't get to wear very often. You'll see some crazy outfits there, but some of the most popular styles you'll see are fringe, cowboys hats, cowboy boots, leather, denim, concert tees, and plaid. All of which you can find in some form on Nordstrom! For the last few months, so many of y'all have been sending me messages asking for some outfit ideas so you can start planning what you're going to wear! I started looking on Nordstrom last week and finding pieces that y'all could mix and match to make a cute outfit depending on the look you're going for. Stocked up on some killer pieces I think y'all are going to love. Hope this gives you some good ideas! Can't wait to see any looks y'all recreate!
The Look: Concert Cowgirl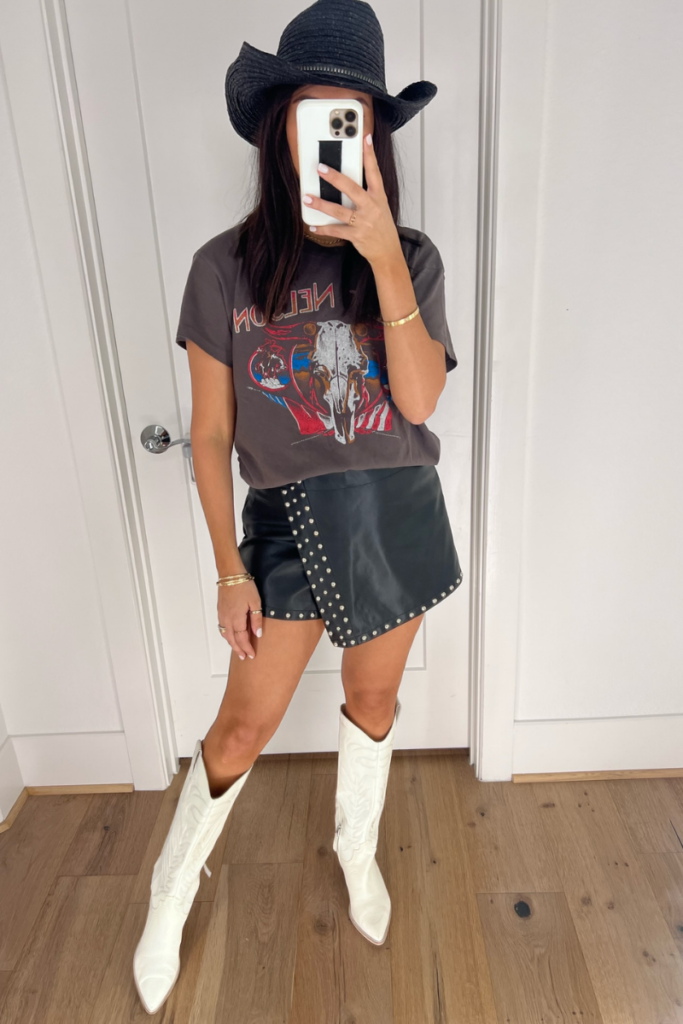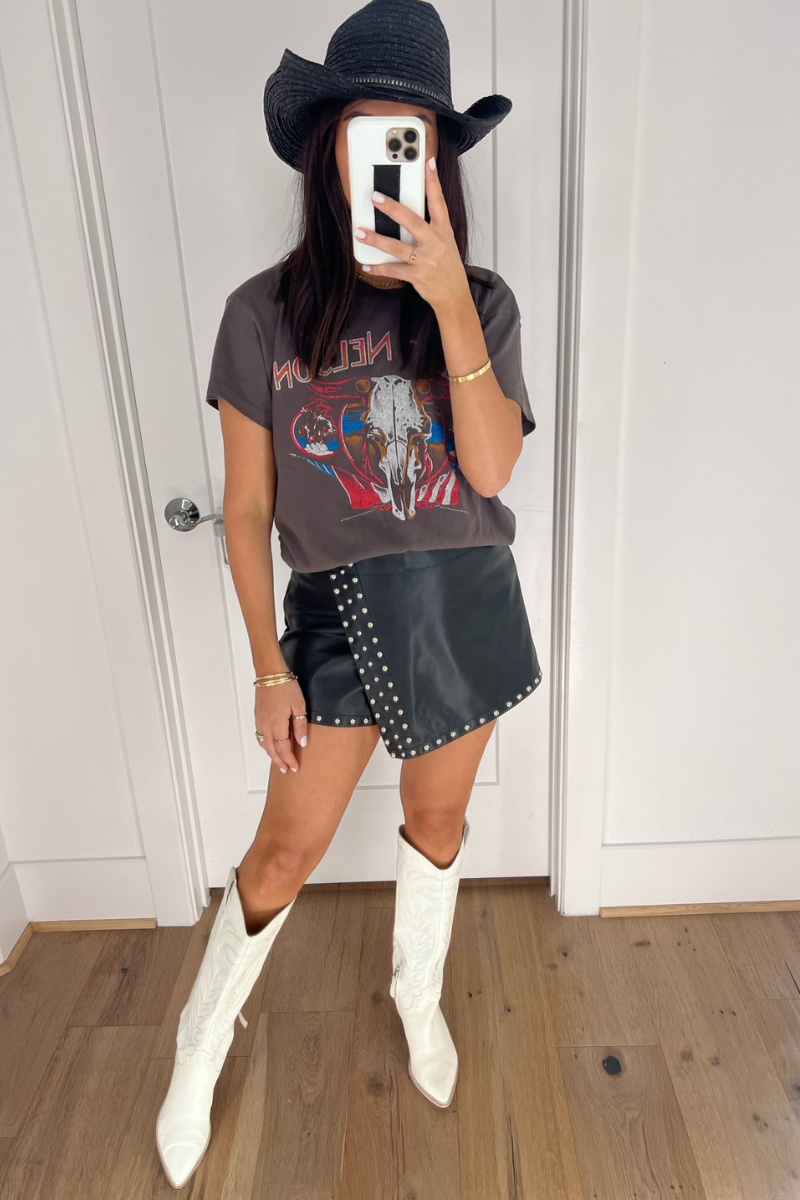 Willie Nelson Tee (medium) / Dolce Vita Solei Western Boots (8)
I love a good graphic tee, especially one that's soft like this one! This tee is looser fitting, but not super oversized so can be worn tucked in with a skirt or with jeans, probably not with biker shorts though because it's on the shorter side. Saw so many other fun country bands/singer tees by this brand on Nordstrom!
These boots are definitely an investment piece, but honestly, the look and quality of them are SO good. I tried another more affordable pair that give the same look, but I wear these way more (they're comfier, too!). Also come in black if that's more your vibe!
The Look: Flirty Fringe
Embellished Faux Leather Camisole (6)
Saw this top and immediately added it to my cart! Thought it was fun and different, and was so thankful it wasn't itchy! Loved the adjustable strap and zips on the side. Gives off a flirty feel without showing too much cleavage. This would be a fun look for date night!
The Look: Texas Tuxedo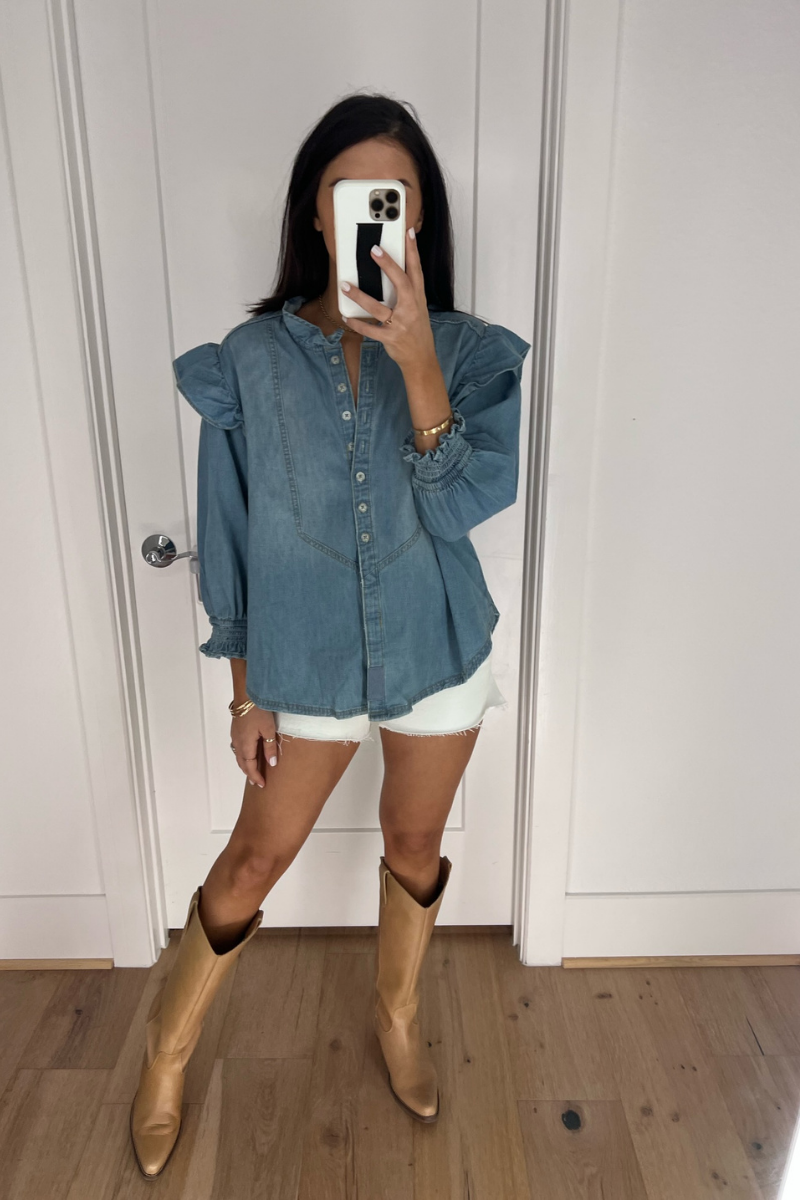 Free People Denim Button Up (S) / AGOLDE Parker Denim Shorts / Bonanza Western Boot (8)
Denim/chambray tops are a great piece to start building a rodeo outfit with! This one is a little more springy, but most can be worn year-round which is why I think they're such a closet staple! Thought this one was more unique with the ruffles and flowier fit (wearing a small). Spotted for 20% off on Nordstrom right now!
The Look: Edgy + Neutral
Leather Jacket (similar) / Bonanza Western Boot (8)
This jacket has been in my closet for years, I think I snagged it a Nordstrom Sale a few years ago! Looks like this color isn't in stock right now, so found a similar jacket that would work well to achieve the same look.
I've been wearing my white cowboy boots for a while, but thought a neutral pair would be a little more versatile, so ordered this pair recently! Would be a great alternative if you wan't something less trendy and more classic. Was looking for a pair under $200 (boots can get pricey!) and the quality on these really impressive, feel $$. Also ordered this pair which are even more affordable!
SHOP THIS POST

Thank You Nordstrom For Partnering On This Post!
---
The Latest On The Blog