Thailand Travel Guide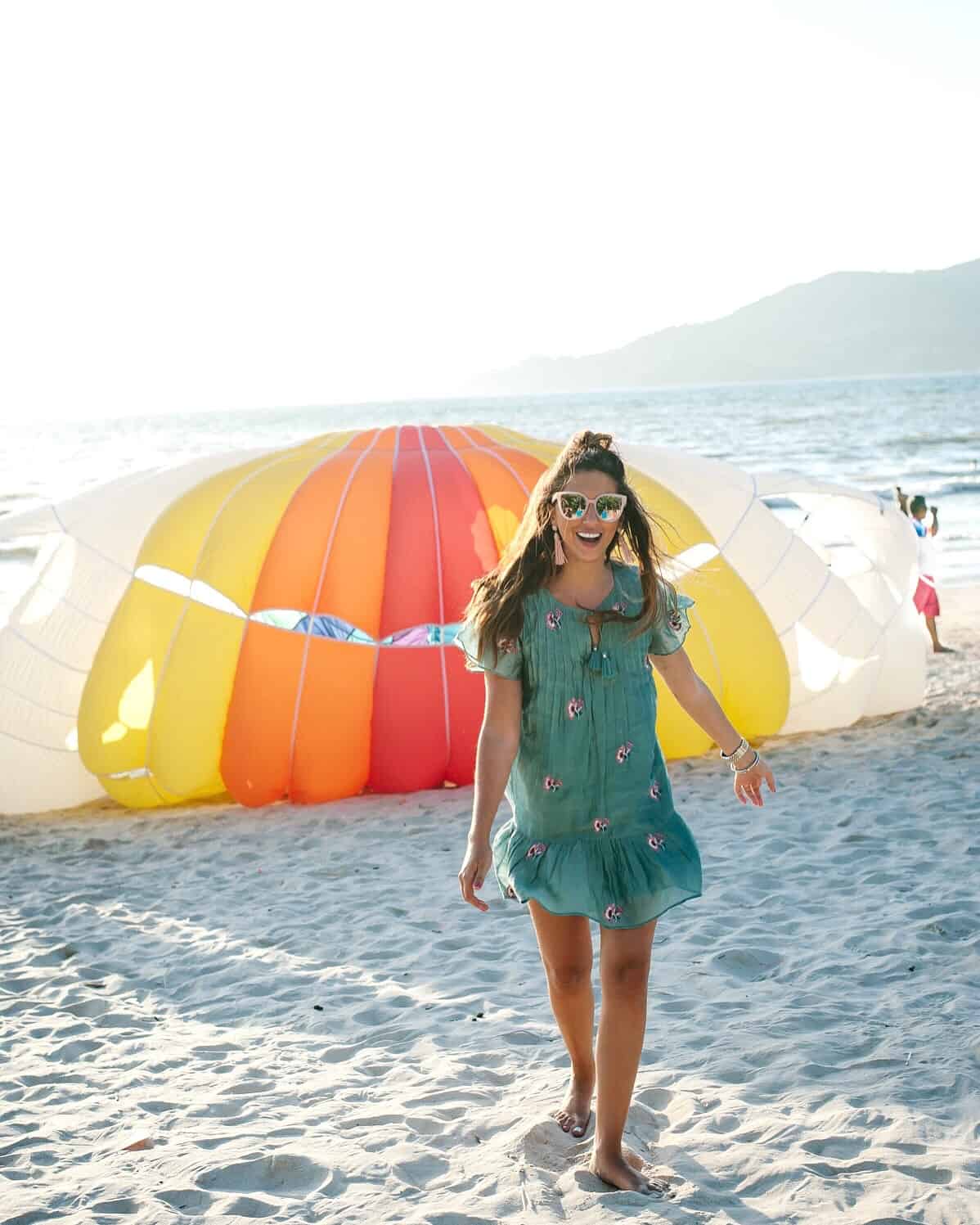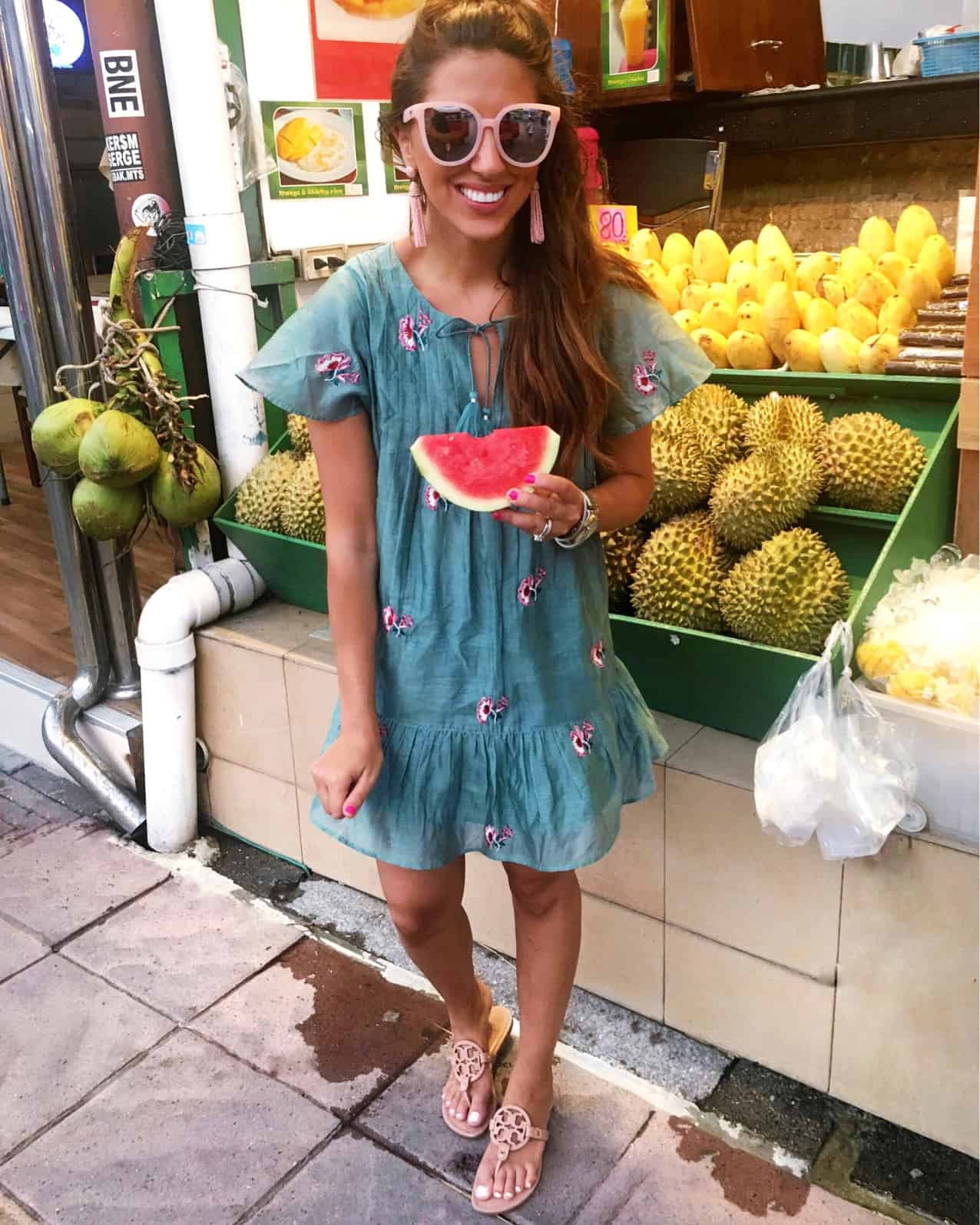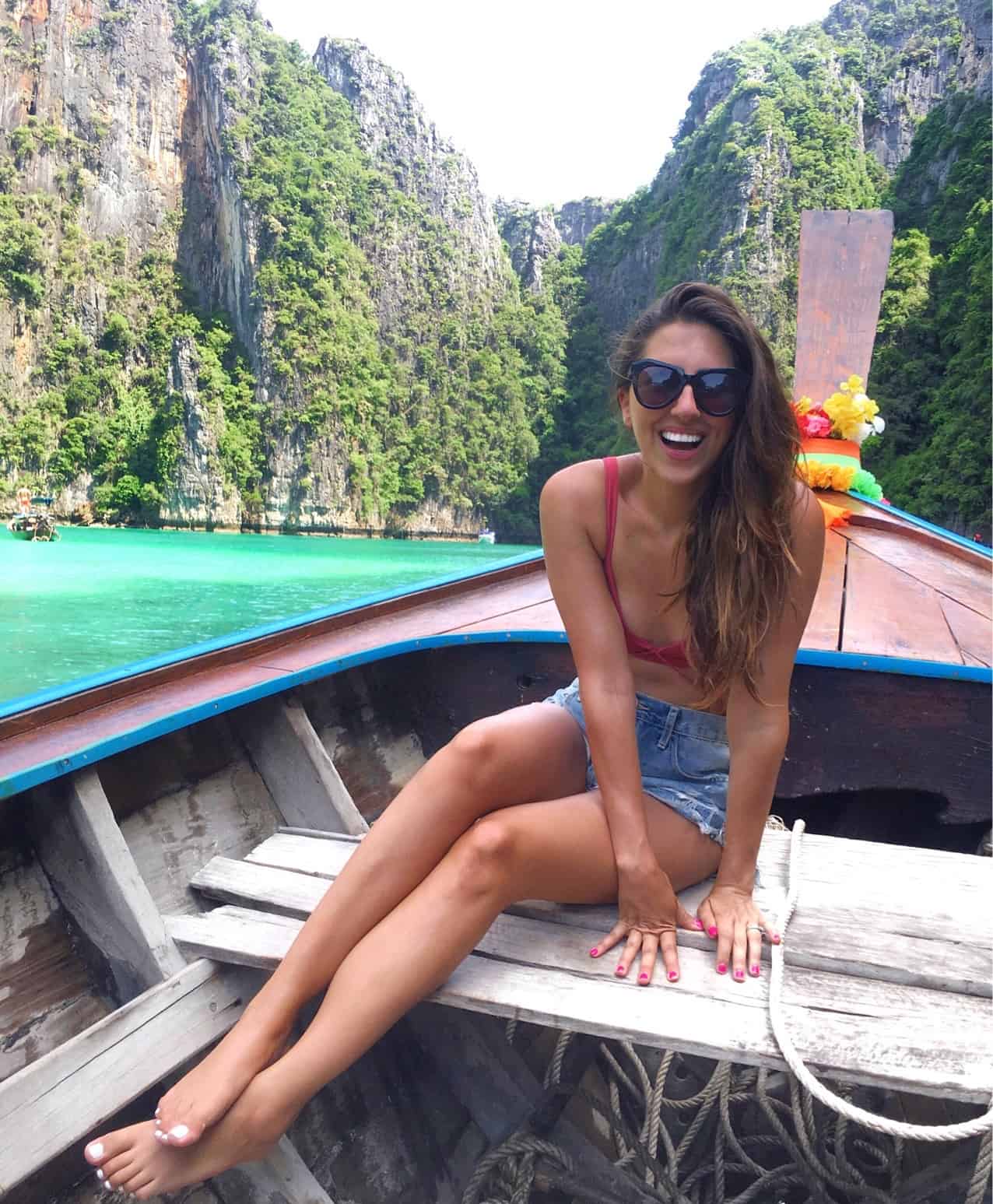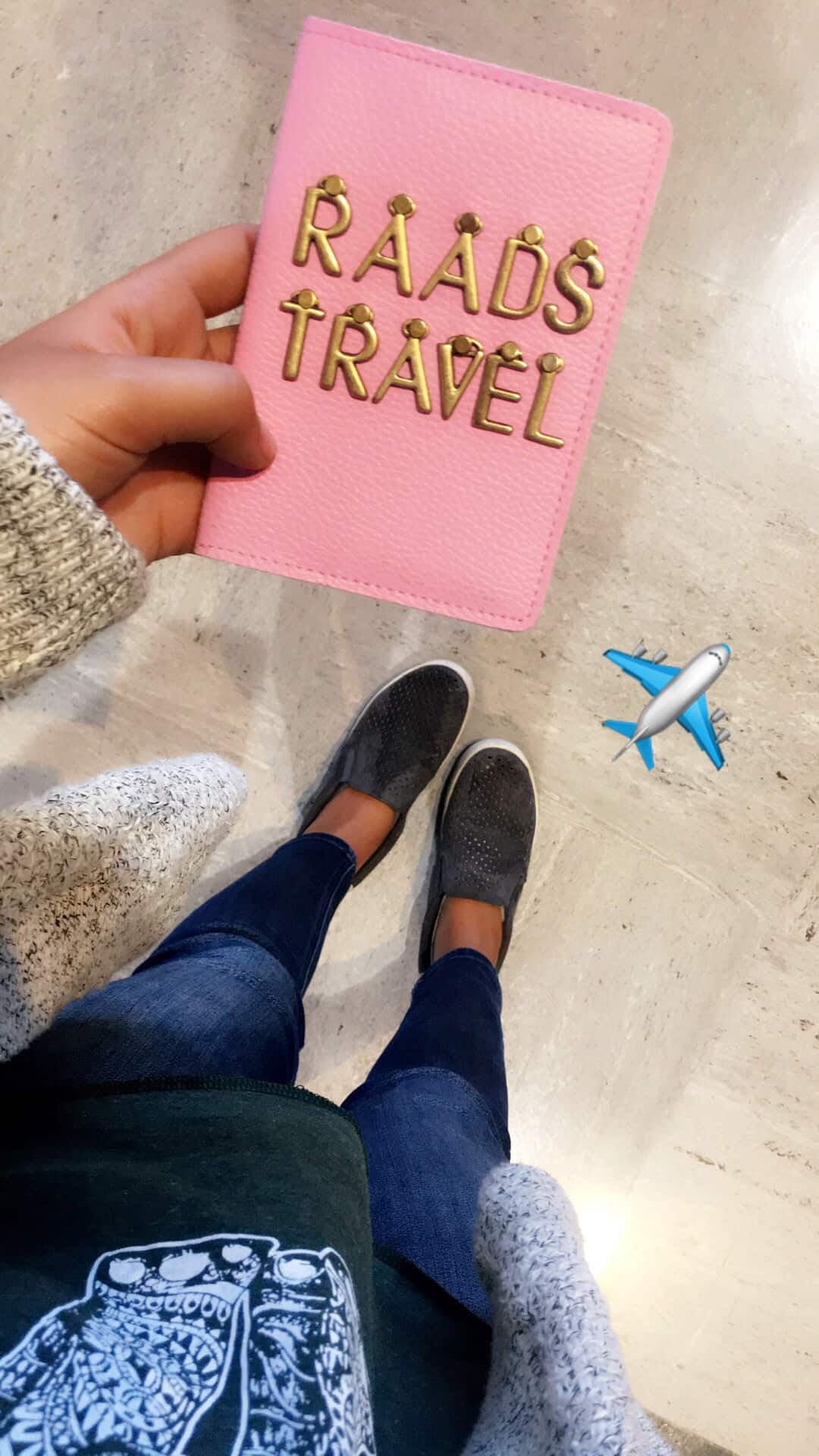 We did Thailand in 3 different parts so I will break it down by area and by days. You can read all about our "Thailand 101", things we wish we knew before our trip, here. Husband helped put this guide together, so enjoy!
Phuket
We started our Thailand journey in Phuket and we weren't blown away as we thought we should be. The real magic happens in Phi Phi island and I can go on and on and on about Phi Phi island. First, lets start with Phuket!
Hotel: U Zenmaya
We weren't INSANELY crazy about this hotel. I think it had to do with the location. The view was amazing on one side (cliff with an infinity pool) but on the other side it was on a busy highway. We did like that they had a tuk tuk service, to downtown Phuket that ran all day! We also were obsessed with the Chicken Curry and Pineapple juice at breakfast. Breakfast with the cliff view in the morning. Here is a little about what we did with our day in Patong
Day 1: Phuket 
Went to the pool for a couple hours. No one was there & the view was unbelievable. Sadly the beer was way over priced
We took a shuttle to Patong the center & walked to the beach (beach wasn't anything special)
We walked Patong's main street and had fresh fruit and then had pad Thai for $3
After dinner we got Thai massages. Ted and I freaked out about if we should take off our clothes or not. Ted took off his pants and I yelled at him to put them back on haha Ted basically was in a wrestling match the entire massage and did not enjoy it. I looked over and the girl was jumping all over his back!
We walked around Patong street at night and it was so dirty, worse than Bourbon street (we even saw a couple rats and I shed tears of fear every time I see one)!
Phi Phi Island
 We didn't really know that it would take more than half a day to get over to Phi Phi island. Since I am such a beach girl, I wish we would have skipped Patong and just went straight to Phi Phi since it was so magical. We only had 1 night booked here but we instantly called the airlines once we arrived and extended our stay to 2 nights. The water was SO blue. Here is a little of our itinerary.
Hotel: Phi Phi Island Village Resort 
We couldn't recommend this hotel enough! It actually reminded us of our honeymoon. It was a resort with huts on the property and about a 10 minute long tail boat ride from the main village. It is a very clean, excellent service, food, and amenities. The price was like $130 a night for a insanely nice resort! The adult pool was unreal and very modern! I especially loved that behind the hotel was a small small village of local shops and restaurants. This is where we booked our long tail boats. The village is mainly for the resort and you can walk from your hut to here. There also was hotel restaurants majority of the time we wanted local experiences so we would walk to town!
Day 2: Phi Phi Island
The ferry was in total a 5 hour trek from the hotel in Patong to hotel in Phi Phi. From the ferry ride, we took a long tail boat to Phi Phi Island Village resort.
Checked in and changed right into our swims. Hung out and ate by the pool and the beach. We discovered a small village behind the hotel that was full of locals with small little restaurants, massage places, bars, and travel guides.
We went back here for dinner and some drinks. All sand on the roads and was the best time. So authentic and local!
Also, we were able to find a place that could give us a 4 hour private boat tour to all the islands for 12$ a person….this place is cheap lol
Day 3: Phi Phi Island 
Had breakfast and sat by the adult only pool. It was so my favorite pool area (SO NICE)
Ordered a few drinks, relaxed a little while we charged up and get ready for our private boat trip!
The boat tour was amazing! We had 2 options to choose from, either take a speed boat, or a long tail boat

We did the long tail boat for 2 reasons

1. The price was a quarter of the cost compared to the speed boat
2. The long tail boat is so adorable and so authentic! We had so much fun riding this boat, that it made the trip that much more enjoyable!

We took four stops on our trip

First stop was to a secluded bay

The water was soooo clear it was unbelievable! I really regret not bringing a go pro so I could capture the experience first hand.
There were giant cliffs in the background, which added to its intrigue. I don't know how else to explain it! It was just so surreal

Second stop was to Maya Bay

This was considered to be a top 10 beach in the world (where The Beach was filmed)
The long tail boat doesn't have the strength to actually drop us off into the bay (bc of currents), but there was a back way to get in

The back way included:

Jumping off the boat into the water
Swimming to a rope ladder
Climbing the rope ladder about 20 ft high
And then walking across the island to the beach

Quite the adventure!

Needless to say, the hype was real. The place was absolutely stunning!

The downside – it was sooo sooo crowded. It's unfortunate how crowds can bring down a place, but the place was a little dirty in some spots because there were so many tourists around (including us haha).

Third stop – MONKEY BEACH

As the boat approached the shore, the monkeys began to swim towards us. At first, I thought this was so adorable. Then when they jumped into the boat and started grabbing all the food is when I began to scream and panic lol!
You really couldn't pet the monkeys (nor did I have any interest too lol), but they would let you hand them food. IT was definitely a totally different experience, and I would highly recommend it to anyone that visits.

Fourth Stop, Lan Say

This was the main village area, where there were tons of shops, restaurants and massage spots.
I really enjoyed this area, mainly to the island feel and the authenticity of the people there. I just walked around the village with a huge smile on my face.

After we were done with the tour, we paid a late night taxi (another long tail boat), to take us back to the hotel. Riding the boat at night is both scary, and amazing. The weather was great, the stars were bright, and the breeze was just right.
Day 4: Travel Day to Bangkok 
This day was 100% travel, as detailed below
7am check out
8am speed boat ride back to Phuket
9:30am arrival to phuket
10am transfer to airport by Taxi
11:45am Arrival to airport
2:30pm Flight to Bangkok
4:30pm arrival in Bangkok
4:30-5:30 in regret for 1 hour not doing our research on the best way to get to the hotel (haha)
5:30 No longer in regret since a taxi ride was 12$ to our hotel (which was a 1 hour drive away)
7pm check into the hotel
8pm get settled and Ted needed to call airlines book his work flight back to S. Korea
somewhere between 8:30-9pm I passed out
7am next day I realized I slept through the whole night lol
I am literally sharing all this so you can get a better idea of travel time, etc! We thought we would just hop over to different cities like we did on our Spain trip but this was completely different. So much travel time needed!
Bangkok
I think we loved Bangkok so much because we did it right. My sister would have been like what the heck because you can legit travel Bangkok for like $20 a day. We decided to "splurge" on the hotel meaning book a 5 star hotel for like $150 a night. We also got a personal driver to drive us around, keep all our stuff in the car, and just help us get around the city for like $50 the entire day. My uber from my house to the airport is $35 so we thought this was a steal!
Hotel: Avani River Side 
Y'all, this hotel was another favorite. The views were incredible, they had white marble everywhere, everything was SO clean, and the breakfast was one of our favorites! This was our kind of hotel. Everything was new and they even would change the floor mats in the elevator everyday to the day of the week. We couldn't recommend this hotel enough! They also had a ferry boat running to the night market. && you can't forget Avani rooftop pool! Gosh the views are incredible and had such a friendly staff!
Day 5 && 6: Bangkok
We just explored the city! We did the night market on the river which we loved
HIGHLY suggest the night market, one of our favorites and I got a personalized #raadstravel passport holder here!
Dinner on the rooftop of Avani also was incredible. It was Attitude and we loved their fun drinks. If you don't stay at Avani, I would suggest coming here for dinner one night!
We went to the floating market and I wasn't CRAZY about it, only because the water looked nasty and I swear our boat broke down on us like every second. There also was a guy with a snake just chillen in one of the markets and I nearly barfed. It really was a cool experience after we survived it!
Khao San Road is the heart of Bangkok! Several people recommended it and it was a strip of markets, food, and just people. We did a lot of souvenir shopping here!
Cashmere Suit: we knew this was a must while in Bangkok! We went early morning one morning to get Ted fitted. We had to go back later that evening to get him fitted one more time. They ended up shipping us his finished Cashmere suit and WE ARE SO IMPRESSED. We definitely will continue to be ordering Teds suites from this guy!
Sky Bar with a dome: this also is a must! We ended our night here before we had to leave to the airport. I kept reading you had to make reservations so I had our hotel conciegre set it up for us. I don't remember anyone asking for our information once we arrived. It had a BEAUTIFUL view of Bangkok with a gold dome and a bar. It kinda was scary but a memory that I won't forget. Hangover 3 was filmed here!
After sky bar, the perfect way to end Thailand was with our last Thai massage. We walked on over to this massage place called Silom Bodyworks. It was probably our favorite massage place! Very clean, nice, and our best massage!
Also I am SO excited to share our first #raadstravel youtube video!! Enjoy babes!