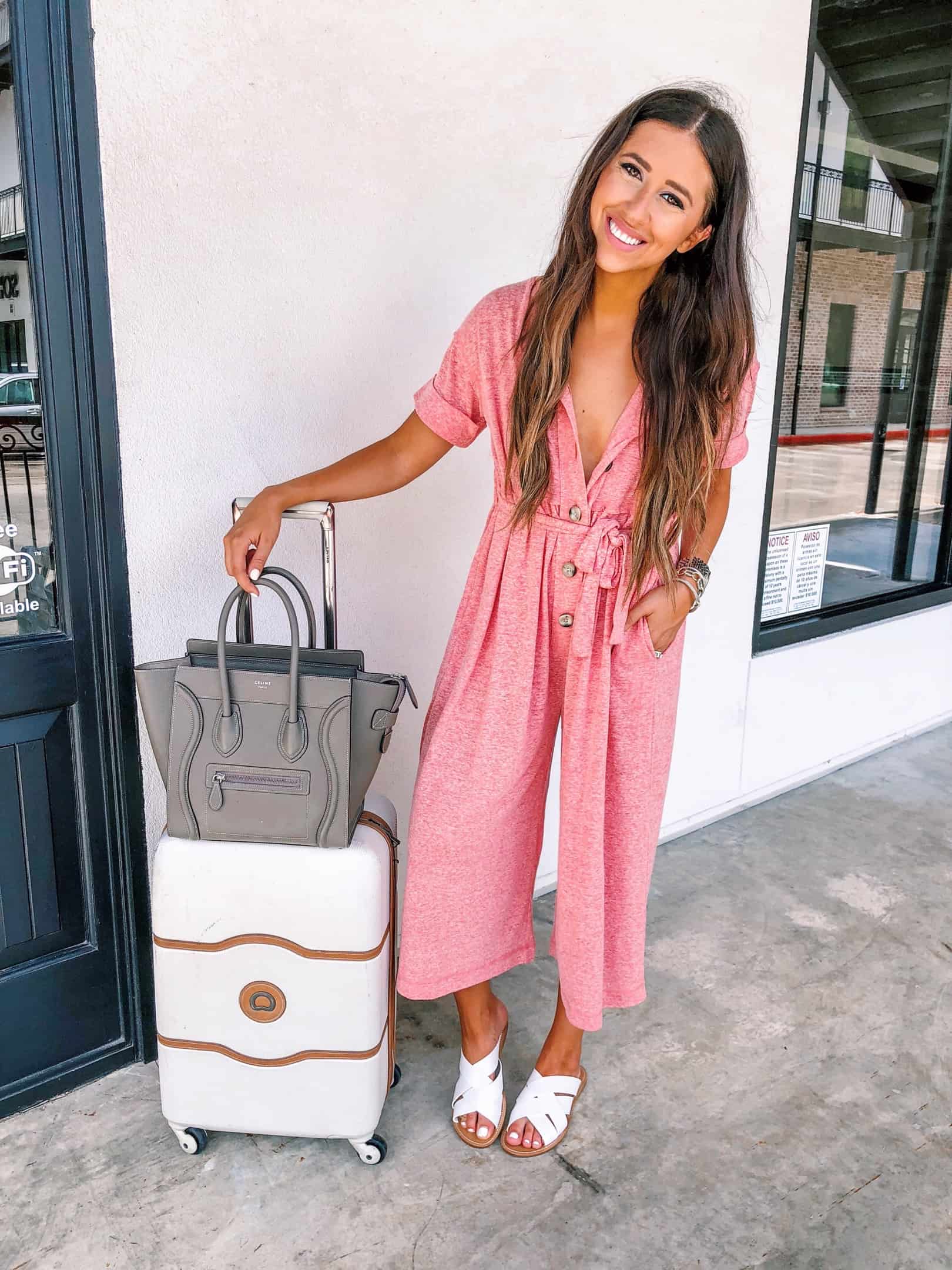 Jumpsuit: Free People| Shoes: Marc Fisher | Luggage: Delsey
Top: Madewell | Skirt: 1.State | Shoes: Sam Edelman
My Outfit \\ Top: Wayf | Bottoms: Wayf | Shoes: Sam Edelman | Earrings: Baublebar
Lauren's Outfit \\ Dress: Likely | Shoes: Sam Edelman | Earrings: Baublebar
Top: Bp | Skirt: Topshop |Shoes: Sam Edelman | Earrings: Baublebar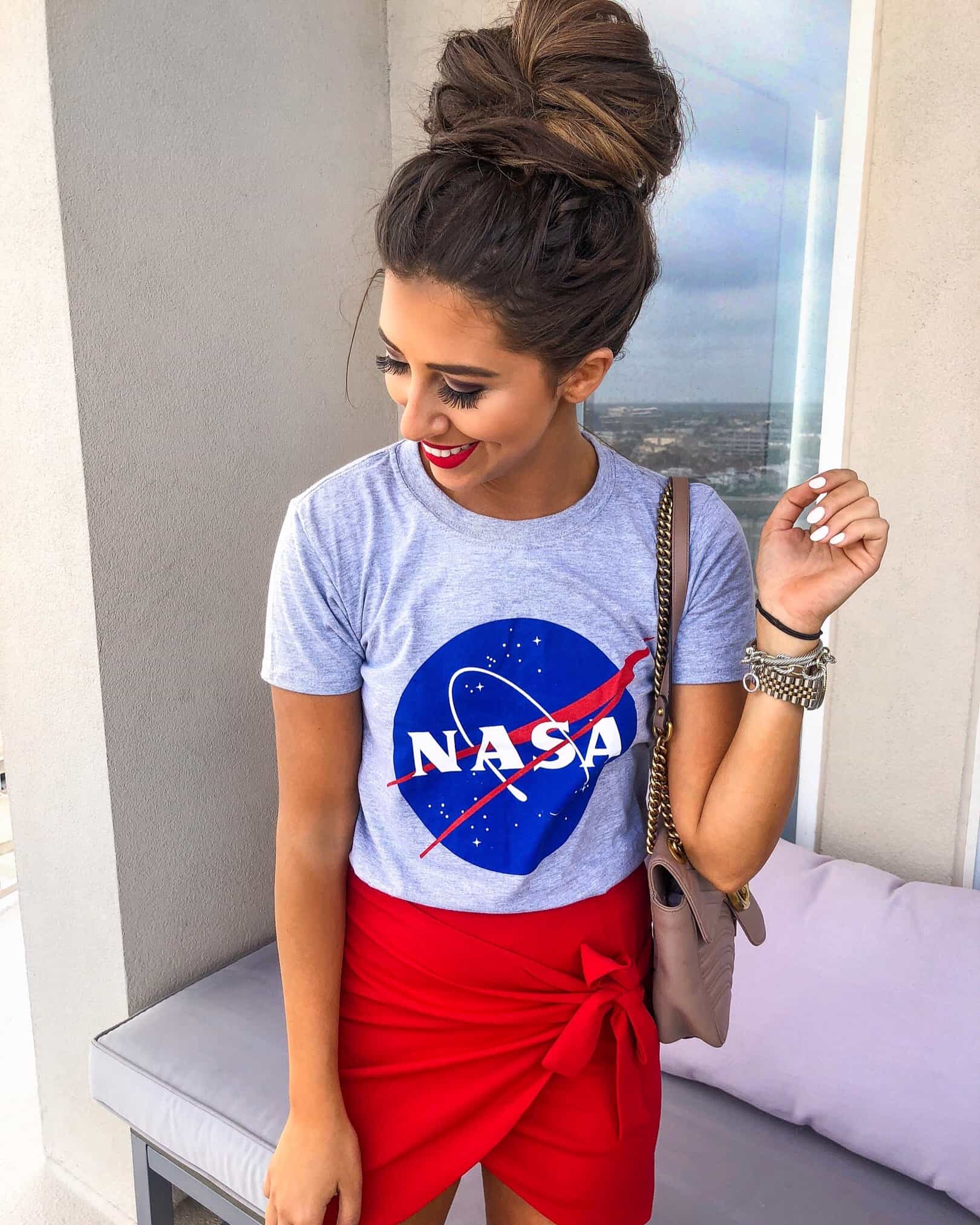 Top: Nasty Gal | Skirt: Nasty Gal | Watch: Michael Kors | Bracelet: The Styled Collection
Top: Vici Dolls | Pants: Vici Dolls | Shoes: Sam Edelman | Earrings: Baublebar | Belt: Gucci
Dress: Soprano | Blazer: Mural |Bracelet: David Yurman | Watch: Michael Kors
Jumpsuit: Lovers + Friends | Shoes: Sam Edelman | Earrings: Lisa Lerch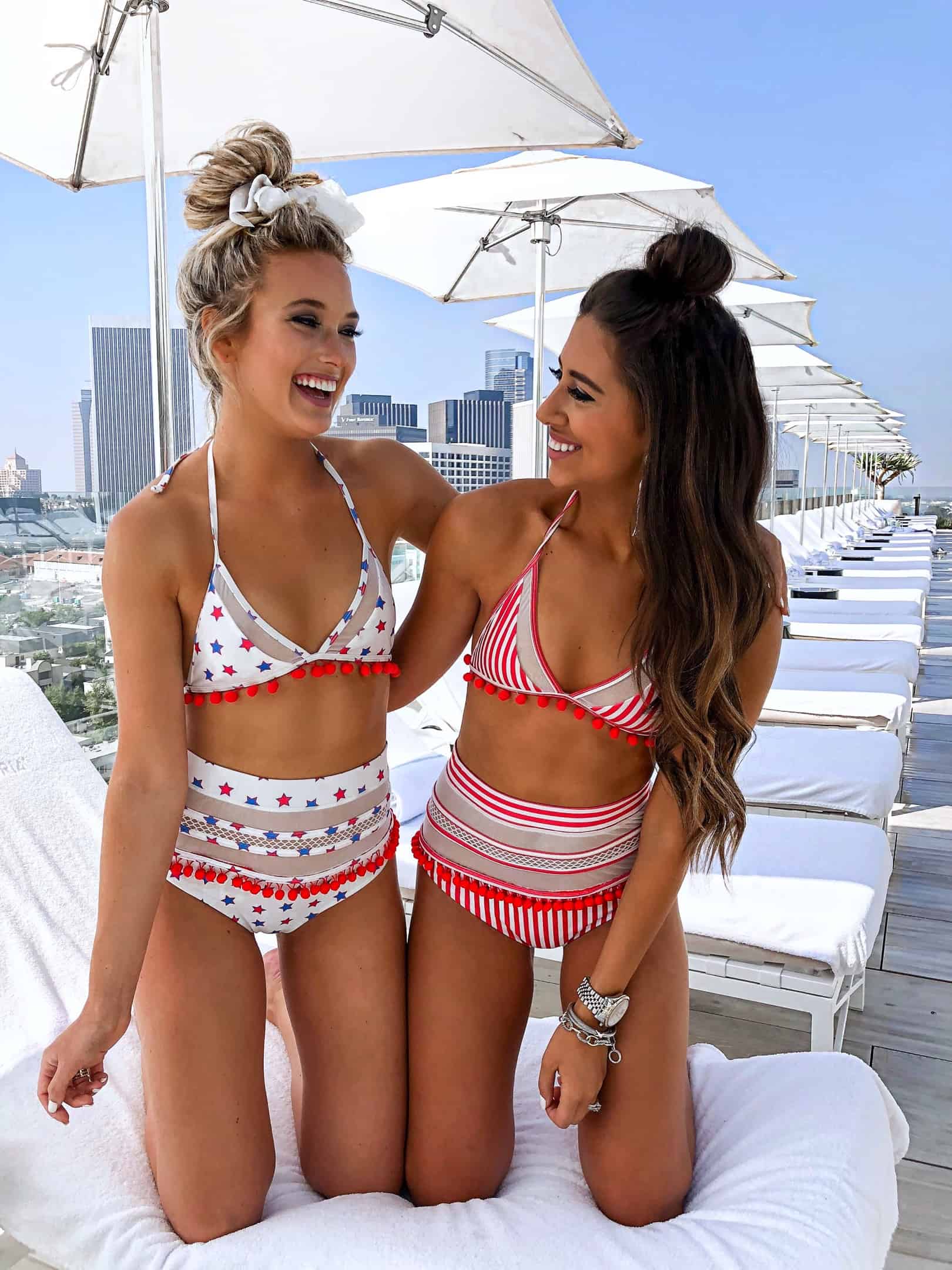 My Swim \\ Top: Tularosa | Bottoms: Tularosa | Bracelet: David Yurman
Emily's Swim: Top: Tularosa | Bottoms: Tularosa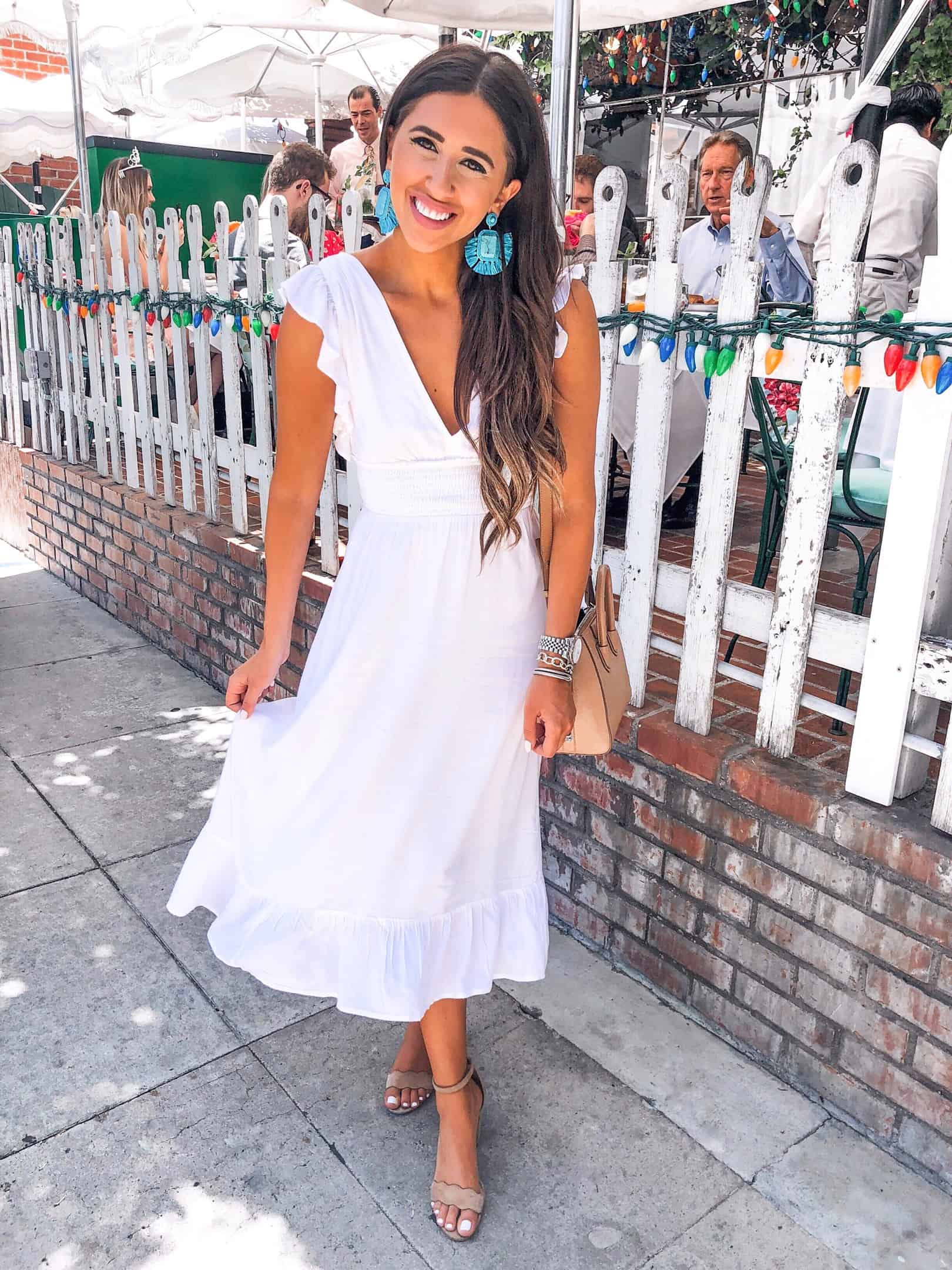 Dress: Bp | Shoes: Sam Edelman | Earrings: Baublebar
Top: Bp | Earrings: Misa | Bracelet: The Styled Collection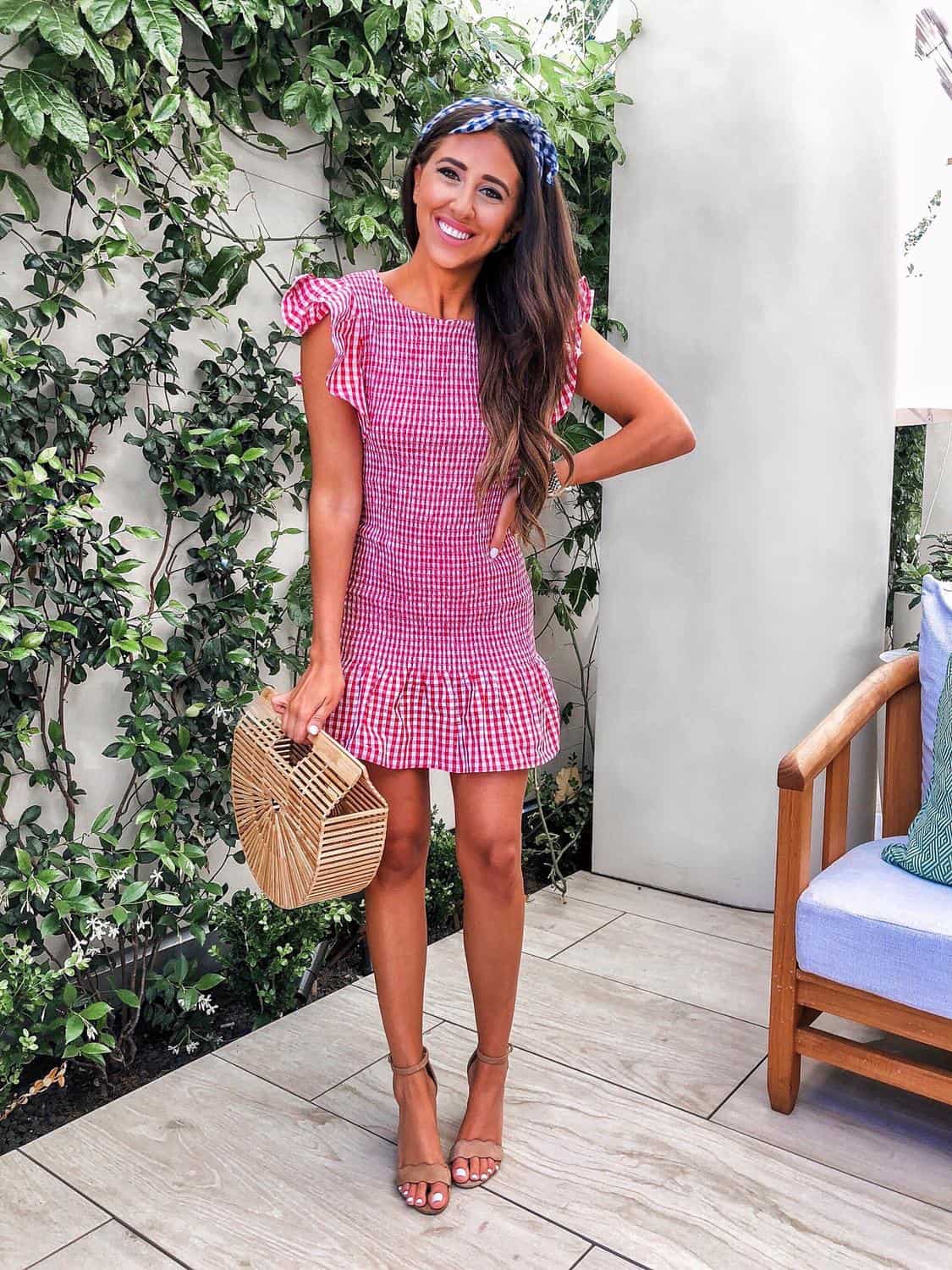 Dress: Goodnight Macaroon | Purse: Gaia | Hairband: Target | Shoes: Sam Edelman
Dress: Chelsea 28 | Shoes: Sam Edelman | Earrings: Panacea
Stay //
Waldorf Astoria: So this hotel was the fanciest of the fancies. Was the perfect location in Beverly Hills but also the service and aesthetic blew me away! I used to read about the hotel in my hotel and restaurant management degree, and the five-star hotel definitely lived up to the hype!! The room was super spacious and everything (Shades, A/C, TV, etc.,) was controlled from an iPad. The rooftop pool was breathtaking and I'm so glad we got to take advantage of it during our stay. You can make reservations to get a drink at the rooftop bar, even if you're not a guest! Highly recommend this! The views are amazing!
Eat //
Catch LA: We had so many recommendations to eat here and I'm so glad we did! We found last minute late reservations and the restaurant did not disappoint. It had a great crowd, dark ambiance, and it's on the rooftop as well! Be sure to order a cocktail because the French 75 and the Lemon Drop Martinis were yummmm! The sushi and Brussels sprouts were my fav!
Mr Chow: We had a chat with a local who would not stop recommending this place. The menu is SUPER unique and a la cart style. It was kinda hard to understand what we were ordering but everything came out SO DELICIOUS! I still think about the crispy duck and pot stickers. The crowd was mainly all older, business dinners or couples. We came here since apparently celebrities come here a lot, but we didn't see any!
The Ivy: My absolute favorite out of all the experiences! The restaurant is bright, lively, and filled with BEAUTIFUL colored roses. Like I can't imagine how much they spend on fresh flowers a day. Oh and they great you with a complimentary champagne at a champagne bar served by a nice lady. Even the champagne bar is a cute photo opp! We sat outside since la weather is always amazing! Lauren and I had the crab cake Benedict which I cleaned plate (meaning I loved it lol). This is def a coming back spot for me! Ps we did make reservations!
Beverly Hills hotel: this hotel in general is such a iconic spot! We made reservations at the pool restaurant for brunch and loved loved how pretty it was! Even walking through the hotel and pool was like ohhhhh ahhhh! The restaurant its self is outside and we requested a booth! My favorite was Emily's blueberry pancakes and chicken sausage. I had the salmon lox to try to be somewhat healthy!
Lemonade: I go here every time I am in la! I so wish they open one in Houston. Such a great quick healthy spot for food and oh so cute! I have got the poke bowl the past couple of days and love it!
Sur: We walked here after Pump for dinner and to meet our sweet friend Daryl Ann! We got here super late since we were preoccupied with being at Pump! I honestly don't remember what I got but I remember everyone liking their food. Someone said that the staff works on Wednesdays to shoot so that might be a pro tip or just a rumor! I watch the show every now and then!
Bars //
Waldorf Astoria Roof Top: this is a must! Such stunning views from the top of our hotel! I am pretty sure you need reservations since it was packed every time we went up there. They have ADORABLE green couches and it is so picturesque.
Pump: This was a highlight! First we three are House Wives of Beverly Hills fans so we dedicated an entire night to start at Pump for drinks and had dinner at Sur! Immediately when we arrived to Pump, we saw Lisa Vanderpump sitting at the front of the restaurant. It was suuuureal! We fan girled but never got the guts to approach her and ask for a photo. We sat at the bar and contemplated it all night. Even Jiggy showed up for a hot second! Emily did get a picture with Ken and it was an experience to remember!
Things To Do //
Shop on Rodeo drive: Even if its Ice Cream and people watching, shopping up and down Rodeo drive is so much fun!
Vanderpump dogs: Such a cute friendly stop to play with some puppies!!
Paul Smith Pink Wall: Get a picture of the famous pink wall! The lighting is so good and such a cute pink wall for the memories!
Beach: I mean the fact that LA has the beach and hiking all in one! Why can't Houston have this?!
Really, there is SO much to do in Los Angeles. I can spend several weeks here and not get to my bucket list. Hiking, beaches, they have it all! I now know why so many people live here!