Travel Guide to 30a Florida
Dress: Misa | Bag: Cultgia | Sunnies: Quay | Earrings: Kenneth Jay Lane
Dress: Vava | Shoes: Marc Fisher | Sunnies: Karen Walker | Bag: Cult Gaia | Earrings: Similar| Watch: Michael Kors | Bracelet: David Yurman | Bracelet: David Yurman
Swim: Becca | Hat: San Diego |

Dress: Topshop | Shoes: Sam Edelman | Bag: Mia | Earrings: Kenneth Jane
Dress: Missguided | Bag: Cultgia | Sunnies: Quay | Earrings: Bauble Bar |
Blog Post Here / Top: Topshop | Pants: Topshop | Shoes: Steve Madden (SALE) | Earrings: Kenneth Jay Lane | Watch: Michael Kors | Bracelet: David Yurman | Bracelet: David Yurman | Bracelet: Bauble Bar |
Scarf: BP | Shorts: One Teaspoon | Shoes: Jack Rogers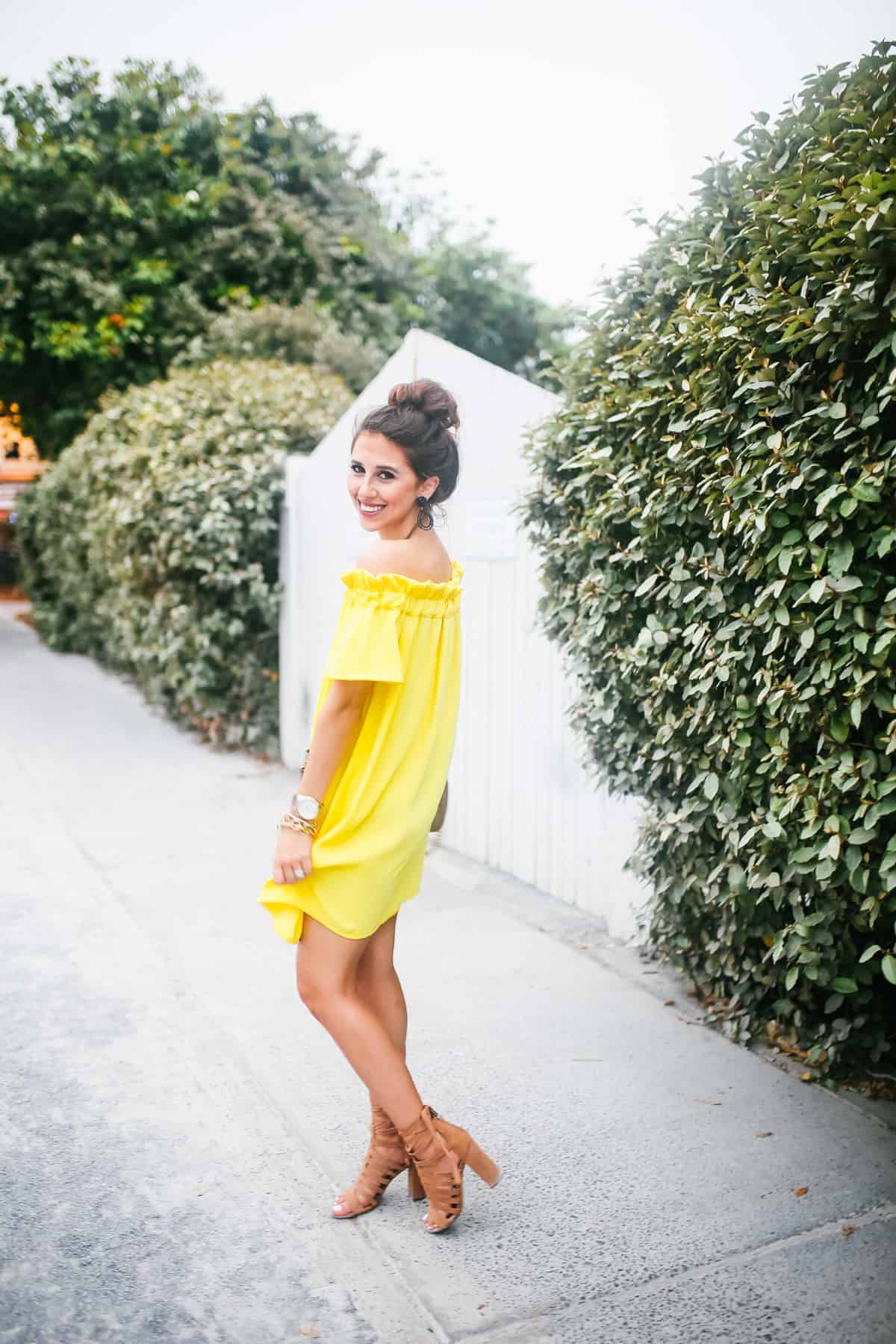 Dress: Yellow or Blue | Shoes: Sam Edelman | Purse: Mary y Sol | Watch: Michael Kors | Bracelet: David Yurman | Bracelet: David Yurman
Bottoms: Misa | Top: Topshop
Babydoll Romper: River Island | Shoes: Marc Fisher
I was in Seaside longer than some of my Europe vacations so if you ask me, I feel like I conquered 30a and have lots of suggestions! I had a friend get married in Rosemary beach last summer and I had an idea of how cute the area 30a was but really was surprised with my stay. 30a has so many different areas and restaurants to offer and you can't forget about the crystal blue water! After the trip, I had so many friends letting me know they are visiting 30a this summer! If you plan to visit, be sure to bookmark this page for recommendations on where to stay, eat, and do. Rent30a and Livewell30a have also generously offered a 10% discount code for you all (use livewellbuttercup)! This includes their huge selection of beach houses, beach chairs, bikes, beach bonfires, kayaks, paddle boards, etc! They make booking a family / girls trip vacation so EASY. Everything was planned for us and well thought of when we arrived!
Stay:
Rent 30a Beach House: our beach house fit 8 of us and it was so nice to be on the beach! We stacked up on snacks and it was so much fun to have a giant sleep over in one house! As long as you are staying along 30a, you are very close to everything! Some popular areas: Watercolor, Seaside, Seagrove, Alys Beach, Rosemary, and Inlet!
Food:
Drinks:
*The Pearl: The Pear is a cute hotel in Rosemary Beach! It's has a black and white striped theme with pops of yellow. It just makes you happy! Go inside and head to the rooftop bar for a drink.
The Hub Bar: This is where the Mile Marker, above is! Such a cute outdoor space with tons of food options, live band, and outdoor activities.
City Spots:
The Hub: Full of restaurants, live music, ice cream / bar and a lawn for corn hole and activities. People where there to watch the NFL draft and hang out!
Alys Beach: I died at Alys Beach and WILL go back. It was my favorite white little area. I was obsessed. I tried to make a stop every chance we got! Just walking the big white houses were so much fun.
Rosemary: You have to walk all these small little towns. Rosemary has an adorable Post Office and such cute shopping places.
Seaside: Another cute little town with restaurants, a cute Post Office, and shopping!
Extra:
Shrimp Boil: This makes the best memories! Who doesn't love shrimp boils with some yummy corn and potatoes. I want to go back to this memory. It was one of my favorites!
Chef 30a: Sometimes it's exhausting staying in a beach house and the same people end up cleaning and cooking the entire time. Treat your family to a nice brunch where no one has to life a finger!
Bonfire: We had a bonfire on the beach one night before the shrimp boil and it made my heart so happy! I LOVE being warm so a fire while watching the sun go down was glorious.
Sunset: I am a sunset chaser so be sure to be outside either on a beach or a rooftop patio one evening while you are there to watch the sunset. It's stunning!
I couldn't be more grateful for visiting 30a and getting to know all the other girls on the trip! Jessica- Lipstick Heels and a Baby coordinated the entire trip and I couldn't have been more grateful to be invited! She lives on 30a and knows all the best spots. If you have any questions, feel free to reach out! I definitely am headed back to Seaside and taking the hubs with me this time!