Gift Guide for White Elephant Exchange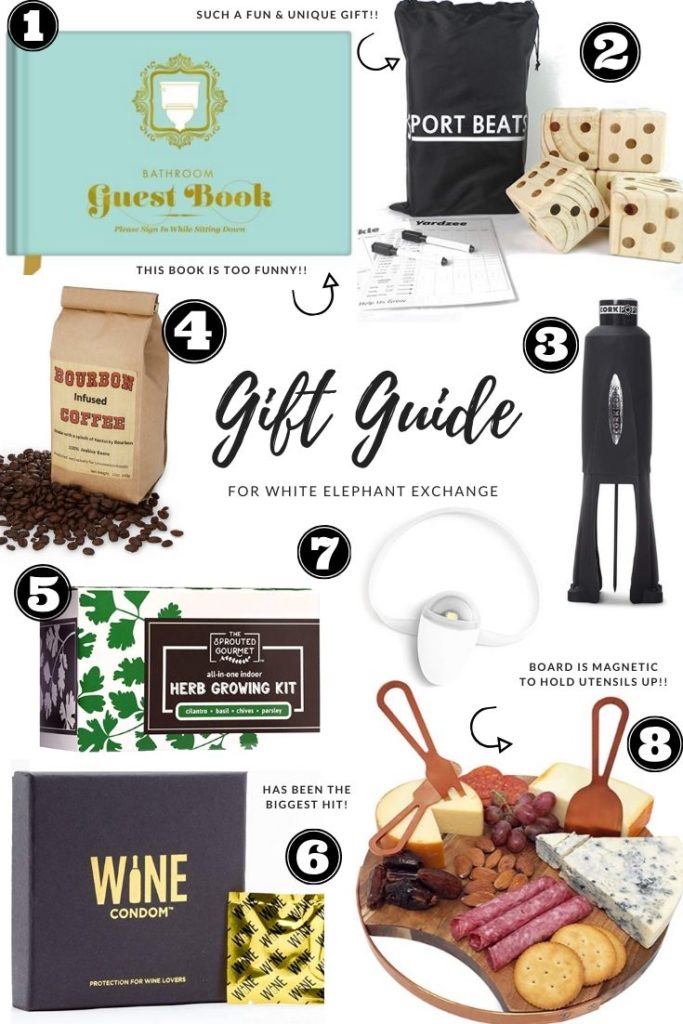 1. Bathroom Book: Still laughing at this book! Would make a great gift for a funny white elephant party!
2. Yard Dice: This is actually so cool and unique! Looks like so much fun to play outside with the family!
3. Corkpop: A lot of you guys recommended this wine opener and said it is so easy and quick to use!
4. Bourbon Coffee: Coffee is always a great gift but thought this one was so neat since it is infused with bourbon! This one also looks great too and is amazon prime!
5. Herb Growing Kit: Would be so cool to grow your own herbs in the kitchen! I also love this mason jar one here!
6. Wine Condoms: This really has been the biggest hit so far! Its a funny gift but also super practical and useful!
7. Hydration Reminder: Such a cool little device! You put it around your water bottle and it reminds you to keep drinking throughout the day! This one is also cute!
8. Cheese Board: Love this find! The board is magnet to hold the utensils in place and the rose gold colors are super cute!
Other fav ideas under $30: