Crushing On Disney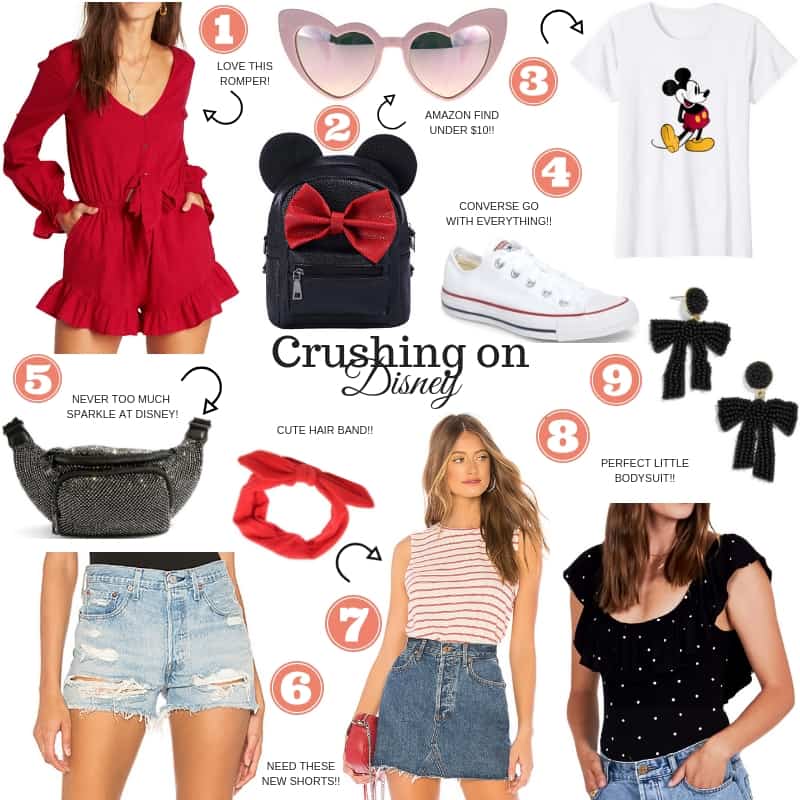 We are headed to Disney this weekend and I am so excited!! Since vacation season is coming up quick and I know this is a popular stop, I thought I would share some things I'm taking a long and ideas I had!
1. Romper: Love everything about this romper from the ruffles, pockets, tie front, and button detail! Also the fact that it's a romper makes it so comfortable to wear all day!
2. Sunglasses: I have purchased these sunglasses before from amazon and loved so decided to grab them in pink AND they are under $10!!
Backpack: This is another amazon find that I am obsessed with! Such a good idea to bring a backpack instead of a purse and this one is too cute!
3. Tshirt: Not gonna lie I am obsessed with Mickey and can not wait to wear this!!
4. Converse: If you don't have yourself a pair of converse you should pick you up a pair asap! They are so easy to wear with any outfit and so comfy!
5. Bag: Love the sparkle on this "bumbag" as they call it! This fanny pack is so practical to carry all your stuff throughout the day and adds a little something something to your outfit!
6. Shorts: With warmer weather coming up I have been on the lookout for some good new shorts. These are SO cute and a steal for Levi's!
Hairband: Such a simple accessory like this can add so much to a simple outfit!
7. Top: Always good to pack an easy striped top to wear and it can also be a basic for year round!
8. Bodysuit: Ok love love this little bodysuit! It is giving me all the Minnie mouse vibes!
9. Earrings: These bow earrings are so precious!!