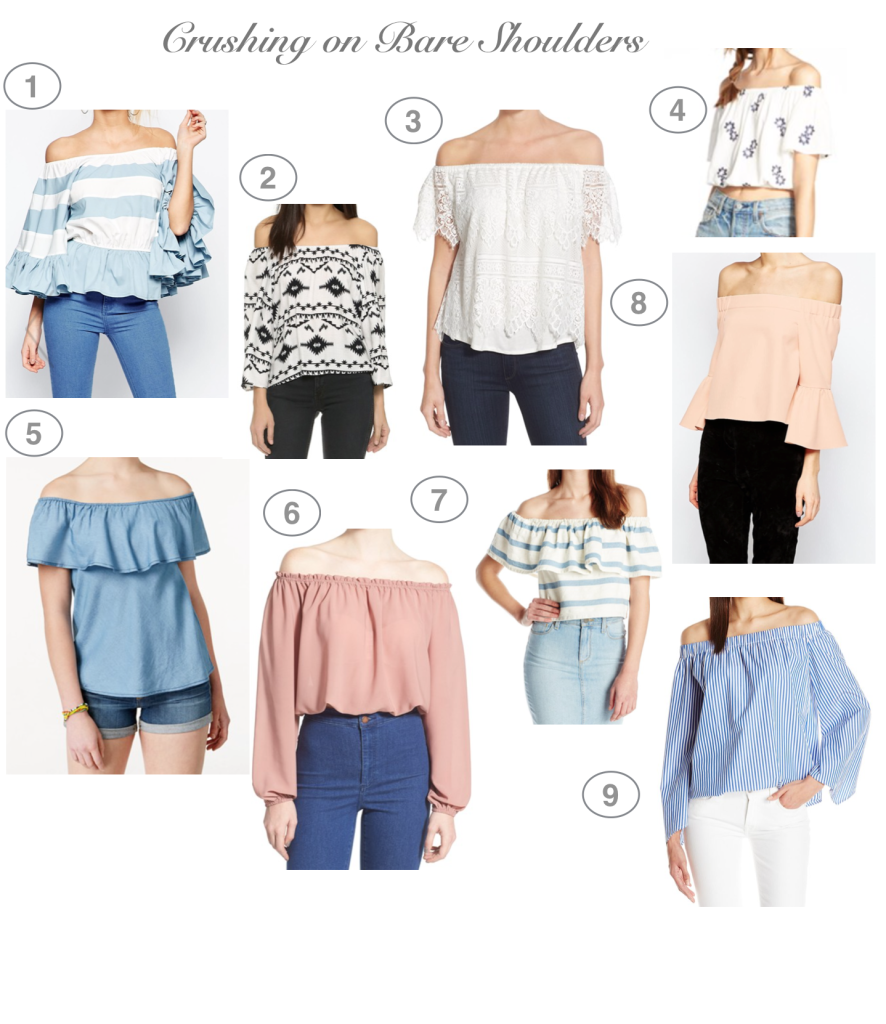 1. ASOS
2. BB Dakota
3. Cupcakes & Cashmere 
4. ASTR
5. American Rag
6. ASTR
7. Mara Hoffman
8. ASOS
9. Finders Keepers
If you have been following the past couple of weeks, you probably have noticed the over load of the bare shoulder trend. I. Just. Can't. Help. It! I think shoulders are so flattering and this trend really gives me a reason to work a little harder in the gym on my shoulder muscles lol (not even kidding)! I have especially been crushing on this long sleeve off the shoulder because A the color and B I love the look of long sleeves and a bare shoulder. I love how this year we have many options on this trend, so I decided I would round up my favorite finds. This off the shoulder is the perfect color and has a touch of the bell sleeve style (so you get a double whammy). I hope you all love this bare shoulder look as much as I do. What else would you all like to see on my "crushes" series. I always have so much fun with these!
Today I am attending not one, but two Rising Tide – Tuesday Together meetings. I have been going back and forth (depending on my schedule) with the Houston and the North Houston chapter meetings. It just so happened that two different friends asked me to attend both meetings today and my schedule is eek kind of open. I always love attending the Rising Tide meetings because it's an opportunity to meet like minded entrepreneurs in the Houston area. It's a chance to pick each others brain about what we all are going through. Rising Tide is an organization that promotes Community Over Competition which I am ALL ABOUT. Life is not a competition and we all shouldn't be scratching to the top. Instead, we should all help each other get to the top together and I am a huge believer in that. I hope you are too! More info on Rising Tide here.