Crushing On White Dresses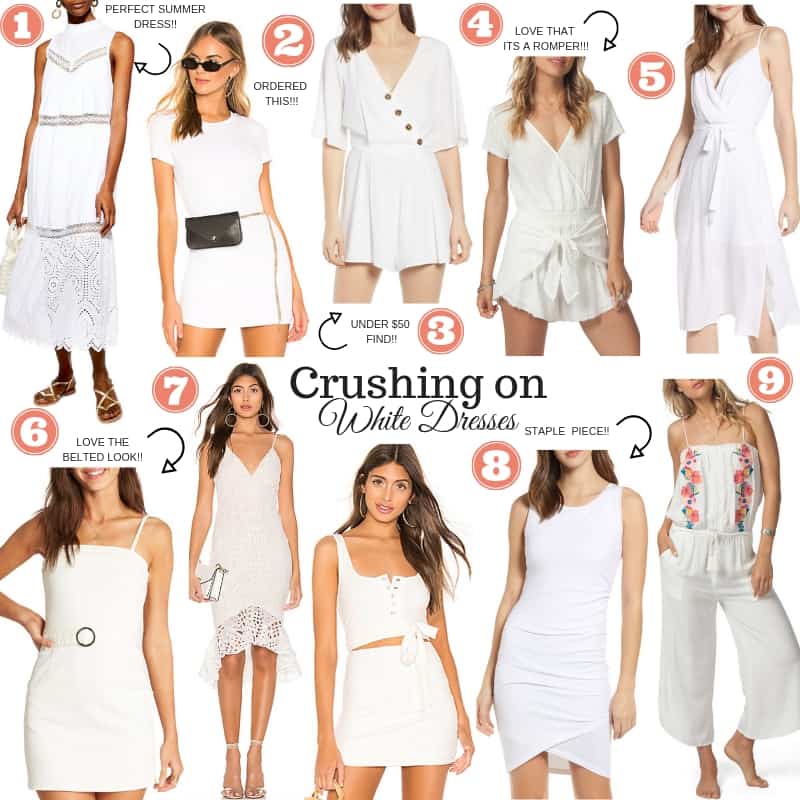 1. Topshop: Love love this dress for spring/summer! The eyelet and high neck make it such a unique piece!
2. Superdown: Ordered this dress and think it's such a great staple to have in your closet! Would be perfect for layering or add some accessories to make it pop!
3. Row A: This is actually a romper and under $50 find!!
4. Rip Curl: Had to throw in another romper cause you guys know I love how comfy they are! I like that this one is very casual and looks super comfortable.
5. Row A: Another under $50 find!! Love the look of this one and you really can't beat the price for a dress like this!
6. Billabong: Loving this belted little mini dress!
7. Superdown: Have this one and obsessed! Sharing it on IG stories for a better review!
Privacy Please: This looks like a two-piece because of the slit in the middle but its actually a dress! Think it would be so good to take on some beach vacations!
8. Leith: Ok I have this dress in so many colors( I think it comes in like 7) and can not say enough good things! It is so versatile and is another staple to have. You can easily throw it on with a cardigan and flats or dress it up with some heels!
9. Rip Curl: This jumpsuit is so darling!! The embroidery is so spring/summer and the material looks light and breathable!