Crushing on Beauty Products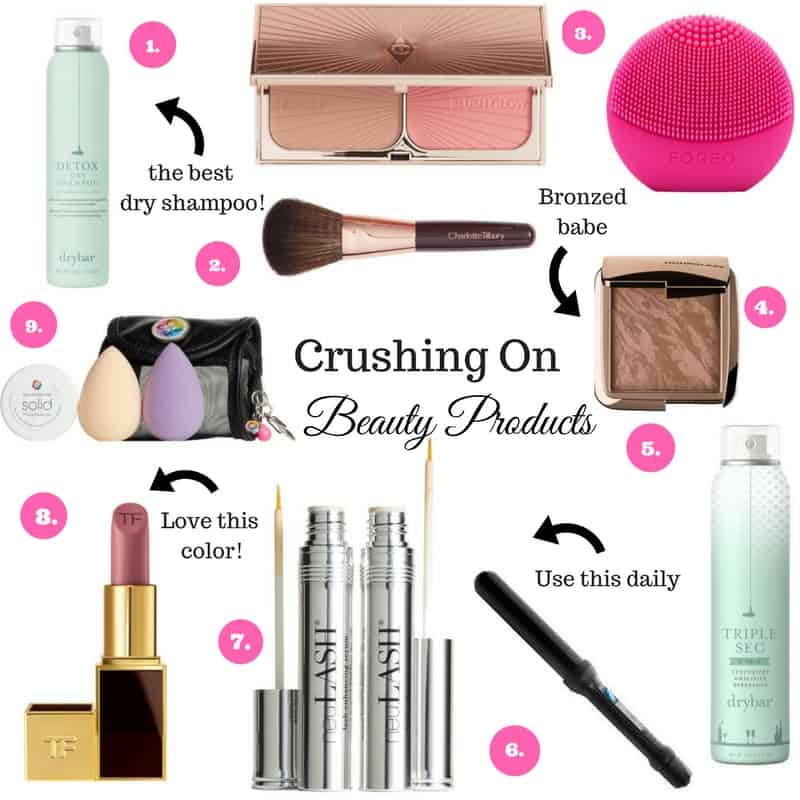 1, DryShampoo: HOLLY GRAIL. I talk about this A LOT in my hair tutorial that will hopefully (fingers crossed) be here next week! I kinda included 3 of my favorite holy grail hair products on this post but it's highly requested so figured you might wanna know!
2. Charlotte Tillbury Bronze & Blush Set (#nsale): This babe comes with a bronzer, blush, and a brush. I mean that is a steal and I saw it ALL over everyones highly recommended #nsale beauty find. I am thinking of putting a new order in and I also need a new bronzer brush so win win!
3. Luna Facial Cleansing Brush (#nsale): I absolutely love this cleansing brush! It cleans my face so well and leaves my skin feeling so smooth! I use this normally twice a week before I go to bed because it helps get off all the make up! When I don't use it, I can definitely feel a difference.
4. Hourglass Bronzer: Lately I have been getting tons of compliments on my "natural" glow bronzer and it's because I switched over to this babe. I have the luminous bronze light color and works like a charm!
5. Triple Sec: Another holy grail. Gives so much texture and volume for your hair! I can't live without it and it smells amazing.
6. Nume Wand: HOLY GRAIL for my curls. I have the T3 and love it but something about this wand has stuck to me. I will be explaining in my hair tutorial video my tips and tricks of how I get my curls but for now, you'll need this bad boy!
7. NeuLash (#nsale): I honestly could have just put this product on this beauty post and been done because this is one of the products that I purchase every year during this time. I bought my 2 piece set last year during the sale and still have the bottles. I don't use this serum as consistent as I should but it works when I am on top of my game. Highly recommend!
8. Tom Ford "Pussy Cat": My friend introduced me to this lip and I kinda wished she had not. The price tag ain't so pretty but the lippie is! The color is everything and it glides on so well and stays put unlike some lipsticks I own! I can really tell a difference!
9. Beauty Blender (#nsale): This is another holy grail that is a everyday necessity. I recently have been putting on my foundation with a beauty blender as well (instead of a foundation brush) and it has been a game changer! Make sure your blender is always damp before using! I love that you get a few of these on sale because you can never have enough!