10 Top Nordstrom Sale Last Chances!
I can't believe the Nordstrom anniversary is coming to an end! I kinda am REALLY sad about it because it has been so fun / challenging styling these fall outfits (especially in Houston)! What I like about this sale is that these items aren't being liquidated, they are just going back to normal price. They are in season items! PS I REALLY hope that was a refresher or I have failed at my job at letting you know what the sale hype is all about!
Anyways, I recommend snatching whatever your heart desires, try it on, and if you don't like it, just take it back! Nordstrom is KNOWN for their free shipping and seamless returns! I wouldn't recommend waiting until after the sale, because that was me last year y'all! I think I waited to shop until like 11:50 the night of and instantly regretted waiting.
Anyways, I wanted to share 10 items that I think we all have overlooked during the sale that is considered a must have in my book (& ALL ARE FULLY STOCKED)! You can check out my private sale post here and public access sale post here. You never know, those Adidas or Kate Spade shoes EVERYONE went crazy over, may be restocked (they either restocked or someone returned a size). Go through those posts and click on whatever you had your eye on, you never ever know!! I also have been updating the Nordstrom Sale category tabs above on the daily!
PS this list is based on everyone's absolute favorite picks + my favorite picks! I have a TON of #nsale finds at home but these were the items I think you will be missing out on if you don't snag em!
Don't forget all items are fully stocked (or at least when I published this post)! & I saved my favorite look for last!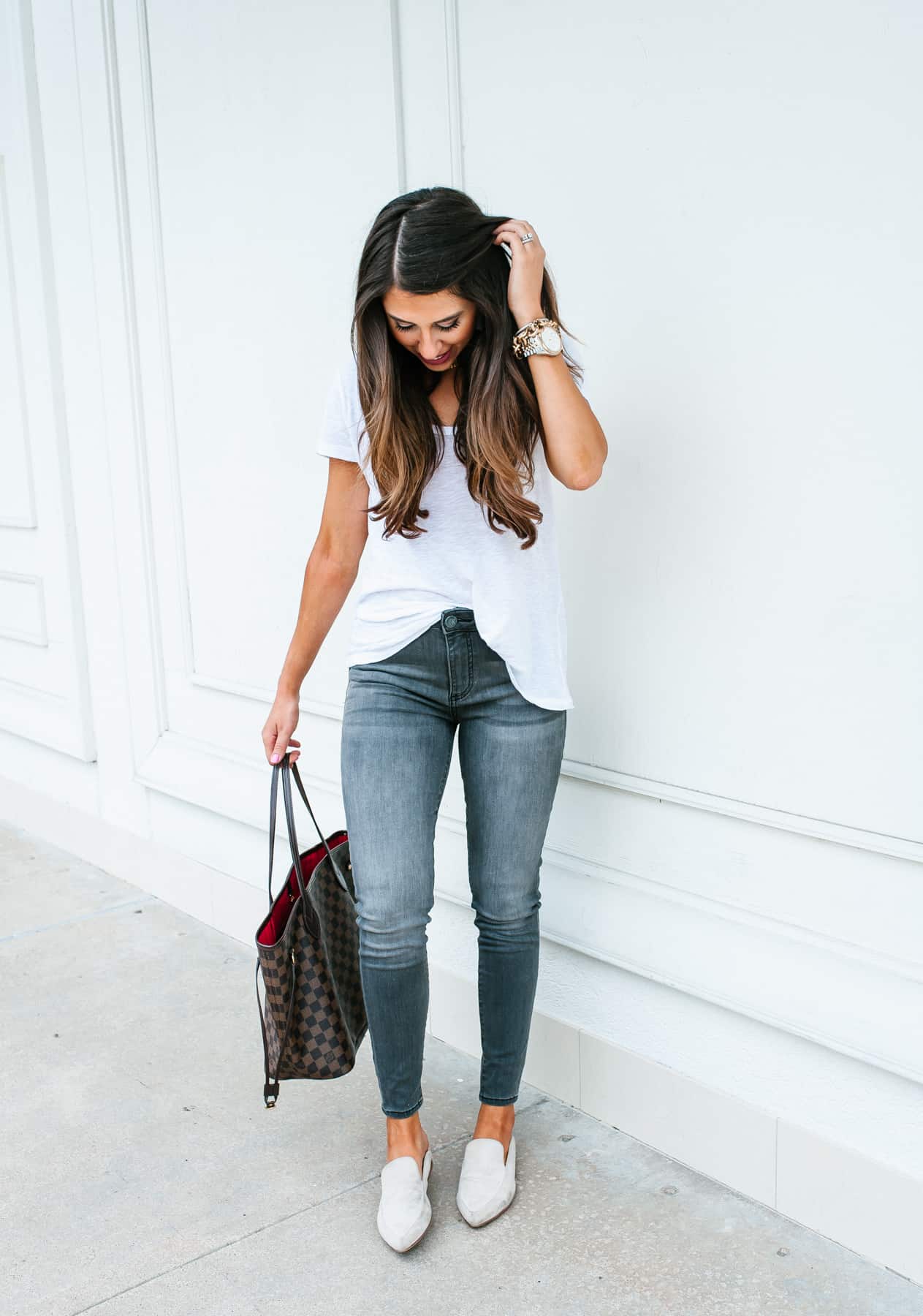 1. White Tee
This babe is a MUST and was everyone's favorite! I think this is the perfect time to stock up on basics like a tee because I don't think you can ever have too many of them in your closet! I am wearing the white in small, and putting an order for the grey ebony and black. I mean the price is unbeatable and so is the quality!
2. Slides
I have been getting a few questions about these babes and I can't recommend them enough. I have worn them everyday for the past week because they are SO practical yet stylish. They are a little fashion risky but it's always good to step out of your comfort zone and try something knew! That's what I did last year when I got them and I ain't turning back. They are true to size! I have had so many people say they got them in the mail and absolutely LOVE them (which makes me SO happy)!
3. Grey Jeans
I haven't had a chance to share these babes with you all yet! I am so excited I shoot this look and get to show off how flattering these jeans are. Color pants aren't really my jam this year, but grey jeans like these get a pass! Especially for fall! I am wearing a size 0!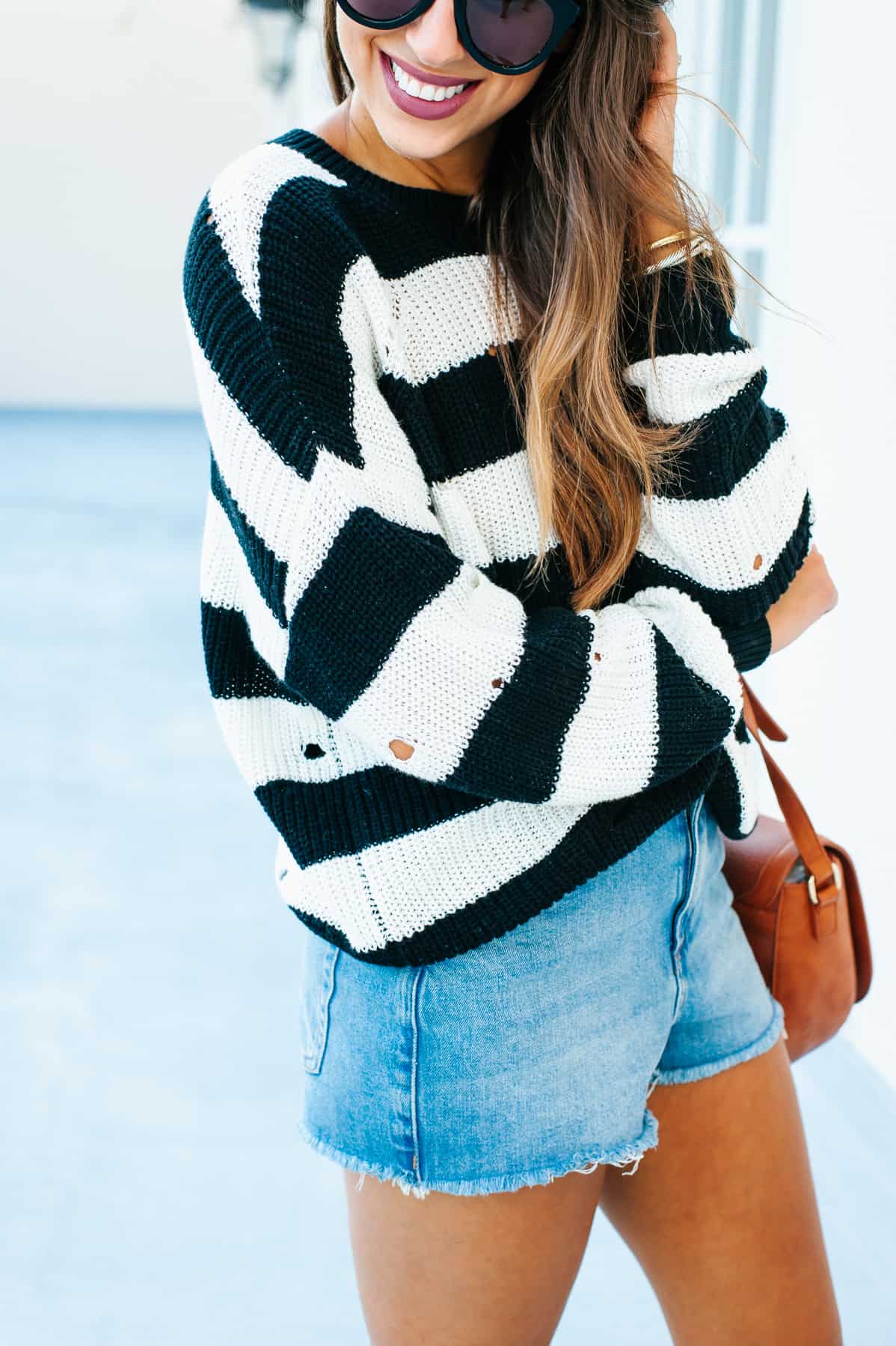 4. Sweater
I think what blows me away is the $22 price tag on this sweater. I mean that is a STEAL. Especially a black and white striped sweater. I mean you can't go wrong. Yeah, it has holes in it, but they are tiny and it gives it character. I considered this my summer sweater and styled it in a full post here!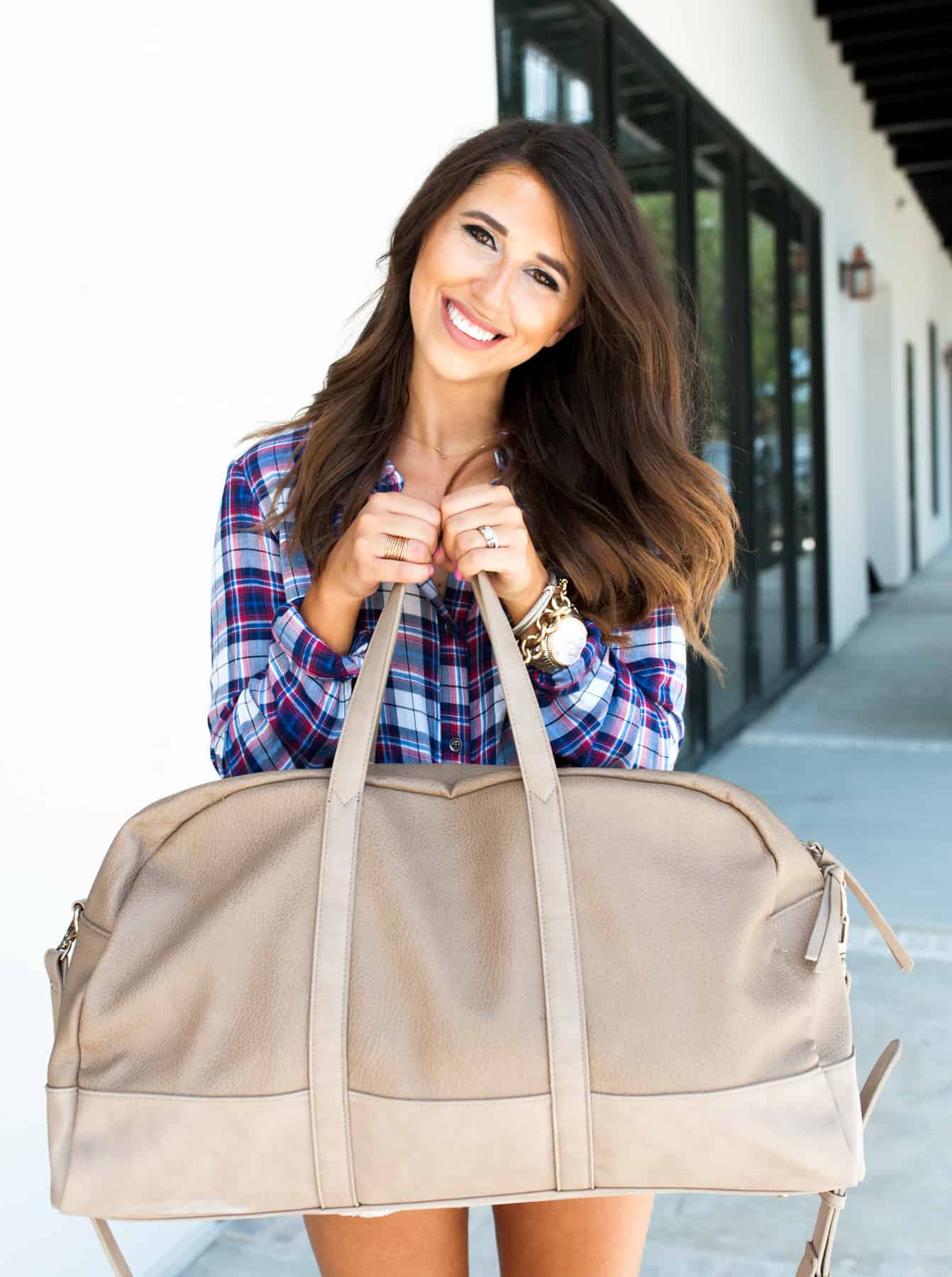 I think its officially time to ditch our Vera Bradley middle school bags (so sad, I love mine) and go for a more sophisticated weekender bag! I was so surprised to see this apart of the sale because its really a bag you can carry all year long. I have had this bag for about a week and already have used it so much! It also matches with all my luggage so I will be taking it with me this weekend to Mexico! Seriously a must! PS this flannel is also on sale!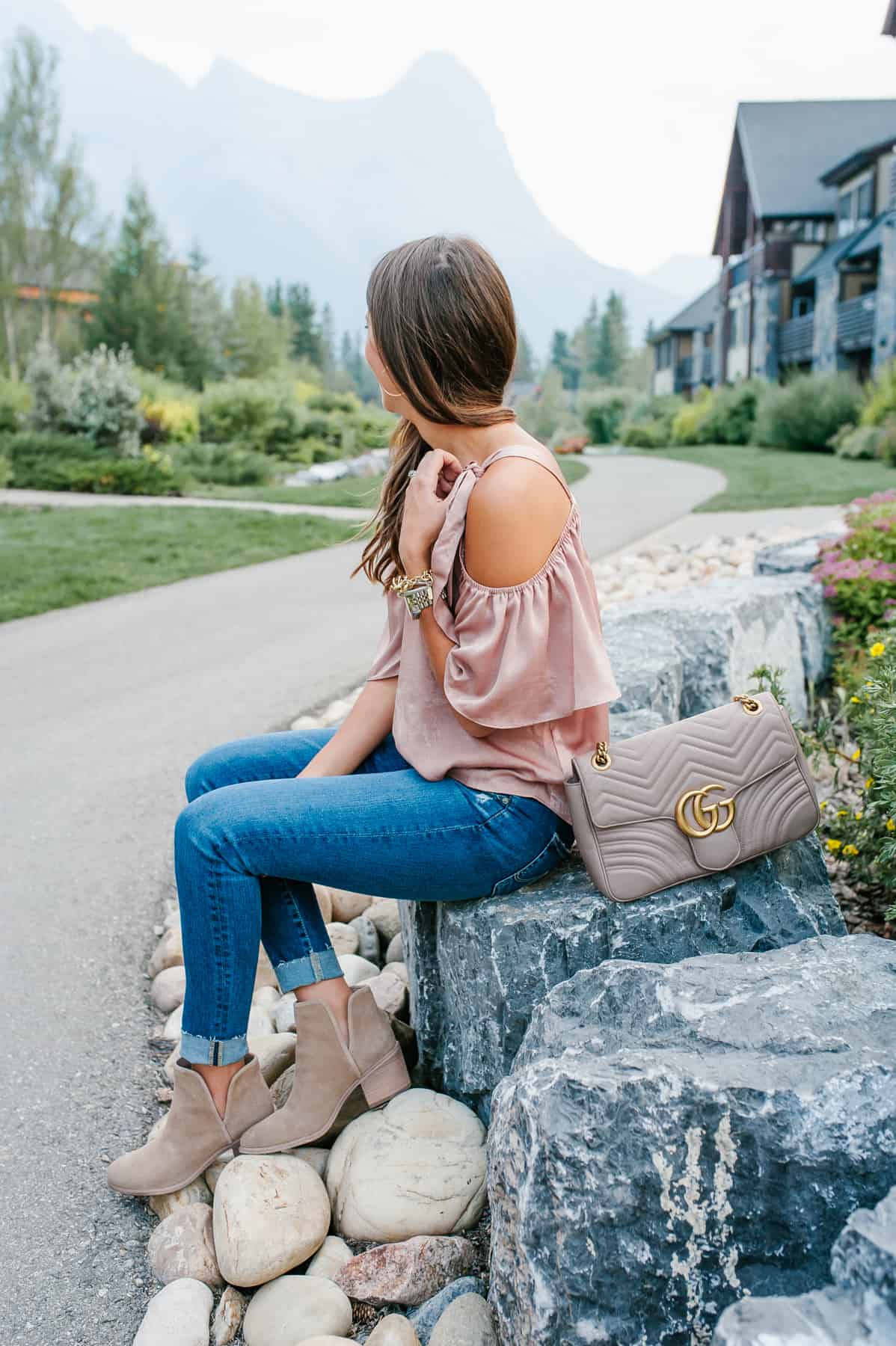 6. Satin Top
This top is a show stopper and on sale for $30! I am debating on grabbing the black version because it would be the perfect date night top! The cold shoulder, bow ties, and satin / pj look ties in all the fall trends that are hot right now. I kinda am in shock that this babe is still fully stocked because it was everyone's favorite!
7. Adidas Tank
I jumped for joy when I saw this tank restocked in ALL sizes last night! It was everyone's favorite and rightfully so. The price is unbeatable and the fact that Adidas has made a comeback is so exciting! I work out in this tank every chance I get and there is a 99% chance I will be wearing it today to work out in too! It's also a fun graphic tee that could easily be styled with black jeans, booties, and a denim jacket! So cute!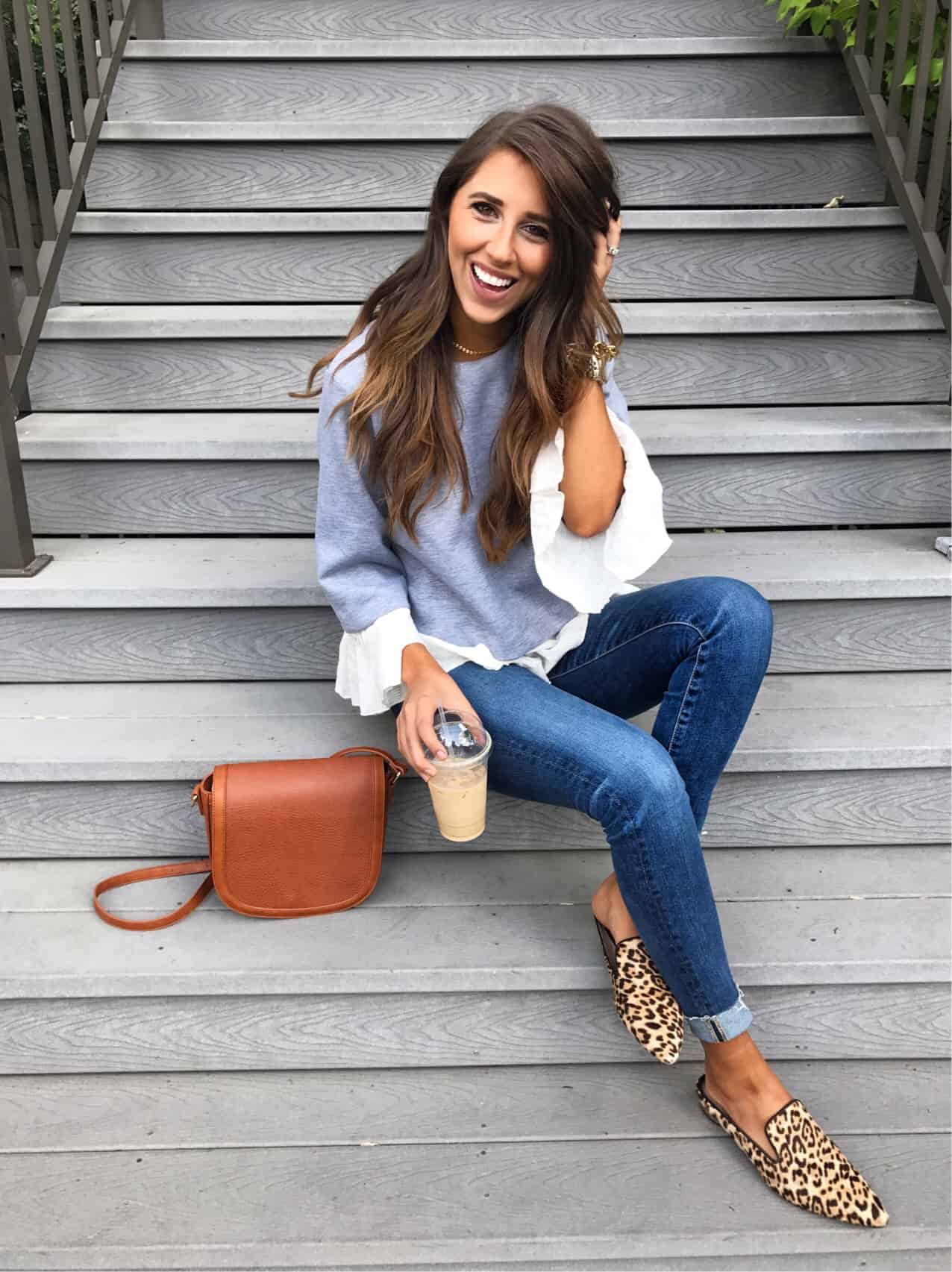 8. Sweater
This top was a crowd favorite and oh so darling! It is boxy like a sweater, amazing material, and super feminine ruffles. It def does a good job at hiding my food baby at dinner! I think its such a cute spin on a sweater!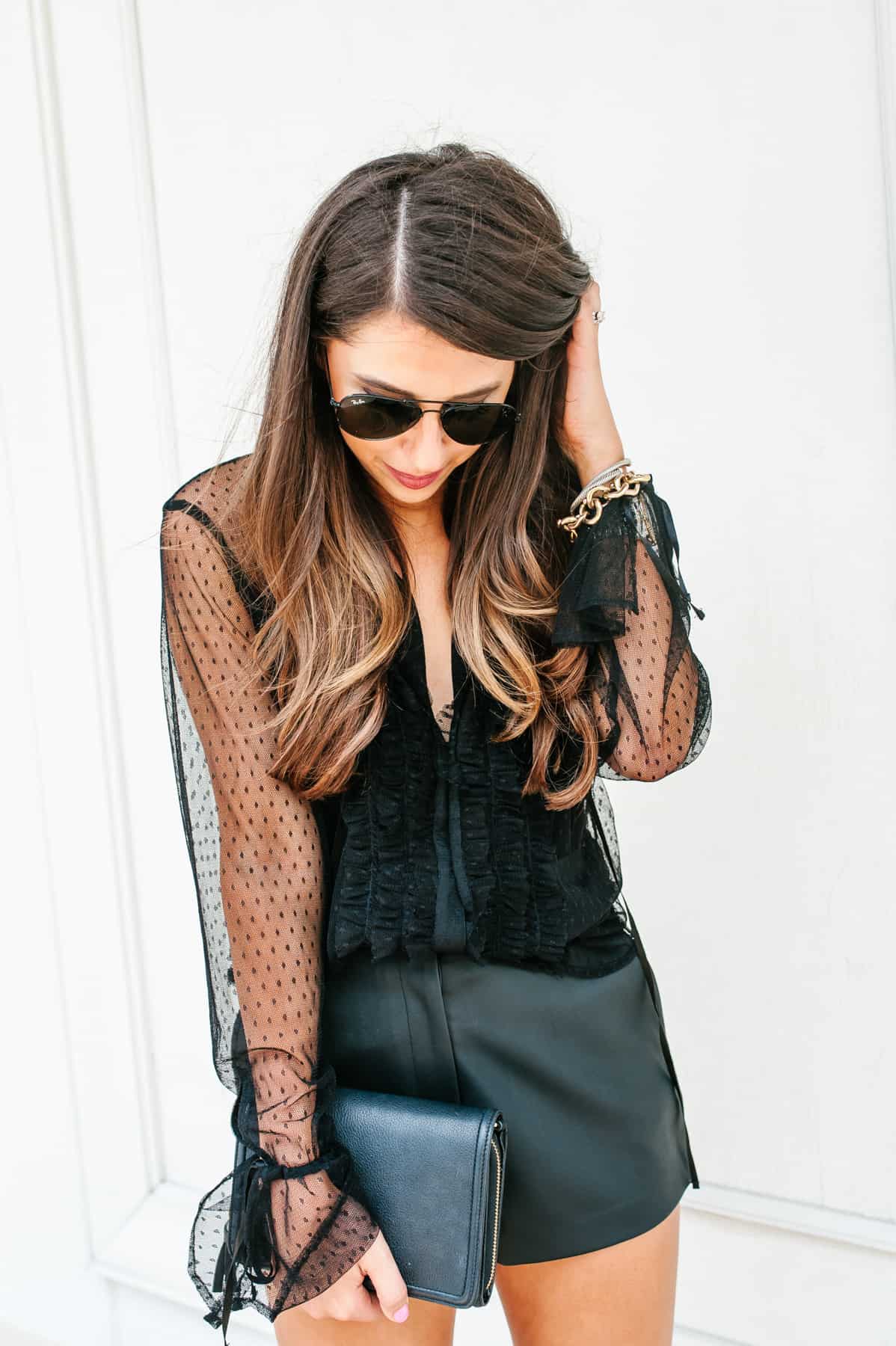 9. Mesh Blouse
I def kept my best 2 favorite pieces for last. I mean where have these pieces been the entire Nordstrom sale?! I think this look deserves an entire blog post to itself because HOW DARLING. This mesh top is precious beyond words and I can totally start wearing it now. It comes in white and black and fully in stock!
10. Leather Shorts
If you live in Houston or anywhere warm, these are the perfect transitional pieces. I went back and looked at what I wore in November / December last year and I was in shorts. These shorts would have definetly come in handy for those hot fall / winter days! These leather shorts are SO on trend and super comfy too (under $50)!