My Journey to Full-Time Blogging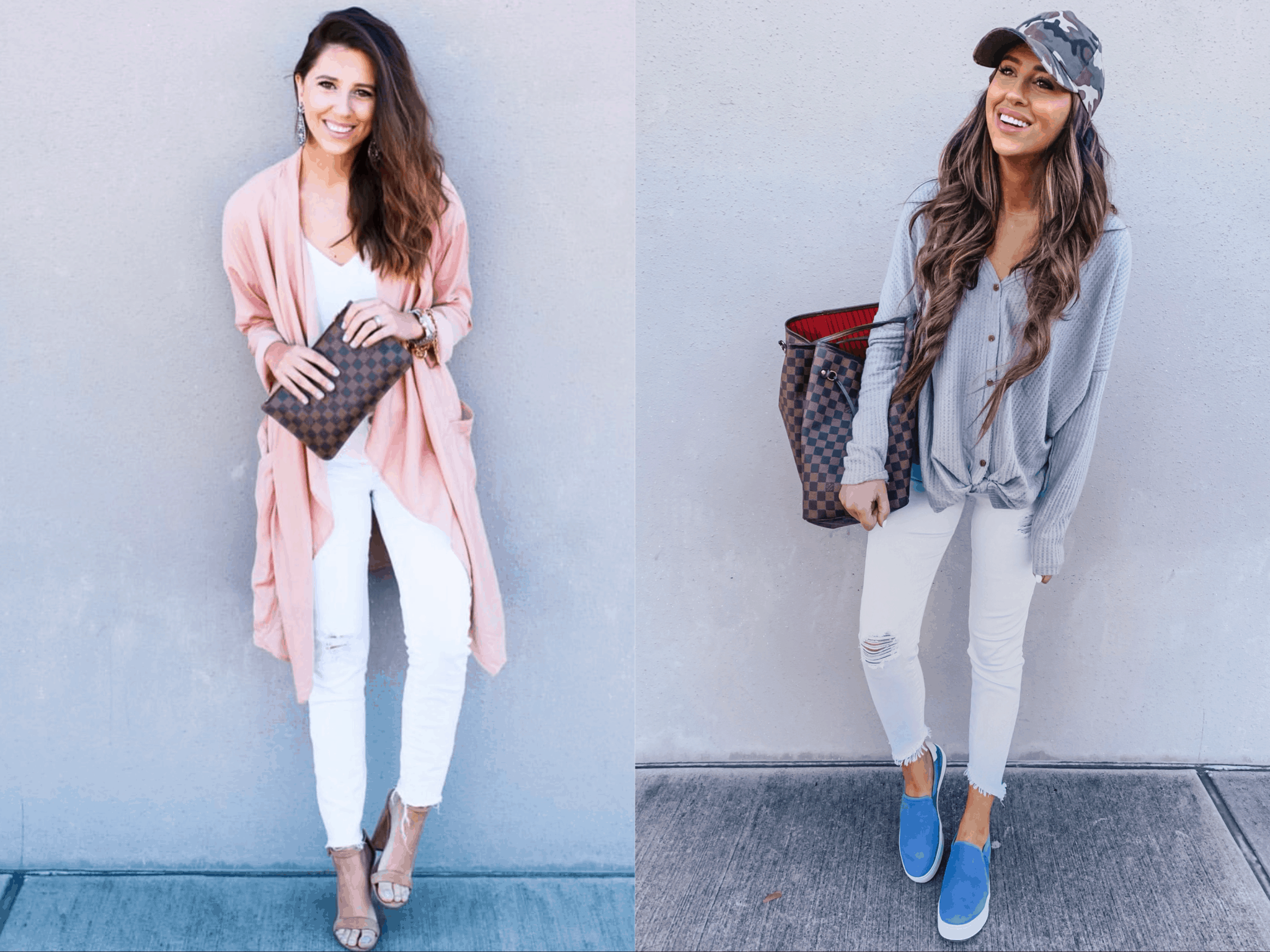 Last night, I shared some throwbacks from way, way back when I first started blogging! I used to make Ted meet me at a wall so we could shoot a bunch of outfits, haha. Poor guy used to leave work at 5, meet me there at 5:15 and head straight to his evening MBA classes, lol. We took a photo now, 3 years later, and I realized I never have shared my blogging journey with y'all, and I think it's about time!
I am a big believer life's all about what you put in, is what you get out. That could apply with marriage, your job, your relationships, your goals, etc. Nothing comes easy and hard work will ALWAYS pay off. I started blogging 3 years ago and I am in complete shock that I am able to sit here and say this is my career! I feel like I just started and I am still learning something new everyday.
Before blogging, most of you know I was a wedding planner for venue called Chateau Cocomar. It was the most rewarding experience I have ever come across, but also incredibly challenging in so many ways. Imagine giving up your weekends and some weeknights, dealing with a million personalities, conflicts, and budgeting a brides money all for one day to be absolutely perfect. After 2 years, I was convinced (well mostly Ted convinced me, lol) that event planning for the corporate world was the better route with better pay and better hours. I landed my first corporate job at National Oilwell Varco as their event & trade show manager.
When I went in for an interview, I was told I would be traveling to events all over the world. I was so excited to get started, and I even thought I landed my dream job! Then in 2015, the oil market took a fall and our company put a freeze on all travel. This meant I was no longer able to attend the trade shows in London, India, etc. that I once was promised. Instead I was stuck at my desk with little work to be done, and that is when my obsession with following blogs started!
I always had a passion for fashion, but I was so intimidated by the industry that I really never pursued it. I was always the go-to person within our friend group when it came to fashion and all things travel. When I told Ted that I wanted to start a blog, he always asked, "How do you make a living with a blog?". I honestly had NO idea how these girls got paid, but I always thought, hmm they must be doing something right?! They carried nice bags and wore fancy watches. LOL. I clearly had A LOT to learn once jumping into this industry. I did LOTS of research during my time stuck to my desk and learned a little about photography, affiliate linking, and brand partnerships. Only a few months later I was let go during massive layoffs at NOV and I decided I wanted to become a blogger. Again, not 100% sure how I would make this into a career, I just always believed what you put in, is what I will get out of it. I didn't know if I was going to get paid much (if at all), but I knew it was going to be rewarding, and that it could always turn into something someday. I also always had a passion for small businesses and knew one day I wanted to start something of my own!
On the other hand, Ted was like "listen wife, I know you want to blog, but you also need to get a real job" lol. I knew I needed to learn photography for the blog so I decided to start a photography business in the mean time for family portraits. I was SO bad lol, but I think family friends just kept hiring me because they felt bad for me.
After 6 months of studying the industry, I was (and still am) so obsessed with everything, I found a name that wasn't taken, Dress Up Buttercup! I started the blog and haven't looked back. Even when I was making 0 dollars and when Ted was my only reader, I took it SO seriously. I knew that eventually every successful blogger posted every day on IG and posted 5 blog posts a week. SO that is exactly what I did. I had maybe 3 visitors a day for the first couple of months, but still was grinding away creating so much content. I stuck to a VERY consistent schedule and for the first 2 years of blogging I posted Monday – Friday at 8am every single morning. I also posted 7 days a week on IG. Slowly but surely I started to gain a following. I think whats important in this day of age is consistency. If you are constantly late to your job, is your boss going to trust that you are reliable to arrive on time? Probably not. Same answer with your audience! I would get so disappointed sitting at my work desk when I would spend the time going to a blog only to see nothing new was posted in days. I am not saying you have to kill yourself and be posting as much as I did, but create a schedule and stick to it. Now that it's been three years, it is kinda impossible to do it all and I certainly don't post 5x a week anymore but I do try to get 3-4 posts up and they go up in the morning. Take this advice with any social media, and it will help!
I also think networking is key. I was so passionate and dedicated to the blog, that I knew I had to get my name out there and network. You can only learn so much by research but other peoples experiences are so knowledgeable. I reached out to every PR company in Houston and introduced myself, letting them know I started a blog and wanted to be involved in whatever they had going on. I also reached out to similar in size (followers) to me via dm and asked to hang out, go to coffee, or events together. Once you start getting invited to events, it's like a snowball effect. The first 12 months of blogging, I was at every and any event Houston had to offer. It was exhausting, but incredibly worth it. Every event I connected with someone that either became a new follower, a new friend, or a new connection.
I also remember starting the blog and regretting not doing it sooner. I was scared of failure and rejection from my friends but honestly only YOU can hold yourself back. Once I got over the fear of judgment from my closest friends, whom some I have lost after I started a blog, it was SO freeing. Letting go of that fear of judgment and focusing on yourself isn't easy but incredibly worth it.
The blog really took about 1.5 years until I was bringing in my previous salary. I believed in it and I think that is most important! I remember rejection after rejection from brands/boutiques to work together. I have learned SO much over the past 3 years and am still learning something new every day.
I also am very overdue for a Q&A! That will be my next post in the next few weeks so leave specific questions about blogging below and I would love to share!
Lastly, thanks for following along. None of this would be possible without you. Yes, I could have been consistent, networked, checked all of the right boxes, but a blog doesn't exist without YOU. I am not an actress, a musician, or have any specific talent, I have YOU all, and that is so special to me. So THANK YOU.