30th Birthday Trip to St. Barts
Back in Houston after the best birthday weekend! Ted surprised me with a trip to St. Barts on Christmas, and I've been looking forward to it ever since. I also think the people make or break a trip and having all my people there was SO good. My sister Katy + her fiancé Sean and Emily + Lee was our group and we all stayed in the same house together. Ted planned the details of the trip with Blaire, who helps travel plans, so everything we did was truly a surprise to me haha.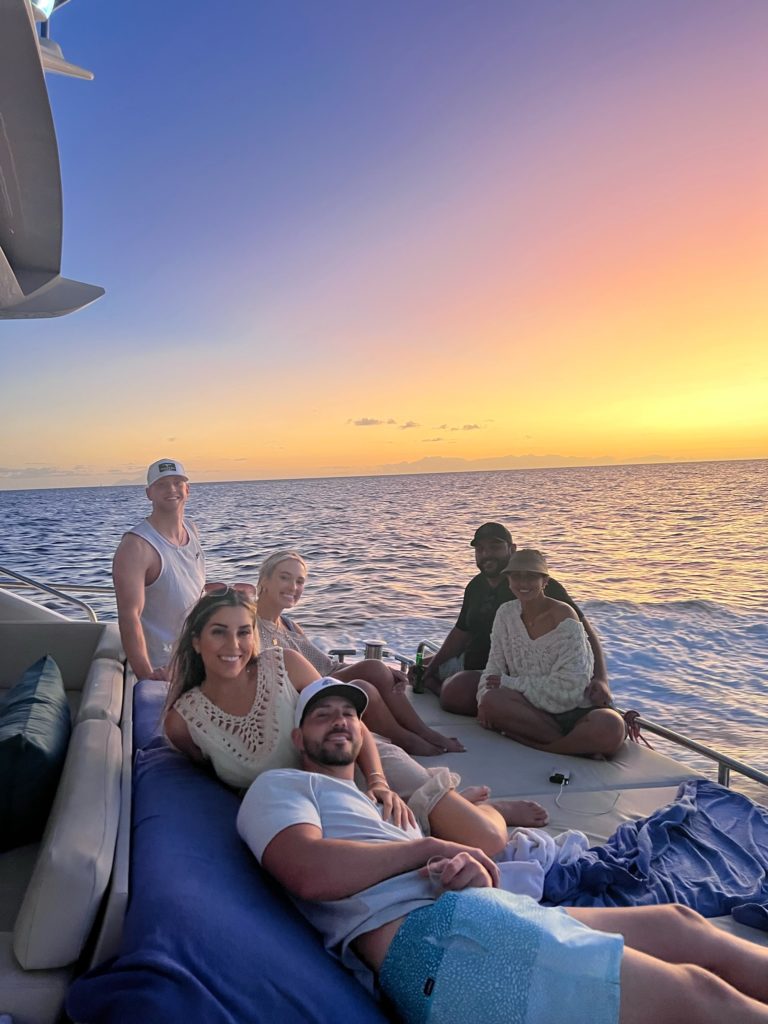 About St. Barts
We've been to Mexico and the Caribbean several times, but St. Barts was unlike any beach vacation I've ever been on! It's located in the French West Indies (in the Caribbean) and their official language is French and you use the Euro for currency —they also accept the American dollar most places but would also make sure you grab some Euros before you leave or at the airport if you want to have other cash on hand! It felt like we were in the South of France which was nothing like we have experienced, but obviously much closer to home! I was blown away and if you ever have the opportunity to go, GO!
Travel Details
Apparently St. Barts has one of the shortest runways in the world and only small prop planes are able to land, which means you can't catch a direct flight from the US to St. Barts. You can fly into San Juan, Puerto Rico or St. Maarten which is only a few miles away. St. Maarten is the closest major airport to St Barts and is only a 15 minute flight over to the island. We flew from Houston to San Juan (4 hours) and our flight from San Juan to St. Barts (about an hour). It's crazy flying into the St. Barts airport and was so pretty but also scary because the runway is so short. Katy geeked out of over the whole experience it was so cute to watch haha. There's even a spot on the island you can visit where the planes fly directly overhead super low. Looked scary to me but heard lots of people check it out.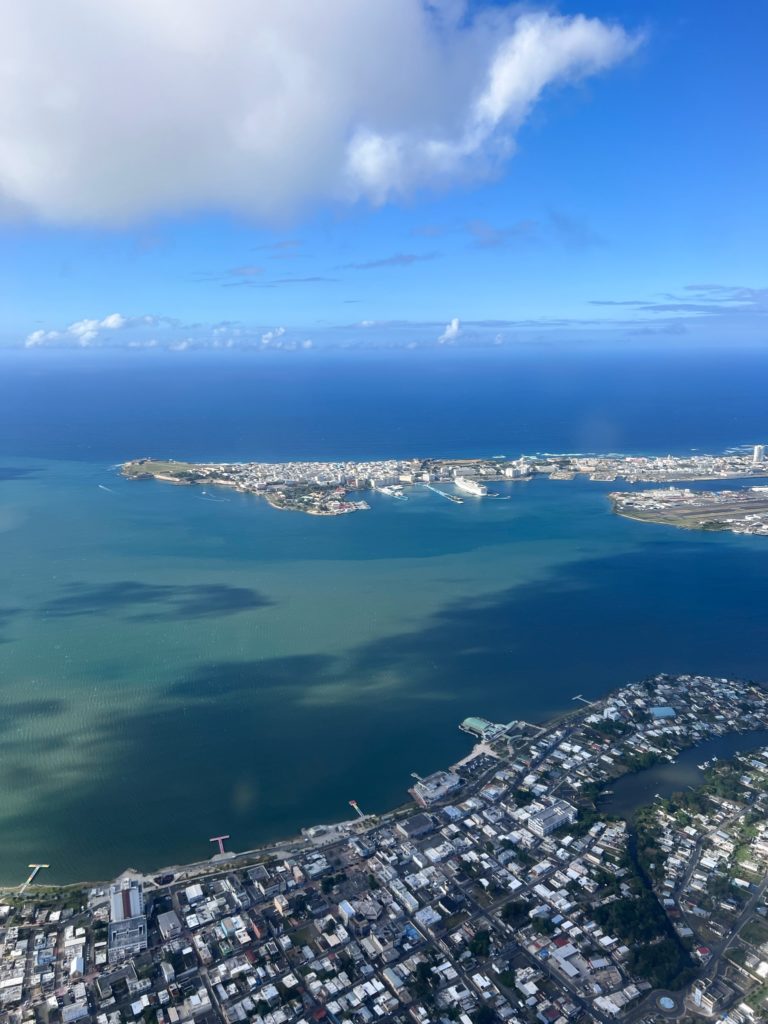 We were advised to pre-book transportation because taxis can be hard to find on the island. We booked a taxi through our hotel to get to and from the airport and when we left to go into town or the beach. You can also rent a Moke, which is a type of Jeep/SUV that can be seen a lot on the island.
Since San Juan is a US territory, we didn't need a passport to land there, but we did need our passport to travel to St. Barts!
COVID Protocols & Mask Mandates
COVID tests aren't required to get into San Juan if you're flying in there (since it's still considered the US), but would check the requirements if your layover is somewhere else! According to the island's website, if you are fully vaccinated, you don't need to present a negative COVID test to enter St. Barts. However, if you aren't vaccinated, you must present a negative Covid-19 PCR test administered within 72 hours (3 days) OR a Covid-19 Antigen test administered within 48 hours (2 days) of your originating flight. We tested at our hotel the day before leaving since a negative Viral Covid-19 test (PCR or Antigen) administered 24 hours or less is required before arrival back into the USA.
Masks were only required at the airport, not on the rest of the island.
What to Do & Where to Eat
Before we went to St. Barts, we were told the island can be a little sleepy during the week. We considered cancelling our dinner on Saturday night but so glad we ended up going, seeing the nightlife on the weekend was so fun! Most of the restaurants on St. Barts turn into a club/have dancing and music in the evening—gives off a European vibe. Would definitely recommend going out on a Friday or Saturday to get the full experience!
The restaurant we went to on the first night was called Petite Plage and that's where it turned into a club scene at night. Totally surprised us but the food was SO good and the atmosphere was really fun.
Sunday was our beach and boat day, we spent the afternoon on the boat and stayed out to watch the sunset. It was such a pretty way to see the island!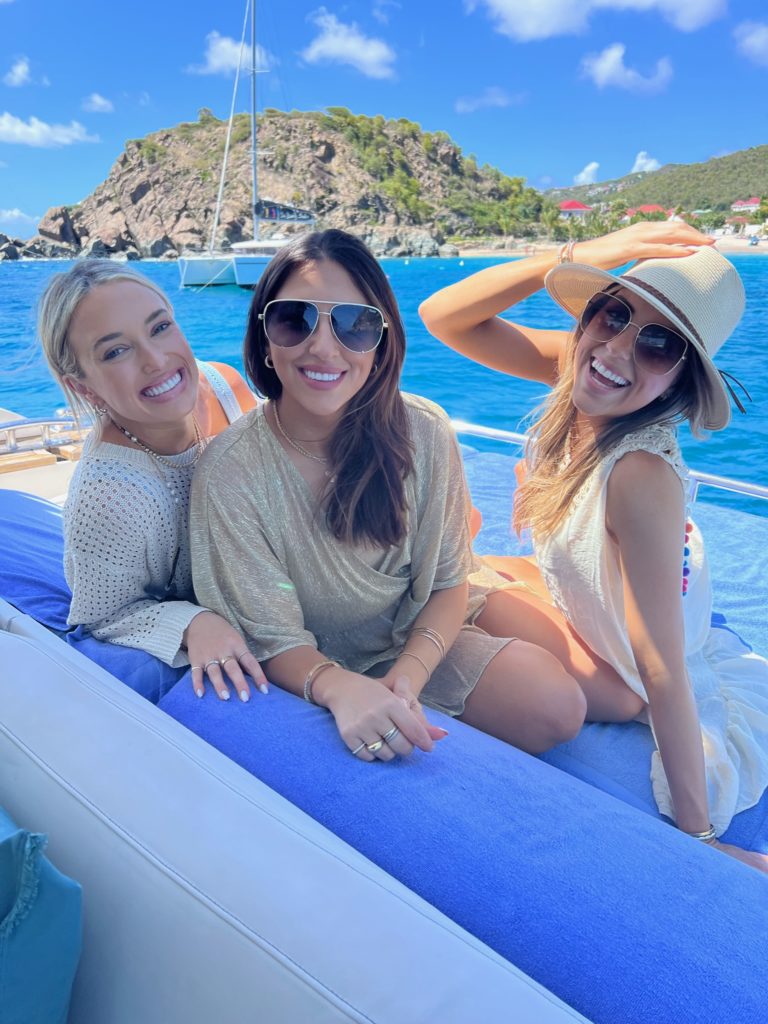 For my birthday, we booked lunch at Gyp Sea, a beach club on the island. You can stay just to eat and drink, or pay to rent a cabana or chairs and spend the day on the beach! We went back to our house in the afternoon before getting ready for my bday dinner at Kinugawa.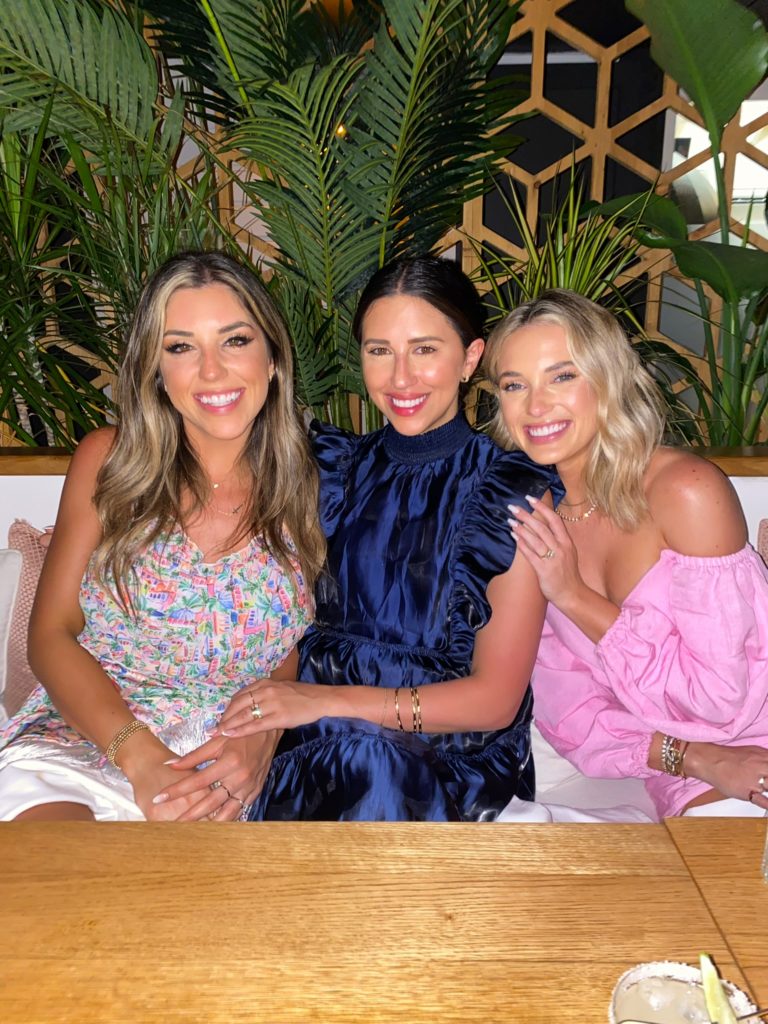 Tuesday we took a drive around the island to explore then just spent the rest of the day at the pool! People think we're getting crazy on vacation when in reality we're doing water aerobics and synchronized swimming lol. We stayed outside until the last minute and then had to hurry to get ready for our last night's dinner at Guerite!
Wednesday was our travel day, so we headed out pretty early to get back to Houston. Our trip was really relaxing and I loved being able to spend time with everyone just hanging out by the pool instead of being so go, go, go!
Outfit Recap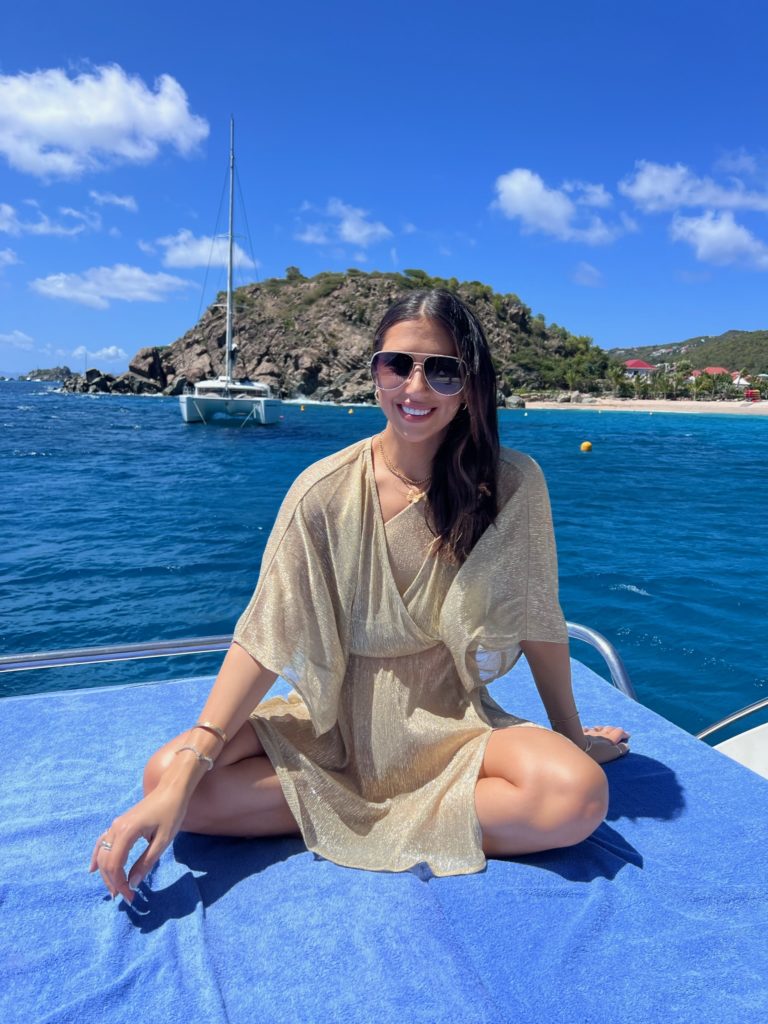 BOAT DAY
The first night we got there our luggage didn't make it, so we were wearing our travel clothes until the next morning. Thankfully our suitcases go there in time for us to be able to change into our suits for a boat day! Spent the day in the sun, swimming in the ocean and drinking on the boat. So perfect!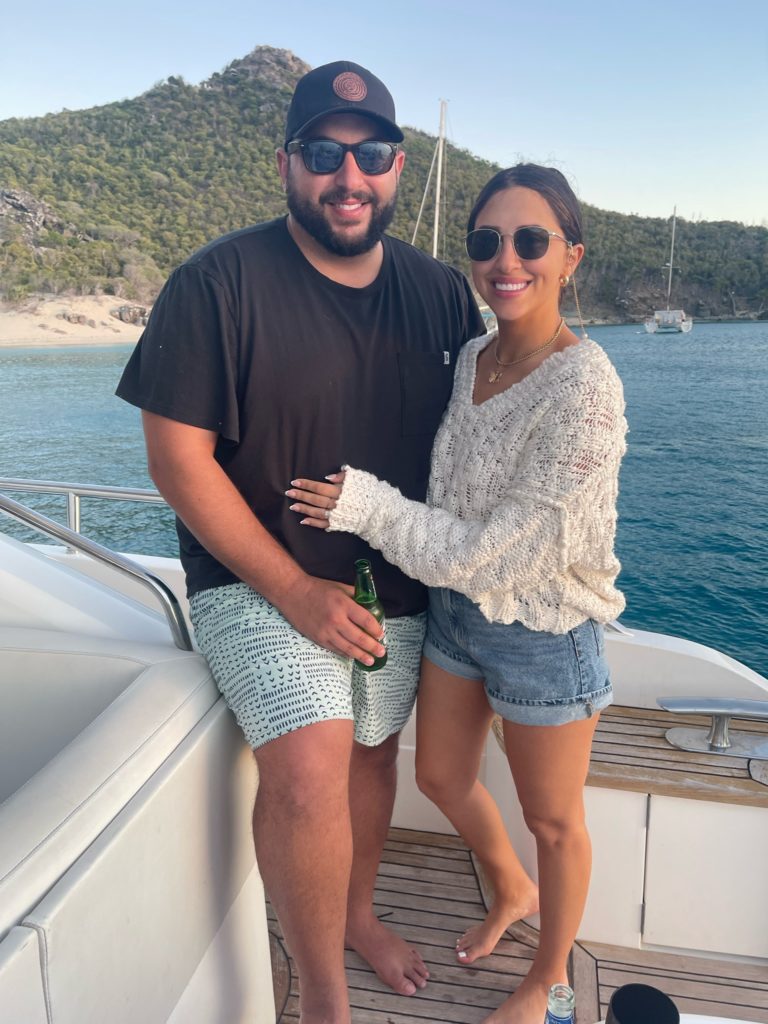 SUNSET CRUISE
Changed into my shorts and threw on a light sweater in the evening on the boat. The weather in St. Barts is so warm, but does cool off slightly in the evenings!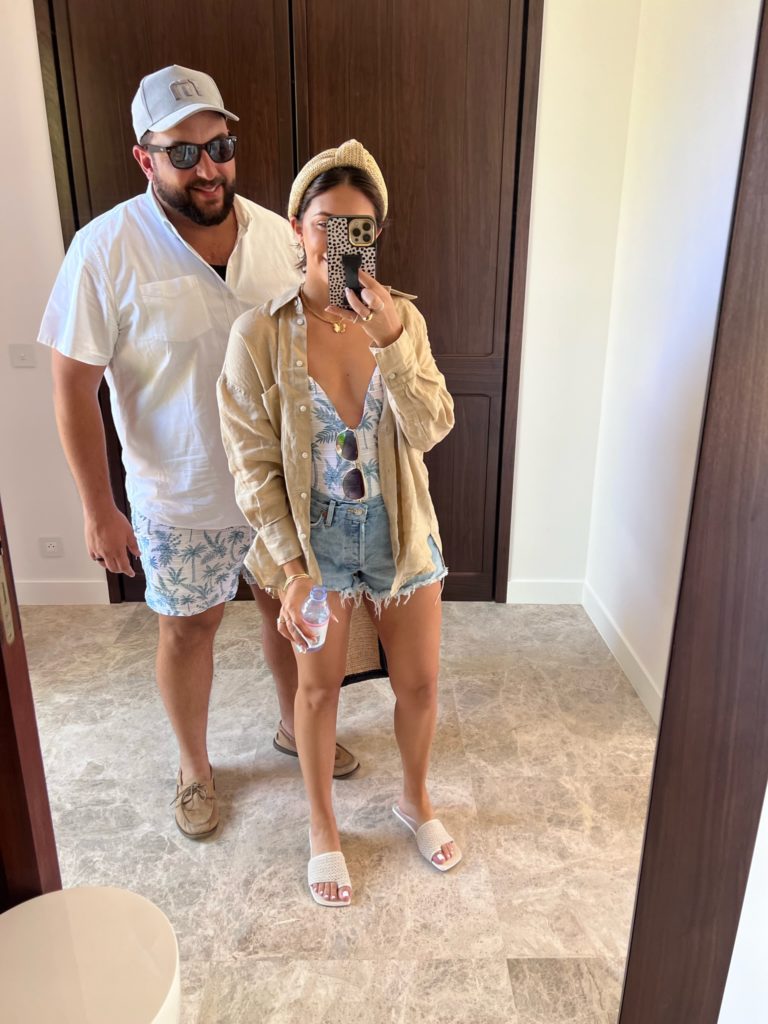 BIRTHDAY BEACH DAY
Thought it would be cute to make Ted match me for the day haha. Got these matching suits from Show Me Your Mumu!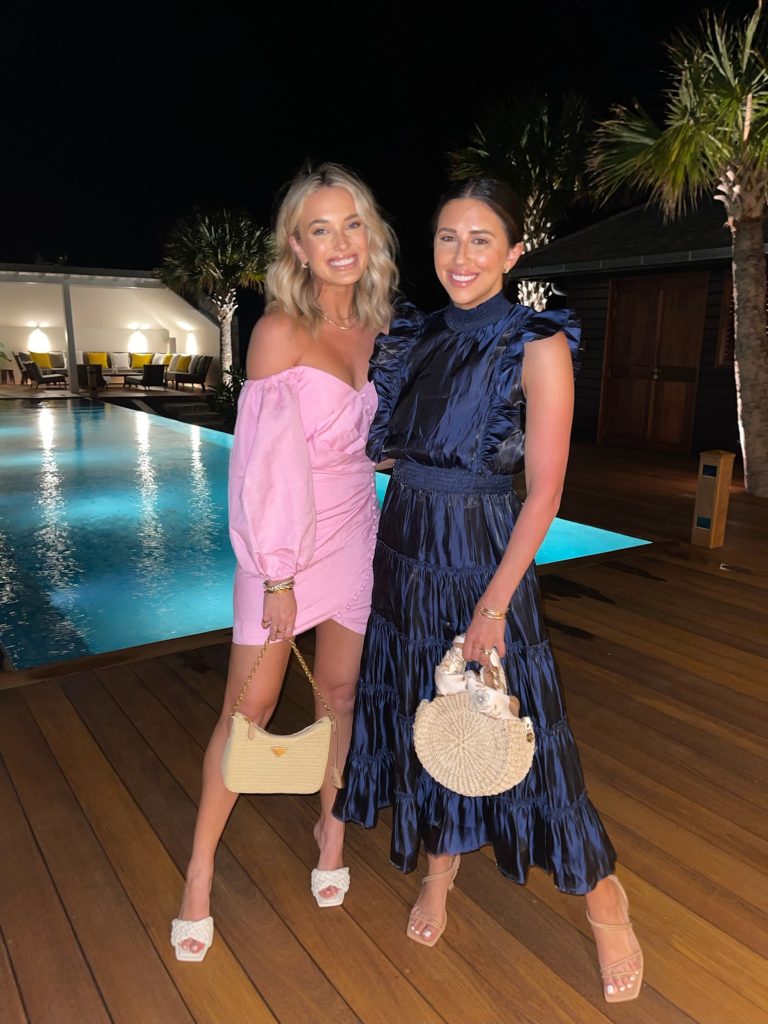 BIRTHDAY FIT
Katy got ready with me before my birthday dinner and I laughed when I saw her wearing this bright, floral dress and I packed a dark high neck dress. Said it was on theme because I was mourning my 20's being gone lol.
EXPLORING THE ISLAND
We went on a ride through the island to explore and soak up the views before heading to the pool for the rest of the day. Ordered this suit full price but it's super on sale now!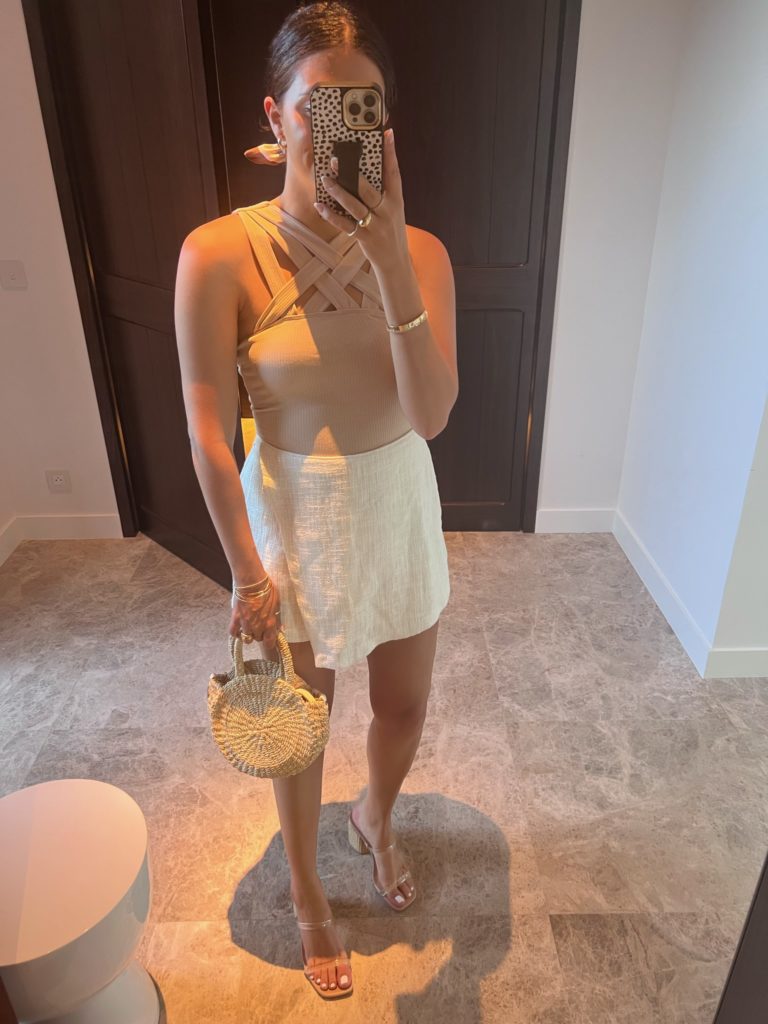 DINNER ON THE PATIO
Ted rushed me out the door so didn't have time to iron the other outfit I wanted to wear, so threw this on! Glad I brought so many neutralsI could mix and match.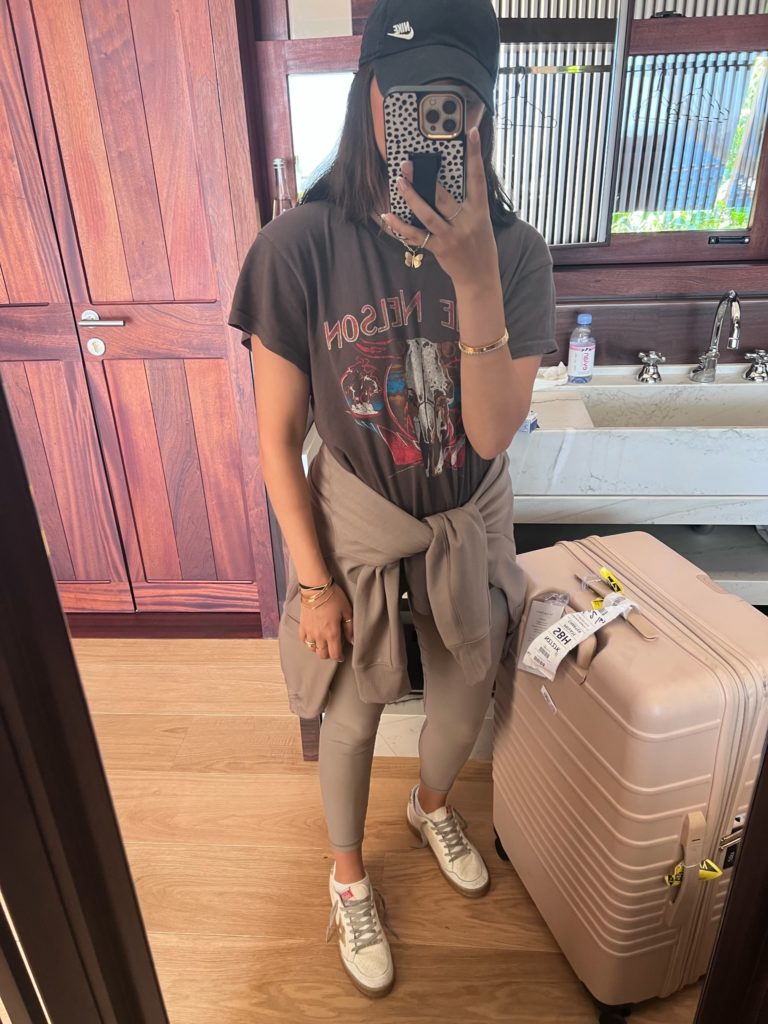 TRAVEL OUTFIT
Had the best trip, but was SO excited to get back to my babies! These leggings and this sweatshirt are both from the new Abercrombie workout collection!
Photo Dump