Top 10 March Favs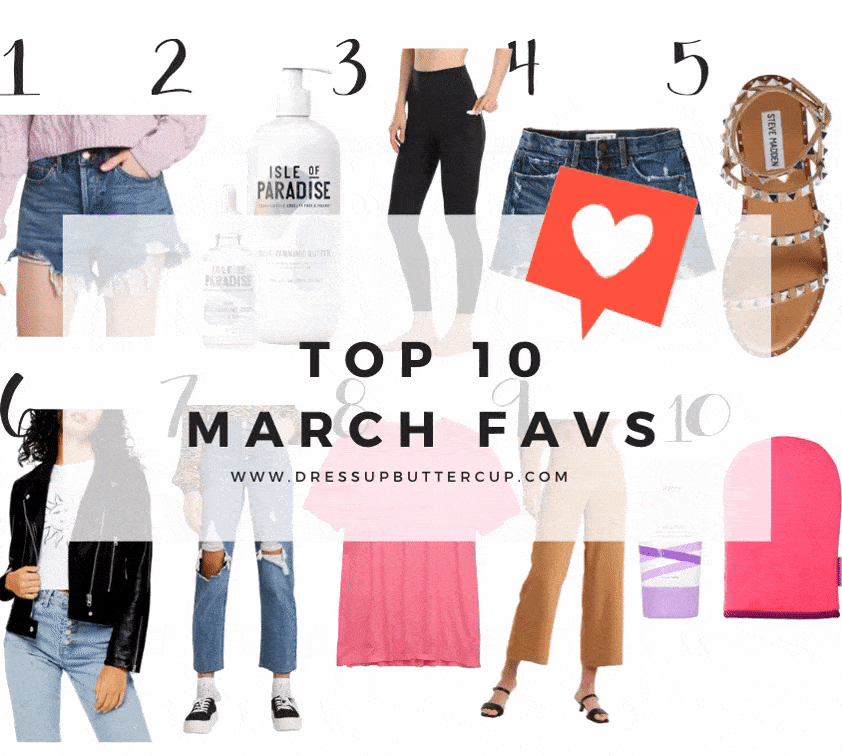 1. Shorts – These $15 shorts have been mine and your fav for a while now! Probably because they are super affordable and the fit is awesome. I also have them in white and light wash!
2. Isle of Paradise Set – You guys sold this set out super quick! They brought it back for pre order with a 5/9 delivery. Still such a steal since these separately are so much more $$$. The tanning butter really did blend in my color and reduce splotchiness. I was very impressed with results!
3. Leggings – Still going to rave about these leggings because they're so good! Just got these purple ones to brighten up my wardrobe and like the shorter length. I also recently ordered a pair of Aerie leggings and the quality was sooo good. If you find them on sale like right now they're super affordable too. These neon in 'short' I've been wearing non stop!
4. Shorts – First, fit on these are SO good + love the style with the buttons. Second, they are on sale for 30% off! They are a little more pricey than the target shorts but I think the quality and fit make them worth it. Especially if you catch them on sale! Also, bought them in this washed black color!
5. Travel Sandal – I honestly grab these all the time lately. They add so much to an outfit! They are on preorder until 4/30!
6. Leather Jacket – Can't believe this jacket is still marked down and in stock! It's my go to and I still throw it on all the time. I shared styling it multiple ways here!
7. Jeans – Target mom jeans for under $25! Another one I share with you guys all the time because it's such a steal!
8. Neon Tee – Everyone needs a couple good tees in their closet for basics! This one is $15 on sale right now in comes in a ton of different colors!
9. Pants – This is one for all you working mommas out there! Once you're back in the office these pants will be the perfect thing to pair throughout spring/summer!
10. Body Makeup – This product I was so excited to share with you guys! It makes such a difference on your skin and is water proof which is so crazy to me!!