Leather Jacket Styling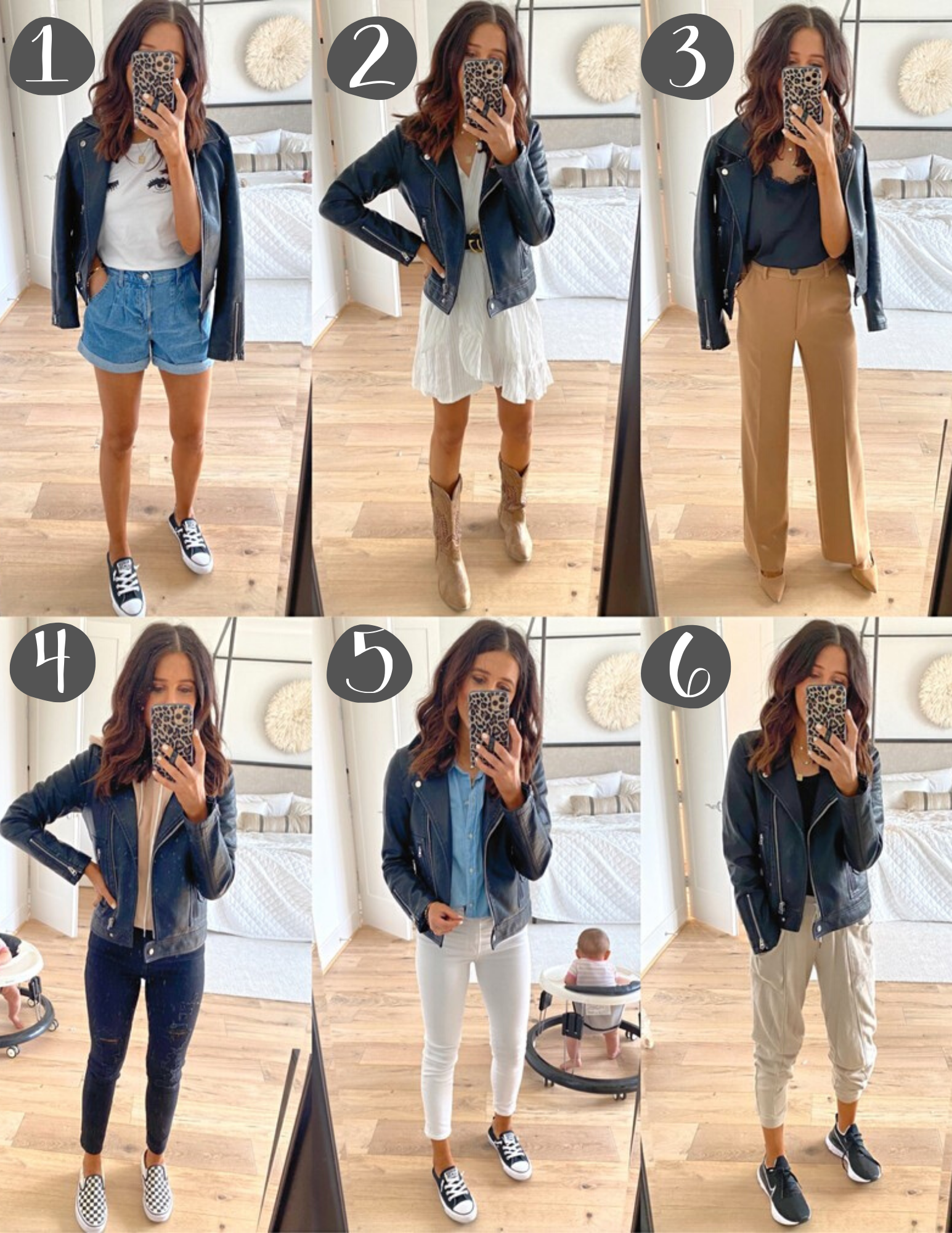 I used to think leather jackets were only for formal attire or nights out, but they're so good for everyday casual wear! Such a timeless piece and I feel like it can be worn all year round – well maybe not when it gets too hot and sticky in the Summer like in Houston. Loved styling this jacket six completely different ways. This one has been my favorite for a while now. I got it at Nordstrom & saw that it's still for under $60 + free shipping! I also grabbed most of the other things in the styling session from there as well. I have been loving all their new spring arrivals!
Hope this encourages you to dig your leather jacket out and fit it in to your everyday style with confidence.
This is what I'll be wearing all through Spring during the cooler evenings. Got this top on Amazon last year and still loving it. So lightweight and affordable for a white graphic tee!
All my Texas gals, take your boots out! Wore this look to the Rodeo this year and so in love with how it turned out. The leather jacket makes it so modern and gives it a bit of edge. My dad got me these boots a few years back and I always wear them for events like these.
For all my work ladies, you don't always have to wear a blazer! Leather jacket is so fun and chic to add on to a classic cami & slacks combo. These slacks say they're cropped but are the perfect length for me to wear with heels.
I've always loved the look of jackets with the hoodies sewn in, so I made my own version. This crop hoodie from Target is an absolute steal and I have it in nude and black. Paired it with my fave ripped skinny jeans and slip on vans for an easy on the go look.
5. Jacket
Literally a million and one ways to style a chambray top haha, I could go on for days! If you don't already have one in your closet, this one is under $30. I buttoned it up here and threw on that jacket, and bam another easy breezy look.
If you missed that chambray styling sesh, find it here.
Athleisure is hands down the best that has happened to fashion. You can still look put together in some joggers and sneakers + throw on a leather jacket to make you feel on trend.

Thank You Nordstrom For Sponsoring this Post