Tame that Mane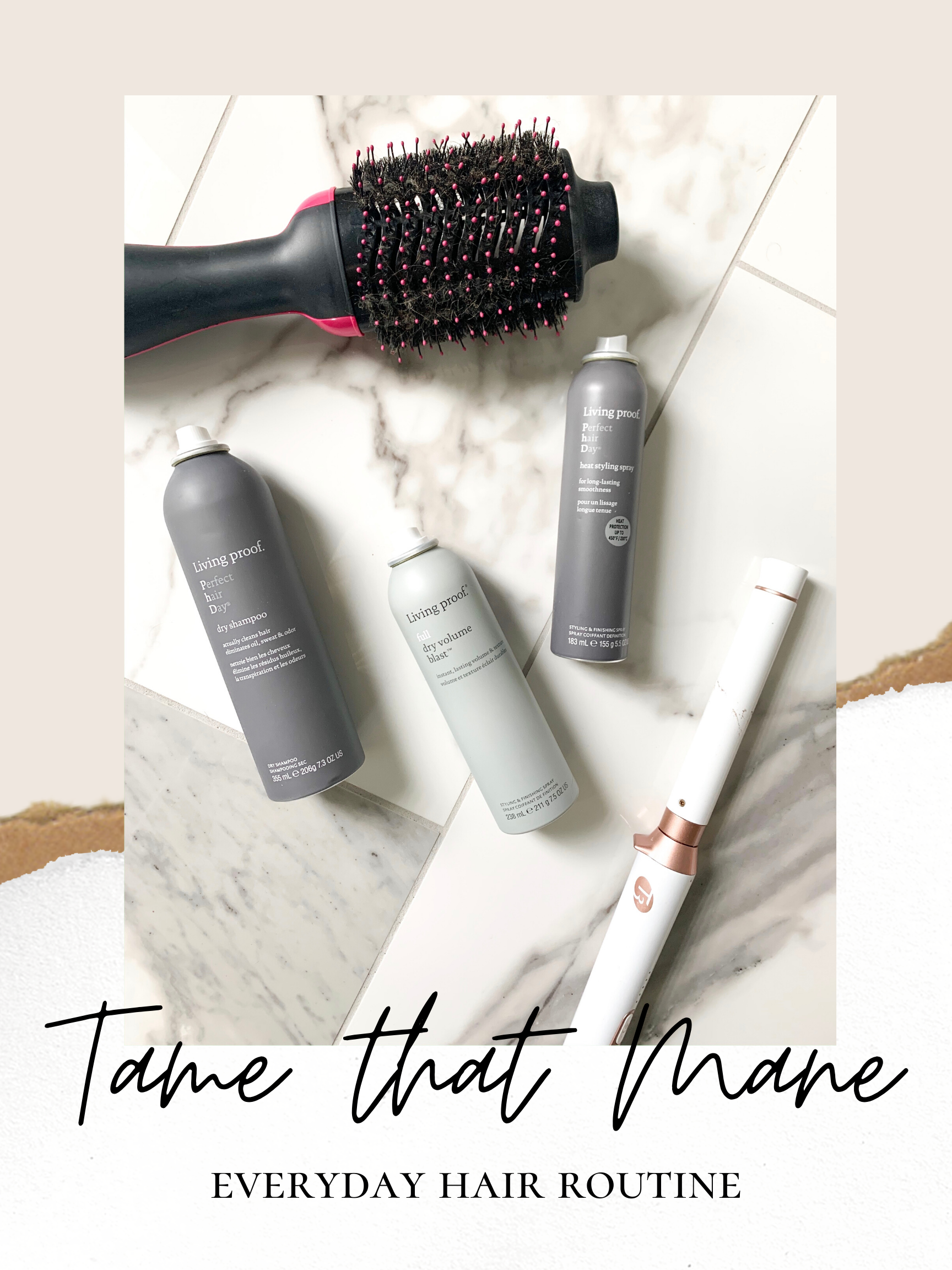 I feel like I've gone through years and years of different products trying to tame my thick Arab frizz! I love a clean sleek look but without the maintenance of washing daily, because who has time for that? #momlife
All that to say, I think I love my current routine. I've been using most of these products for months now with a few new ones here and there that I'll go into detail about later on. But overall, I try to wash my hair at least once a week! Maybe as it gets warmer out I'll have to up it a bit but the products I use are really the only reason my hair can last that long without having to be washed or redone!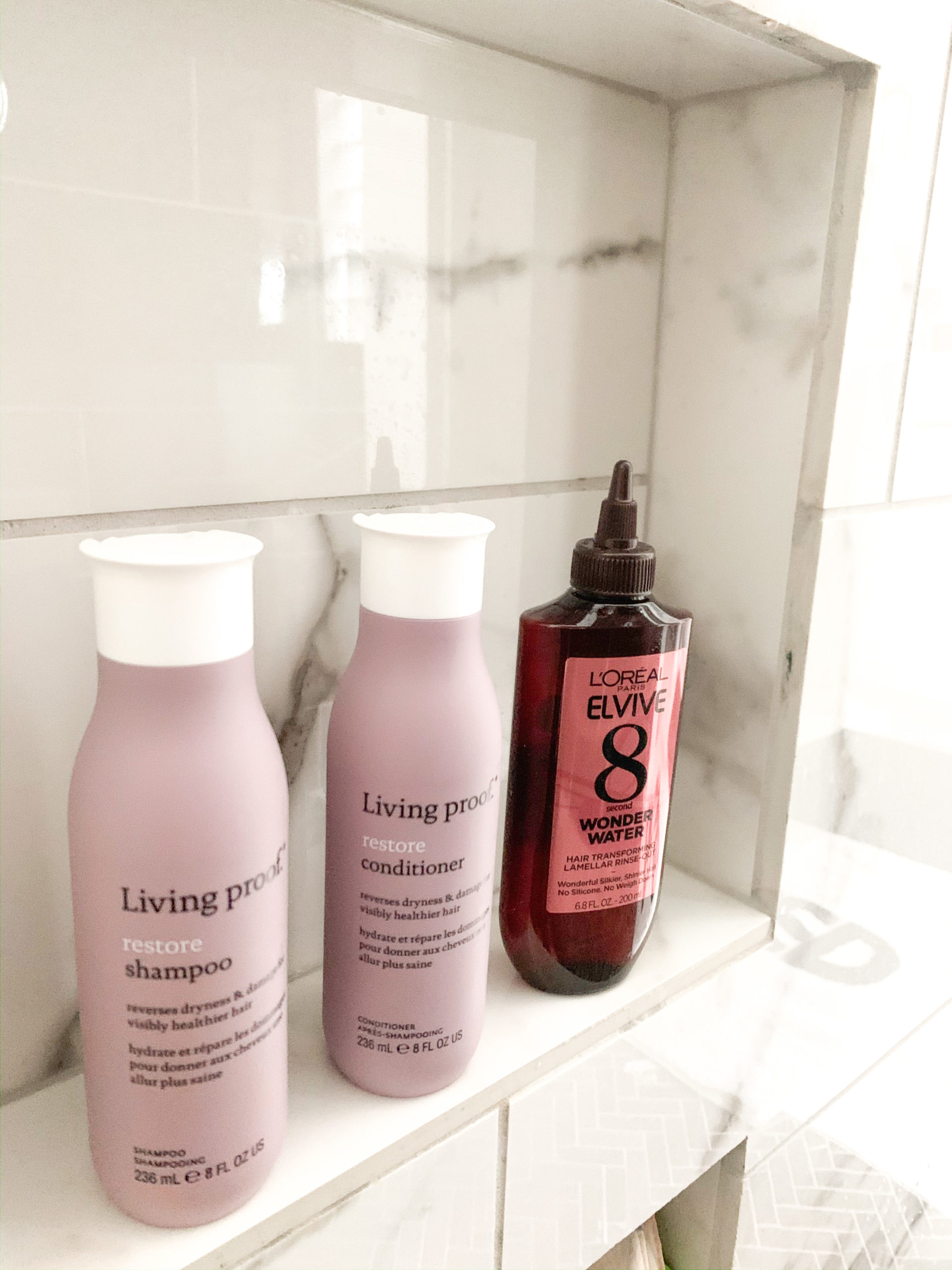 Okay lets talk wash day! By far the worst day of the week haha but must be done. I've been using the Living Proof Restore shampoo and conditioner consistently. It's meant to help restore all the damaged cuticles from the hair coloring and heat damage and protect it from future damage. I also just really like the brand because it has no sulfates, phthalates, or silicones && it's safe for colored hair. Once I put shampoo in, I use this scalp scrubber to lather up the soap to really help break up any product that's stuck in my roots + it feels like a personal head massage!
I recently was introduced to this Wonder Water from L'Oréal that I think has helped so much! I use it right after I shampoo on the ends of my hair. It's a rinse off hair treatment supposed to work in 8 seconds, but I leave it in while I wash up the rest of my body and rinse it off after a minute or two. I think this has really helped tame my frizz! It kinda makes your ends feel like you just left the salon and makes them really smooth and moisturized. I did some research and it's comparable to the in salon K-water service by Kerastase that uses Lamellar technology. Big word, but basically means that it deposits the nutrients in your hair only where it needs it. Best part with the L'Oréal one is you can do it at home and it's only $9! I use this every other wash or if my hair is feeling in need of some love.
After the treatment, I follow up with the conditioner and brush through my hair with my fingers! Normally just throw my hair up in a towel after I shower, but realized that a normal towel can cause frizz! Looking to order one of those microfiber hair towels to plop my hair in!
Shampoo | Conditioner | Hair Mask | Scrubber | Microfiber Towel 
**Living Proof code 25% off sitewide plus free full size dry shampoo with $60 purchase! Ends May 14 at 11 AM EST.**
code | Blameitondede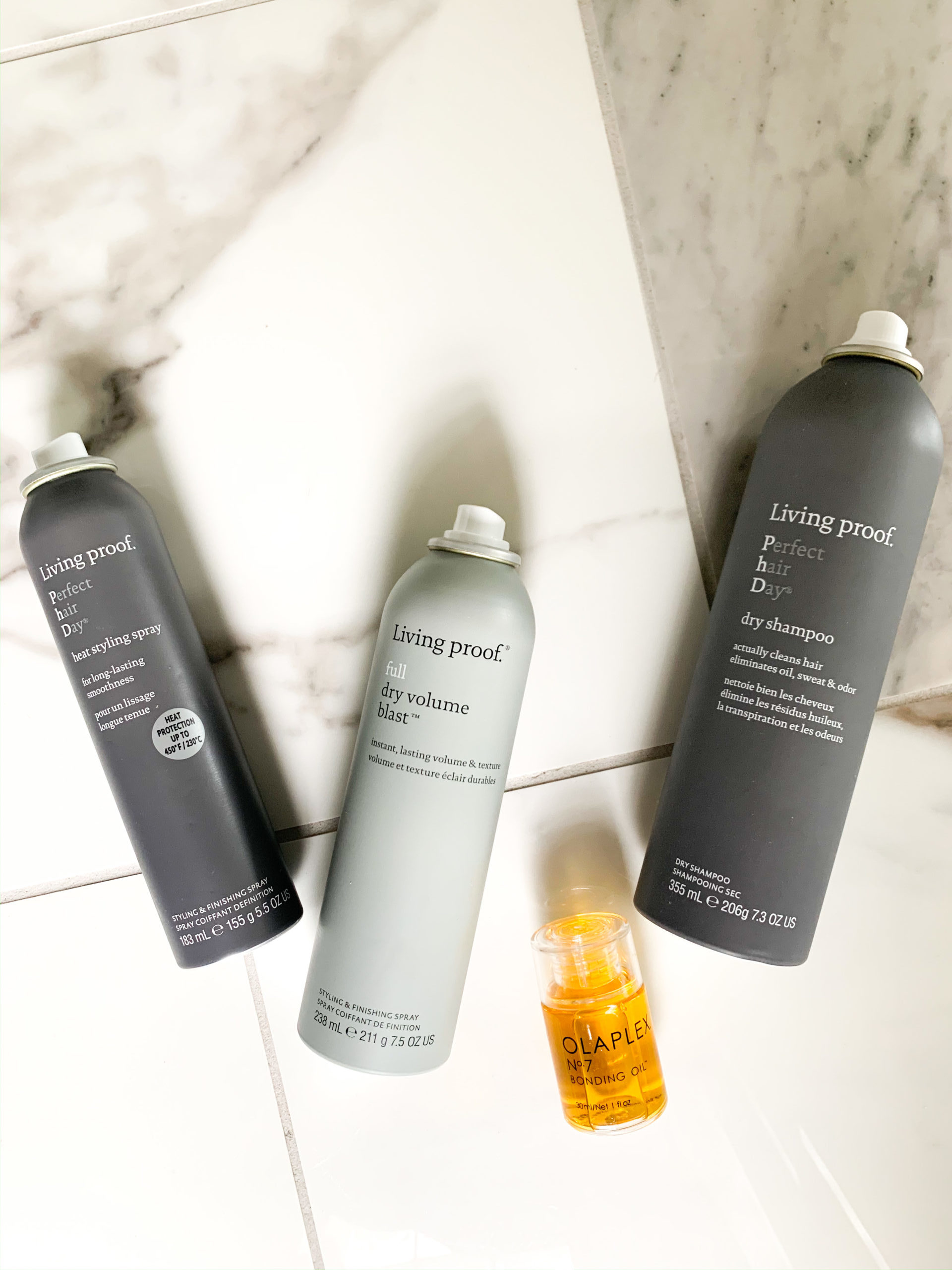 After washing my hair, I leave my hair in the towel or let it air out until it's 90% dry. Then I'll add in my this bonding oil by Olaplex while my hair is damp. Truly feel like this stuff makes a difference! It helps make hair shiny and soft and protects from heat up to 450ºF though I do use another product specifically for that. I use the living proof heat styling spray before I start styling my hair. Just a couple spritzes all throughout and ready for the heat!
Bonding Oil | Heat styling spray
To style I use my tried and true Revlon Dryer brush. I've gotten so many of my friends and family hooked on this thing! Kinda reminds me of that expensive Dyson Airwrap but much more affordable and works perfectly for an at home blowout! I like to section my hair off with some sturdy hair clips and start with the bottom layers. Make sure when you use this brush, your hair is at least 90% dry! Since the brush is so large, I can take big chunks of my hair and run through them from the top and the bottom to get it all smoothed out and straight. Takes me about 15 minutes to do this whole head of hair!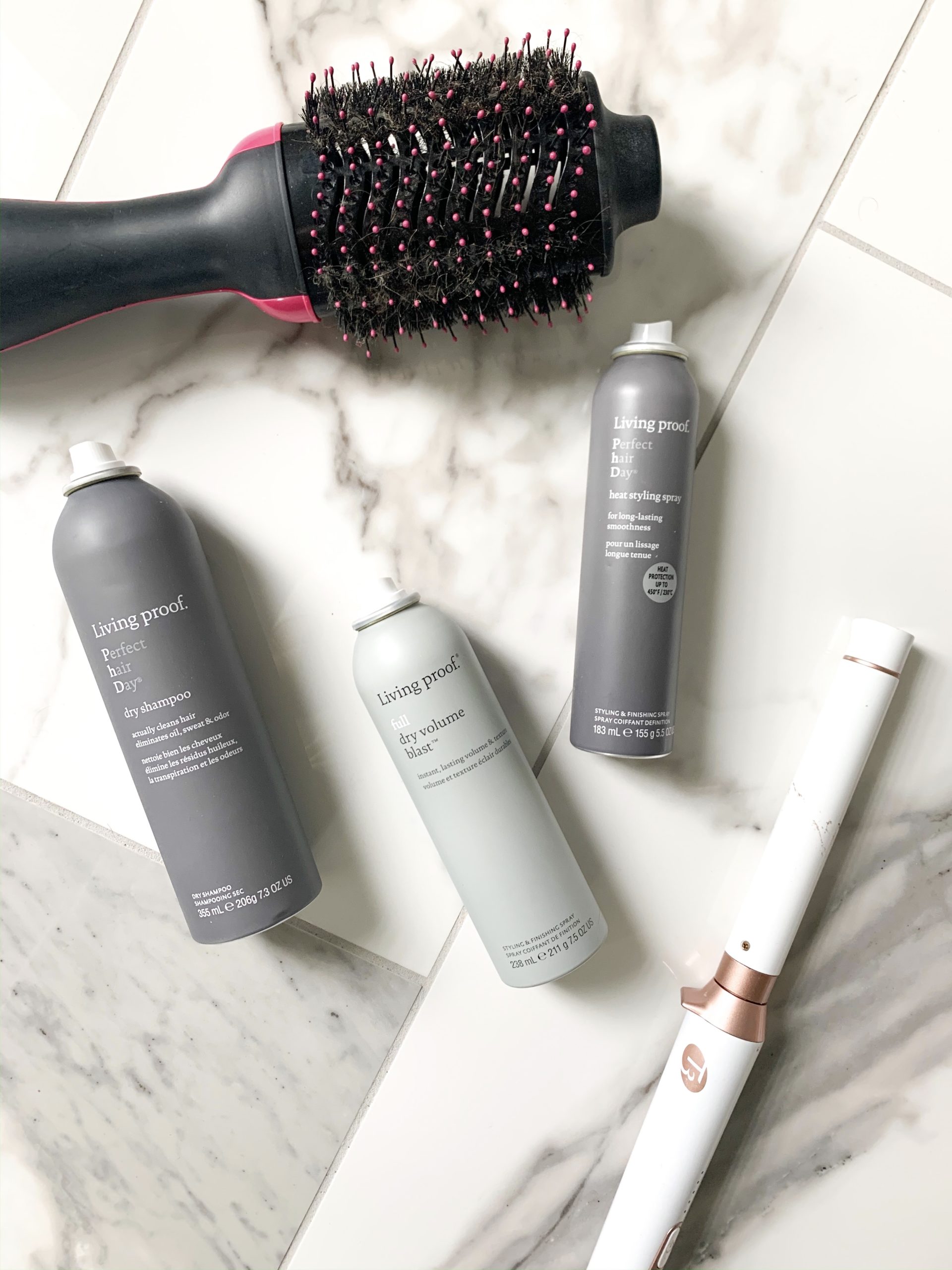 Let's talk maintenance. Key to getting your hair to last a few days (or a week) is quality dry shampoo and volumizing products!
Few days in, the grease starts to settle in and doesn't smell great haha keeping it real. To keep all this at bay, I use the Living Proof Dry Shampoo and Volume Blast to refresh that blowout volume and freshness. I normally will marinate my hair in the dry shampoo at night before bed every 2-3 days, so I wake up with a fresh head of hair that looks and smells freshly washed! As for the volume blast, I use that every other day to lift and give me all the volume when my hair is feeling a bit flat!
Sometimes after I blow dry my hair I'll leave it as is, and sometimes I'll add a bit of a curl/wave in it. I use this T-3 wand that I've been using for years and truly feel like it's one of the only curlers where the curls last without constant touch up. I'll touch up the curls maybe once every few days if I get a chance or need a fresh hair look. The one I have is the convertible base and the wand you can buy separately which come out to the same price as the non-interchangeable ones. I'll link both in case you just want to get the full curler!
T-3 Base | T-3 1 inch Barrel | T-3 Full Wand 
**Use code Blameitondede on living proofs website for 25% off sitewide + free full sized dry shampoo with $60 purchase! Sale ends May 14 at 11 AM EST