Madrid, Spain Travel Diaries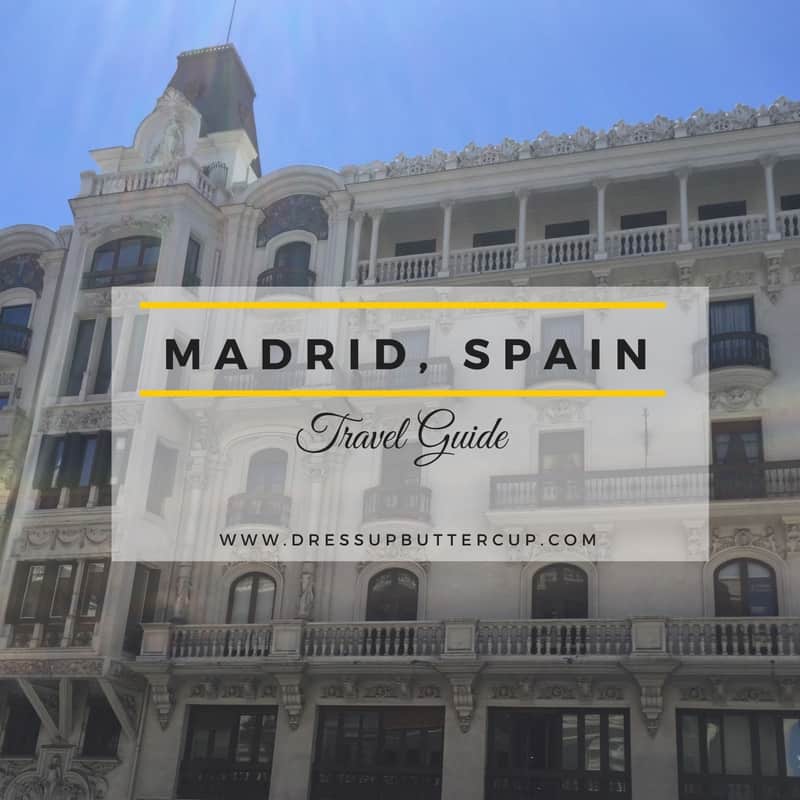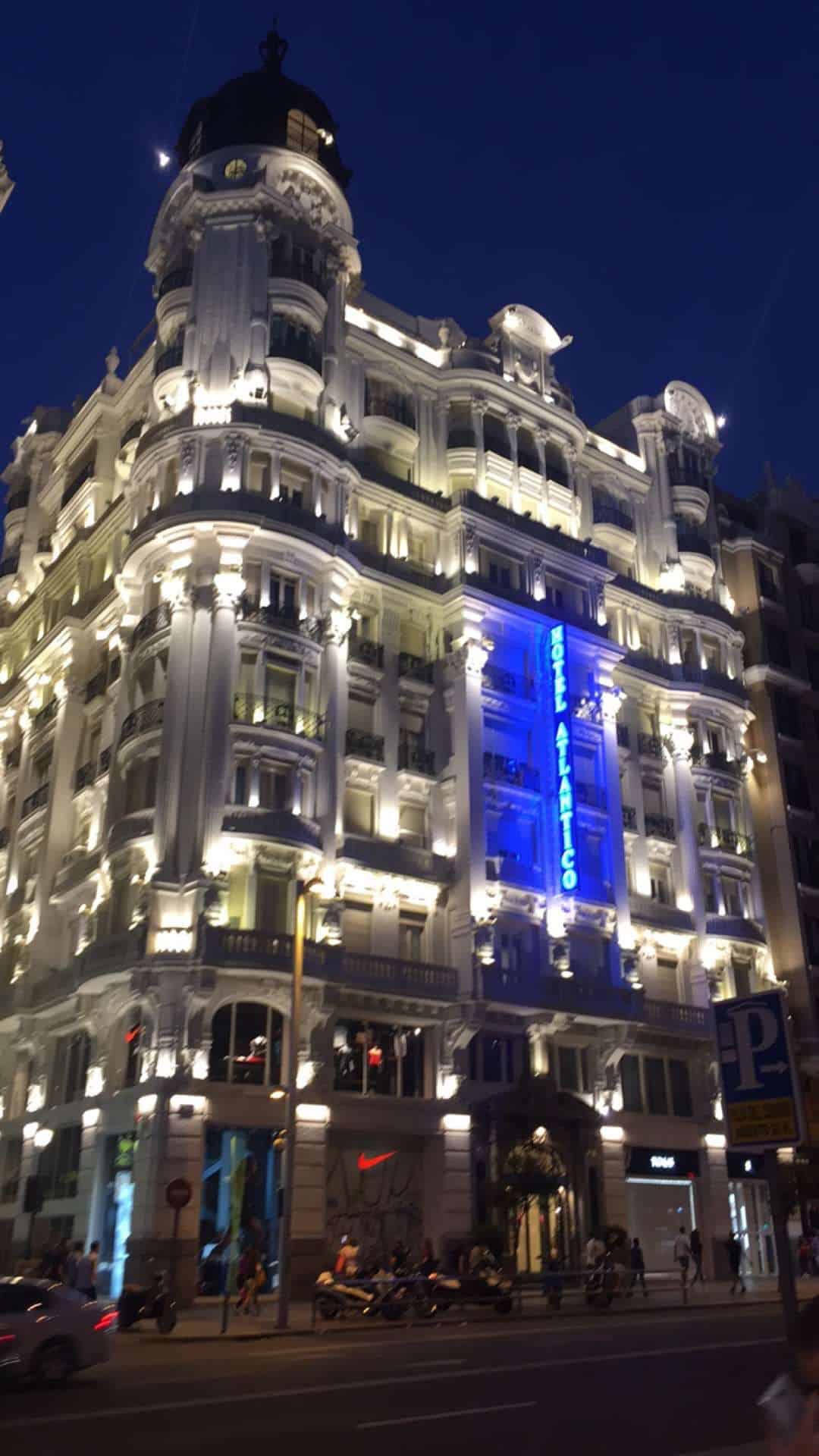 Ahh, welcome my dears to #raadstravel Tuesdays! Ted and I have been to A LOT of places and this is the most requested content so I am excited to start with our Trip to Madrid! This was the start of our two week Europe trip a couple weeks back and I will be sharing them all. If you remember we literally decided two days before our trip that we should go early before the group and explore Madrid. We are SO glad we did so since Madrid was one of our favorite cities. At the end you will also find Teds tidbits for you boy readers! I would LOVE to hear your feedback since this post took so stinking long to put together. Below we rounded up our favorite places to stay, places to eat/drink, and things to see.
PS I still will be doing #buttercupcrush series on Tuesdays when I don't have a travel location to share.
Stay:
H10 Villa de la Reina Boutique Hotel*
We absolutely loved our hotel at the H10 boutique hotel. Ted and I love trying out boutique hotels and this had to have been our favorite. From the modern European decor to the convenient location, we would rate it a 9 and would stay here again.
Food:
Mercado San Miguel
Ok, you MUST go visit a Mercado while you are in Madrid. It is tapa galore. Imagine a ton of small food/drink vendors in one glass room and you get to shop your favorite tapas at each vendor. It is the most genius concept and we really loved our time here! We actually visited two and I will name the second one below
Mercado de San Idelfonso *
This mercado stays open until midnight so we came here one night for dinner and drinks. They have an adorable outdoor area with live music and an amazing selection. It was definitely a hip place to be at. We loved the ambiance and the variety of food they had to offer. The location by our hotel was also a plus but then again everything was convienetly located!
Ginos
I am not going to even link it because I was not a fan! Fair warning, if you are looking for a chainy Olive Garden type then this might be for you but we were not fans. I say don't waste your time and try something more authentic. I was so mad after we left the restaurant that we waisted a precious European meal at this place. Anyone else feel like that after a not so great experience?!
Chocolatier San Genes*
Ah this was our absolute favorite rest stop. Chocolate and churros. What more can I ask??! It was the perfect dessert and apparently well known. It's a must in Madrid and I already am dreaming about the time we go back.
Azotea En Casa Decor**
The most stunning view of Barcelona. You won't believe it. They charge about $4 to get to the rooftop, but it is well worth it. Make sure to call ahead since they do private events some nights and it can be closed. This was the highlight of my trip. Everything from the view, the ambiance, and the mists to keep you cool on the roof top, it was magical. I HIGHLY recommend this place. It was the perfect place to grab a drink and watch the sunset. There is typically a line to get on the elevator, so either go early or plan in advance.
El Cortes Ingles
This was another fun tapas restaurant type but with a gorgeous view. It's on the top floor of a shopping center (kinda like a mall) and reminded me of a malls food court, but with an amazing view. If you're in the area I say stop by!
City Spots:
Real Madrid Stadium
This was the highlight of Ted's trip. It was very interesting to learn about the history of the stadium that I had no idea about. It was a museum-like futbol tour. Tickets were reasonable and can be bought at the gate. I recommend doing the self guided tour.
Plaza Mayor
Plaza Mayor is a cool spot to scoop out the architecture and is just another central location to get a feel for the culture of the city. It is right next to the Mercado, so you can knock out both spots!
Royal Palace of Madrid
This was such a stunning palace to see. You can tour the palace for an admission fee that has limited hours. The grounds of the palace is magical and the garden is breath taking. Across the street is also a beautiful Cathedral.
* Highly Recommend
I also created a bucket list for you to screen shot, save, print to take when you visit Madrid or send to a friend who plans to visit! I LOVE having a bucket list and create one every time we visit a new place. I always create one based on my research so I thought it would be great to create a bucket list based on our actual experience. Happy Tuesday!
————————–
From Ted:
If Dede hasn't mentioned already, we normally plan our trips the second we land, and this case was no different. After an 8 hour flight, we found the nearest place in the airport where we could sit down, grab a coffee (we landed at 7am), log on to the airport wifi, and figure out where we were going to sleep the next two nights. Oh, and also book our flight to Lisbon where we would meet the rest of the family (no worries, we found a flight for 68 euros…gotta love euro prices!)
Luckily, after doing some research, we knew we needed to stay on Gran Via. I highly suggest staying near Gran Via. Centrally located in the city and just a few minutes walk to the majority of stops we wanted to see. We found a good hotel in H10 and they were able to answer all of our questions about the city.
Which brings me to the city. Ah – the city. Madrid absolutely was my favorite city to explore during this trip. You could feel the culture while walking the streets of Madrid. The people, the food, the architecture, the statues, the soccer stadium – all of it just had the feel of authenticity.
Ok so Dede asked for some lists – and here it goes – my top 5 of Madrid. **NOTE: See Dede's post for all the links and names of the places listed below.
1. Santiago Bernabeu Stadium (Real Madrid stadium)
My absolute favorite! I'm a general sports fan, so this might be a biased opinion, but the stadium tour was awesome. Dede didn't care much for it, although I did tell her there might be a possibility that Cristiano Ronaldo would be there, and that definitely got her attention – which worked for me! Just 18 euros to tour the stadium and this place has a ton of history to it – you won't be disappointed – especially if you are a soccer fan.
2. Mercado, Mercado, Mercado
Tapas is kind of a dream come true. I'm a sampler kind of man – so if I can get a little of everything, count me in! The markets were perfect for that! Meats, meats, meats and beer. Perrrrrrrfect.
3. San Ginos – Churros and Chocolate
I mean – why not? I looove churros and I looove chocolate. Plus, this was like melted chocolate. I'm pretty sure Dede was jealous when she saw me checking the melted chocolate out. Just….delish!
4. Check out the Plazas
This is where you get a feel of the culture. The way the streets were engineered near Gran Via, the majority of the streets led you to a plaza – which is essentially a large area where they have different restaurants and stores and such. Walk around and check it out!
5. Anything Rooftop
The city view was amazing! Grab yourself a drink and check out the sun setting over the city. Plus, the weather is absolutely amazing. Nothing like good weather and enjoying good views with your wife.