Guest Post: Meet The Founder of the Kid's Toy You'll Never Want to Put Away
If you're new here, welcome to the newly renovated Dress Up Buttercup website! To kick off the new design updates, we're introducing a new series we're excited about—guest blog posts! This is another way to introduce more brands and small businesses to you guys and hear directly for them. If you're interested in collaborating on a guest post reach out here!
I'm so excited to be sharing this guest post with you written by Maddie, owner of Bricklettes and one of the girls in our Facebook group. We loved the idea of her business and wanted y'all to hear about it too. I'll let y'all keep reading to get know her and learn more about the super practical, aesthetically pleasing blocks she makes that your kids will love!
Where can people find/follow your business?
IG: @bricklettes
Facebook: facebook.com/bricklettes
Shop: bricklettes.com – use code blameitondede for 15% off your order!
Tell us about yourself! My name is Maddie – I'm married to my college sweetheart, a mom to our 3 amazing toddlers, and the founder of Bricklettes. When I became a stay-at-home mom after our twins were born in 2019, I never saw myself starting a small business (and most definitely not with 3-under-3 running around)…but having kids ended up being what inspired the brand's existence. I've always loved pretty decor, a good DIY, and a fun play experience – so in the end it kind of makes sense that I'd start a toy brand whose motto is "Prettier Play Starts Today"!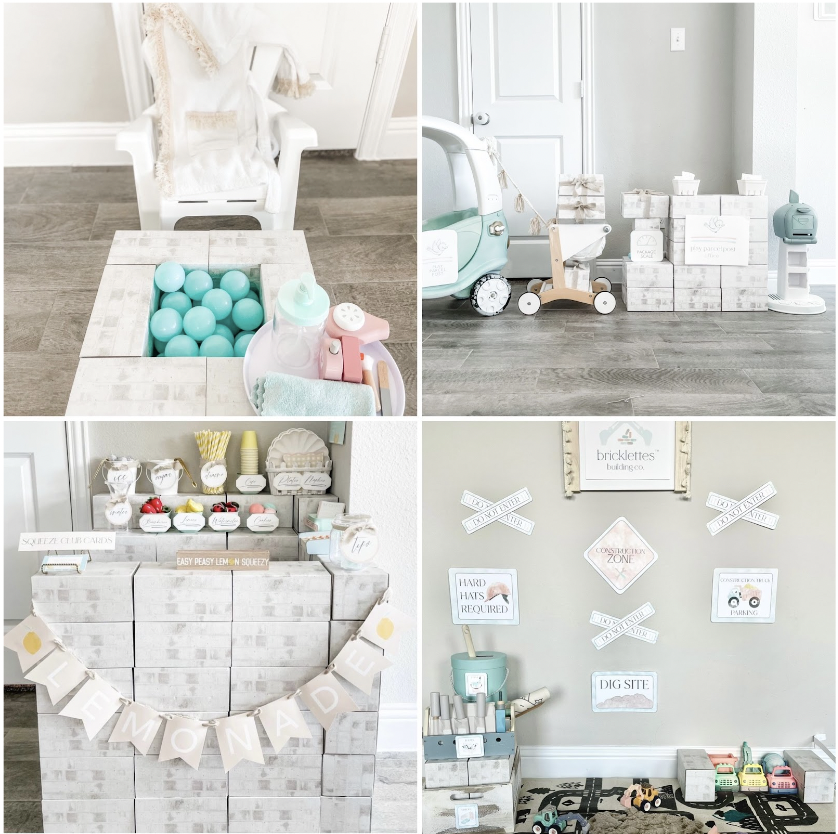 How did you come up with the idea that your business is centered around? I came up with the idea for my brand last year, out of pure frustration with the outdated colors and style of many of the toddler toys on the market. Pre-kids, I had curated a home aesthetic that was visually soothing and peaceful, but as our kids outgrew the cute wooden baby toys, our home started being overtaken by primary-colored toddler toys instead. So, I began "making over" a lot of the toys to better fit in our home and as a way to keep me from feeling like we were living in a McDonald's PlayPlace!
When/how did that turn into a business?! My twins were turning 2 and I had noticed they were starting to love stacking and building. I went looking for cardboard building blocks, but could only find ones that looked exactly the same as the blocks I had grown up playing with in the 80's and 90's. I wanted to have the nostalgia and fun of those blocks, in a more aesthetically pleasing pattern and color – but it literally didn't exist. My first instinct was to DIY a better version, like I had with all of my kids' other toys, so I covered some empty GoGoSqueez applesauce boxes with white brick peel-n-stick wallpaper and had my kids use those as blocks. Unfortunately, our youngest (who was under a year old at the time) started chewing on them and pulling off the wallpaper…so my DIY blocks had to go. I figured, "it can't be THAT hard to find a way to manufacture beautiful blocks" … and, even though it wasn't exactly as easy as I had thought, Bricklettes was born about a year later!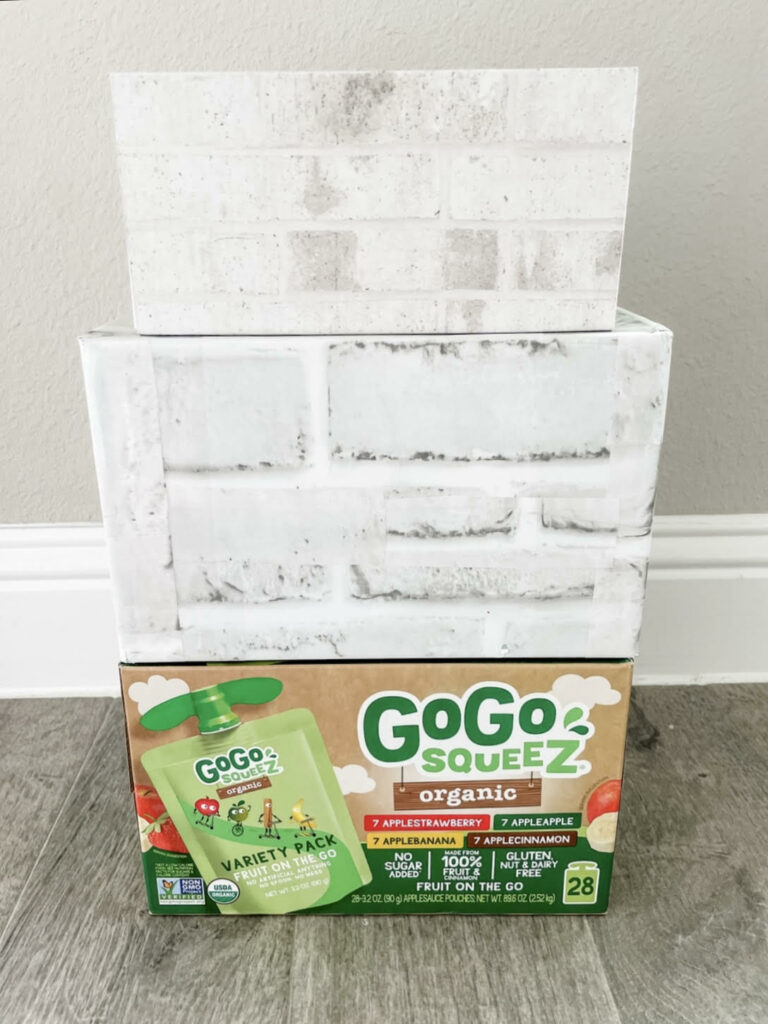 Tell us more about your products! We currently only have one style and size of block, in an attempt to keep things simple and streamlined (since right now it's just me doing all the things in the business!). We sell them in two different sets: our Starter Set has 10 blocks (which we like to say is enough to build two "toddler-sized" towers), and our Classic Set has 20 blocks. All of the blocks in both sets are the same large 8" x 4.5" x 4" true-to-life brick size (we like big blocks and we cannot lie!). They ship flat in a super cute "play parcel" mailer, and we made sure they were easy to assemble – so easy, in fact, that parents have even described the process as "satisfying" and "therapeutic to put together!" We have gotten such great feedback from every family who's gotten their hands on a set so far, everyone is absolutely loving the functionality and the aesthetic.
What's really helped you grow your business? We've done all the things to organically get the word out about Bricklettes! Instagram has been great for collaborations with like-minded brands and influencers, and we have also leveraged Pinterest and our (very early-stage) blog to get traffic to our site. As a recently-launched brand basically bootstrapping the business, we haven't put much money into ads or anything like that yet—so I'm incredibly grateful to Dede for this amazing and generous opportunity to introduce our brand to the Dress Up Buttercup community!
What's your proudest accomplishment? Our brand motto is "prettier play starts today" – which, as it turned out, has meant much more than just a visually beautiful toy. While developing this product, in typical mom-form I also found myself searching for a way to improve the safety and eco-friendliness of the blocks. I'm super proud to say that Bricklettes are the only cardboard building blocks that are made from 100% FDA-certified food-safe cardboard and ink materials (think: pizza box-type cardboard and water-based inks…sooo much safer if your little ones end up with a block in their mouth like our youngest did), and that they are sustainably produced in the U.S. with a responsible manufacturer who plants a tree every time we place a re-stock order!
What do you love most about what you do? It hasn't been easy being a business owner while also parenting three very young kids, so my favorite part is when I'm able to double up playing with my kids while also accomplishing something for the business. I'm really passionate about the educational and STEM learning benefits that block play brings kids, and we frequently feature creative play suggestions on our social media and blog. I come up with these ideas myself: usually I'm first inspired by watching my kids at play, then I make fun dramatic play set-ups using the blocks (like a lemonade stand, a nail salon, or a construction site) to kind of test the concepts with them…and then I further refine it based off of how each of them interact with the set-up. It's so rewarding to see how these "play plans" engage my kids' little minds while keeping them physically active building with the life-sized blocks, and it's fascinating to see how our customers and their kids put their own twists on each plan. I absolutely love that I get to share inspired play and promote screen-free fun that the whole family can get in on – mine included!
What do you hope your customers get out of the products you make?
I love that our product supports both parents' needs AND kids' needs by elevating this classic and nostalgic toy, and it makes my day every time I hear feedback about how much both kids and parents are enjoying the blocks! I truly think our blocks are the perfect screen-free and educational gift idea for young kids, and am obsessed with the fact that they also double as a gift for parents themselves, thanks to the way they blend in seamlessly and effortlessly reduce the toy overwhelm in our customers' homes. I have already heard more times than I can count from moms who "refused" to buy the primary colored ones, and once they get ours they are shocked by how much their kids love the blocks and say they play with them every single day! People also love that they are lightweight and don't make a loud crash when they come falling down – plus, parents of girls or with kids of both genders have really appreciated that the blocks have a much more gender-neutral feel to them than the other blocks out there.
What are your goals or dreams for the business?
I would love to come out with more sizes, colors, and patterns of blocks. I also have hopes of eventually expanding beyond just blocks – the idea of a line of beautiful cardboard toys is actually quite fascinating to me, especially as a parent who sees how quickly kids outgrow toys. Cardboard is an incredibly versatile and strong material (our blocks can hold up to 150 pounds!) and I've become a little bit of a geek about it after going on the sourcing journey for the blocks. Also, while I didn't initially set out to create an eco-friendly brand, ever since I heard that up to 80% of toys end up on a trash heap, I've been obsessed with the fact that cardboard is recyclable and breaks down years (if not decades) sooner than plastic or wood. There are already starting to be a lot of cardboard play houses and cars in the toy market, but I think the potential to take cardboard toys even further is there and I'm crossing my fingers that I get to explore that one day in the future – it would be so amazing for Bricklettes to be able to bring more pretty toys into existence!
Thanks for sharing your small business with us, Maddie!