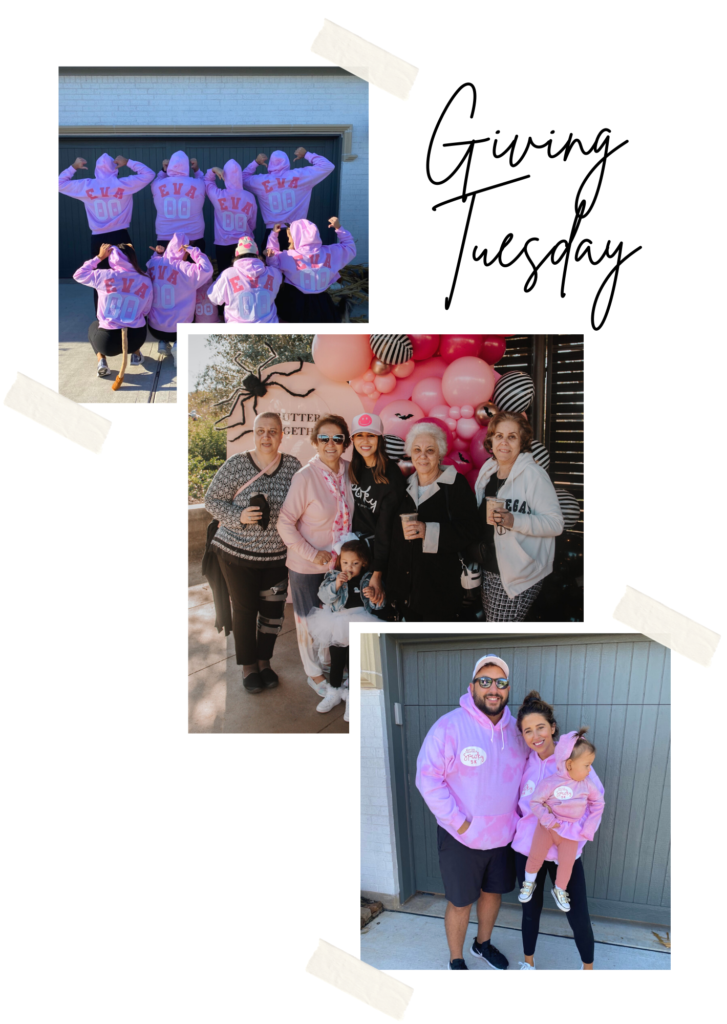 I feel like Giving Tuesday is one of the most overlooked days of the year! After spending almost a week online and in-stores getting our shopping done, I truly think it's important to take a moment to pay it forward and support an organization that's close to your heart on Giving Tuesday. I have a few non-profits that I love to give to on this day and throughout the year, so I thought I would share a few of my favorites along with some of yours! If you're looking for an organization to support, check out Charity Navigator or Charity Watch for some ideas and to learn a little bit more about what each organization does and how your money can make a difference.
Charities Close to My Heart
Breast Cancer Research Foundation
Supporting breast cancer research has become near and dear to my heart after losing my mom to her battle last year. This year, we planned our second annual Spooky 5k to rally together as a community to raise awareness and funds for the disease. In 2020 we raised $4k, but this year we were able to surpass that and raise over $15k! How freaking cool. BCRF is a highly rated organization and focuses on funding research like tumor biology, metastasis and heredity to ultimately find a cure for breast cancer. Thankful for y'alls support—whether it's with your funds, time, or sweet words—when it comes to joining me in the fight against breast cancer.
I learned about this organization last year and love that they specifically dedicate their funds towards stage 4 cancer research which is what my mom battled against. I'm happy to know that there's a team of people focusing their time and energy studying this! They're also a top-rated charity according to Charity Navigator!
This organization delivers free, healthy meals on the doorstep of preschool-aged kid's homes who are struggling with hunger in 43 different Houston-area zip codes. It makes me so sad to think that some kids don't have access to this basic necessity, so I love being able to partner with them in any way that I can to support and fund their mission. One thing we've done in the past is decorated the brown paper lunch bags that are used for the meals with pictures and messages for the kids! Such a simple way to give back with your time if you aren't able to support monetarily.
H.O.M.E is s an acronym for "Health Outreach to the Middle East" and they are a Christian Medical Missions organization that focuses on providing medical assistance in the impoverished areas in the Middle East. Ted and I went with them on a mission trip a few years ago and it was amazing seeing the work they're doing. I just love the hearts of those people there. My father-in-law is the founder of this organization, and 100% of proceeds go straight to the mission field!
Monthly Giveaway Winner Charity Choices
Every month, I randomly select some of y'all and send you a little something as a thank you for being a part of our community. I also ask y'all to send me an organization that means something to you and make a donation on your behalf! This has become one of my favorite things to do, and I love seeing the diversity of charities y'all support. Head over to IG to hang out with me and stay up to date on the latest giveaways for a chance to win and submit your choice of charity! Here are some the organizations you've chosen to donate to this year to date:
Butter Together Amazon Wishlists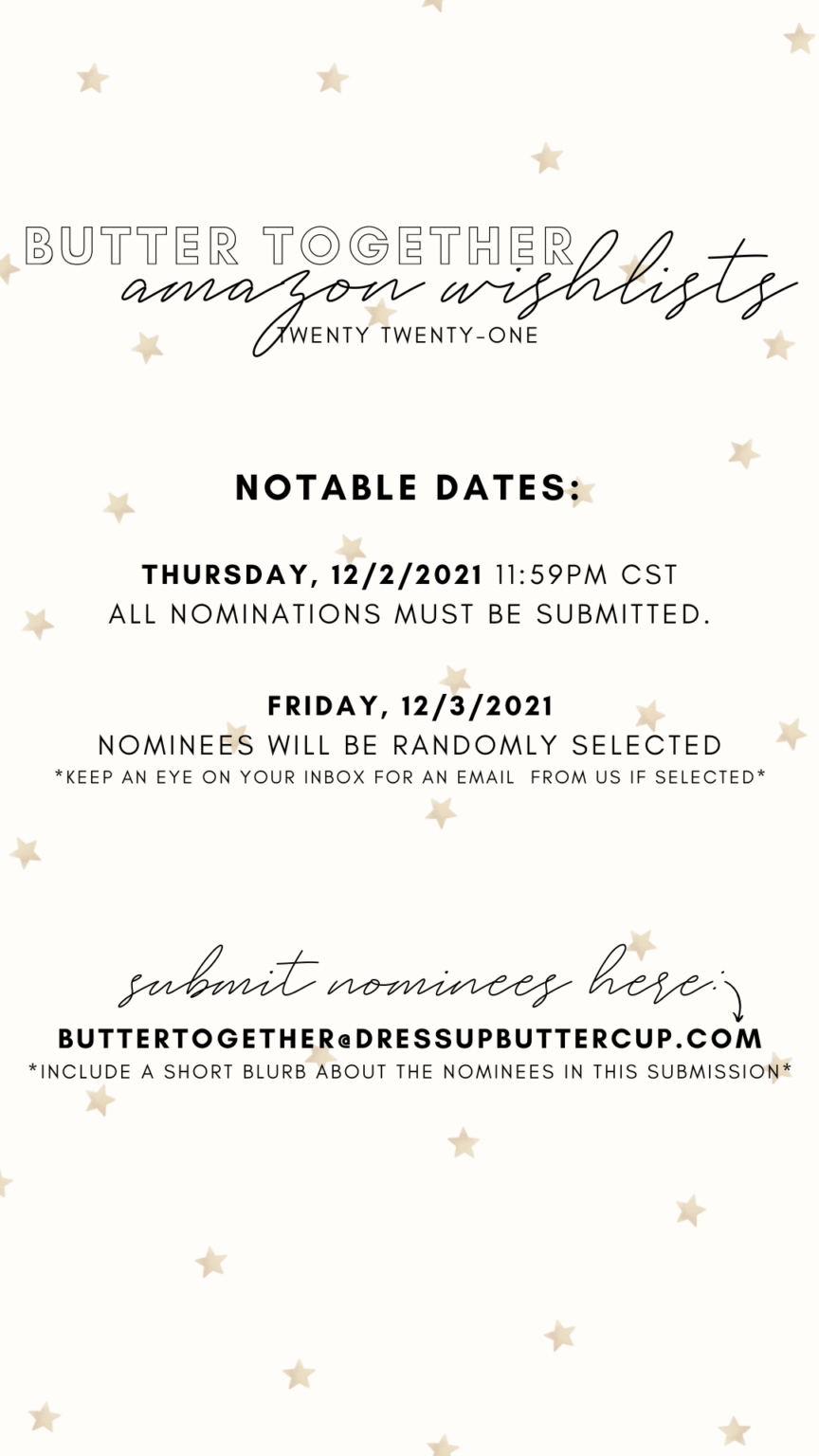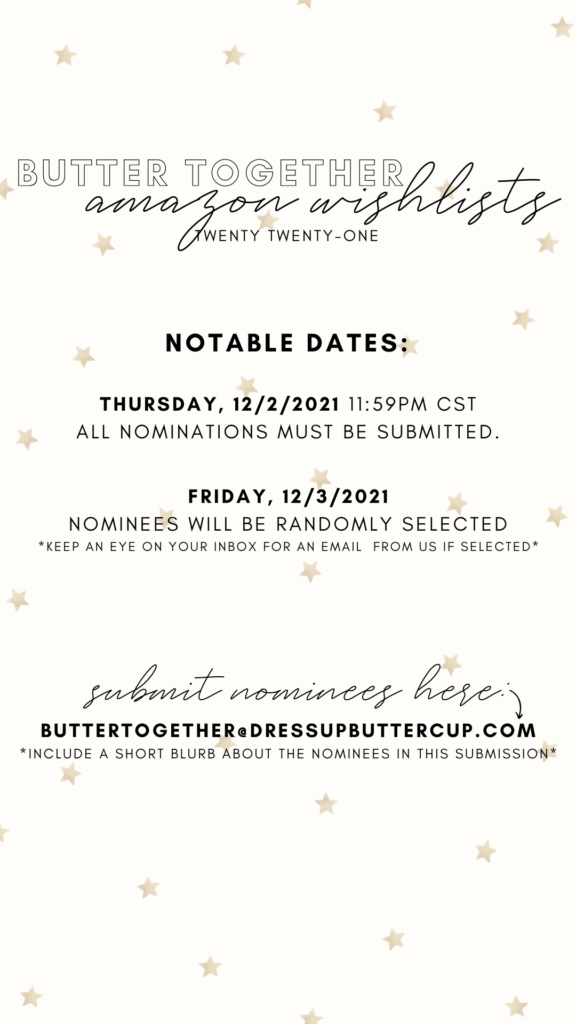 We're coming together again this year to bless some of y'all by fulfilling Amazon Wishlists! Submit a nomination to the above email address and we'll randomly select some of you and share your list so the DUB community can help purchase some of your items!
Thank you for your generosity and support to organizations who help make this world a little bit brighter!