Gift Guide for New Mamas & Babies Under One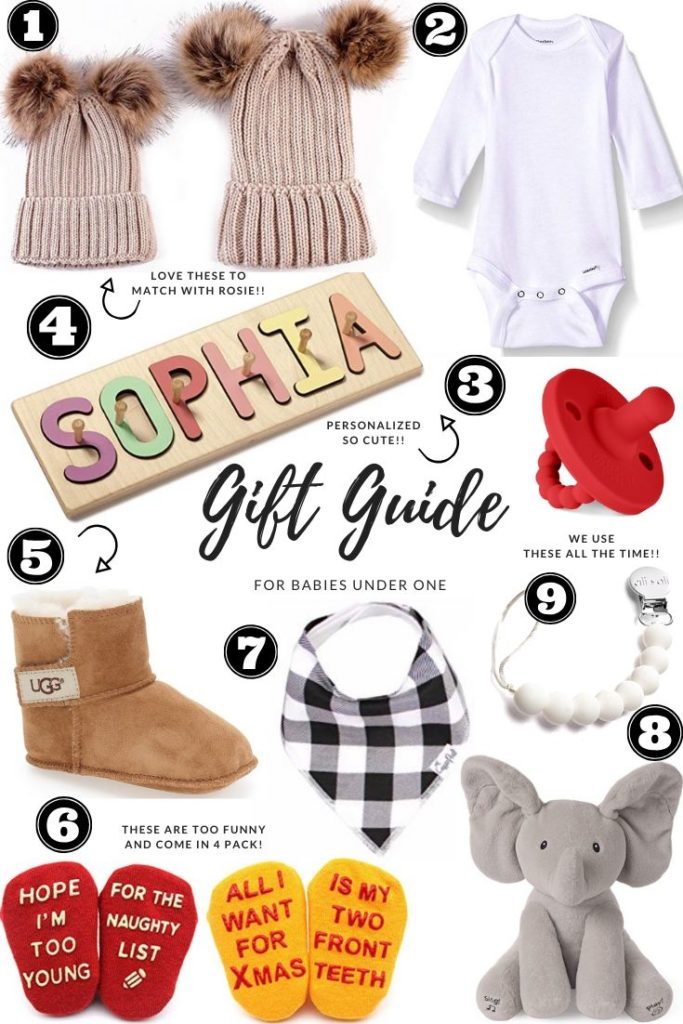 1. Beanies: I absolutely love these beanies for mamas and baby! I have them in a couple colors and think they are so cute to wear with her!
2. Onesies: These are organic and come in a pack of 6! These are honestly some of my favorites since they are a good price and great for layering.
3. Pacifier: We use these all the time! They come in a lot of different colors and are easy to clean.
4. Puzzle: Love love that you can personalize this puzzle and the colors are so cute!
5. Uggs: I have these on Rosie non stop since they are warm and they look absolutely adorable!
6. Socks: These are too cute! They have them Christmas themed or regular colors/saying as well.
7. Bandana Bib: We use these for Rosie and really like them! You can leave them on and they look like an outfit but help with spit up and drool! Heres another pack I like the patterns and also Christmas themed ones!
8. Elephant Toy: This thing is too cute and entertaining for them! The ears flap and Rosie loves.
9. Teether Pacifier Clip: Another thing that we have on Rosie constantly! It keeps her pacifiers from falling on the floor and is also a teether!
Others ideas: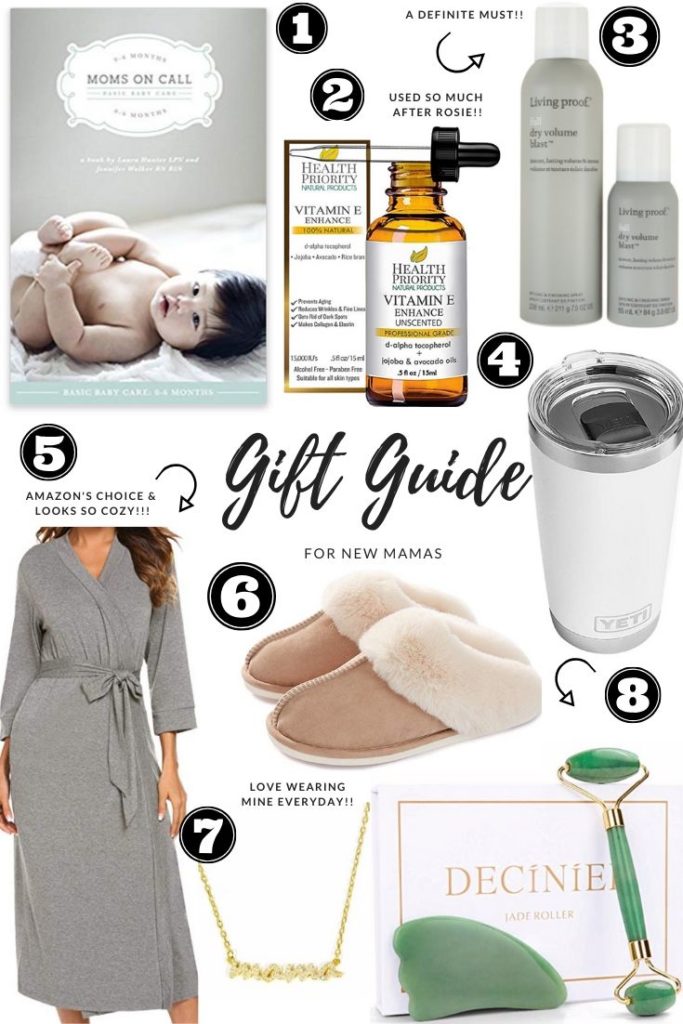 1. Moms On Call: Ted and I loved this thing! We have highlighted it and read through so many times. We also just ordered the next two you can find here & here!
2. Vitamin E Oil: I used this so much after Rosie! My skin was really dry and I had a little discoloration so this was a go to.
3. Dry Shampoo Kit: This is a must cause aint nobody got time to wash your hair all the time with a baby lol. This is my favorite kind and this kit comes with a travel size!
4. Yeti: One of the first things I learned as a momma is that your coffee is going to get cold if its not in a Yeti lol. The times of sitting down and enjoying your cup of coffee in one sitting is over!
5. Robe: This robe was Amazons choice and has great reviews!
6. Slippers: This have been such a hit and a must for tired mamas!
7. Necklace: I have loved wearing this necklace so much!
8. Jade Roller: A little self care is necessary so this is perfect for them to take some time to themselves!
Other ideas: