Ellis Island Award Gown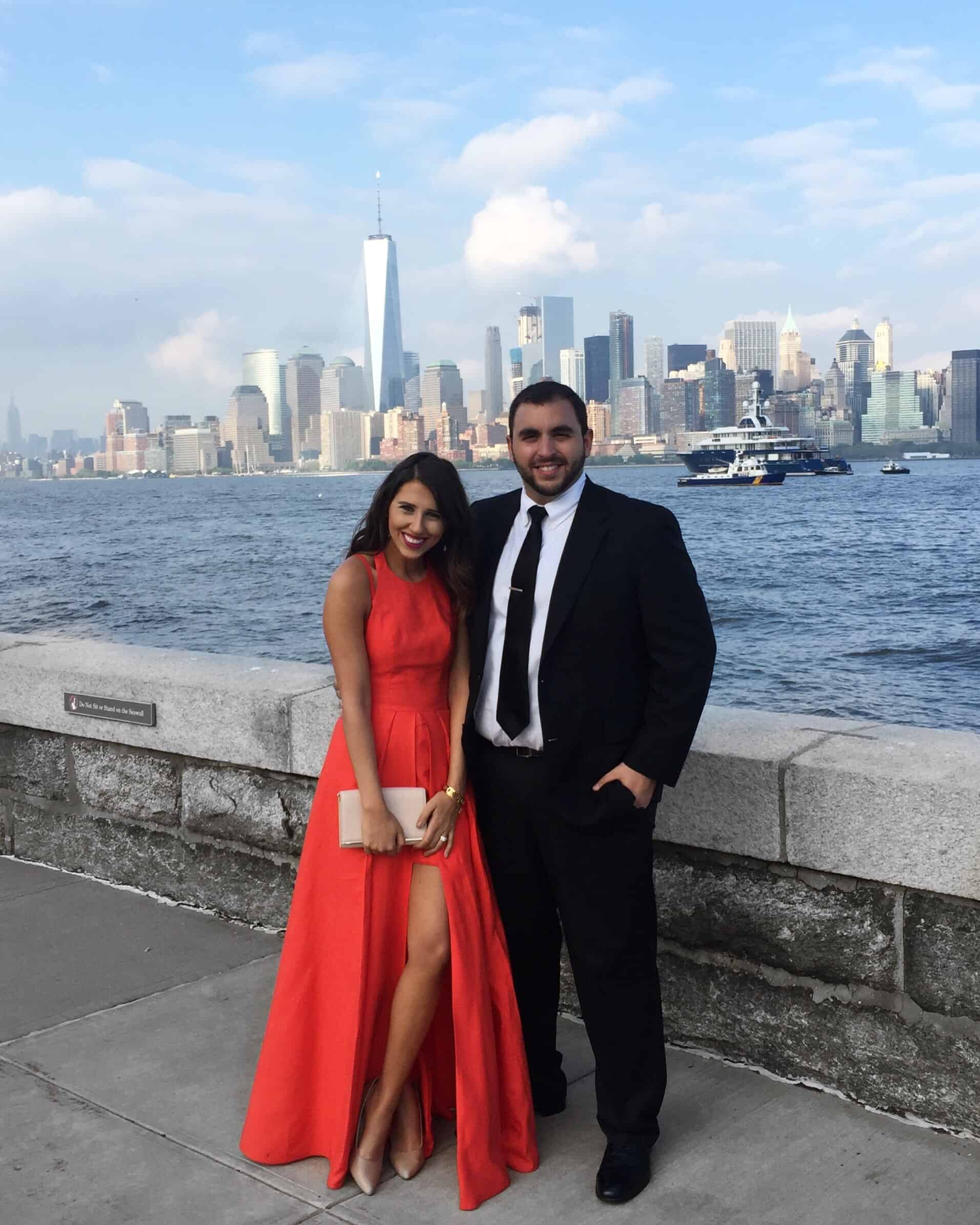 Dress: Rent The Runway | Clutch: Tory | Shoes: Nine West
When I say obsessed with this dress, I really mean it. I also was obsessed with the Manhattan skyline taken from the Ellis Island. I ordered this dress for my father in laws, Medal of Honor award, in New York last week (Dr. Raad is a genius, we all were so proud of him for this)! It probably was one of the fanciest events I have ever been too so what better reason to call up Rent the Runway for such a special occasion. I came across this dress and the color, along with the Taylor Swift like details, really caught my eye. Rent The Runway is an online rental retailer – the name explains itself. I was able to order two sizes of the dress to make sure at least one size would fit. The dresses shipped to my house a couple of days before the event and they made the return process easy as peasy. I think the pictures of this dress really does it justice. Everything from the slit, the color, the halter neck and straps, uhhh dreamy. I would wear this dress again and again if I owned it. Then again whom am I kidding, I don't think I have ever re-worn a ballgown yet (why Rent The Runway is genius for these types of occasions). I did look everywhere to purchase this dress but it's sold out in stores. I even had my sister in law who attended the event to order hers from them too! The night ended with a ferry ride to the Statue of Liberty for a firework show. It was magical and the dress played a very important part!
This week was SUCH a world wind with LTK not working, so many things to do on my to do list, events, Teds sports banquet, and today MY MAN graduates with his Masters. Boy am I so so proud of him! He literally does it all – leading our household, coaching football, speaking some Sundays, leading our church, being my photographer, and finishing his masters. Just the short list of amazingness he is. We got married when I was still in college and my last semester of college is when he started his masters. We officially have never been married with out one of us being in school until TODAY. Today is the day we become a normal married couple with weeknights to our self. Who wants to double date it because we CAN now! Keep an eye out for our New York trip round up of favs, next week.
Yipeee enjoy your weekend loves
PS. Here is a $20 code off I found on their website for you!