Crushing On Vday Gifts for Him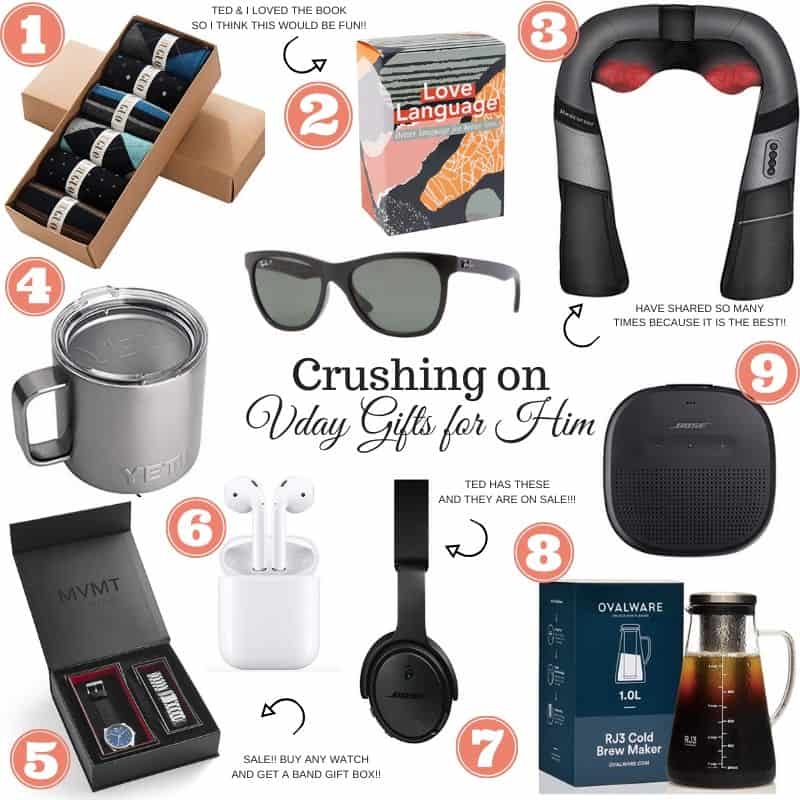 Is it really time to shop for gifts again already?! Luckily Ted and I usually do one or two small things to gift each other for Valentines Day. I would say it shouldn't be too hard but guys can be tough to shop for. These are some things I haven't gotten for Ted and others I found that I thought would be good.
1. Socks Set: I've said it before and I'll say it again you can never have too many socks lol. These would be a cute small gift to put in a gift package!
2. Love Language Game: Ted and I loved reading a book on love languages and thought it was super helpful. This looks like it would be super fun to do with your significant other and learn more about each other.
3. Massager: I've shared this a lot before because it is so good with great reviews and an affordable price. I got one for Ted for Christmas and we love it!
Sunglasses: I feel like these are classics and was shocked to find them at Nordstrom Rack discounted! I know Ted has had these for a while and still wears them. Also, these are a more affordable options that look good!
4. Yeti: This style of yeti has been one of my favorites at home right now. It would be really cute to grab on of these and fill with goodies then gift wrap up.
5. Watch Set: These watches have become so popular and I definitely see why. They look so high quality but are a reasonable price. I just checked the site and they are doing a sale when you buy a watch you can add on an exchangeable watch band to make it come in the gift box above. This is one of the most popular options and I love the look!
6. AirPods: Just saw these are back on sale and would make a great gift!
7. Headphones: Both Ted and I use our headphones soo much! Whether its traveling, meetings, or I even bring mine to salon appointments and listen to podcasts sometimes. Also on sale!
8. Cold Brew Maker: If you've seen us in the morning you probably know how obsessed we are with cold brew coffee! I think it would be so cool to get one of these for Ted and he could make his own!
9. Bose Speaker: Ted uses this for golfing and love it! Would be perfect for the pool or beach really any outdoor activity you could bring this along!