Crushing on Spring Things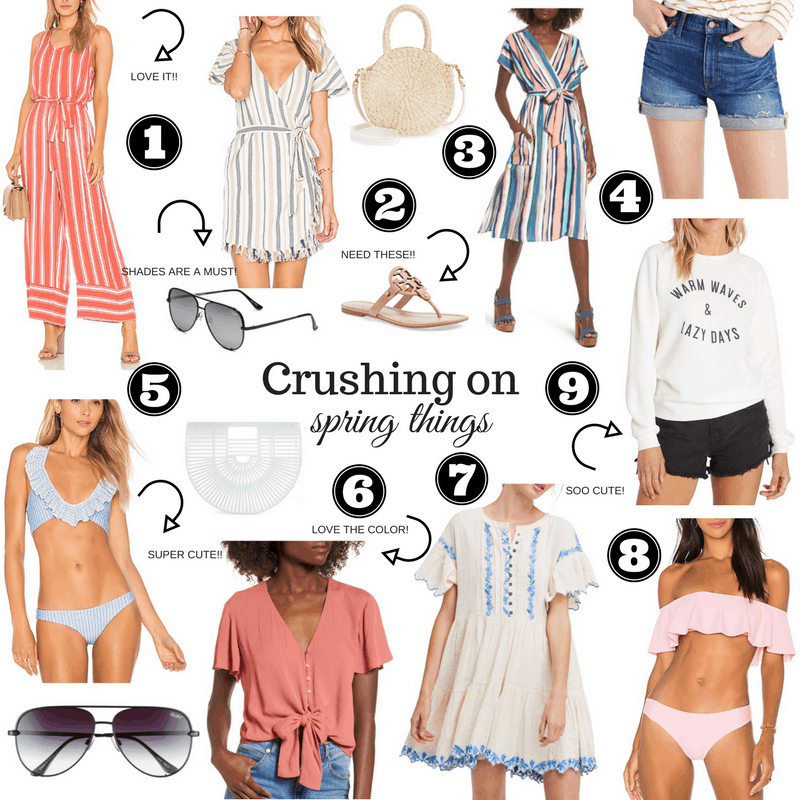 Crushing on Spring Things
With spring coming upon us & many people trying to escape the cold by taking trips to warmer weather. I decided to share some spring things I am currently crushing on. I have an upcoming trip to warmer weather myself. If you've been following my travels I have been to many cold places but this weekend I'll be somewhere much warmer…any guesses on where?
Jumpsuit: This jumpsuit is absolutely adorable and the color is perfect for spring!
Romper: I love the fringe & the way this romper ties. Soooo cute!
Bag: This is a cute bag for a beach trip or to carry thing down by the pool. I love the blue one I added too, sooo pretty!
Shorts: Ahhh, I love shorts & I am excited to get back to them for the spring! These are cute & can be worn with so much.
Swim Suit: How cute is this top! I love it & plan on adding that to my swimsuit collection this year!
Shirt: I love the front tie of this shirt. You can tell it's super flowy which is nice for hot days!
Dresses: I added two dress that I find super cute for Spring! The first a flowy color dress full one & another simple white dress with beautiful blue detailing. Love them both!
Swim Suit: Sooooo cute! Seriously this is adorable & I need it!
Spring Sweater: I love having a light sweater on hand during for beach trips. It's perfect for those late afternoon strolls & any time it's a bit chilly on a spring afternoon.
Glasses: You can never go wrong with too many shades especially for the Spring & Summer months.
Sandals: These sandals are going in my cart! I can't wait to wear them this spring & even throughout the summer.