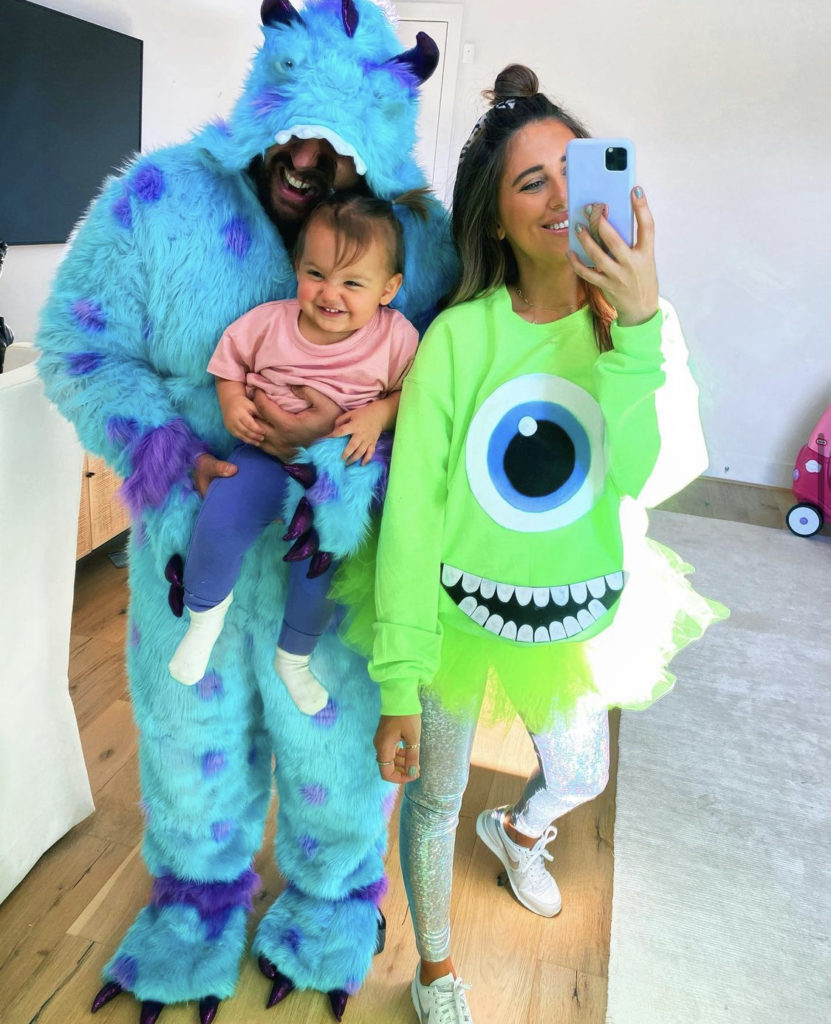 Monsters Inc.
I think this fam costume was one of our favs lol. People always tell us that Rosie looks like Boo from Monsters Inc. so we thought this was the perfect costume for us all to do together! Plus, it was another excuse for me to wear a tutu which you can see is a common theme with my costumes haha. Ordered the Sully costume for Ted and got most of my stuff from Amazon like the sparkly leggings and tutu. Created the Mike face on my sweatshirt with felt and craft glue from the craft store!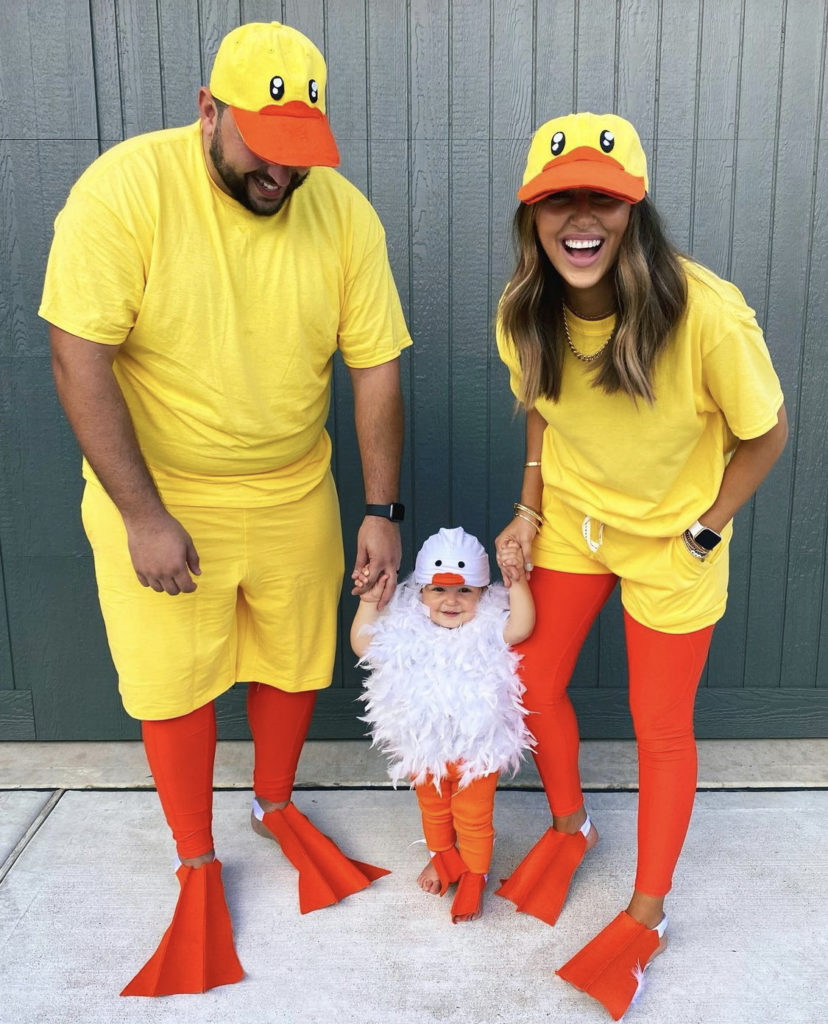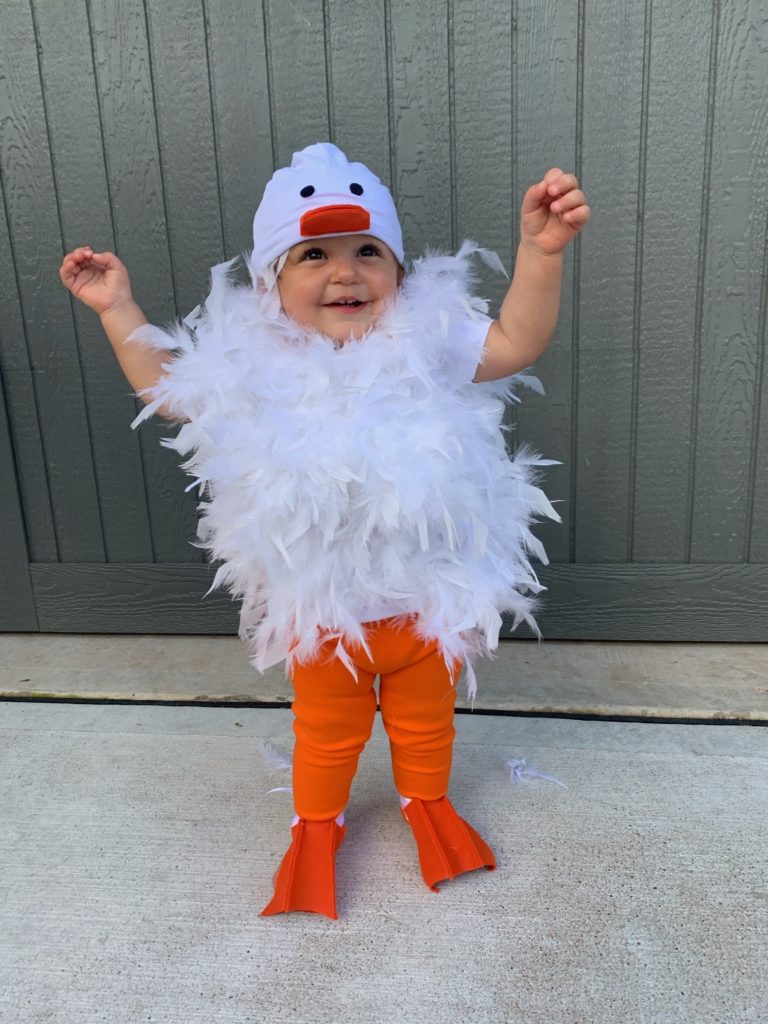 Duck, Duck, Goose!
Last year's Halloween costume was so fun to make! Rosie made the cutest freaking goose and she was at the age where she could start to under enjoy actually dressing up. Shared a full tutorial on how to make this costume in this post! Found most items on Amazon so super easy to recreate.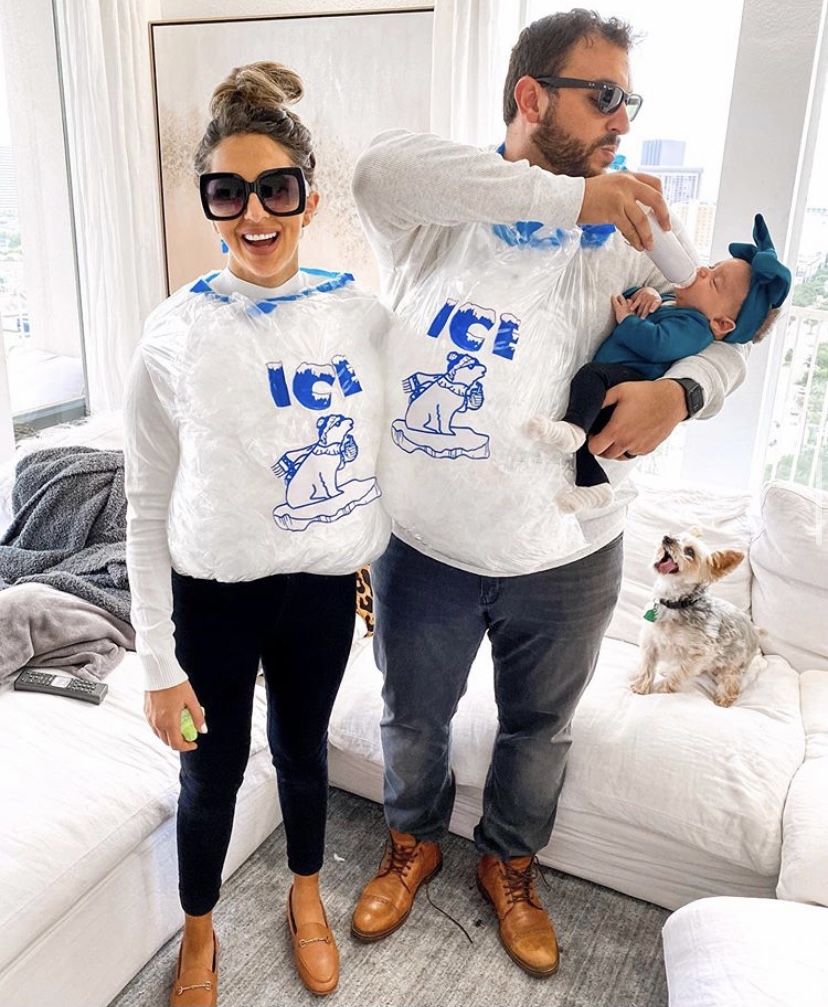 Ice Ice Baby
2019 was our first halloween with Rosie & it was so fun getting to dress up in a family costume! We DIYed something super easy with an ice bag & some trash bags. You can create this costume with just things laying around the house which I loved! We printed off the logo & taped it to the trash bags!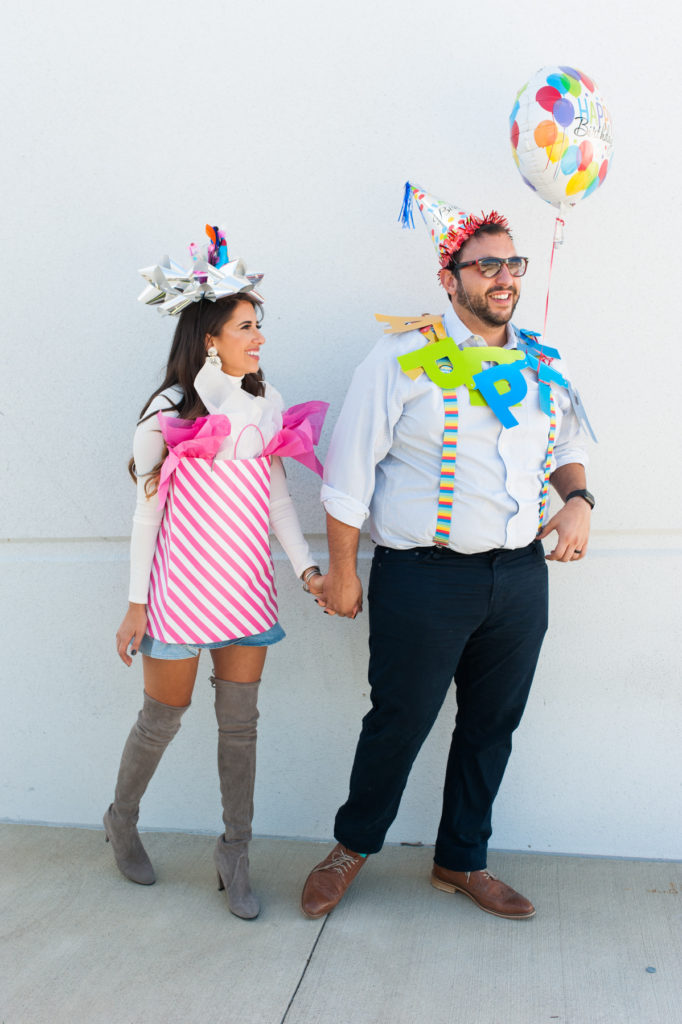 A Birthday Celebration
This was such a fun & creative idea that we had one year! We went to a party store to grab a few supplies. It was so fun to put together and ended up being so cute! Love the colors and how it all turned out. You can find the full blog post here!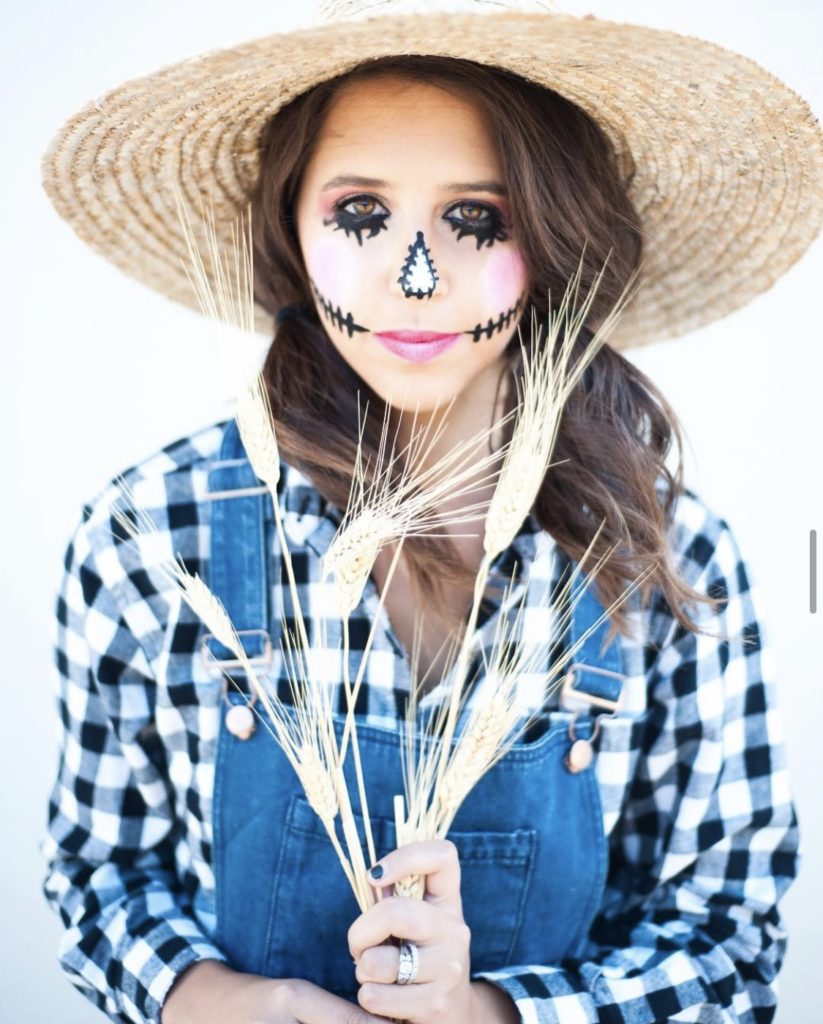 Scarecrow
Did this costume back in 2015 and would be so easy to recreate today! Repurpose any of your flannels, denim or overalls and invest in some face paint and items from the craft store and you're good to go. Full blog post here!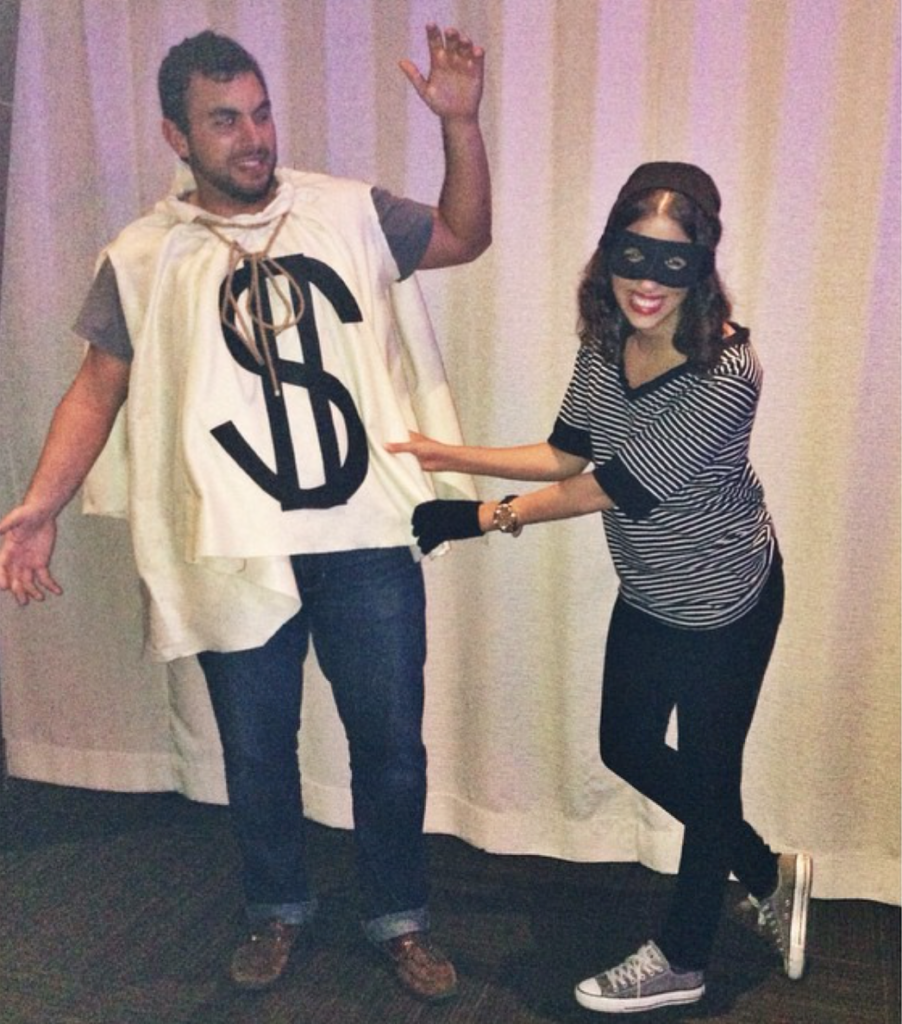 I snagged myself a fine bag of money this year!
….. & the kid stole my heart but I mean I'm not calling the cops about that one 🙂 This was a super easy costume we made a couple years back for a Halloween party we threw and we actually one the best dressed costume at the bar! It basically just ordered a glove, beanie, and mask and had the rest in my closet. For the hubs I just bought felt and cut out a money sign and hot glued it to some big fabric. I got some rope and tied it around his neck for the money bag look. Most of these looks were stolen from Julien Art and can be found here (she did them way better).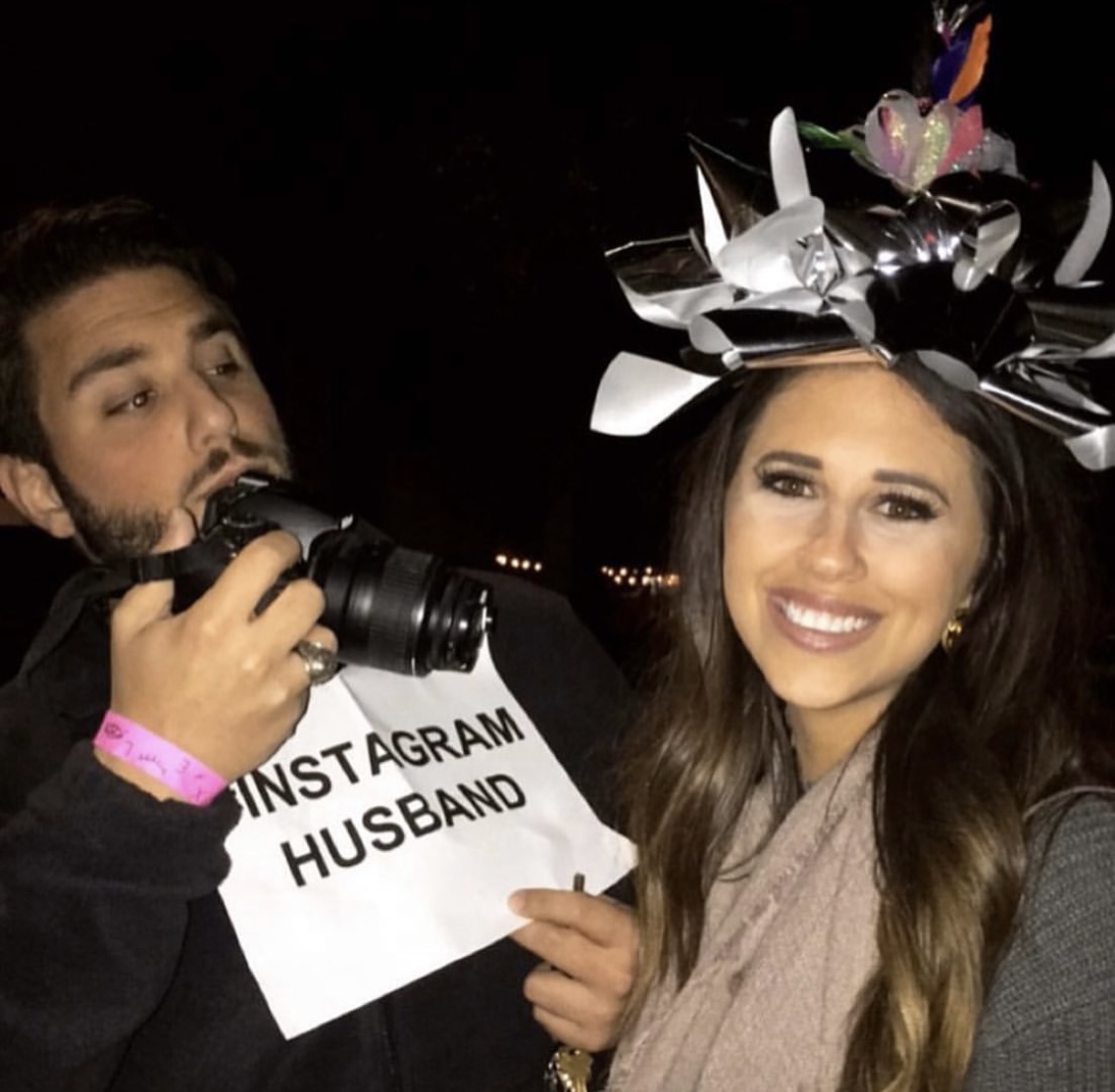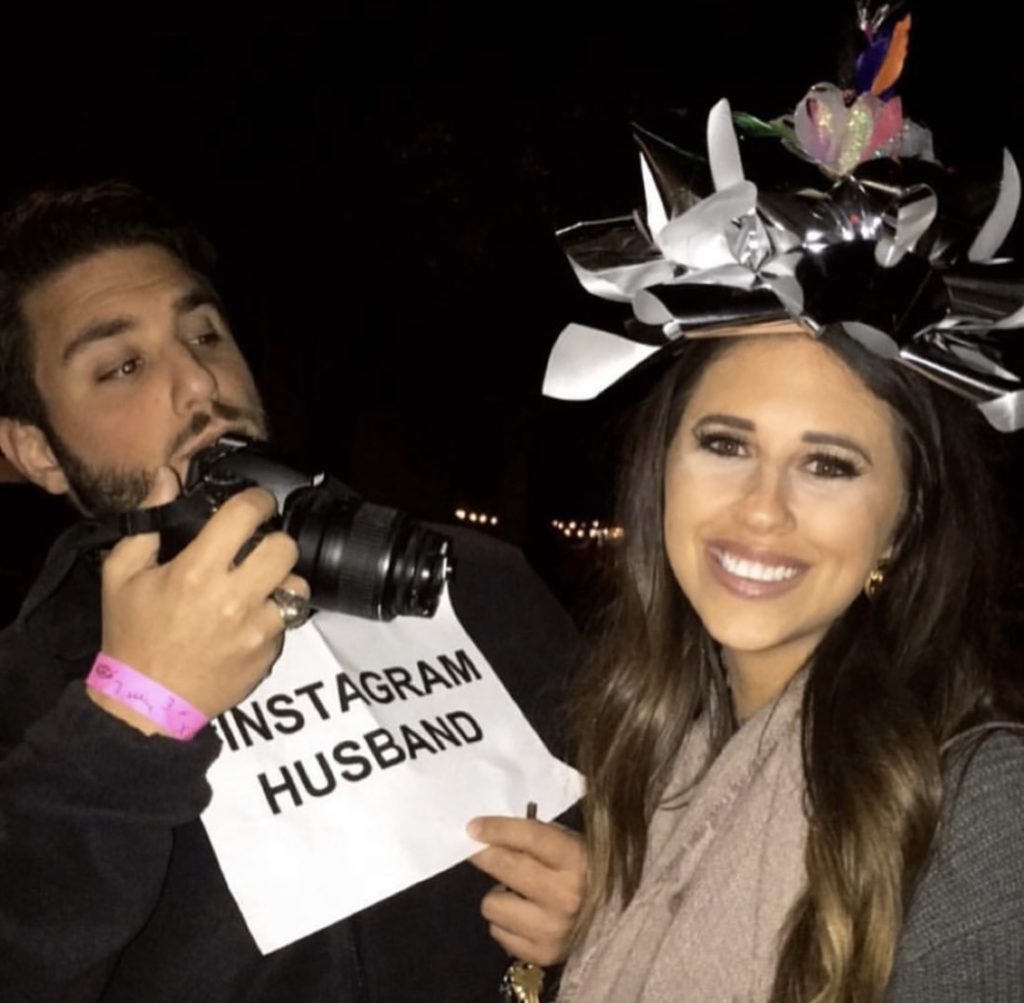 Instagram Husband & Blogger
This was back in my early blogging days and Ted always took my picture so we joke that he was an OG Instagram husband lol. He's still my personal paparazzi though!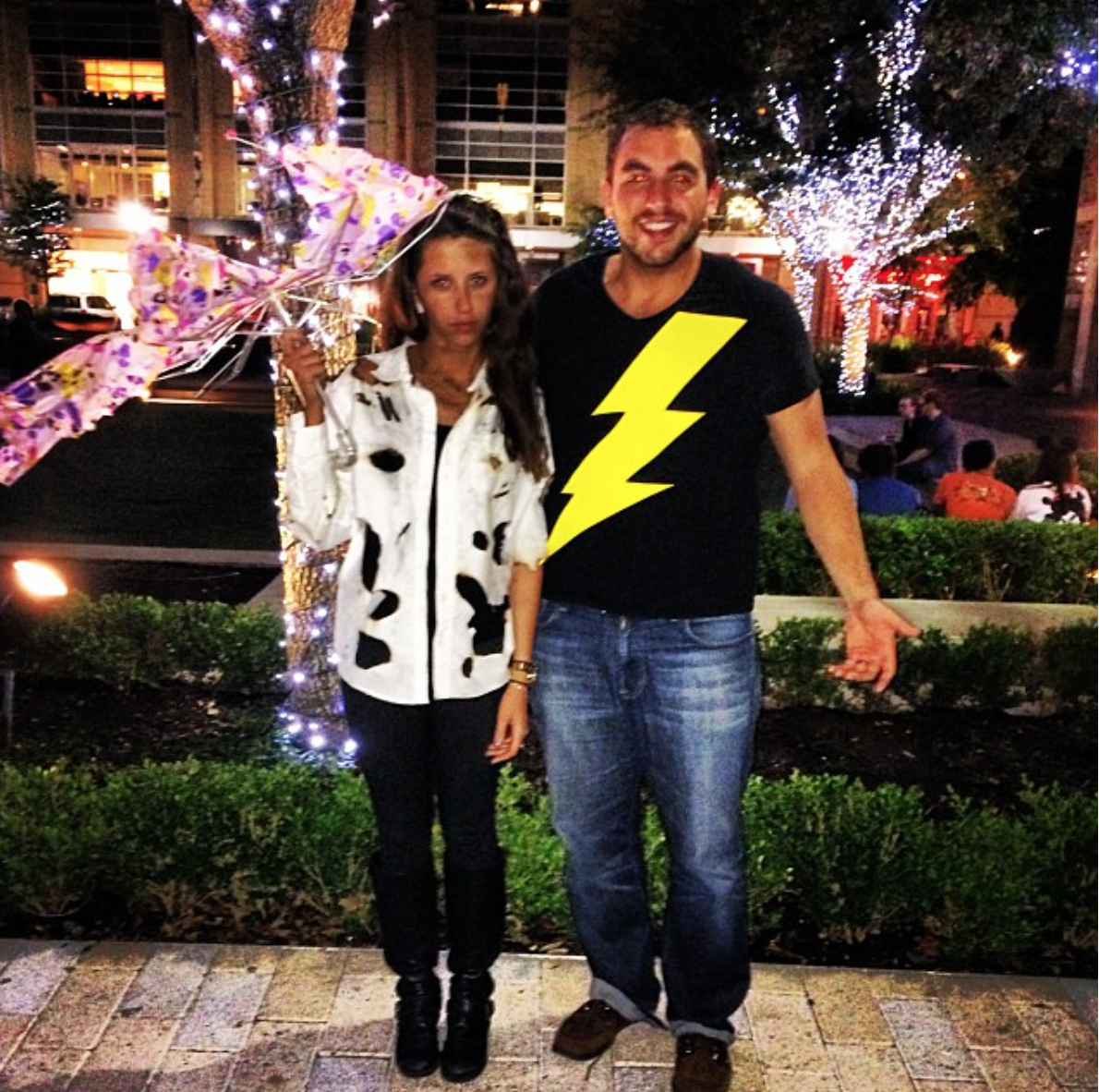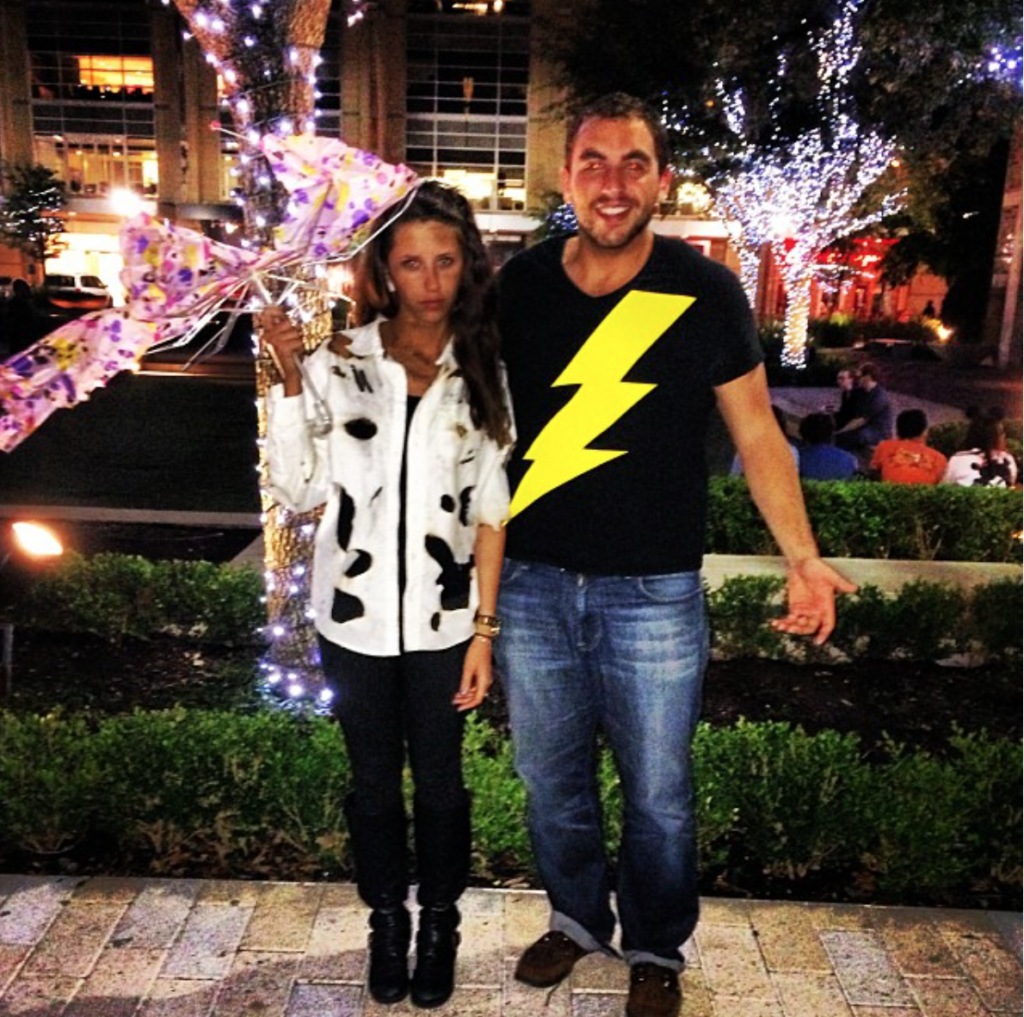 Love Struck by Lightning
Eek this was so much fun to make. I bought a white simple button down and got to burn wholes in the tee using a lighter ( note to cut holes first then torch the sides). I also just ripped apart an umbrella and there was my look. For Ted, similar as above, I just hot glued a lightning bolt that I cut from a yellow poster board. These are all SUPER easy costumes that I made the day of our halloween parties.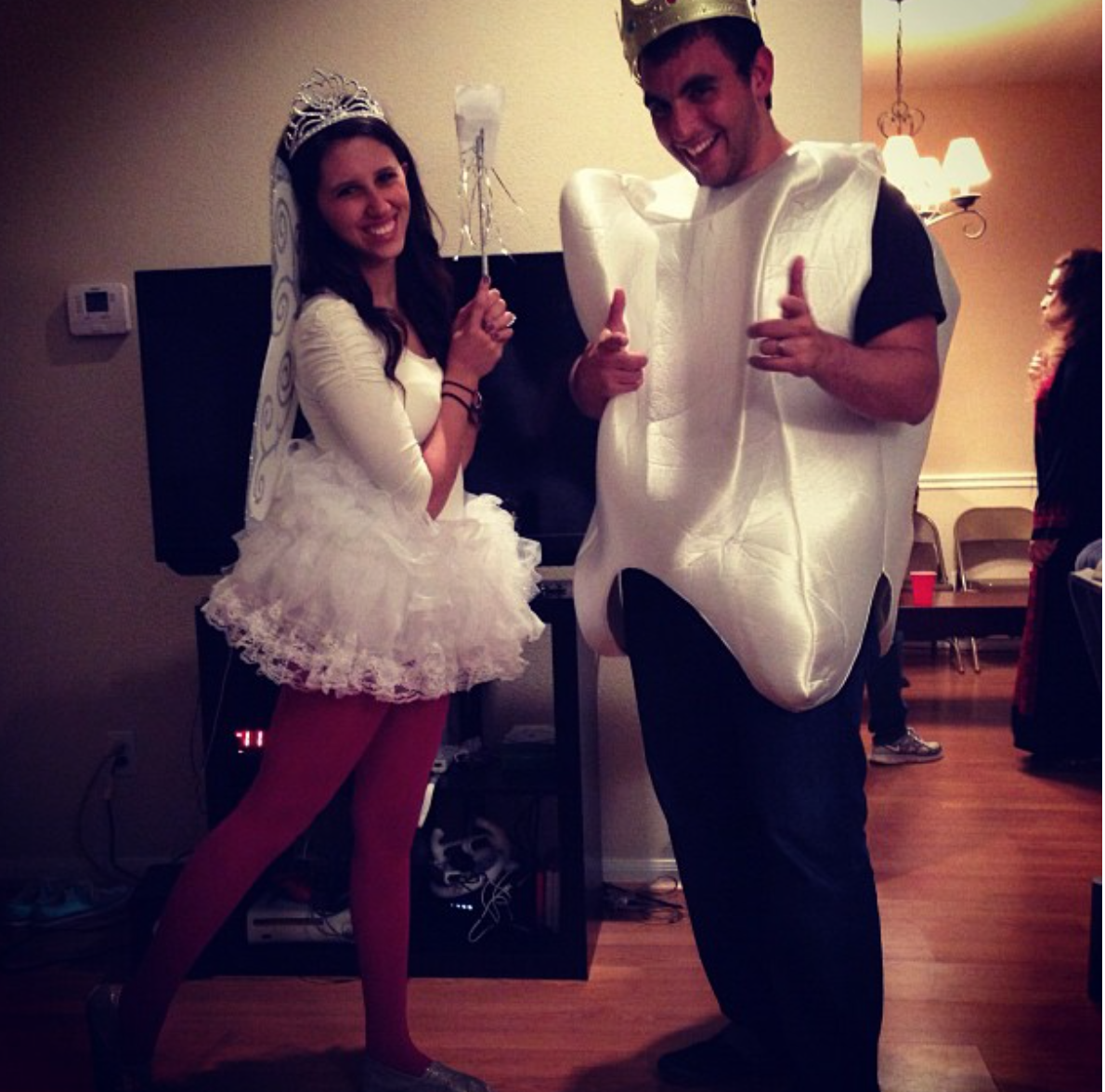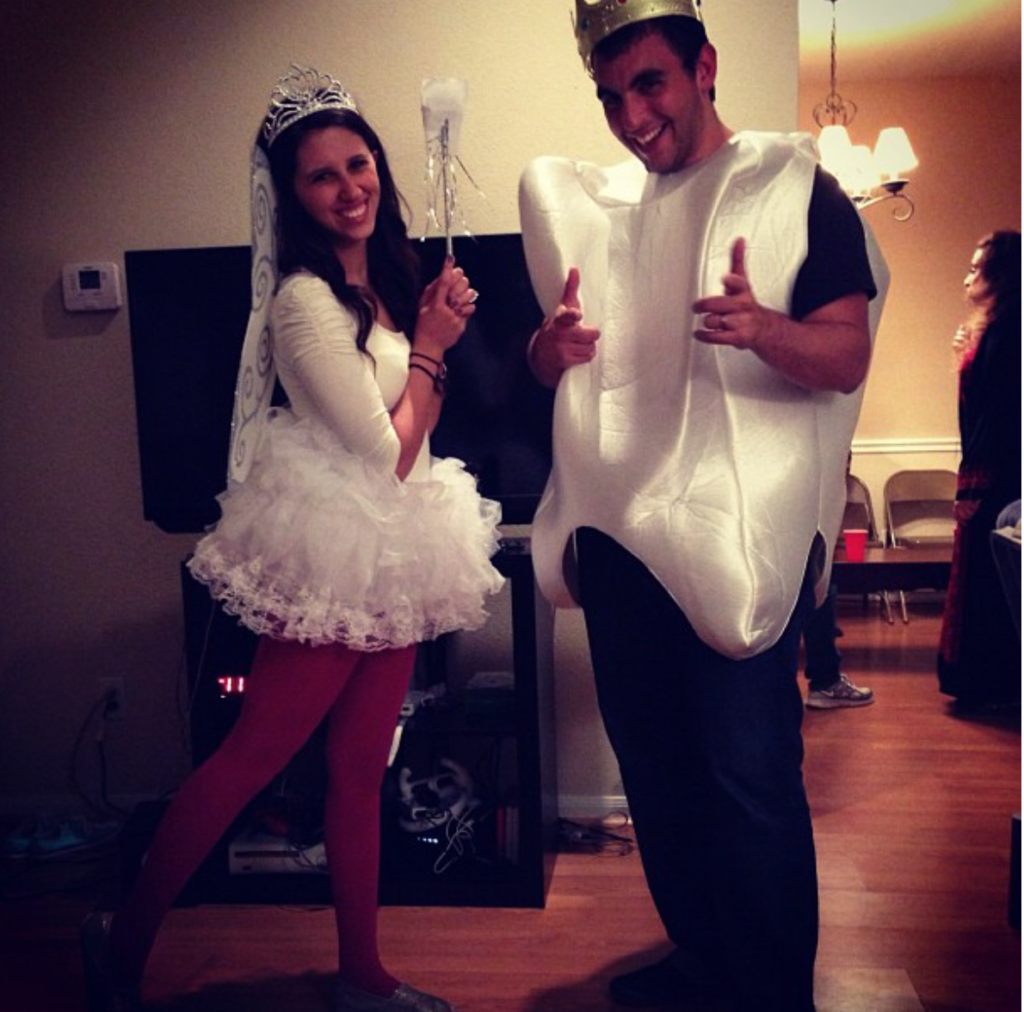 The Tooth Fairy Found her Tooth
One year I was on a tutu kick and all my costumes consisted of tutus (see below too). I basically just needed a white outfit with a tutu, a crown, some wings, and wand with a tooth. I just cut out a tooth on paper and glued it the wand. Of course Ted's costume was low maintenance again with just ordering the tooth online here. I think I want to recreate this look with now my blogger touch since we still have our beloved tooth stuffed into our crafts closet.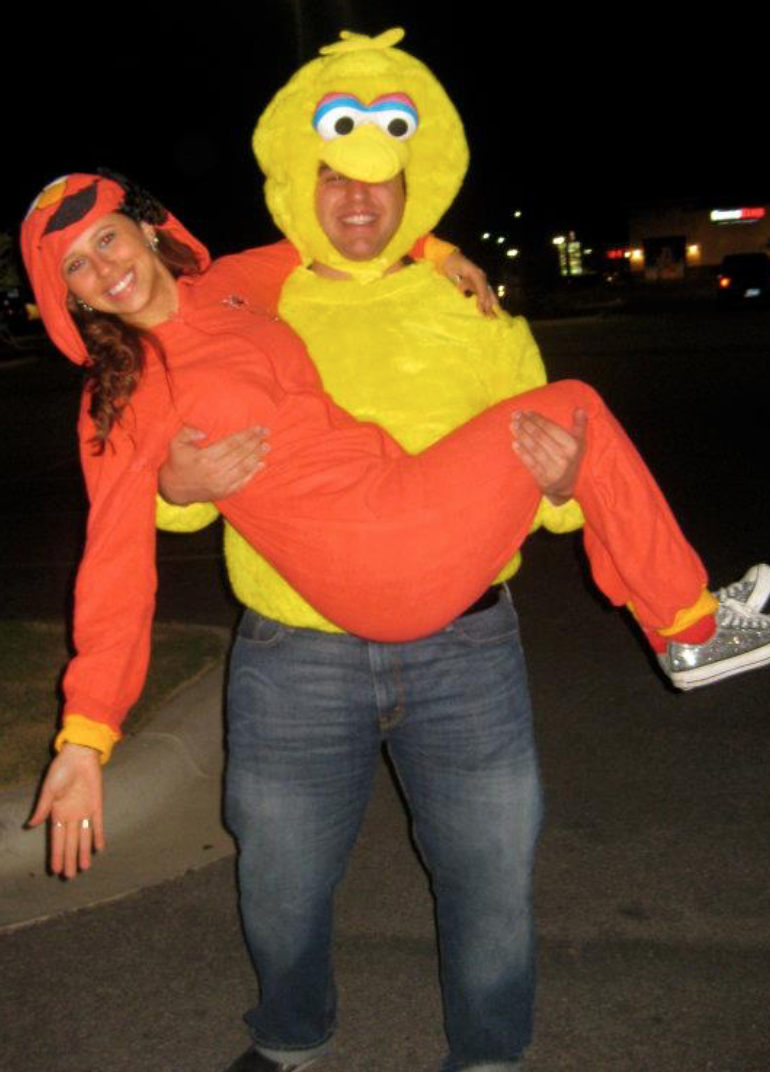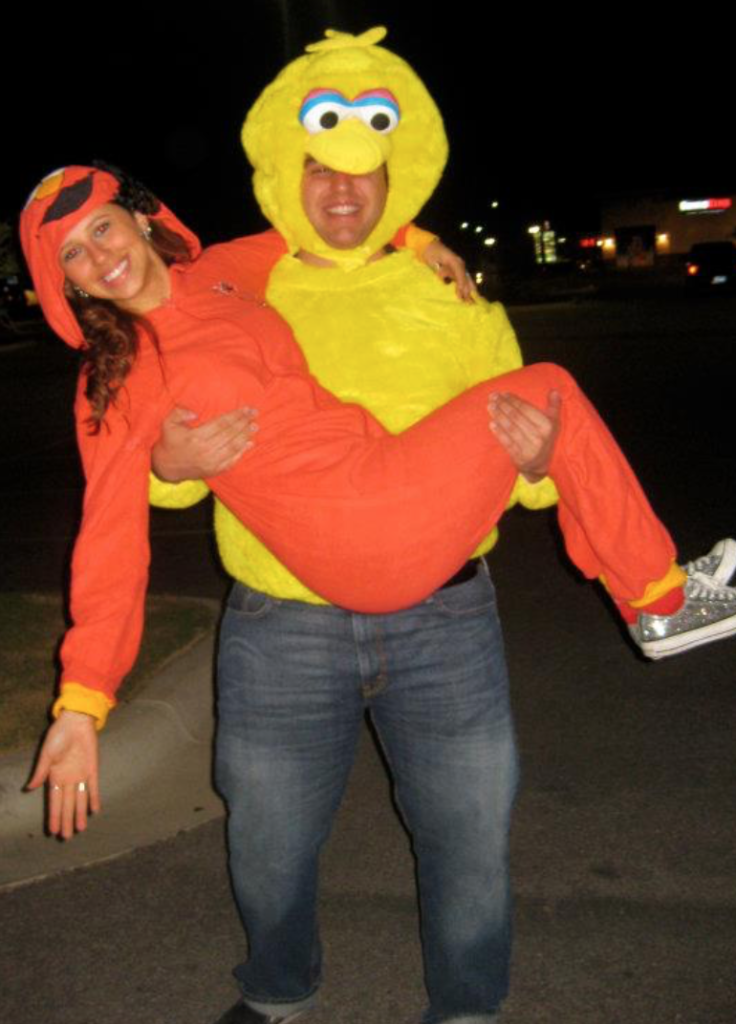 The Elmo to my Big Bird
This one was super super easy since we both just ordered our pieces. This was a college costume and I can't believe I persuaded Ted to dress up as big bird. So darn funny now that I look back at it. At least I was modest in a onesie and SUPER comfy. Just remember ladies whatever costume you choose will haunt you for the years to come and I get very uncomfortable thinking about some of the inapropro costumes I chose during high school and college days.
Tutu Clown vs. Pig DIY
For those of you that don't have a partner, I wanted to share the pig and clown look me and my cousin did in Austin one year. You basically just need the right color tutu and a nose, maybe ears, to go along with your character. These were also super easy to make!
As you can see, I am a big believer in doing your costume yourself and getting super creative (none of that buy the same costume someone else is going to wear nonsense). There are tons of ideas and inspiration all over the internet. I hope I helped a tad bit with figuring out what you are going to be for Halloween this year! I plan on sharing 3 more halloween looks because dressing up is my absolute FAVORITE. If I end up inspiring you with a costume I would love for you to hashtag #dressupbuttercup so I can see!