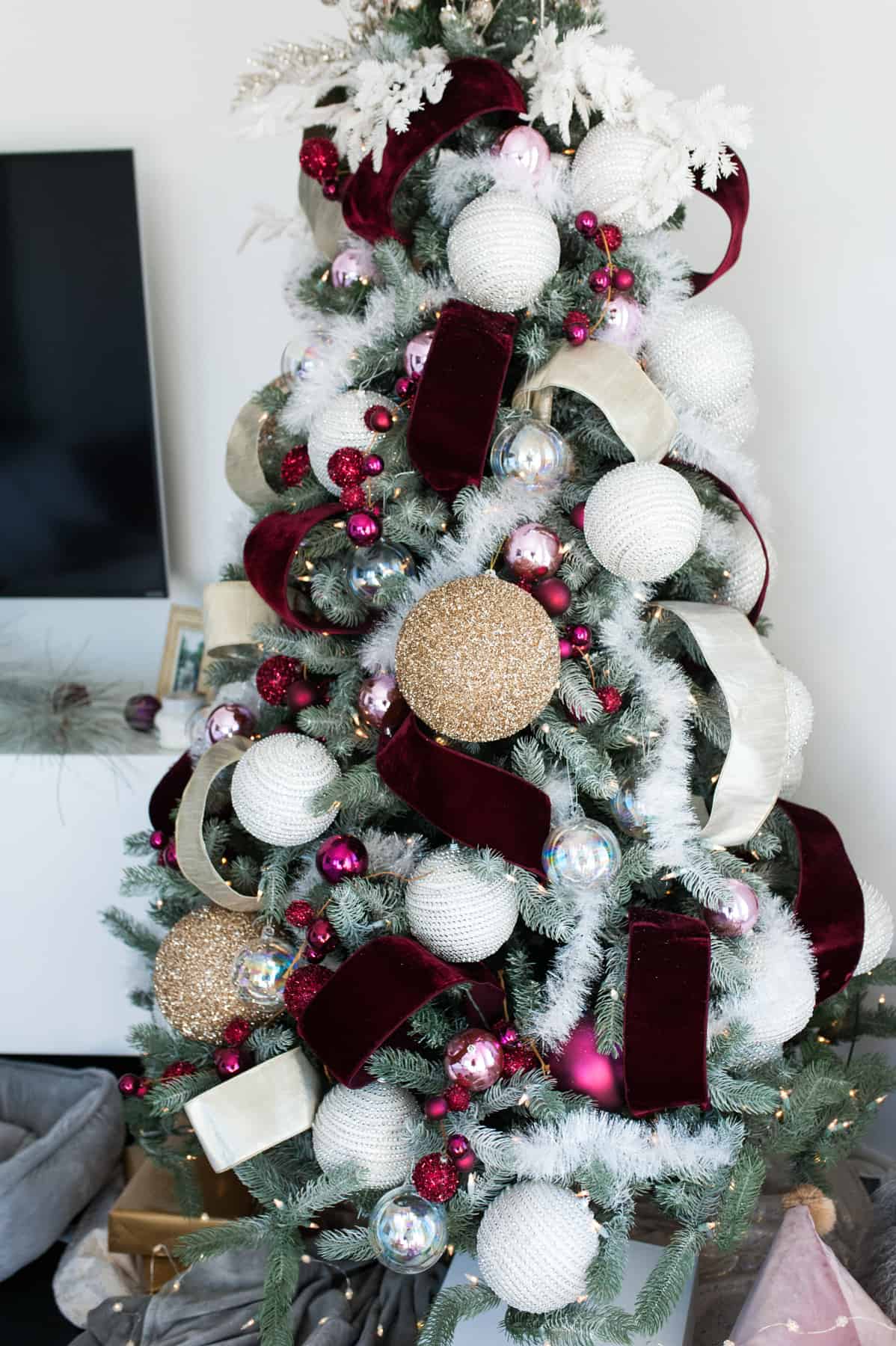 I am so excited to share our Christmas tree this year with you all! I know I am so late in the game but we have been traveling like crazy and I just found time to get the tree up and decorate it! I know 99% of you all probably already have your tree up but this is for the 1% or for tips for next years tree! I promise to have to have our tree up early next year and share this again 🙂 I learned LOTS of tips and tricks while working at a small ma and pa interior design shop all of high school and college! Christmas for me started during the summer when we would price out Christmas and start designing the trees in the store. I wish we had a tree like this in every room at our place because I have so much fun designing them!
TIP #1: BUY DIFFERENT SIZE / STYLE / Texture ORNAMENTS
Ornament #1 – This was the biggest ornament of them all. I only bought 3 & DISPERSED them

Ornament #2- I have about 12 of these bad babes and think they bring out the white / snowy feel 
Ornament #3 – I only have 3 of these medium sized & you can't really see them. I just wanted a few to match the velvet ribbon! 
Ornament #4 – I bought 8 of these pink ones just for a fun touch! I know I wanted a pop of some color!
Ornament #5 – I also bought 8 of these and they remind me of bubbles. The perfect playful touch!
As for ribbon: I have two different textures / colors. I cut them about a foot long and just stick them in the tree. I don't use any wire or any technique. Nothing is perfect and I just have them go different ways. Be sure to start with the ribbon then add the ornaments next!
It all started with this ribbon that I knew I had to have! I fell in love with the burgundy color and velvet fabric! So fun! 
Champagne color ribbon: I had to have a color to compliment burgundy and mix gold / silver so a champagne color was perfect. Again I just cut it about a foot and stuck it in the tree. Make sure it's fluffed up! 
Sweater: J Crew (sale here) | Jeans: Topshop | Boots: UGGS | Earrings: Bauble Bar | Lippie: Stunning Milani (found at drug store) | Pillow: West Elm / West Elm | Blanket: Similar
A few take aways:
I started by spraying the tree with fake snow that can be found at Hobby Lobby
I got everything this year from Craftex in Houston
After the snow, start with your ribbon. Cut them 8-12 inches and just stick them different ways into the tree. No wire is needed!
Be sure to change the size of your ornaments and add different styles / colors
Come up with a color scheme but be sure to add a few ornaments to compliment the colors and not be too matchy matchy!
I hope some of these tips helped! Was so fun designing my tree this year and loved branching out from the traditional red and green or just gold! I promise to share the tree earlier next year!!