Butter Together Spooky walk 2022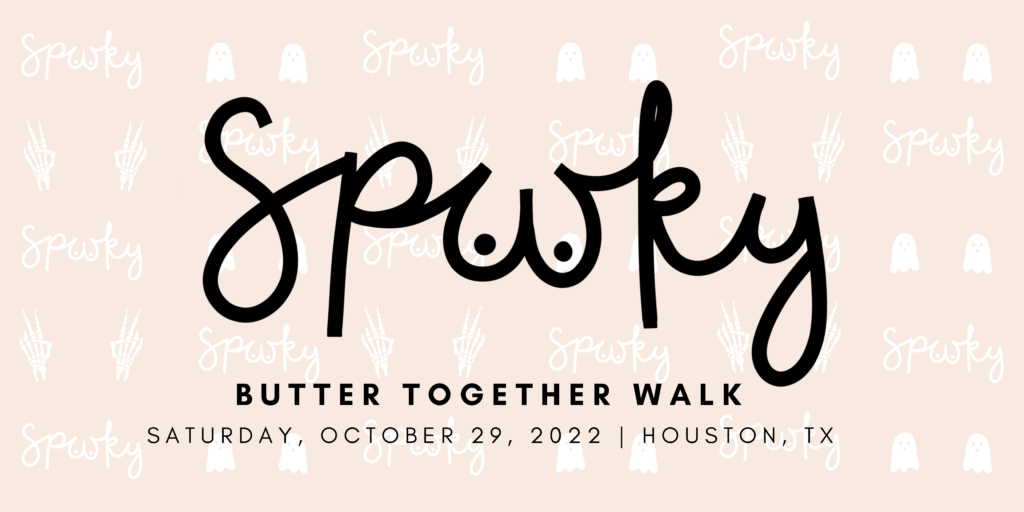 October is here and not only is Halloween right around the corner, this whole month is also Breast Cancer Awareness month! My mom passed away from breast cancer in 2020, so this month means a whole lot to me. The past 2 years, we hosted our first & second annual walk in support of raising Breast Cancer Awareness and it was so amazing seeing you guys participate all across the US and share who y'all were running for.
Event Info
*event is currently sold out, we wish there was room for everyone but are so thankful to all who are taking the time to join us at the event*
Who: The Dress Up Buttercup community!
What: A walk to raise money for breast cancer research
When: Saturday, October 29th, 2022 @ 8:30AM. Join us for food and drinks afterwards at Betsy's (located in Evelyn's Park)
Where: Evelyn's Park: 4400 Bellaire Blvd. Bellaire, TX (and virtually if you aren't local!)
---
Ways to Get Involved
Walking Virtually:
Not able to attend the walk in person? Join us virtually! Whether you walk a couple miles on a treadmill at your gym or do some laps in the park with your friends, you're still supporting the cause! Take a photo of you participating and tag @dressupbuttercup and we'll donate $1 per post to breast cancer research. You can even order the shirt we'll be wearing!
Donating:
Our goal is to raise $20,000 this year benefitting the Breast Cancer Research Foundation & Wonders & Worries! If you would like to contribute to our goal you can also get involved by donating here for BCRF & here for Wonders & Worries. Thank you in advance for your thoughtful contributions!
Ordering A Sweatshirt:
Even if you aren't walking, you can still purchase a sweatshirt from the event! 100% of proceeds will go to the Breast Cancer Research Foundation.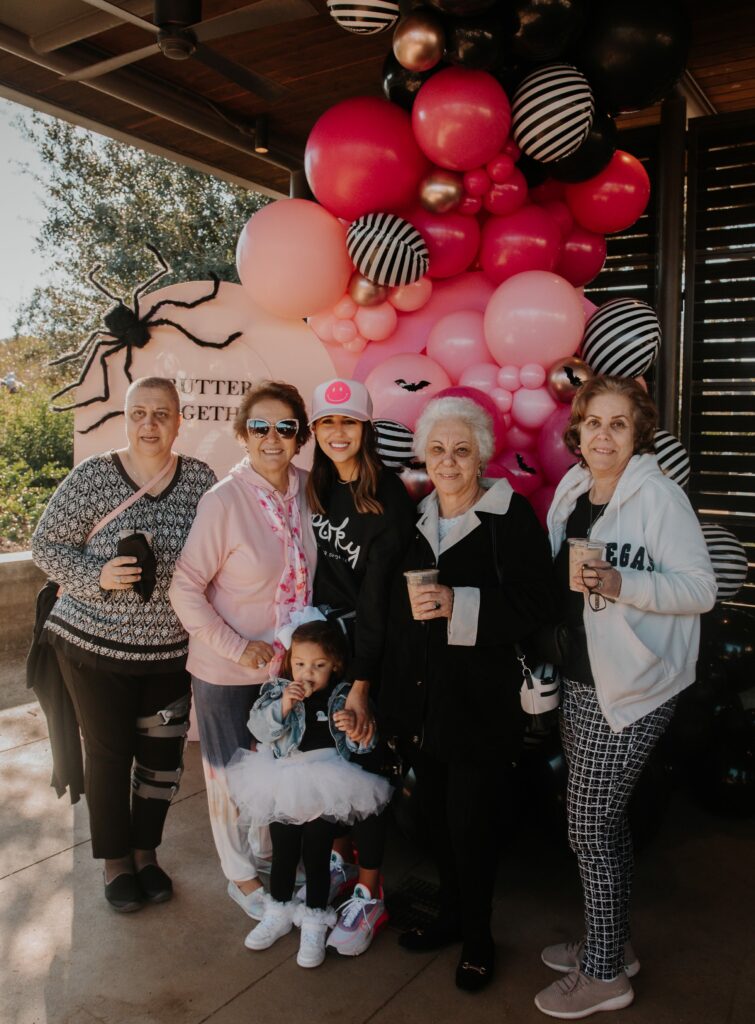 Last year we raised over $10,000 for breast cancer research! When COVID hit, we created Butter Together—a place for this community to come together during the hard times and bring awareness to important causes to do good and make a difference. This year we're asking the Butter Together community to come together again for our third annual Spooky Walk to reach an even bigger goal for breast cancer research! We'll be running in person in Houston, TX on October 29th, 2022. Whether you're local or not we've got lots of ways to paricipate!
Dates you Don't wanna Miss!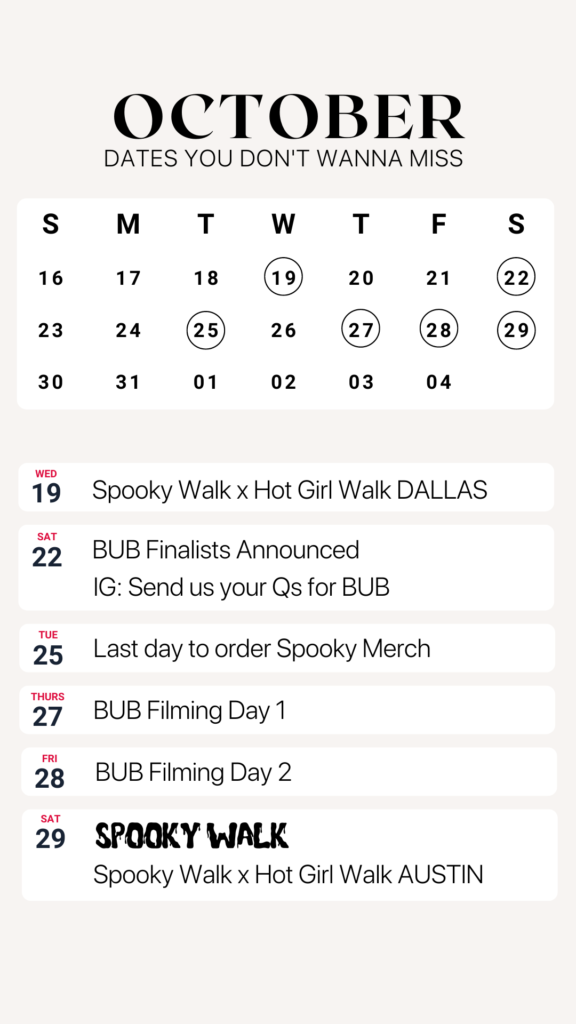 FAQ
Q: Are dogs allowed in Evelyn's Park?
A: Unfortunately, no pets are allowed in Evelyn's Park 🙁 We'll miss your furry friends but we're excited to see you!
Q: Can I bring my kids?
A: ABSOLUTELY! Bring the whole fam! You can also bring strollers if you need to!
Q: Do my kids need a ticket?
A: If you feel led to purchasing a ticket for your child, please do as all ticket proceeds go straight to charity! However, children do not need a ticket to attend the event!
Q: Does everyone in my party need to purchase a ticket?
A: Yes please – with the exception of the kiddos! It gives a more accurate headcount and all proceeds go to charity! 🙂
Q: Do I have to attend both the walk and post-walk bar tab at Betsy's?
A: No! You can come to one or both! Just as long as you purchased a ticket.
Q: Will the walk start right at 8:30AM?
A: Yes! But if you're running a little behind, feel free to jump in whenever you arrive!
Q: What if I can't attend the in-person walk but want to participate somehow?
A: You can also participate virtually! Please tag us @Dressupbuttercup when you walk! Every tag we get we will donate $1 to breast cancer research! If you'd like to donate directly, you can help us reach our donation goal by donating to BCRF here or to Wonders & Worries here! We'll miss you for sure and hopefully you can come to another event in the future!
So excited to see y'all at the walk! Thank you SO much for making this such a a thoughtful and generous community.