Tips for Traveling with Kids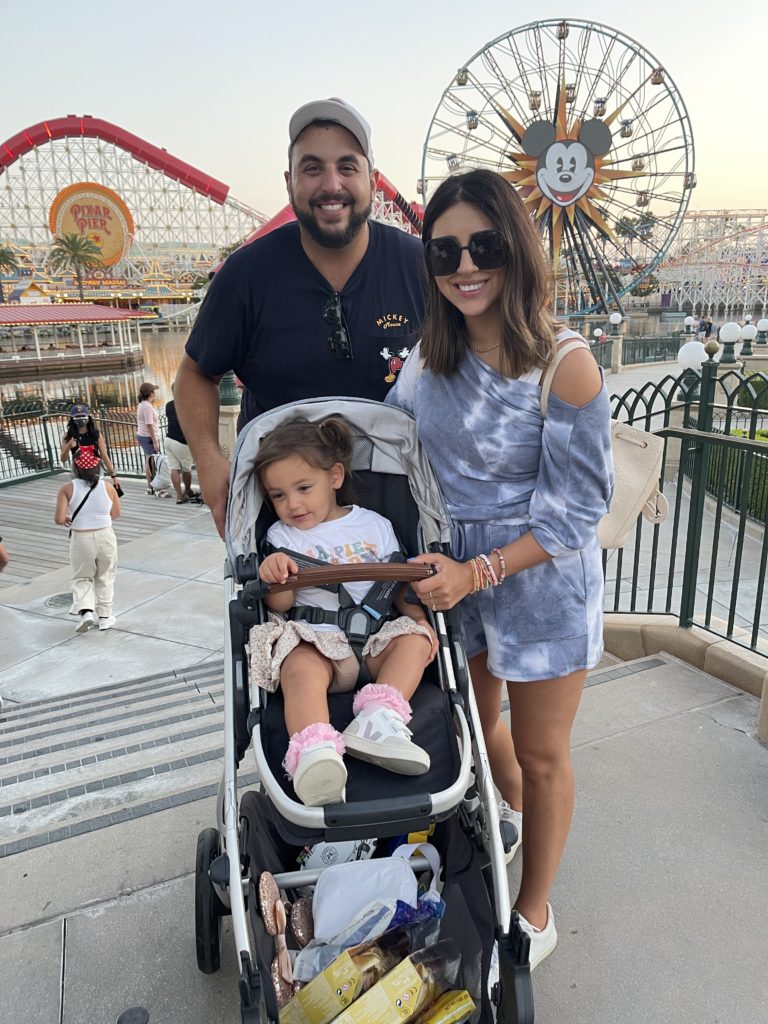 This post has been a while in the making, but I've been trying to rack my brain to think of everything I can to help y'all out when it comes to traveling with a baby/kids! The first time we traveled with Rosie was a trip to Kansas when she was 2.5 months old. Before we left, I was googling all the things and texting my friends with kids to get any advice I could get to make traveling as smooth as possible. If you have kids, you know that there are always 593 things you need to get together before you leave the house on a normal day, but traveling takes so much more preparation! This post is going to a be a little lengthier than usual, but I'm breaking things down into what to pack, airports/flying and hotel tips and how we handle schedule changes and feedings. I'm by no means an expert, but for any new mamas, I hope this makes traveling with your babies a little bit easier!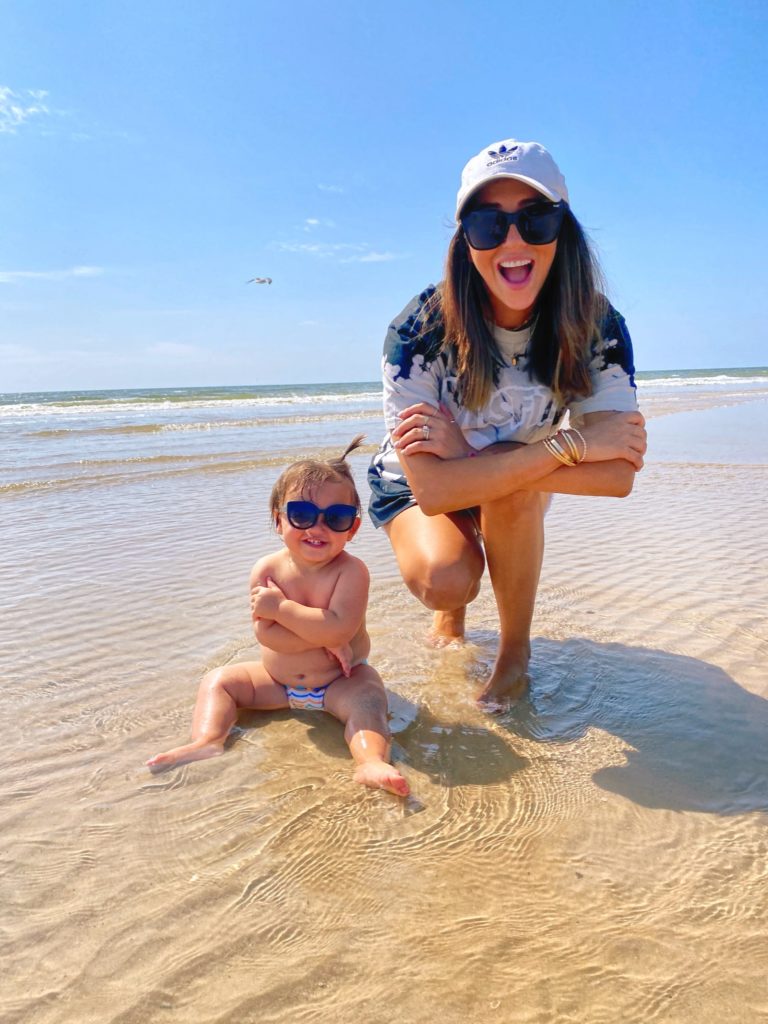 Packing
Packing for kids takes a lot of planning, so I totally recommend going off a list! Created the list below for Cabo that comes in handy when you're packing so you don't forget the necessities. If you missed it, I go into more detail about what we packed for this trip in the blog post. Here are a few notes on my must-haves and tips for packing:
Suitcases:

We pack Rosie and Jet's stuff in one suitcase and always use packing cubes! I feel like I can pack twice as much by using these. I'll start by picking out all of the kids outfits, then folding them like normal and packing them into the cubes. We usually use 2 for Rosie and 1 for Jet. These also help keep us organized when we unpack things at our location, and we can also reuse one of them as a dirty laundry bag!

Diapers:

I really put my mental math to the test when calculating how many diapers we need when we travel lol. My general rule of thumb is 6-8 per kid per day. When I can, I'll only pack a few days worth of diapers and then buy a pack or get some delivered with Instacart once we get to our destination to save room in our bags. Don't forget to set some diapers aside to pack in your carryon/bag for the plane, and also bring swim diapers if you're heading to the beach or somewhere with a pool.

Carry-on vs. checked bag:

Here's what I keep with me in my bag on the plane:

Pacifiers, paci wipes, paci case! Nothing worse than dropping a paci on the floor of a plane and not having anything to clean it with…
3 diapers per kid and wipes
These disposable bags for dirty diapers
Hand sanitizer
Extra change of clothes for Jet
Snacks
iPad & headphones
Toys
Empty water bottle to fill up before or on the plane for Rosie.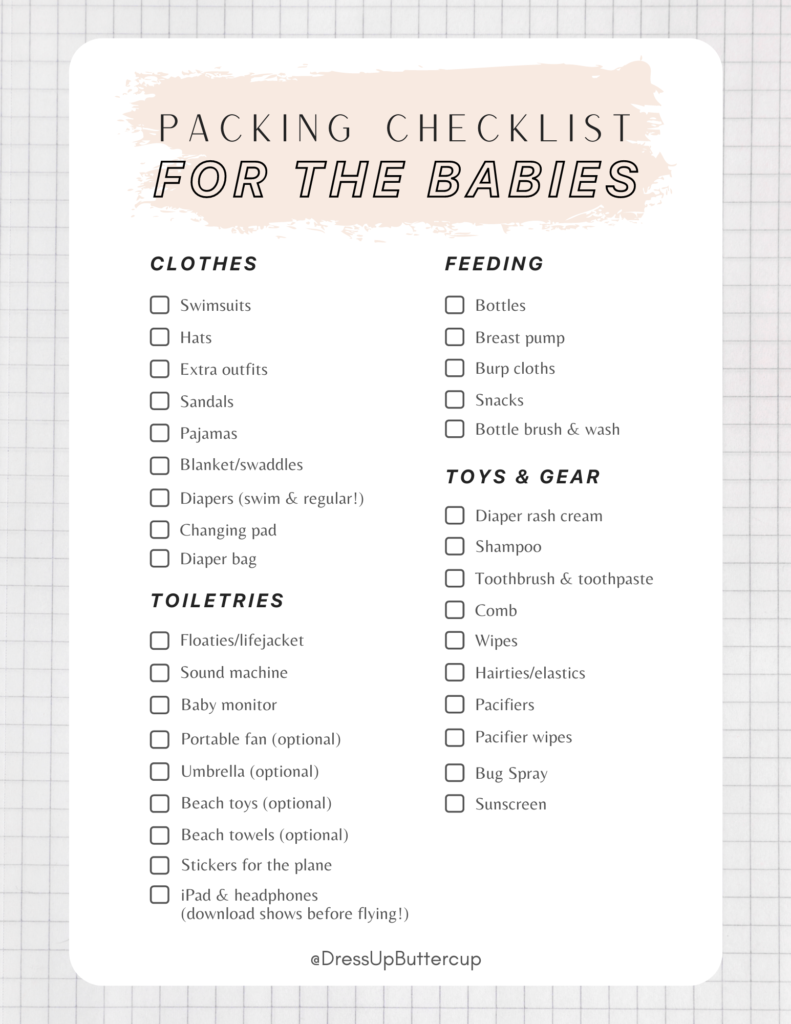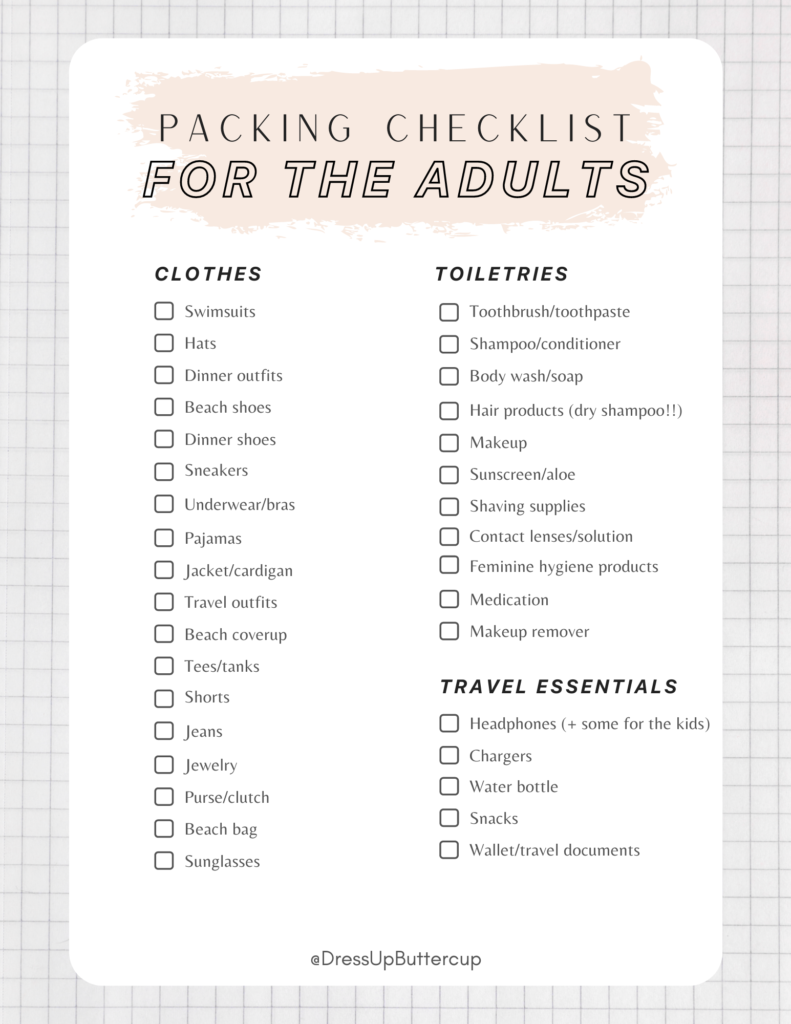 Screenshot or hold down these photos to save to your camera roll for future reference!
Airports & Flying
Before we get into the airport logistics, I wanted to cover our process of getting passports for the kids! For Cabo, we realized we needed to get the babies their passports, but Jet was born 2 months before we were supposed to leave and we didn't even have his birth certificate yet to start the application. For kids under 16 that need a passport, you need to go to the passport agency to complete the process in person. The in-person appointments are super hard to come by, especially with backed up appointments from COVID so securing our appointment felt like we won the lottery haha. We called a bunch of places and finally talked to the right person that told us when it opened up to sign up and just kept trying to get it until we finally got it at 2am. It felt like getting concert tickets! Had to bring all their documentations to the appointment and barely got them in time before we left! Such a stressful process, so if you're planning on traveling internationally with kids, make sure you plan for this way in advance!
There are so many rules and regulations it seems like when it comes to traveling with babies! Depending on the airline, you can bring a few items on the plane with you for free. According to United, if you're traveling with an infant or child, you can bring all of these things on the plane with you PLUS a carry-on bag and personal item:
Diaper bag
Breast pump and milk
Government-approved child seat (infant carrying seat or car seat)
Compact folding stroller that meets size guidelines for carry-on bags.
Other airlines, like Delta make you check strollers and carseats, but you can do this at the gate right before you board for free! Always check with your airline ahead of time to see what they'll take care of. When it comes to buying tickets for kids, it can get a little tricky. In most cases, infants and children under 2 years old can sit on your lap for free for domestic travel, but you still need to make sure you register them as a traveler/lap child! When we flew to Cabo earlier this month, we learned that you can't sit both lap children in the same row as the parents! When we boarded, they had to switch Ted to a different row with Rosie to make sure there were enough oxygen masks for each passenger in the row. Who knew! Wish they would tell you that when you're booking your tickets, so just be aware of that if you're traveling with 2 kids "under 2."
When it comes to getting through the airport, we love our TSA Precheck! Such a good investment and makes getting through security so much easier. Before going through security, they'll make you take the kids out of the stroller so it can go through the machine. Rosie will usually walk through the scanner before me and then I'll walk through holding Jet. Another thing to think about is traveling with formula! Make sure you keep the powder/liquid separate before going through security.
As much as you can, try to time feedings and naps right so that your kids can snack and sleep on the plane and you can breastfeed before takeoff and when landing. Babies ears can pop while flying so I've read to give them something to swallow to reduce the pressure in their ears. Planning the kids outfits for flying is also something we think about. We try to choose easy on and off outfits with snaps for any changes we have to do in the air and bring a sweater or something for Rosie since it can get cold on the plane a lot. I recommend bringing a changing pad to put over the table in the bathroom to make changes easier!
Jet was a saint on our last flight and slept the whole time, but the thought of keeping a toddler occupied on a 2+ hour flight still gives me anxiety lol. There's only so much you can do to prepare and can never predict when a toddler's meltdown is coming, so you just gotta go with the flow and do the best you can. Even if they do cry, just know it's only temporary! Rosie used to get cranky when she was bored and would start to cry, but luckliy there are a few things we've found that keep her entertained while flying. Here's what we always bring:
iPad:

If you use iPad for your kids, don't even think twice about it, just bring it lol. Be sure it's charged before takeoff and the shows they watch are downloaded. Cocomelon is the go-to ALWAYS haha. Don't forget the headphones though! We try to bring an extra corded pair in case they have the TV behind the seat that you can plug in to

SNACKS:

Rosie loves snacks, so we always bring her something to eat. We try to bring lots of little snacks and things that will take her a long time to eat to help pass the time. Last time we got a pizza at the airport before we boarded and she spent the first part of the flight eating it on the floor lol. Choose your battles, ya know?!
Window stickers: these usually help keep her occupied for a bit!
Hotels/Transportation
If you're spending a night away from home or going on a vacation and staying in a hotel, there are a few things to consider. First, if you can afford splurging on it, a room with a separate living space is your best bet for getting the baby down in a quiet space and not having to tip toe around them all evening long. If we have a regular room, we usually put the kids down in the bathroom or if they have walk-in closet so it's quieter and we don't have to turn the lights on and a wake them up. Regardless of the type of room you get, it's good to make their sleeping area as close to theirs at home if possible. We usually call the hotel ahead of time and request a crib for both kids. Some places charge a small fee, but other places you can rent them for free. They typically come with bed sheets so don't worry about bringing those! Sometimes hotels even have monitors you can rent, but we'll bring ours if they don't. Also double check that your room comes with a mini fridge to keep breastmilk in if you're breastfeeding! We always travel with our Hatch sound machine to add some white noise while they sleep. Rosie used to have a hard time adjusting to sleeping in different places but it honestly got better with time, so if you're experiencing this with your kids just know it gets better!
Another thing to consider while traveling is transportation and carseats! If you're renting a car, make sure you contact the rental car company ahead of time and reserve a carseat. When we were in Mexico, we just made sure to schedule our car pickups ahead of time and also requested a car seat for that.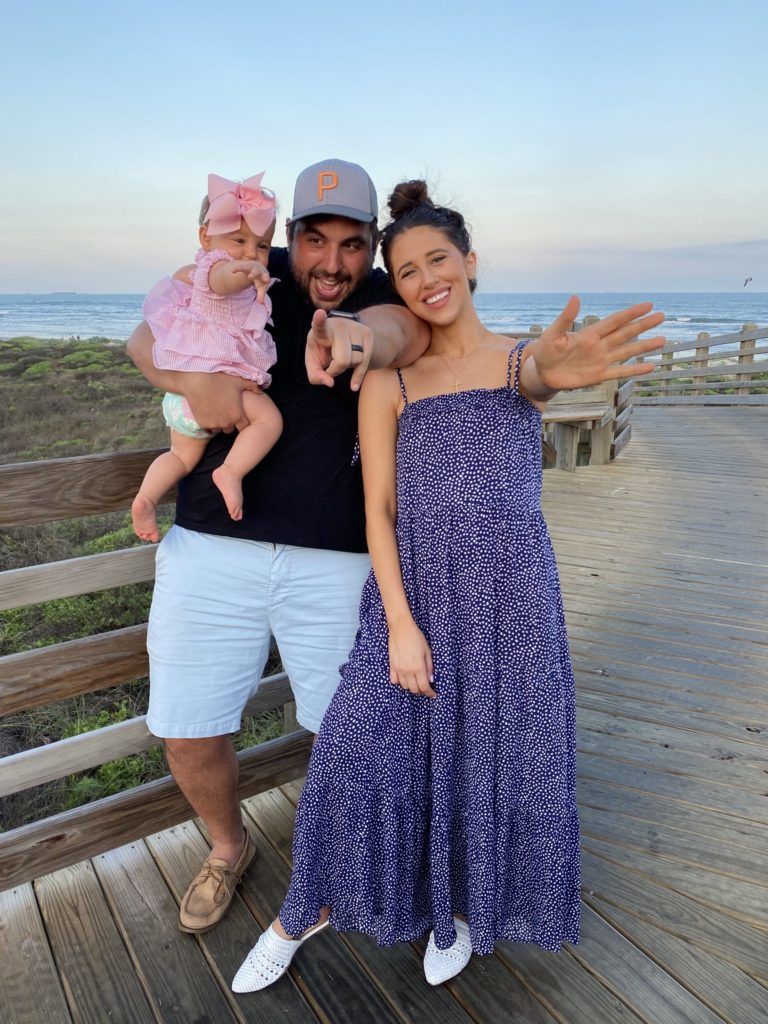 Schedule Changes & Feedings
While traveling, we try to plan our schedules around Jet's feedings and bedtimes. Jet can sleep anywhere anytime lol but we try to head back to wherever we're staying to put both of them down for naps. We try to keep their bedtime routines the same with snuggling, bottles, baths, etc. as much as we can when we travel. Occasionally we'll push bedtimes a little bit if we have a late dinner and if Rosie seems like she's in a good mood haha. For the most part though, Ted and I really try to go with the flow and bring the kids along with us where we would normally go while traveling, but sometimes we'll make time for a date night if we have friends or family with us to watch the kids. Take advantage of babysitters when you can!
When it comes to feedings, I typically stick to my daily feeding times and just bring all of my stuff with me wherever we go and feed there. I'll keep extra breastmilk in the fridge at the hotel and dump any extra before we checkout. I heard about this service where you can ship your breastmilk back home to your house while you're traveling so you don't waste it! That stuff's liquid gold lol. Would be such a good idea if you're breastfeeding and traveling for work without your baby. If we're flying, I like to get a window seat to make it easier to feed!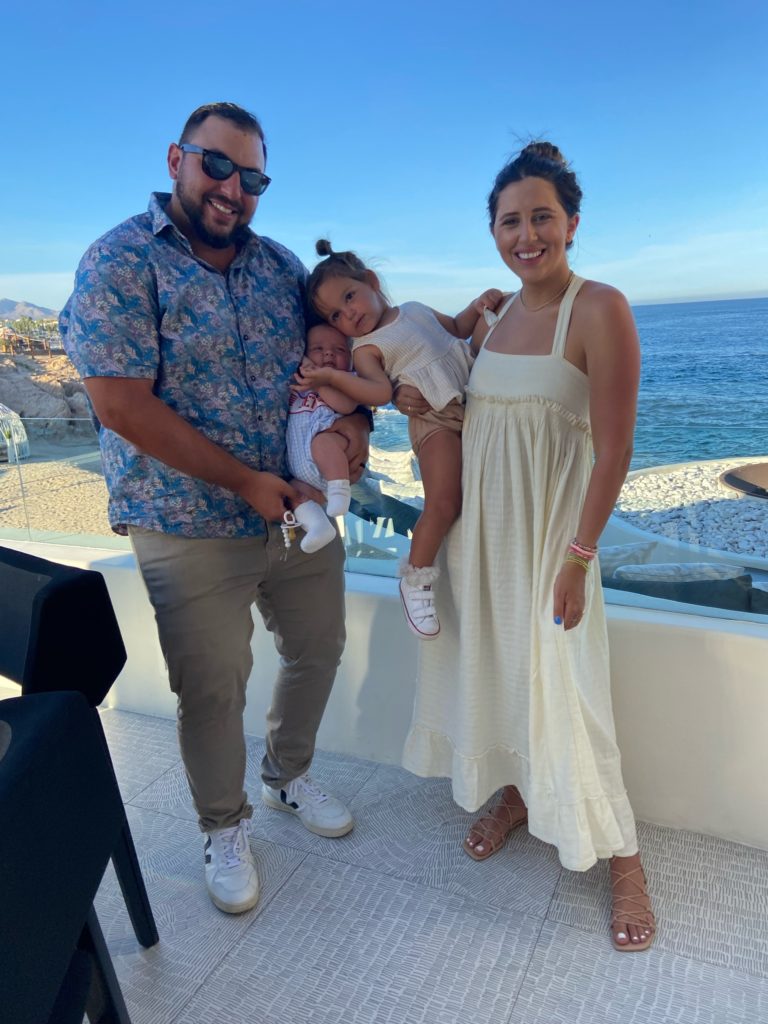 If you read all of this, I hope I've given a little of an idea how much planning is involved for traveling with a baby lol. That being said, you can totally handle it! Of course, you don't have to do that much planning if you're more of a go with the flow person but these are just things I've learned that make it a little easier and less stressful for our family. Making memories on our vacations and seeing my babies experience new things during our travels is one of my favorite things and is worth all of the prep and packing! My biggest advice would be to ask for help when you can and to not sweat the small stuff. Whether that means asking for extra things you forgot at the front desk if your hotel or inviting family along to assist—you don't need to do it all on your own! The more you travel with your kids, the easier it will get, I promise. If you have any other tried and true travel hacks, let me know in the comments of this post. You've got this, mama!
Shop my favorite items for traveling with baby