Ted Q&A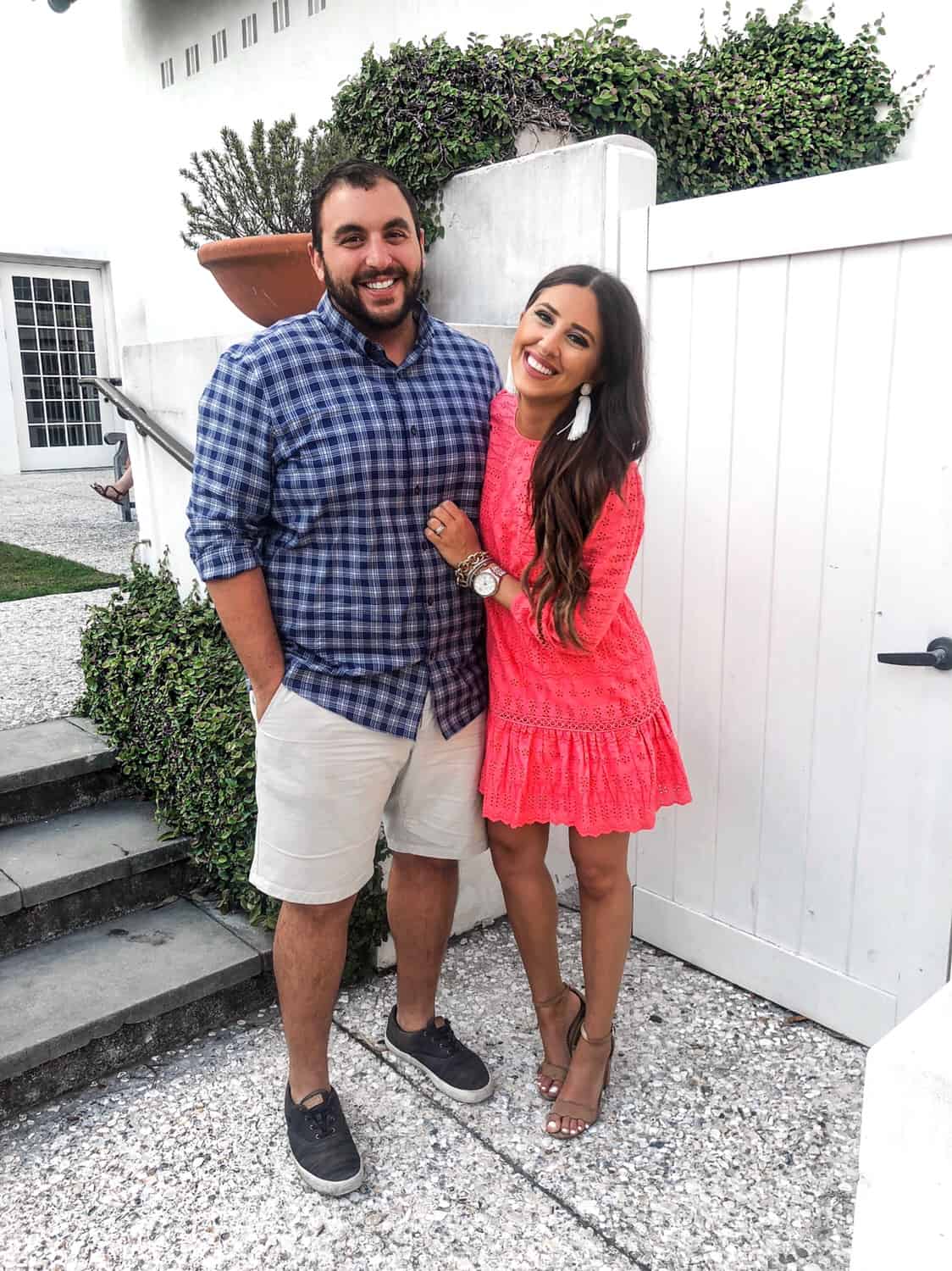 Dress (2p tts)
How did you and Ted meet?
A: We actually grew up together! My aunt and his mom were close friends so when we were babies, we use to be babysat together! His dad is also the Pastor of our church, so he has been in my life foreeeeeeeever!
Q: How did you all start dating?
A: Well let me start by saying our dating history is a huge part of my testimony. We dated for a year when I was in high school, but it just wasn't the right time. We took a year break (not on purpose, it's just kind of how it happened) and during that year, God did so much in my life. Ted was a major focal point with our group of friends, and I was always attracted to his leadership and his character! Not going to lie, I started to show up to a lot more events and activities with our mutual friends, in hopes that we would get back together again. Eight years later and voila! Here we are today!
Q: How far apart are yall in age?
A: Ted was born in 1988 and I was born in 1992! We got SO much crap for our age gap from everyone around us lol. I mean 3.5 years isn't that bad, but when you are younger it seems like a big no-no. Poor kid always gets so much crap for dating someone so much younger, but I would say it was worth it! I mean we did get married at 20 and 24 but was so worth it!
Q: What does Ted do? How does he get to travel so much?
A: Ted works for HP! Since they are an international company, the majority of his meetings are online. So when we travel, he still has to work! Poor kid works on his day job all day then in the evening we work on the blog lol! He is such a trooper and I couldn't do what I do without him! He has been with HP for 7 years and is amazing at his job. I am always so amazed by him!
Q: Is Ted a coach?
A: Yes! In his spare time (somewhere between all his work and helping me with the blog) he coaches a middle school football team (and for some time, basketball as well) here in Houston. So if you know Ted, then you know sports is his WORLD. Well technically, Jesus, Me, then sports. Sometimes I would say sports go before me, but that's only during football season and the Rockets, which I can handle lol. He can spit out any stat in the sports world and is in like 5 fantasy leagues every year during football season. Football season is a LOT to handle in our house hold lol! Anyways, his mom was an assistant principal for a private school growing up. When he was in highschool, they started him as the assistant coach and only a couple years later he was the head coach for middle school! He has been coaching there for 12+ years (not to mention 8 championships) and I think it really has shaped him into the man he is today. I mean he invests in those kids and deals with parents so well! It is so beautiful to see year after year! I always break a tear watching him coach. It is so sweet. I am so lucky to be apart of it. He has such a passion for it!
Q: How does Ted help the blog?
A: Oh my oh my he does it all! Yall. Such an angel. Of course, at first he wasn't 100% into it, but now it's just as much as mine than it is his. Photography, collaborations, contracts, finances, etc., Oh, and he is HUGE on analytics and loves looking at data of what is working and what isn't working. It's always so helpful since I take everything SO PERSONAL. So when I post something and it doesn't do that well, I get down. It's so sad and now that it has been 2.5 years, I am trying to learn to separate it. Ted is so good at sharing analytics like "hey last May this happened too, it's probably a seasonality trend" and putting things into perspective for me. Blogging is such a team effort and I can't thank him enough! He also takes the majority of my photos, which is great because I love to hang out with him!
Q: Will yall always live in Houston?
A: I think YES. I have always wanted to move somewhere for a couple of years but it slowly looks likes we will be staying here. We talk about it all the time but we both have such BIG families here that it would be so hard to leave them behind. His parents live 3 minutes from my mom so you can imagine how easy it is for us during the holidays!
Q: What made y'all get married so early?
A: ok this is hilarious. The other day on our walk we were talking about this and we contribute it all to the Lord. Like we talked about marriage but I just moved to Texas State and he kept telling me that I need to graduate before a wedding. I thought we were going to do long distance forever but once he proposed it all fell into place. So many signs from the Lord of how it was meant to be, including my dad passing away a month before our wedding. I wouldn't trade getting married at 20 for the world but HONESTLY, we see our 20-year-old cousins and we are like heck no you can't get married now lol
______________________
I have been thinking lately how beautiful marriage is and it's something so important to me that I figured I should blog about it. Ted is such a HUGE part of my life and a part that I love sharing. Not going to lie, sometimes he is very hesitant about being on camera or me sharing him via blog posts but I felt like this was long overdue!
Let me start by saying our marriage isn't perfect. Don't get me wrong, I absolutely love us, but we argue and makeup just like everyone else does. We are still trying to figure it all out and we may never, but as long as we are figuring it out together, that counts. We both have learned to be super adaptable in life and learned not to take everything so seriously lol. With our travel schedules, we often get asked how do we do it? He was in South Korea basically all of the second part of 2017 and I also had a crazy travel schedule. While we are apart, we make sure to communicate as much as possible (Thank the Lord for FaceTime).
It is crazy how much we talk throughout the day. My sister noticed it the other day how much I called/texted Ted through the day while he was at work. Poor kid never gets a break from me, but I think communication is SO important. We also have learned each others' love language. If you haven't read "The Five Love Languages", I HIGHLY recommend it. We read this through marriage counseling and always go back to it. My love language is "quality time", so unconnected time together fills up my emotional bank. We live in such a distracted world that you can easily live with someone, but not catch up and understand what is going on in their life. Ted and I have been going on 3 mile walks in Memorial where no phones are allowed. This is a time that we get to really get undisrupted time together. If we aren't able to get a few walks in that week, we make it a point to go on date nights! We both are extroverts so throughout the week we are so busy with other people/family or events. While in Florida we went out the first night together and our rule was no phones. Yall I laughed until I cried (he's actually really funny) and felt so much love for him in that moment! I use to always think that people that had to put up their phones were considered "weak" and they had no self-control but now I completely understand it! I recommend trying it!
Anyways, I feel like I am babbling! I just felt like I needed to write this post for some time now, and I also want y'all to realize how much I appreciate my husband. He is so supportiveThanks for stopping by.