The Nordstrom Anniversary Sale is in full swing and it's no surprise that things are going fast! This sale is one of the best and I always stock up on high quality basics and staples that I know I'll wear for the rest of the year. Some of my favorite items I've gotten in years past, I still wear to this day like my Spanx leggings and Barefoot Dreams cardigan. I know how much it stinks to have an item on your wishlist sell out, so I've been keeping an eye on some of the best items I bought that are still in stock and rounded them up for you in this post. One of the best things about Nordstrom is free returns and shipping so if something doesn't fit you, you can return it. The sale is open for everyone to shop today, so grab these pieces while you can!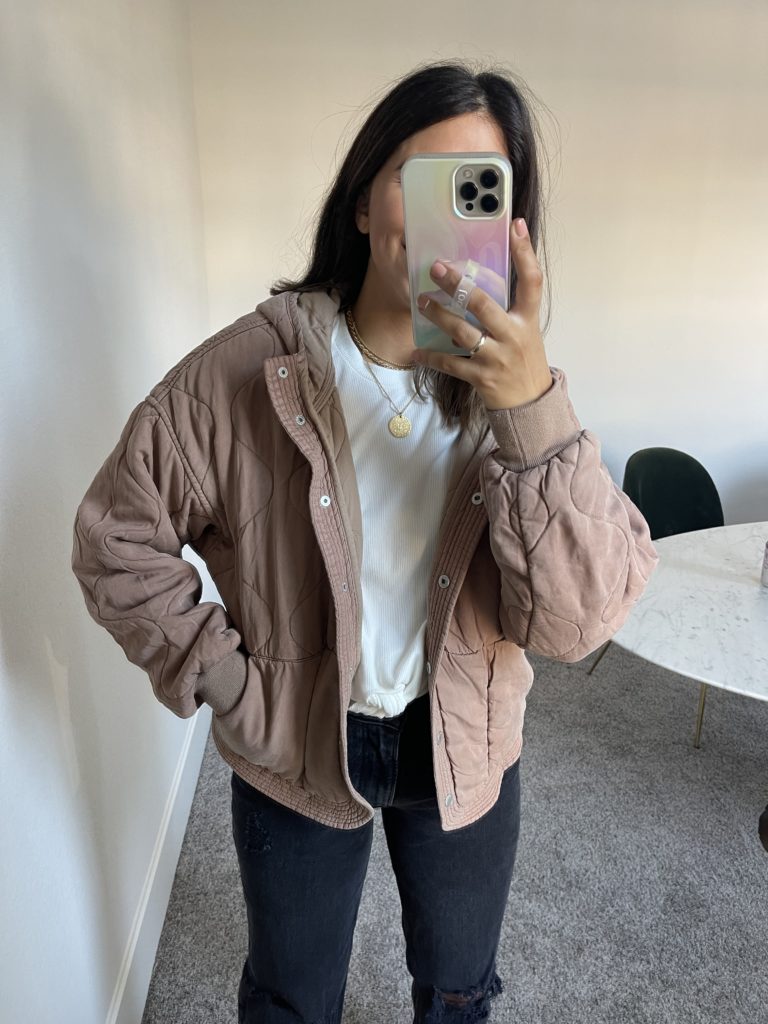 $128 $69.90
Grabbed this quilted jacket in green at the beginning of the sale and saw this color in person and fell in love! Good lightweight jacket for the fall, similar to the Free People jacket. Wearing a small.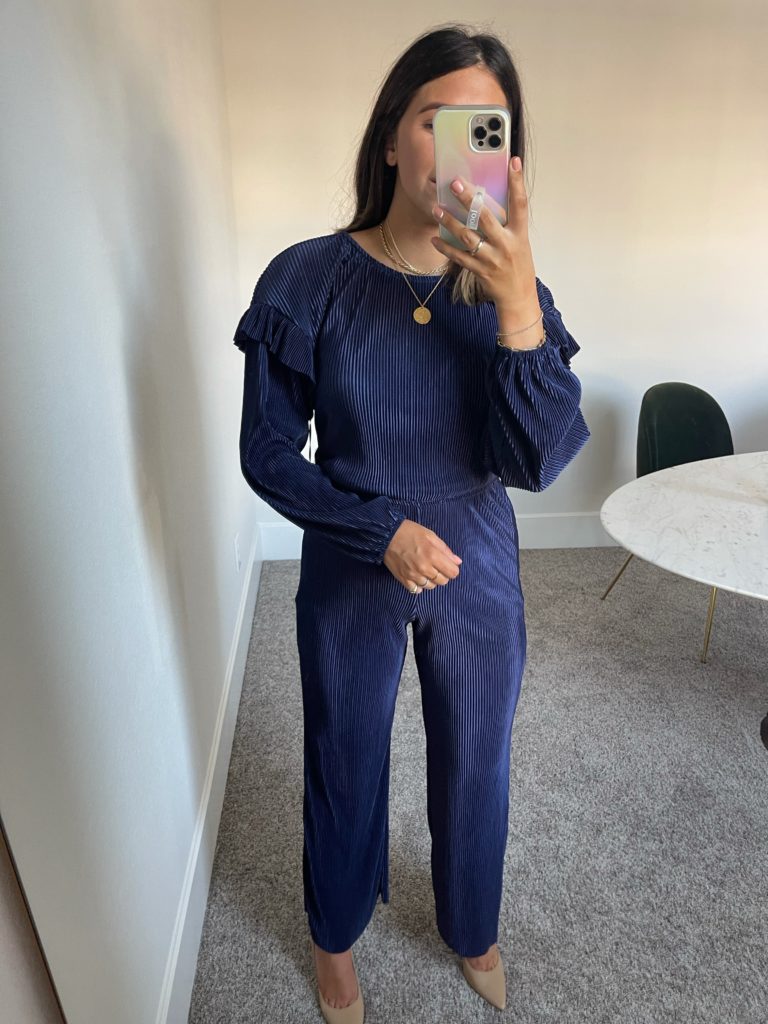 $79 | $49.90
This jumpsuit is perfect for any fall or winter events or wedding or could also be worn to work when it gets colder! Really pretty color and texture. Runs TTS so got this in a medium.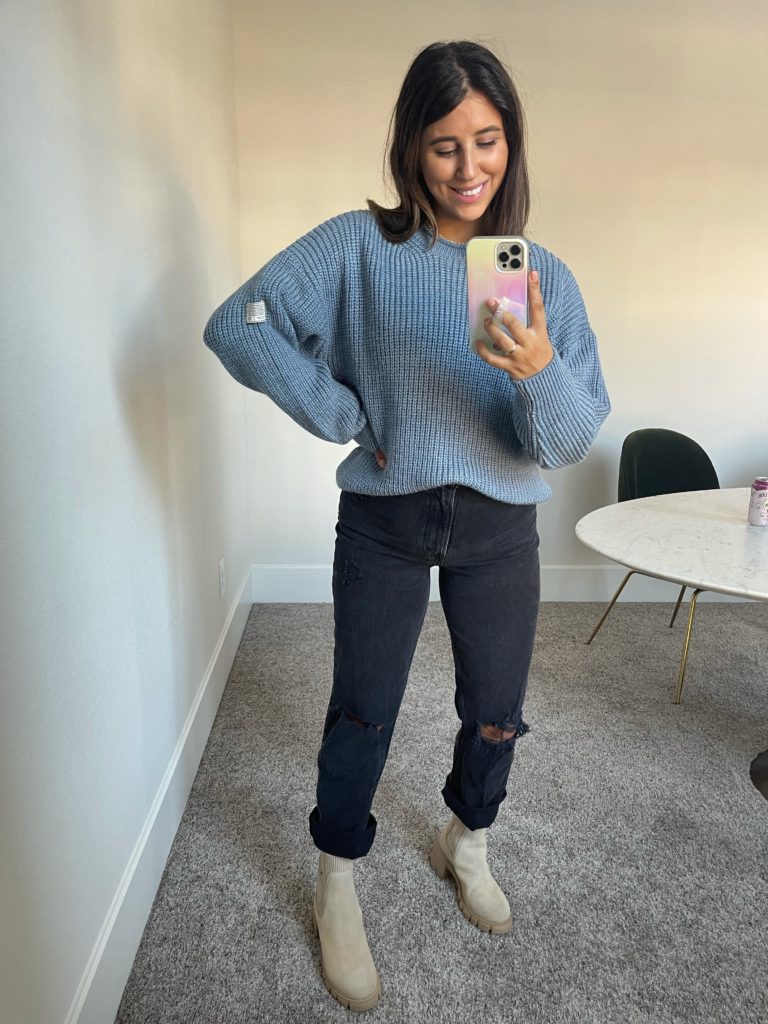 $69 $45.90
Saw this sweater in store the second time I visited Nordstrom during the sale and had to try it on! Got a large for a slouchy, oversized fit.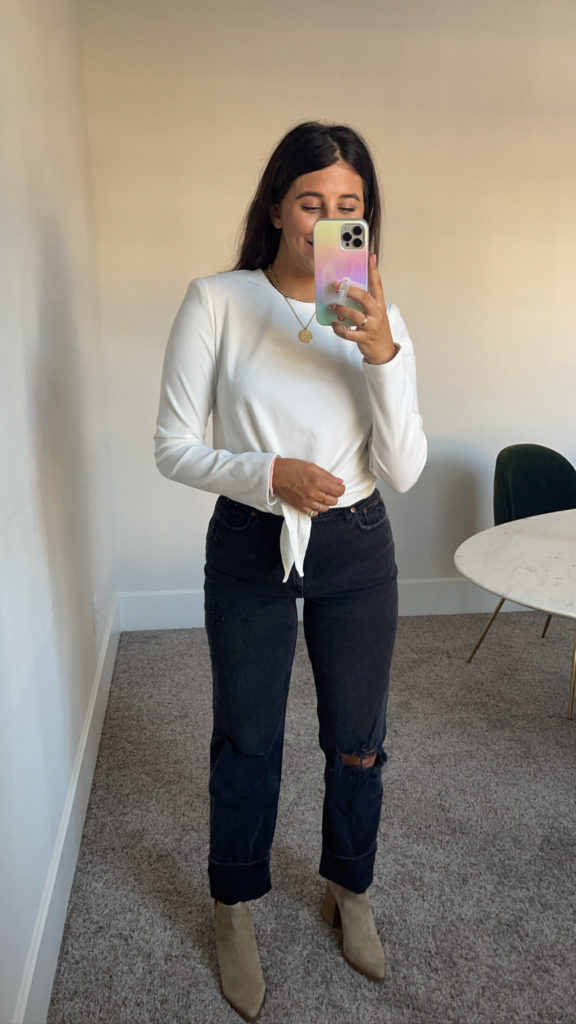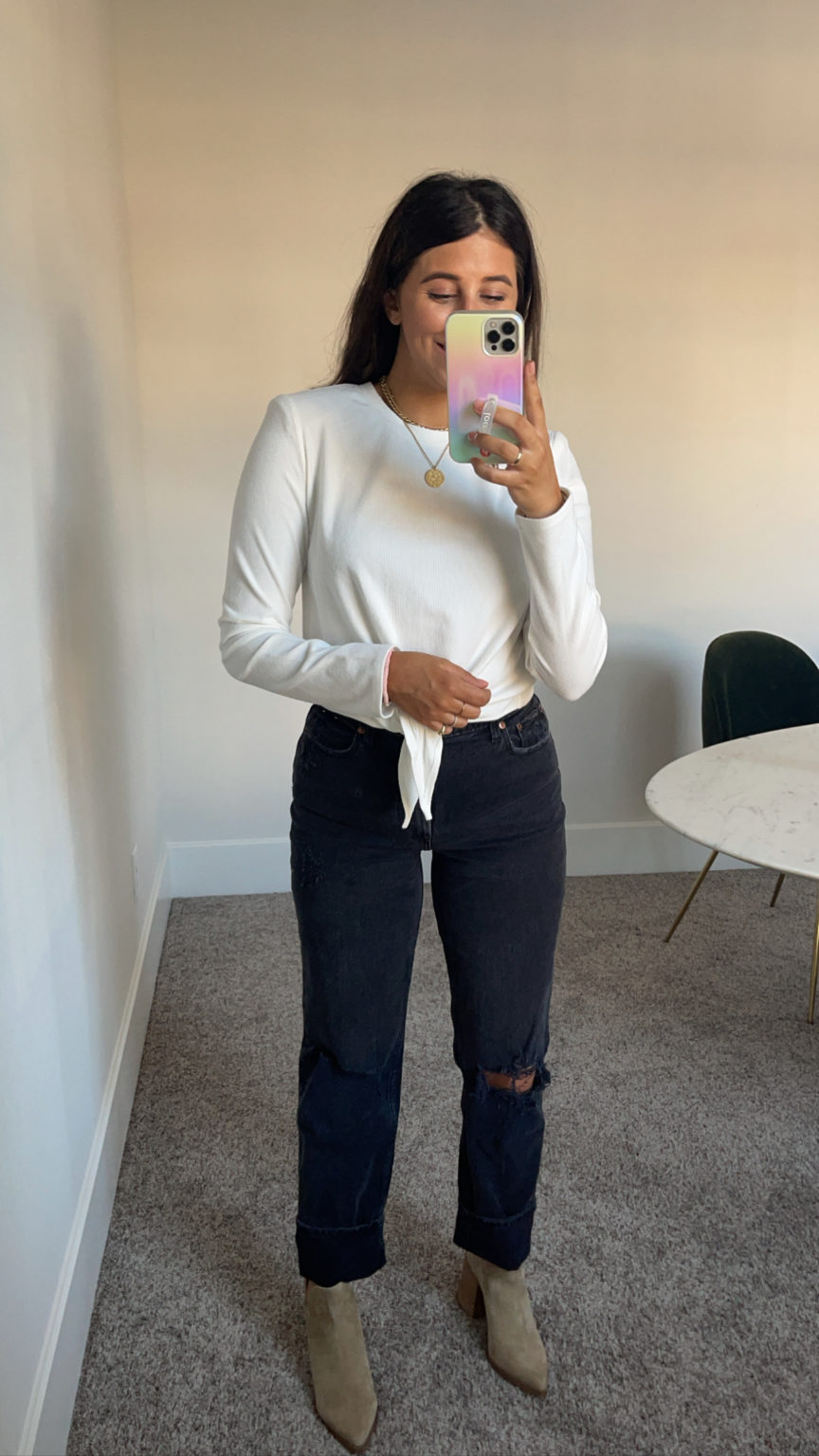 Padded Shoulder Tie Front Top | Boots
$78 $49.90 | $150 $99.90
All about the shoulder pad trend lately! This is a good top to bring the trend into the fall. The shirt is really soft and not too cropped. Wearing a medium.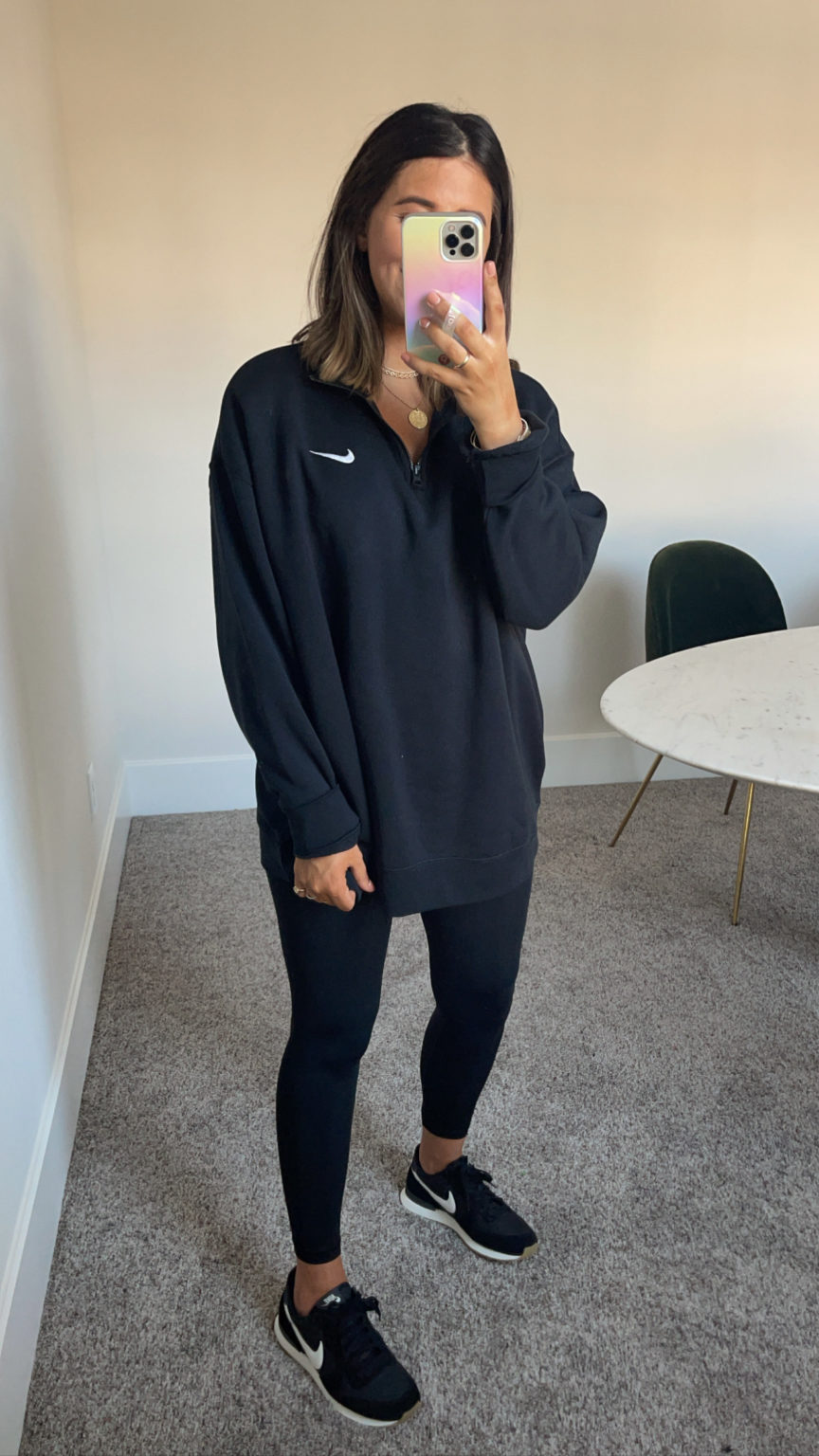 Nike Sportswear Quarter Zip Pullover | Sneakers
$65 $45.90
I look for a Nike sweatshirt every year! I have a few crewnecks so I went for the quarter-zip this year instead. Picked up this one in a large for an oversized fit.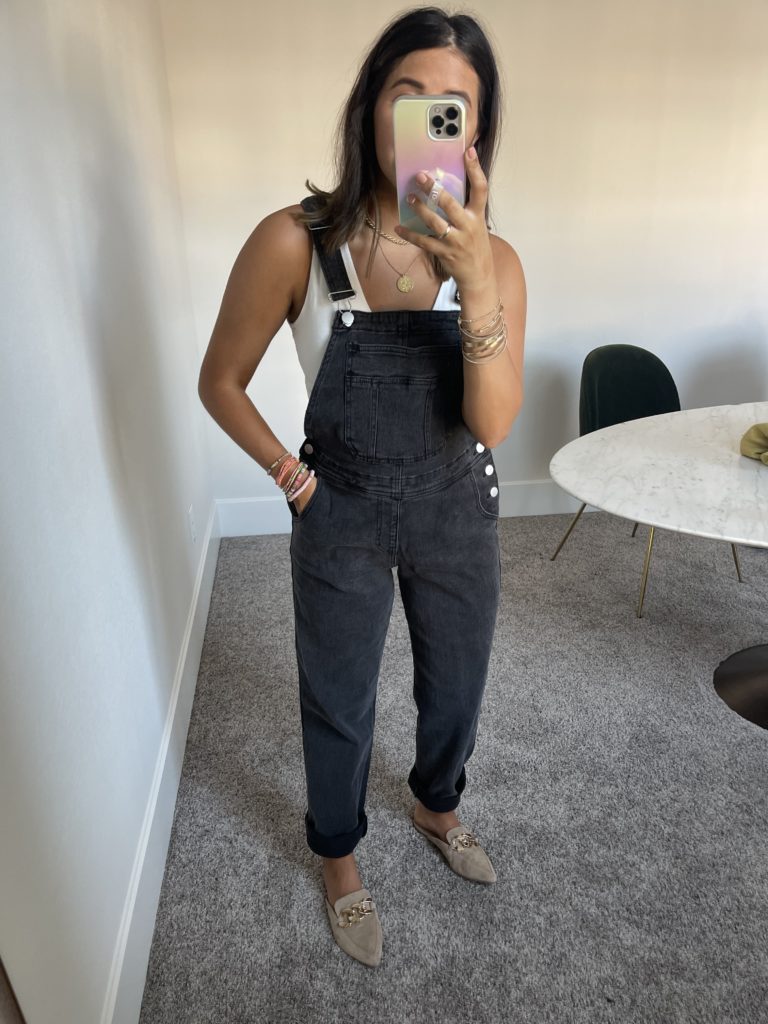 $59 $38.90
Finding overalls where the waist hits at the right spot is so tricky, but these fit really well! Love the darker denim for fall and the side buttons. Wearing a medium.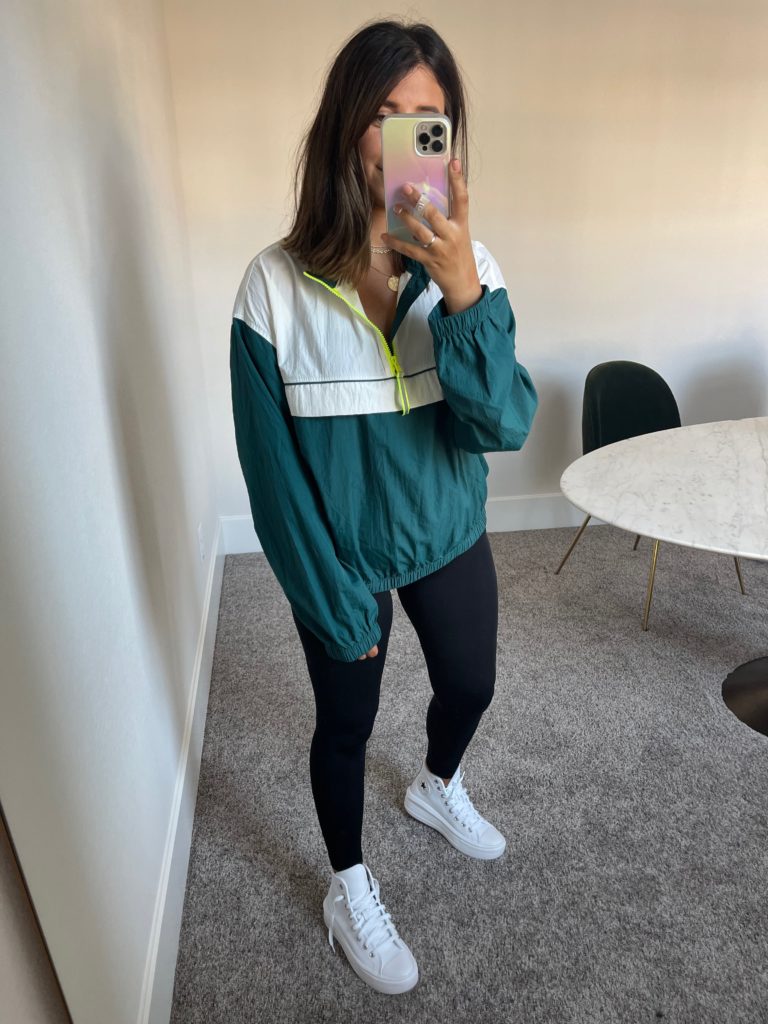 $41 $31.90
Didn't really have anything like this windbreaker in my closet so I had to get it! Love the quarter-zip and the colors of this one, especially with White Converse. Wearing a medium.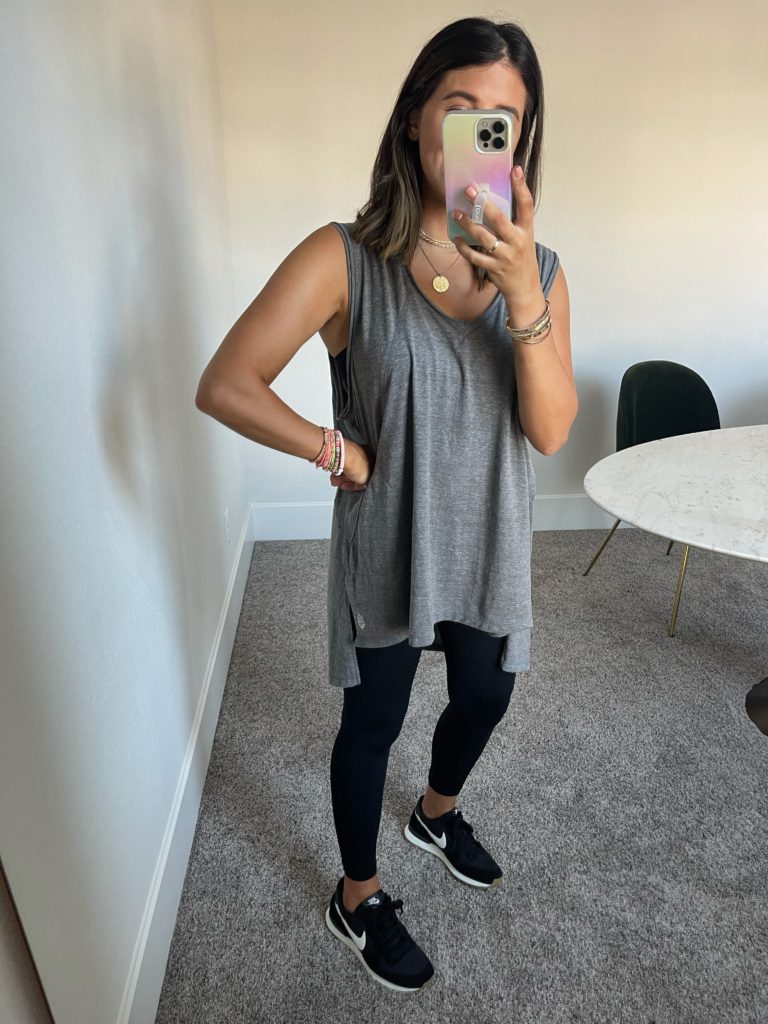 $48 $29.90
This Free People tank is one of my go-to basics. It's longer and oversized like a lot of their stuff so it's great for throwing on over leggings. Since these run big, I bought this tank in a small.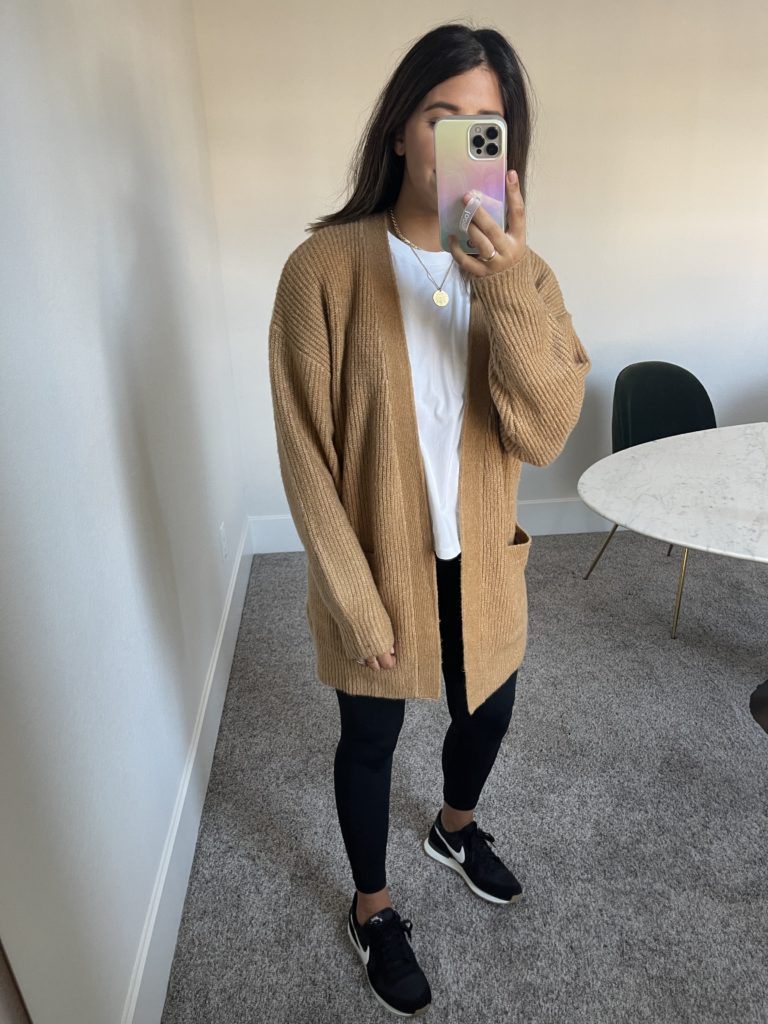 Open Front Long Cardigan | T-shirt
$79 $46.90 | $12 $7.90
This cardigan is a good layering piece for colder weather. This camel color is really pretty and would go with a lot of other neutral pieces. Grabbed this basic white tee for only $8! Wearing a small in both.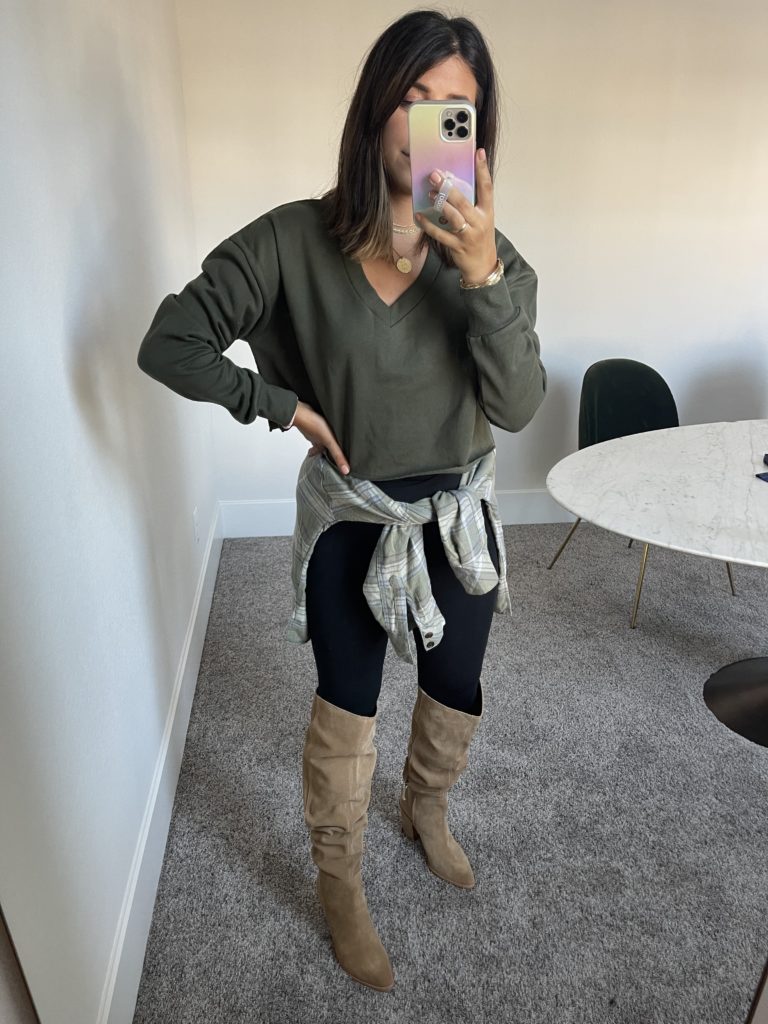 $35 $29.90
Picked up this cropped sweatshirt in store. Feels thinner than a regular sweatshirt so would be great to throw on when you're running errands or even going to the gym. Wearing a medium.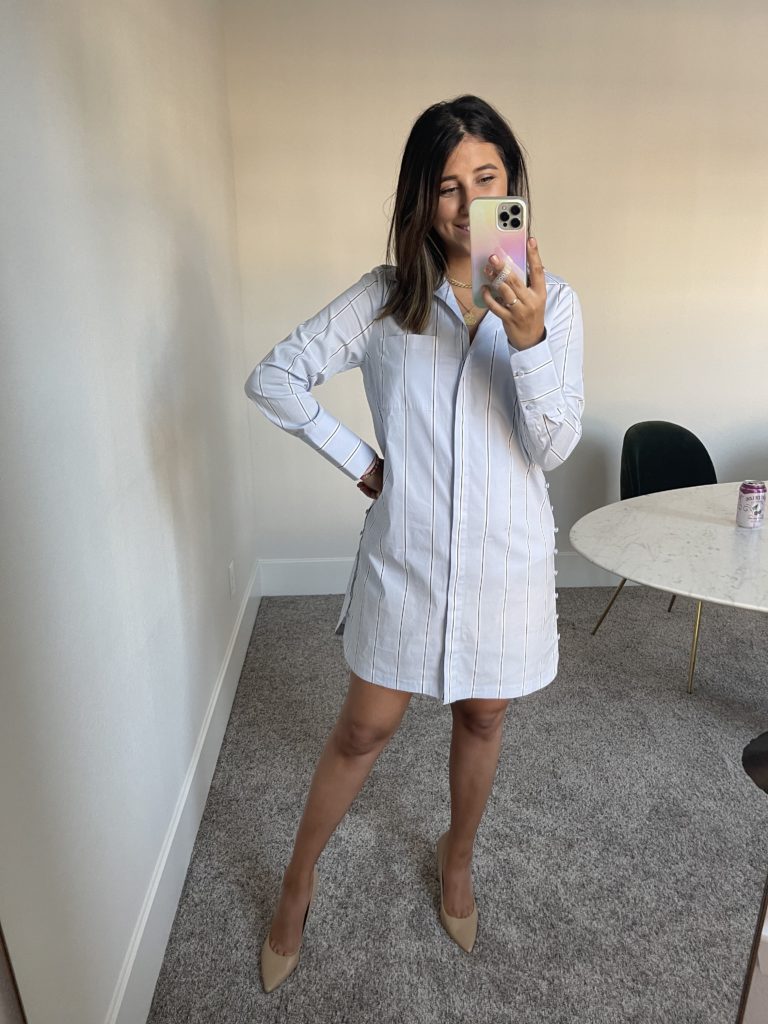 $189.95 $109.90
This shirt dress would be perfect to wear to the office! It has the cutest buttons down the side and has a built in half cami so you can leave a few buttons open and not worry about it being too showy. Wearing a 6.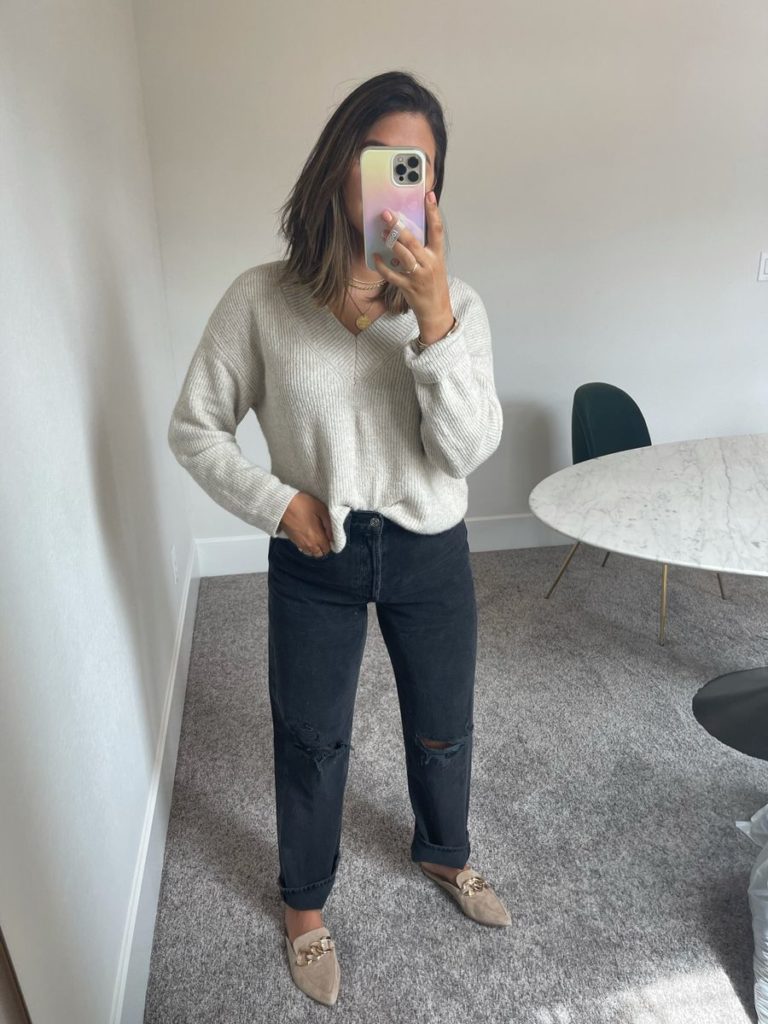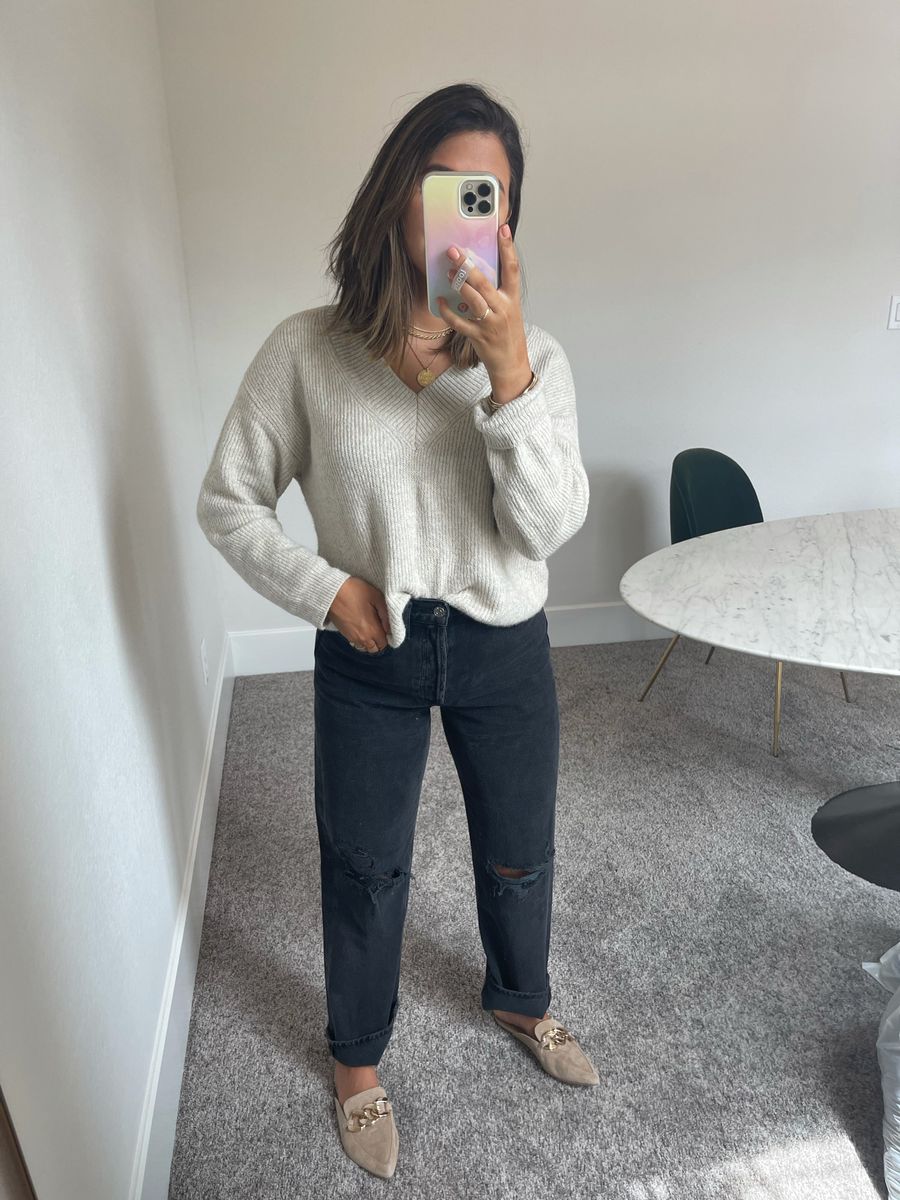 $59 $39.90
The perfect, soft V-neck sweater for under $40! For some reason I feel like this sweater looks itchier than it actually is. It's pretty lightweight and would be great to wear by itself in the early fall months and great to layer over once it gets colder! Pairs well with jeans or a skirt—especially the red color which would be so cute for a holiday party! Grabbed this in a small.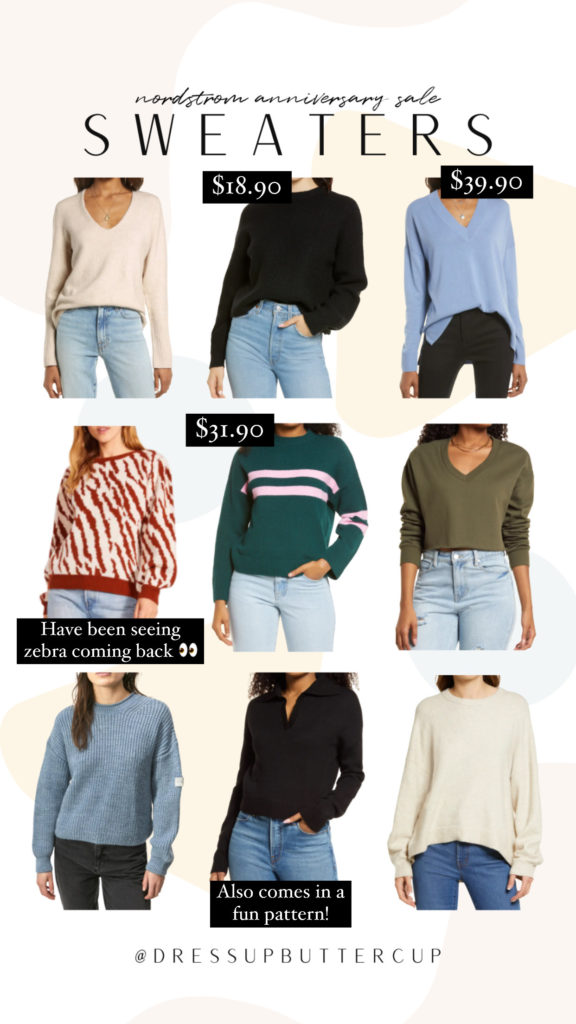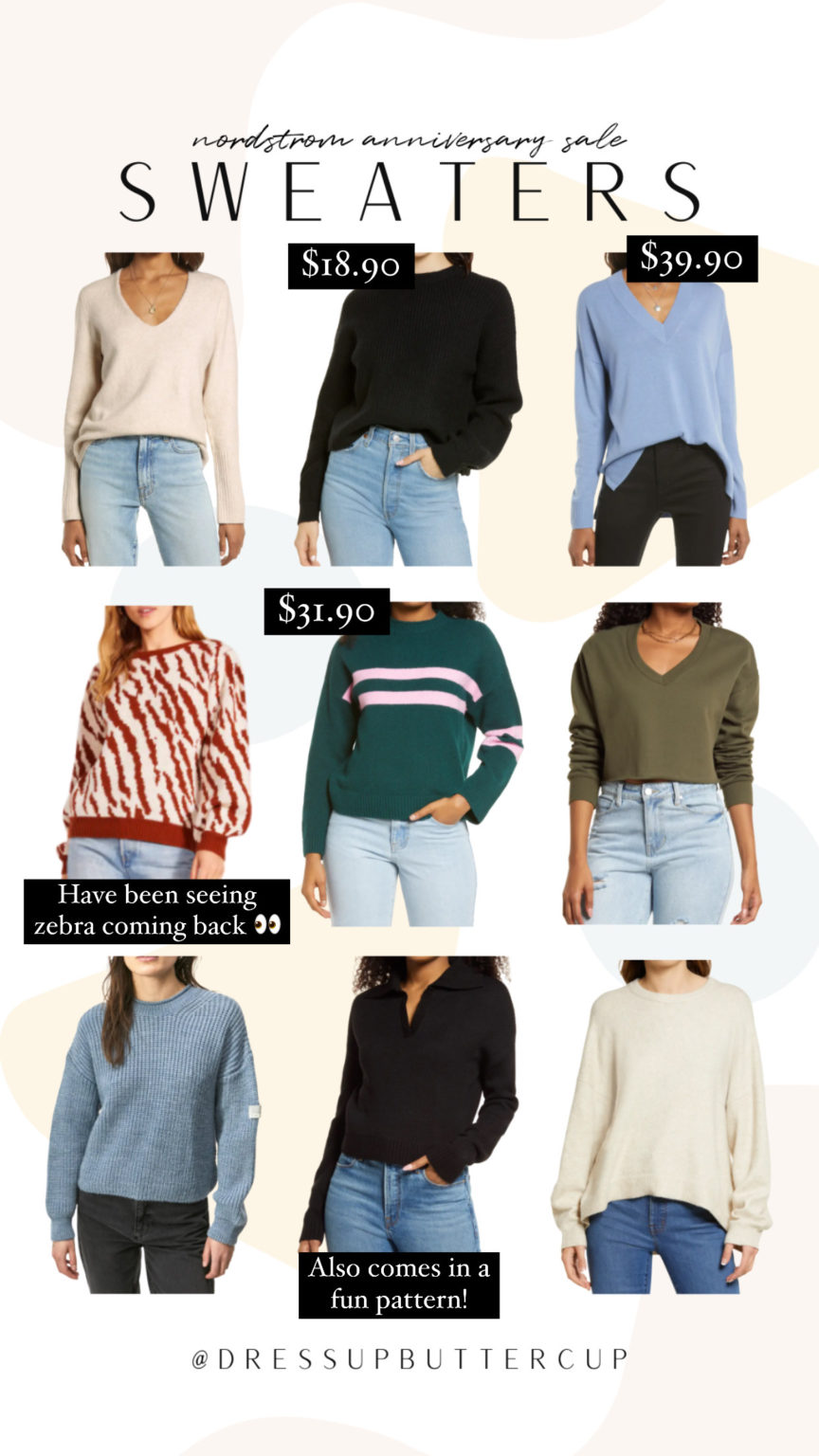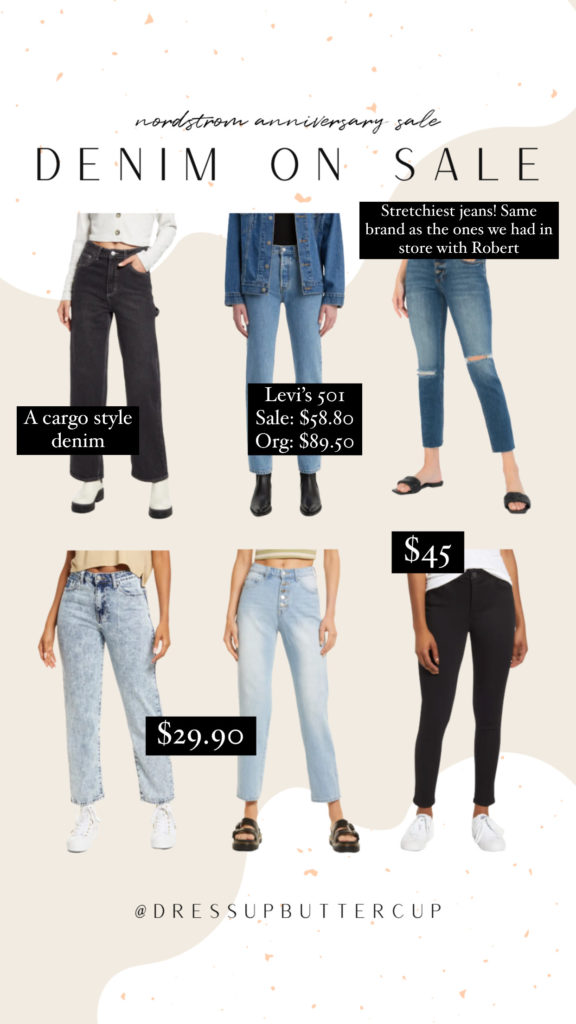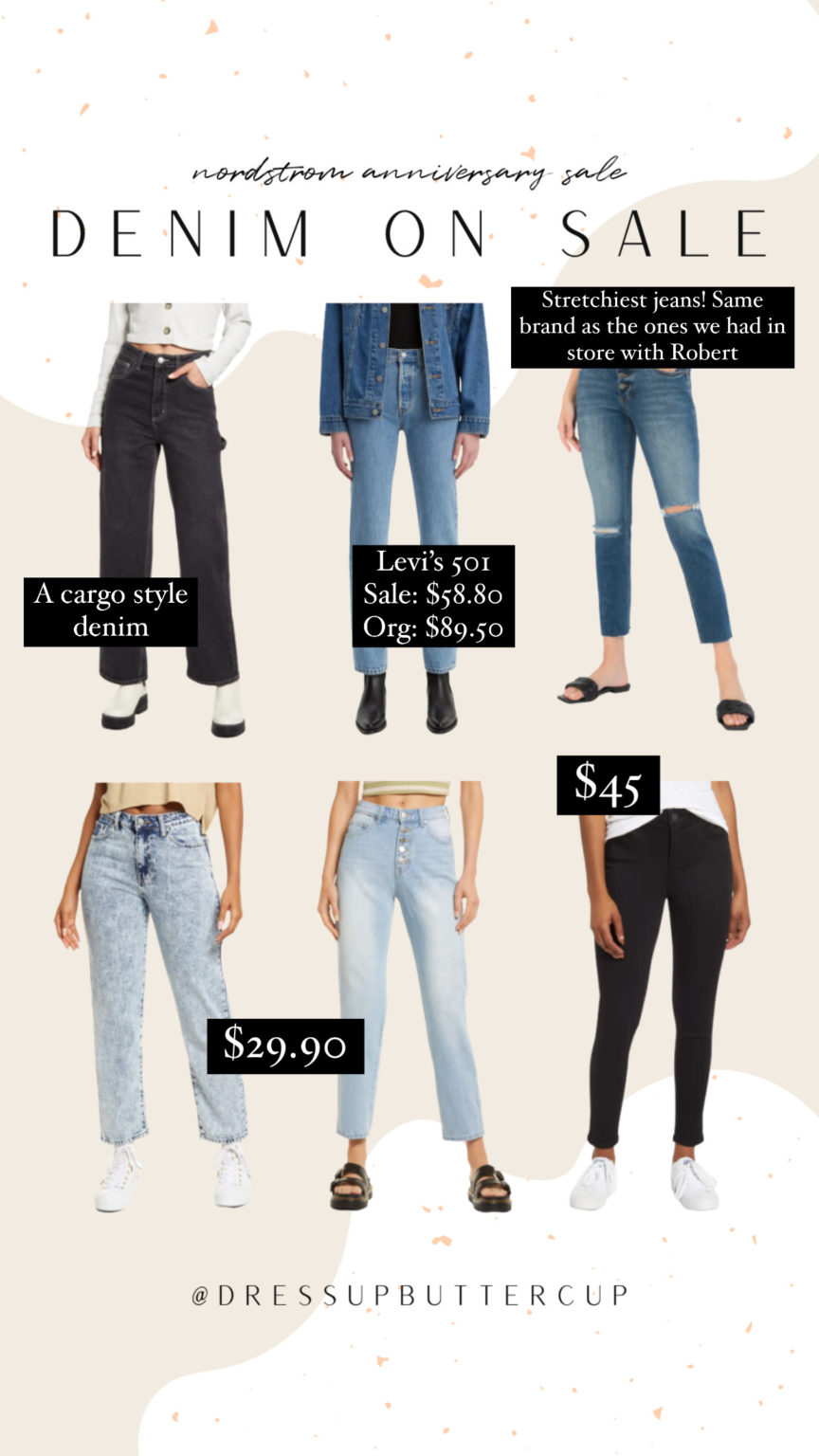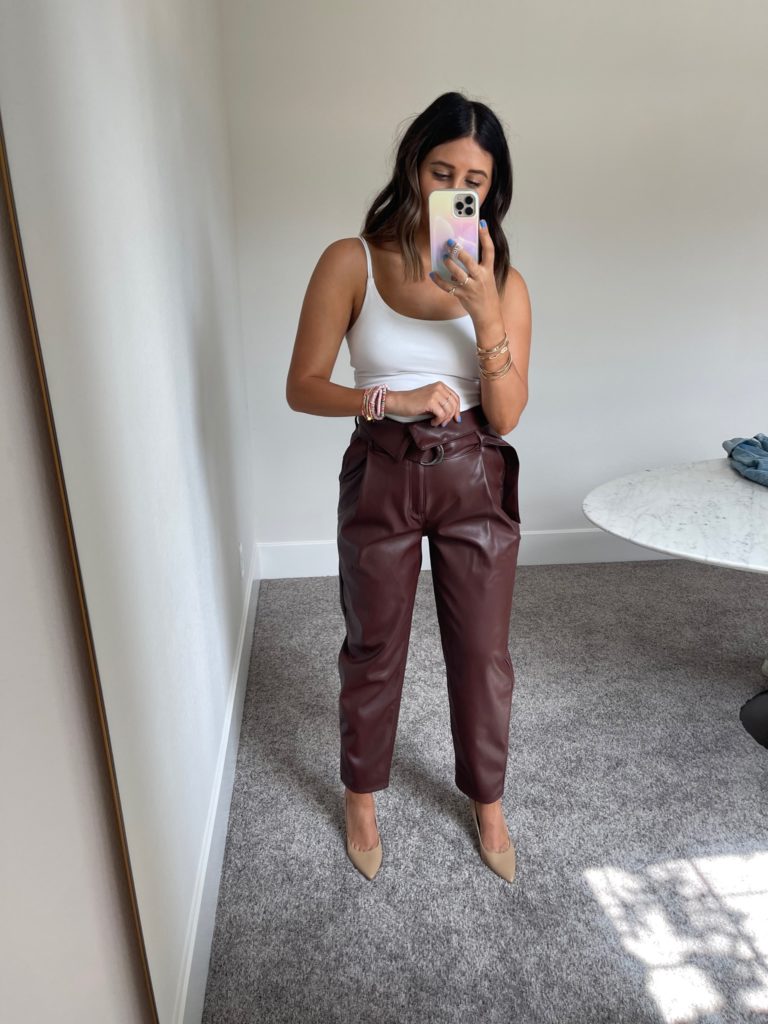 $59 $39
These pants are so trendy a something a little different from what I'd usually pick. They're a little tricky to style, so I'd recommend pairing them with a solid color bodysuit like I'm wearing in this photo. The paper-bag waist has been my favorite lately—I love how high waisted these are and feel like they really help show off your waist. This is the brown chocolate color, but they also come in black! Wearing a size small.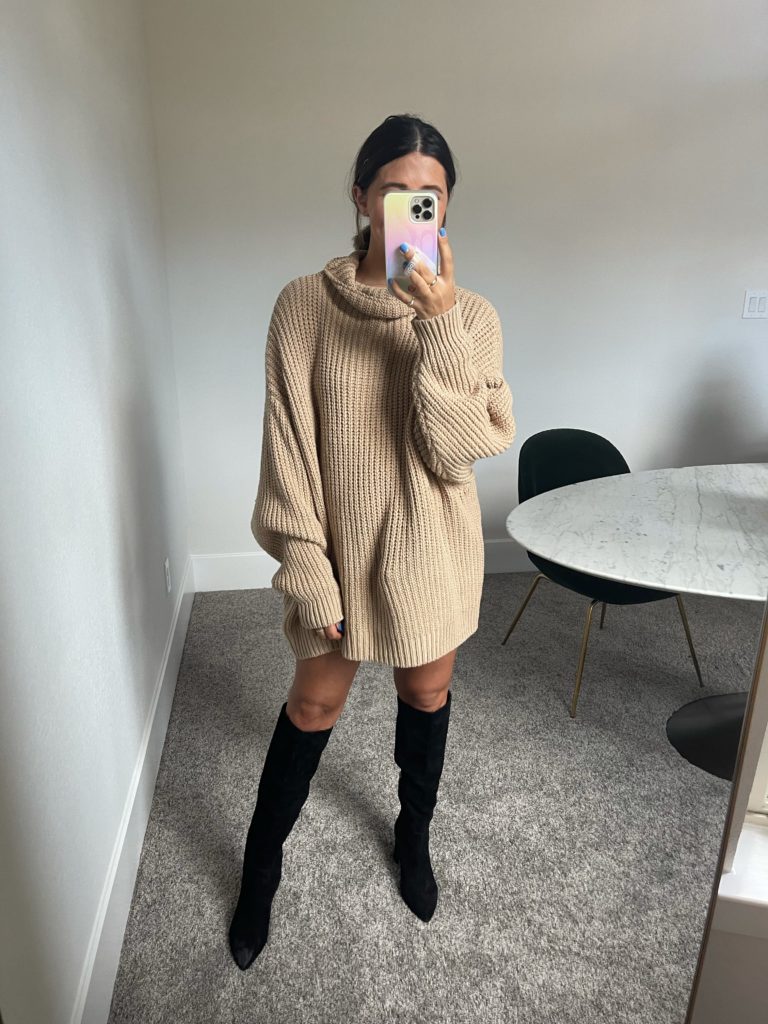 Free People Swim Too Deep Turtleneck Sweater | Olly Knee High Boot
$128 $79.90 | $225 $149.90
The famous Free People sweater is fully restocked in new color—Mykonos Blue! This sweater is a bestseller year after year for a reason. It's super soft, chunky knit and oversized making it perfect for the fall and winter. You can wear it with leggings, jeans or as a sweater dress. It does run pretty big, so I would suggest going down a size. I'm wearing a small!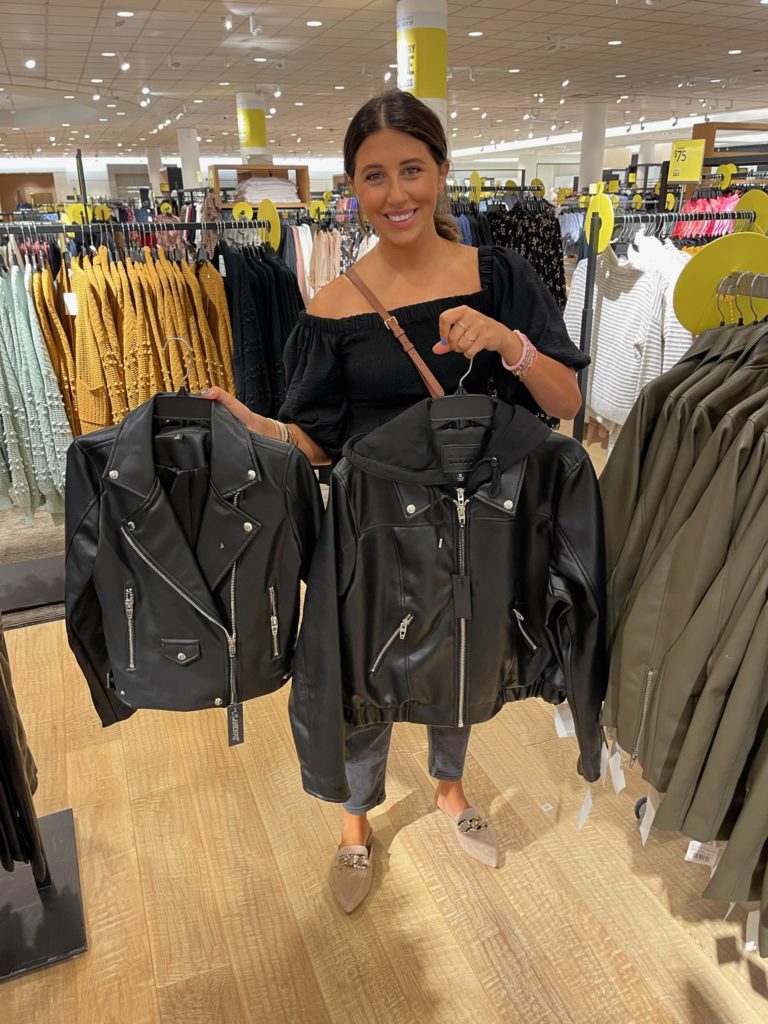 BlankNYC Moto Jacket & Bomber Jacket
$98 $54.90
The one on the left is the classic Moto Jacket I've had for years! The Bomber Jacket on the right is a little different, it has an elastic band along the bottom of the back and comes with a removable knit drawstring hood. I'd say this one is a little more casual and edgy and the Moto Jacket is more of a classic leather jacket style. They're both amazing quality and look so much more expensive than they are. 9/10 times y'all ask what leather jacket I'm wearing, it's this one. Grab these now for over $40 off!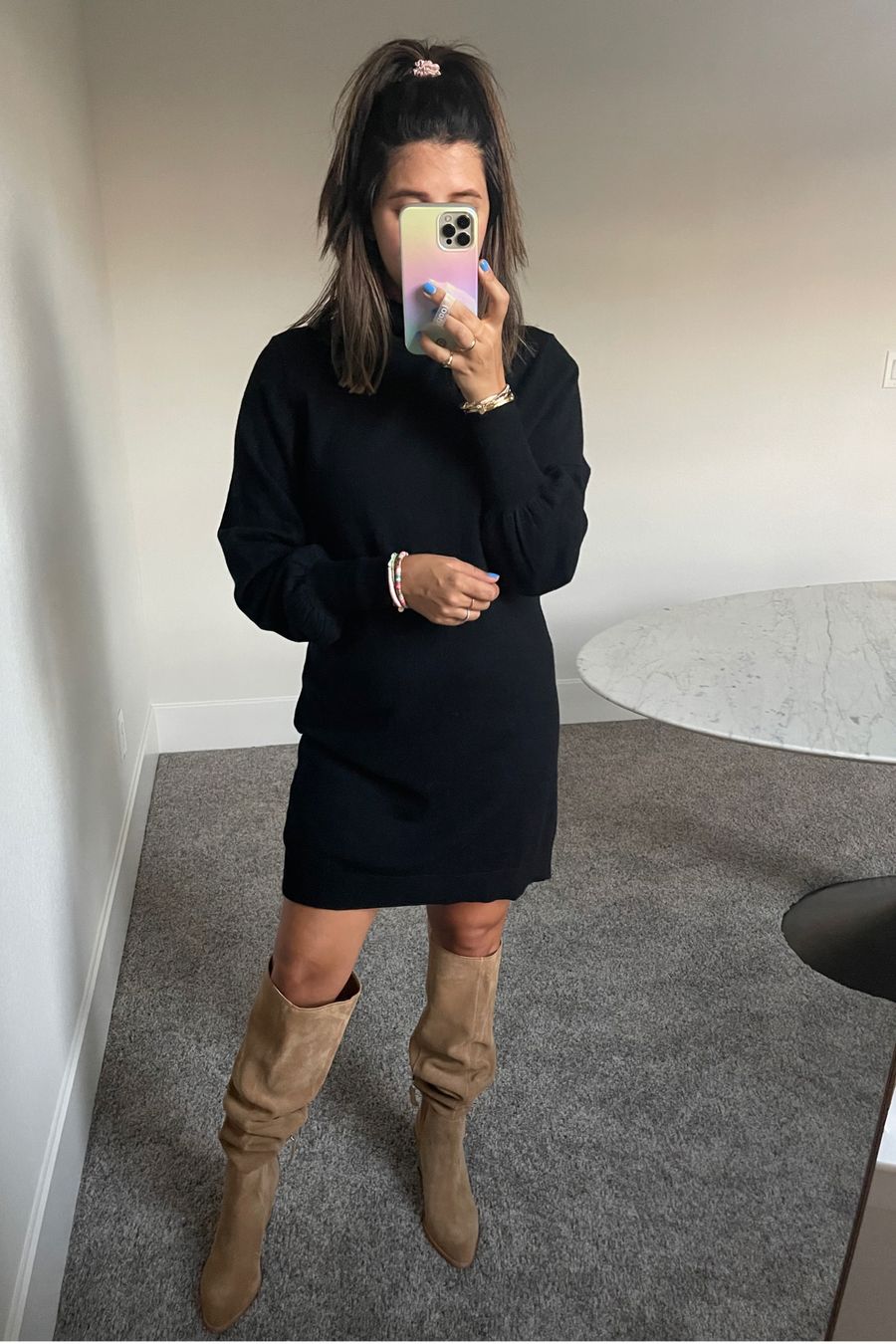 Heidi Over the Knee Boot | Morela Long Sleeve Turtleneck Sweater Dress
$169.95 $99.90 | $78 $54.90
These Treasure & Bond over-the-knees are so good! I love this camel color for the fall, but they also come in a pretty dark grey. I wear mine scrunched a lot so they hit a little below the knee but they can be worn either way so it's basically 2 pairs of boots in 1. All about versatility at a good price! These run TTS.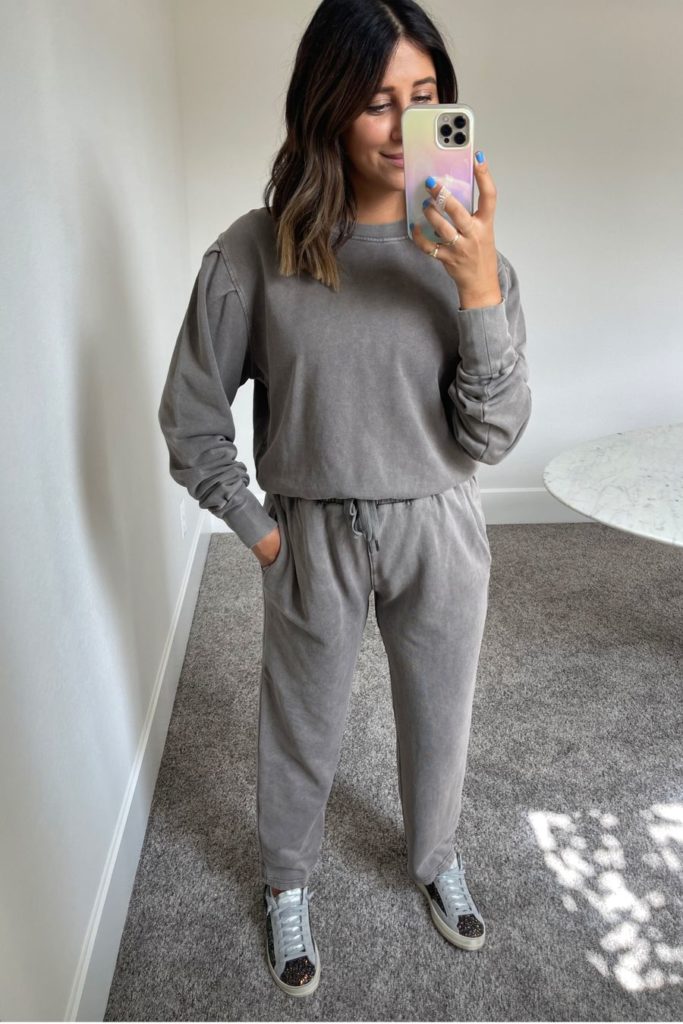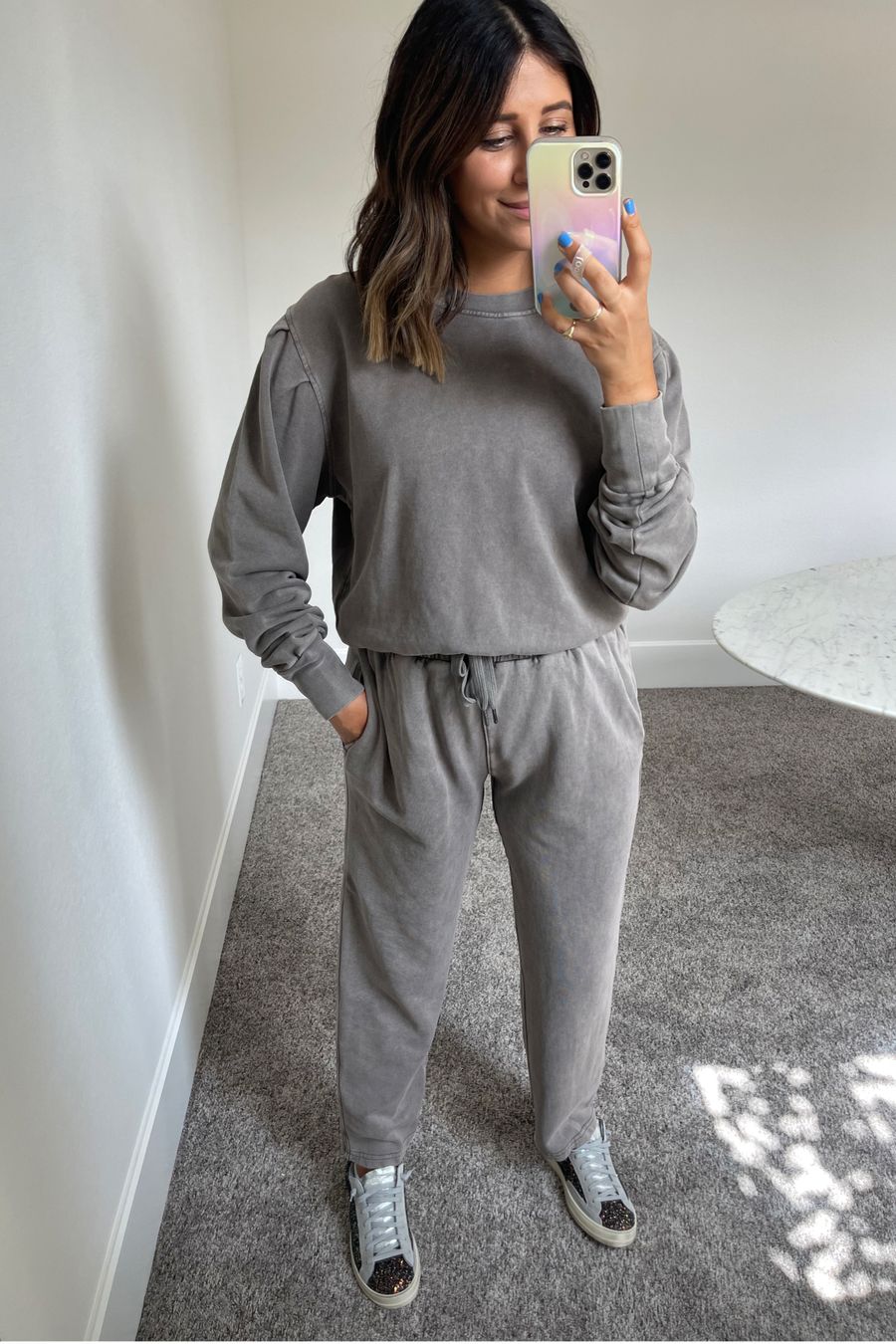 Pocket Crop Joggers | Sweatshirt | Shoes
$68 $44.90 | $68 $44.90 | $298 $199.90
Can we just thank 2020 for making sweatpants the star of the show?! I think these joggers will be my new favorite for the fall. They're high waisted, cropped and wide leg but run a little long. I'm 5'3″ and was able to cuff these once with my High Top Converse. Throw on with a sweatshirt for a comfy look or a leather jacket and a cute sneaker for an elevated loungewear look.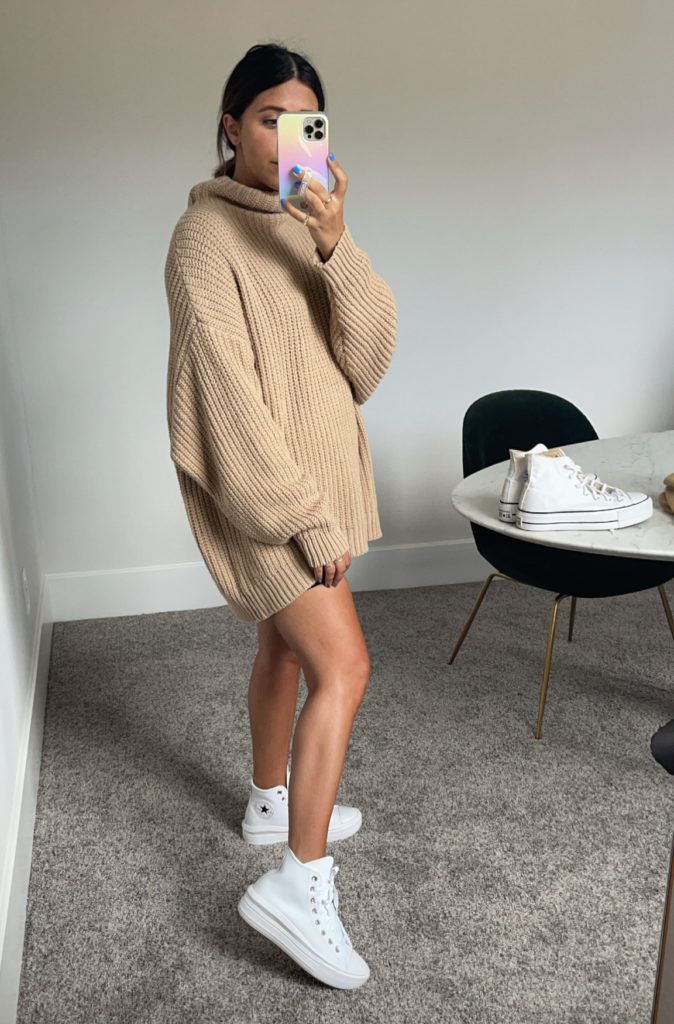 Chuck Taylor All Star Move Platform High Top Sneaker
$80 $59.90
I purchased the regular platform high tops this summer that you can see on the table in this photo but have only been wearing these since I got them! They're even comfier than the originals and made of leather instead of canvas so they don't get as dirty either. Heard these ran true to size so I grabbed them in an 8 and they fit perfectly.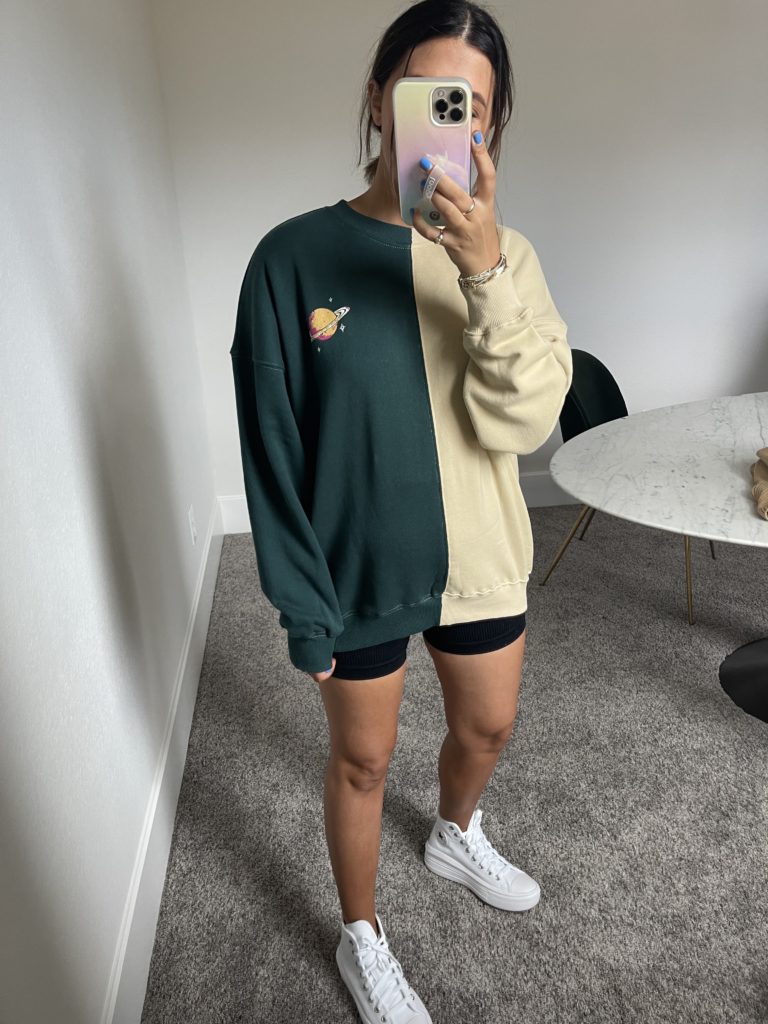 $35 $29.90
This lightweight crewneck is so unique! It's a really comfy basic that looks cute with biker shorts or leggings. Picked this up in a large for an oversized fit! Also comes in a grey/dark grey combo with no design if you're looking for more of a neutral basic.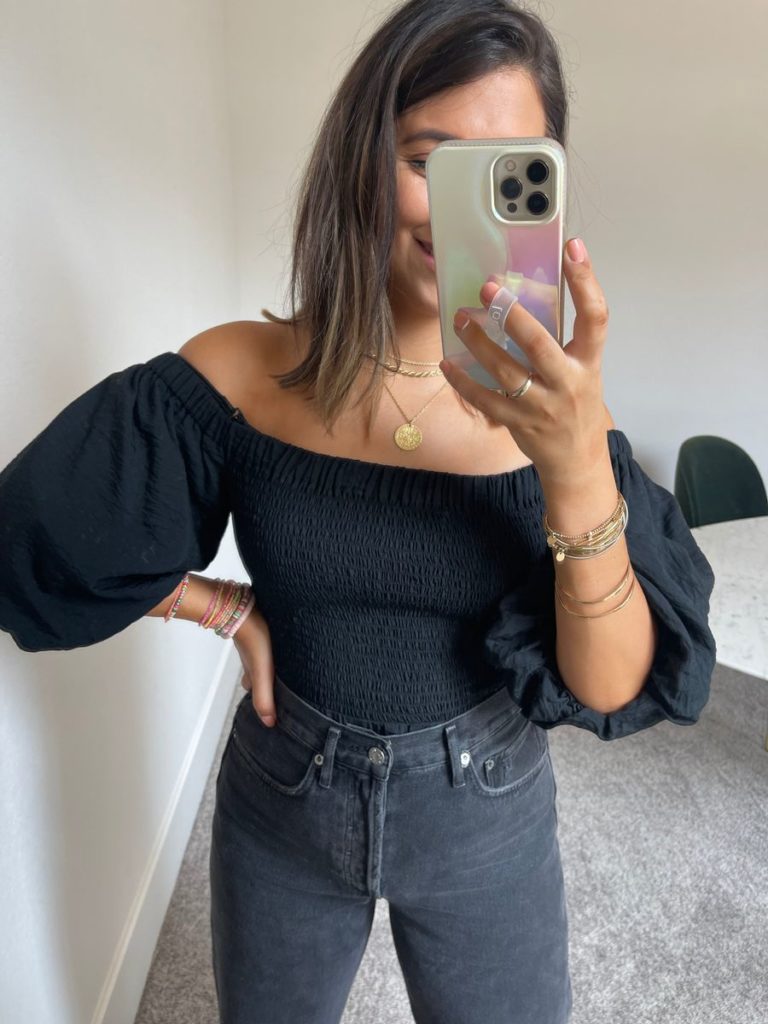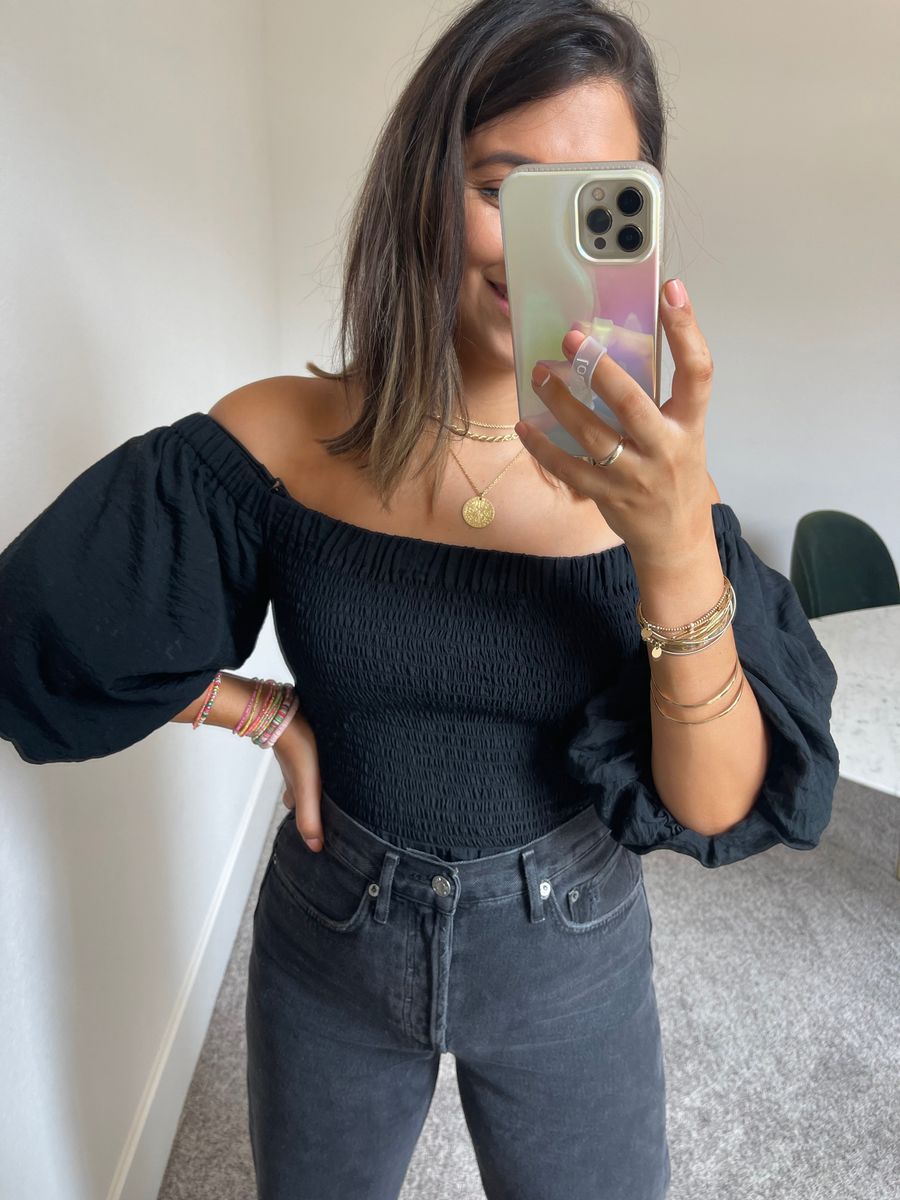 $49 $29.90
This top from Open Edit is a blousy material with elbow length puff sleeves that you can wear on or off your shoulder! Wore this shopping in Nordstrom the other day and paired with jeans and my Steve Madden mules (some stock left in these!). Comes in a really pretty red color too that would be perfect for the holiday season.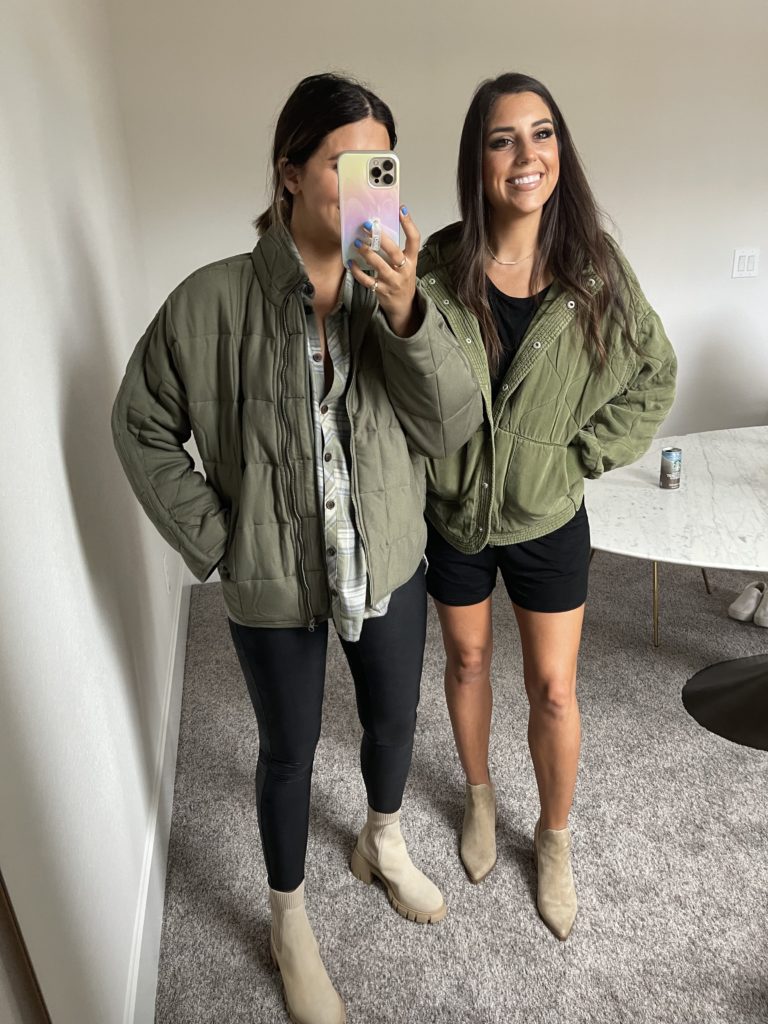 Quilted Hooded Jacket & Dolman Sleeve Quilted Jacket
$128 $69.90 / $55 $35.90
I looove a good army green jacket for the fall! Either of these would be a great closet staple to layer over sweaters this fall. The one I'm wearing is lightly insulated and a little more structured than the one that Katy is wearing but still roomy enough to wear a thicker sweater underneath. The inside is lined so it's softer than the outside looks! The jacket Katy's wearing is super soft and looks really similar to the popular Free People Quilted Jacket. For a more oversized look in this one, I'd go up half a size!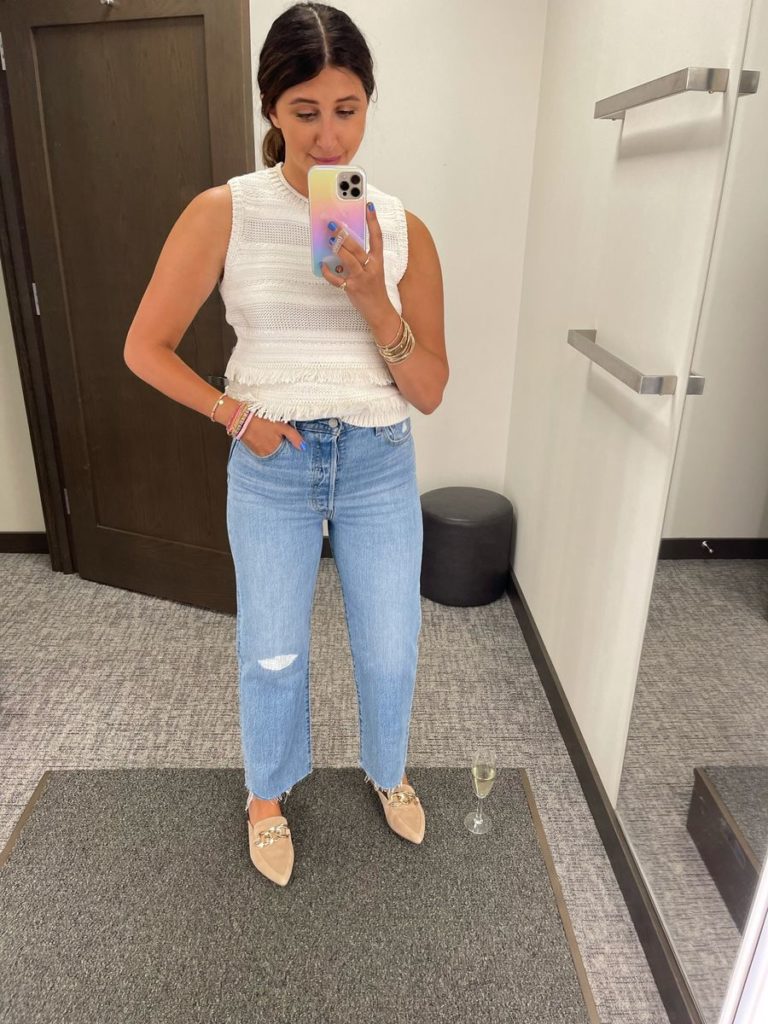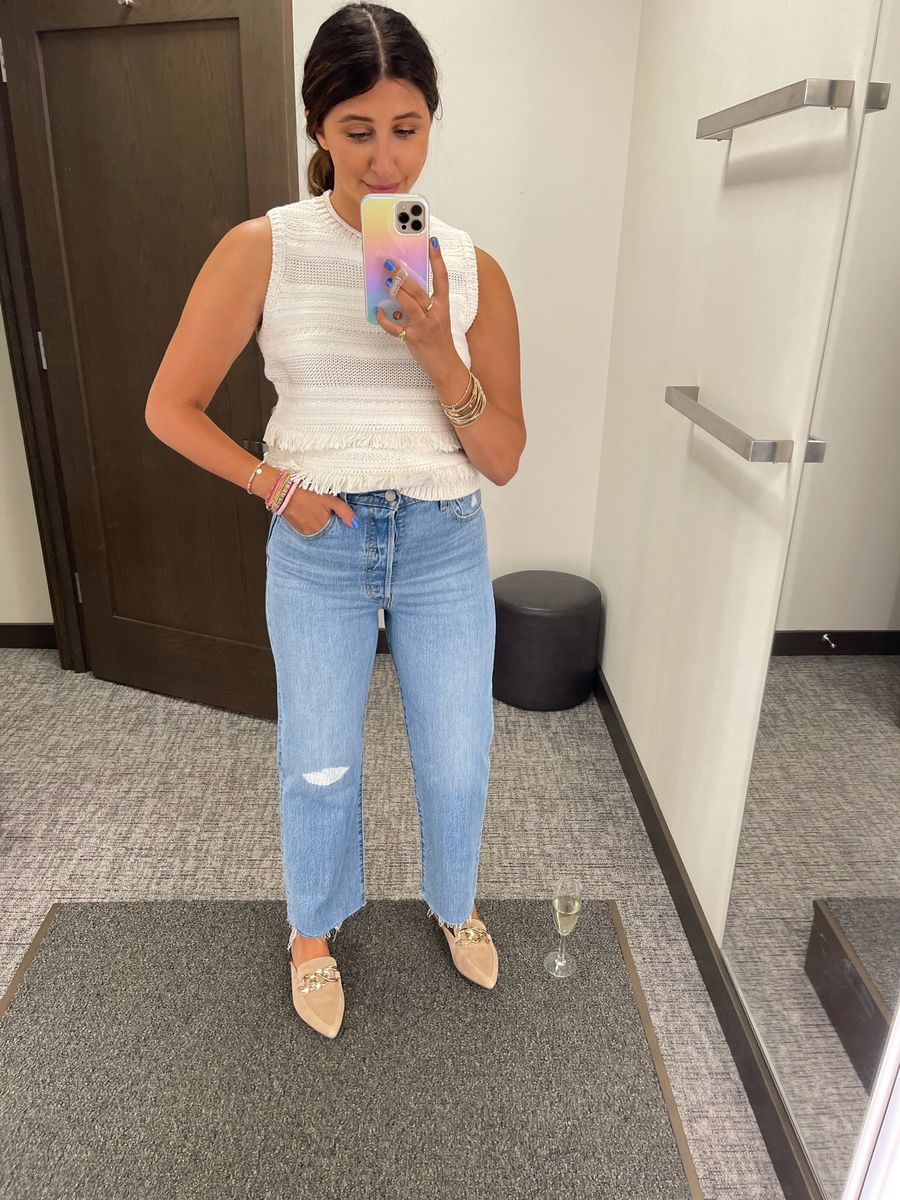 $159.50 $54.90 | $89.95 $59.90
My favorite thing about this tank is the subtle fringe! It dresses up a basic sweater/tank a little bit more making this a cute top to wear to work for the rest of the summer and into the fall. It fits slightly cropped so would wear with a high waisted pant. Wearing a size small.
Thank You Nordstrom For Partnering On This Post