RStheCon Recap
I wanted to walk you through all my outfits that I brought to the Reward Style conference. I mainly want this little journal of my outfits for my self, as well, so it's all in one place for next year! If you follow along on social media, I was in Dallas all weekend for a blogger conference. We had brand meetings, sponsored lunches, and parties galore. You can probably imagine getting outfits together for events with other bloggers was pretty intimidating, if you ask me. The one key advice I took was to dress as yourself. Dress as you normally would and don't think or worry about anyone else. That advice is like my life motto, (keep your eyes in your own lane) so it made sense why it was so helpful during this trip! I did have a couple questions on how to get invited to this conference, and I would say just keep working hard on your blog, if you are a blogger! I remember 3 years ago watching all these girls attend this conference and I thought how stinking cool would that be to go. I started my blog a year and a half ago and getting an invite to this conference was one of my biggest goals. To say I was ecstatic to attend was an understatement.
Top: Endless Rose | Jeans: J Brand | Shoes: Steve Madden | Earrings: Bauble Bar | Purse: Trendlee
Anyways – let's start with the outfit for the drive up. I drove up with a sweet blogger friend Kate Blue and we chatted away from our drive to Houston to Dallas. She has been to the conference a couple of times so it was the perfect opportunity to pick her brain! I also believe the best part of blogging is getting to connect and become friends with such genuine ladies. I wouldn't necessarily wear this top again in a car ride since I sized down and the shoulders were way to tight/uncomfortable. I have had my eye on this eyelet off the shoulder top and the material was amazing in person. I also fell in love with the color!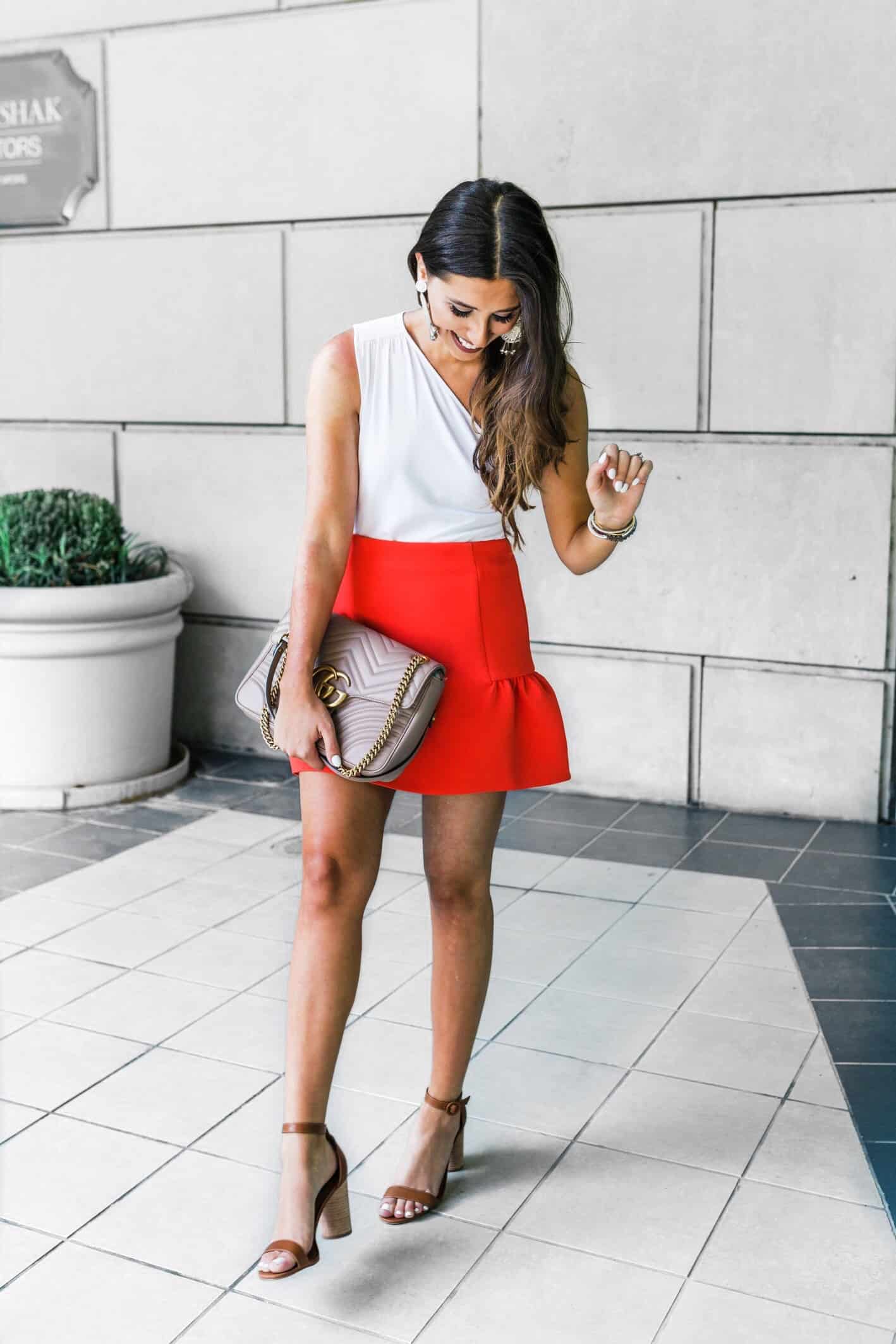 Skirt: Topshop | Top: 1. State  | Shoes: Steve Madden | Purse: Gucci | Earrings: Kenneth Jay Lane | Watch: Michael Kors | Bracelet: David Yurman | Bracelet: David Yurman 
Thursday evening we kicked off the weekend with a Sole Society pool party. I blogged about this look here. I got these shoes for the weekend, since I wear my other Steve Madden Carsons, WAY TOO MUCH. I realized if I wear a certain style a lot, it's ok to invest in other colors. I just feel like they go with everything and don't take away from the outfit. I found this bodysuit for a steal of a price. This skirt = ahhh dreams are made of.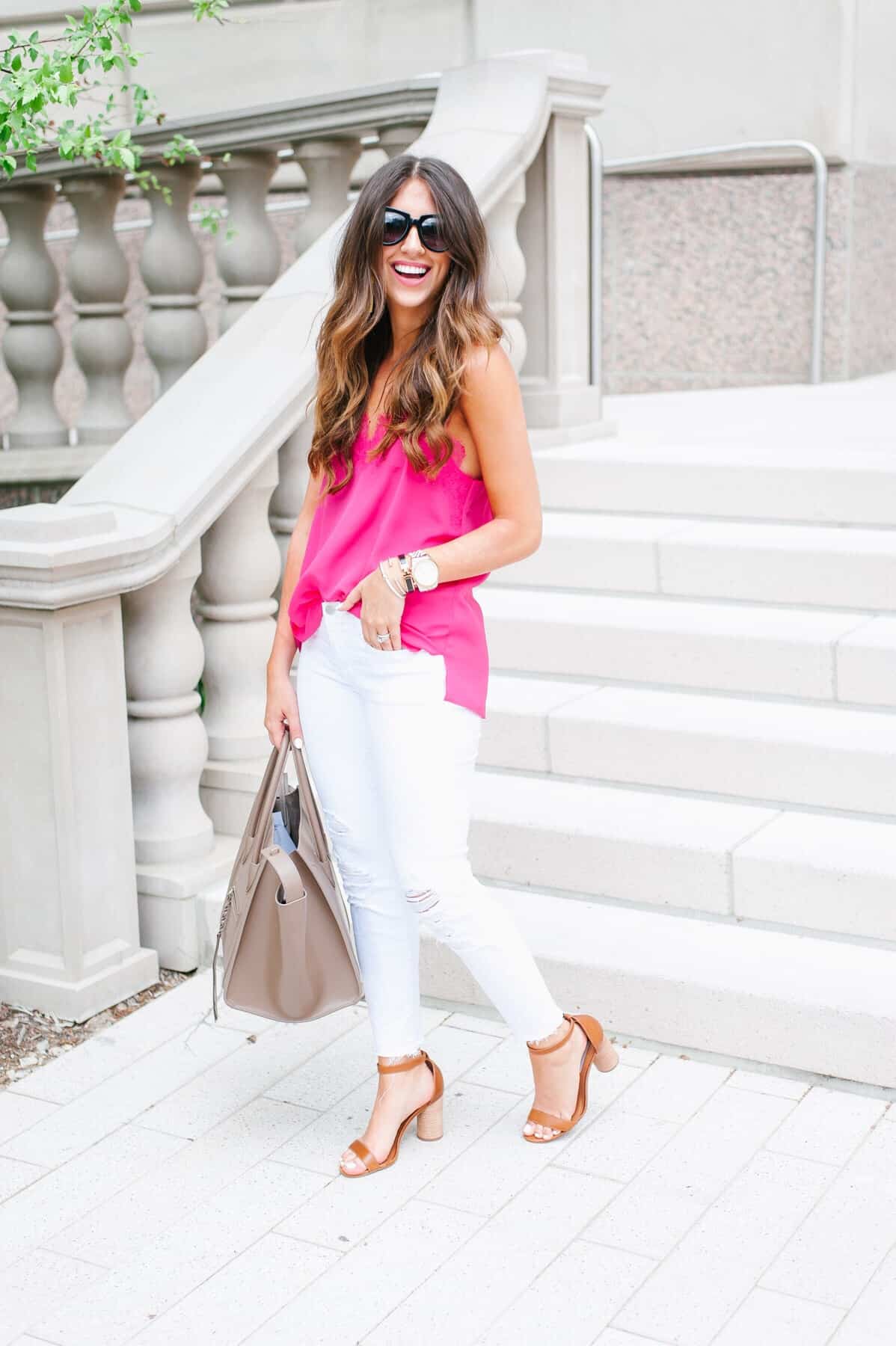 Top: Cami NYC (similar) | Jeans: J Brand | Shoes: Steve Madden | Sunnies: Karen Walker | Watch: Michael Kors | Bracelet: David Yurman | Bracelet: David Yurman 
For the first full day of the conference I wanted to go with a more casual look since I knew we would be a in a auditorium majority of the day. I came across this lace cami that I know is a little pricey, but was perfect to make a statement with some white jeans. I found a similar version here! It was the perfect look for a picnic themed lunch with Shake Shack with Banana Republic.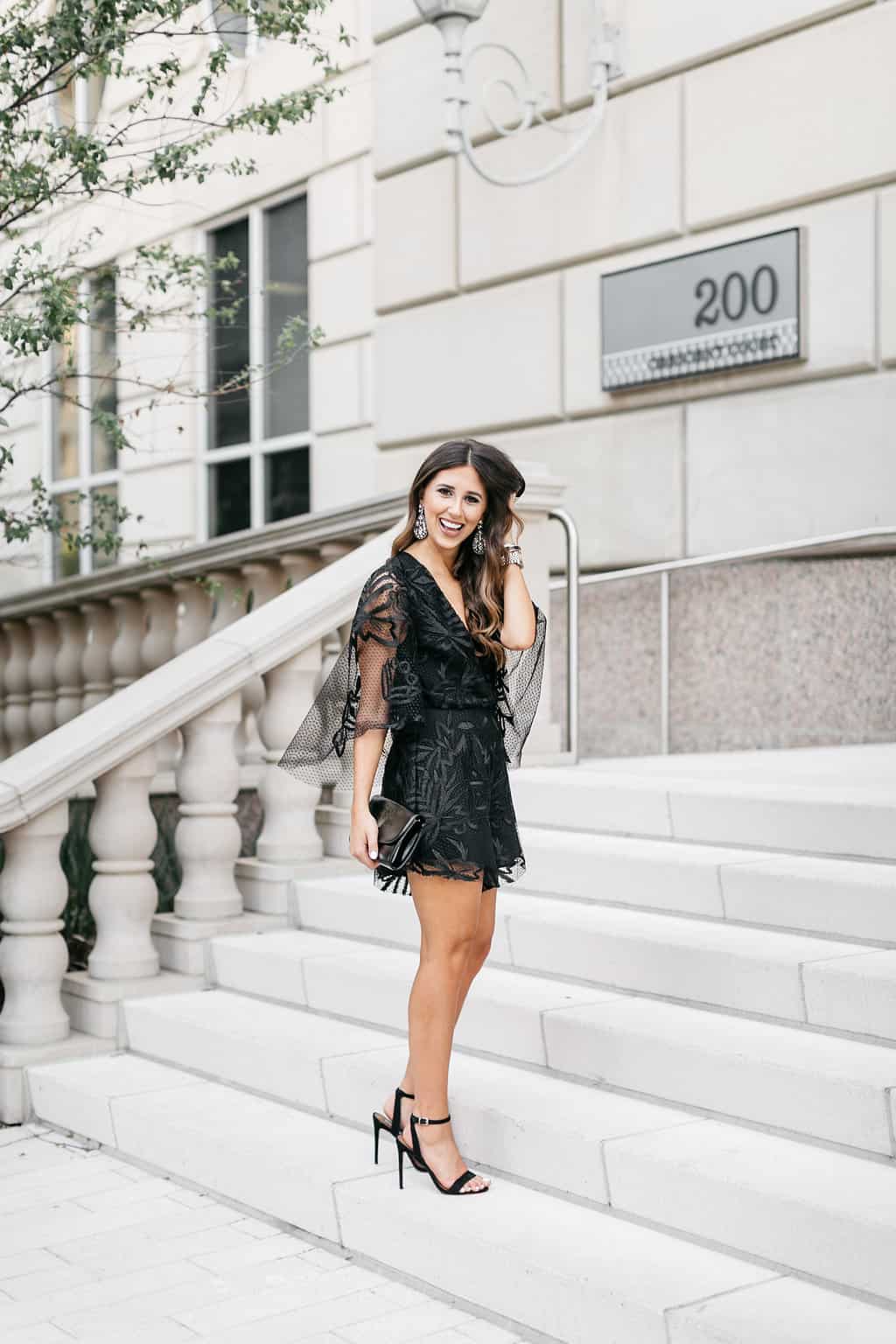 Romper: Stevie May | Shoes: Steve Madden | Earrings: Bauble Bar | Clutch: Halogen
After a full day of conferences and classroom sessions, we had a cocktail party with Bumble BFF. I went for the PRETTIEST romper you ever did see. I got it on sale during the Shopbop sale and can't wait to wear it again. I am planning on sharing all details with this romper tomorrow. Recommend sizing down! This was actually the only non colorful item I wore! Haha but you can never go wrong with black! Def my favorite piece!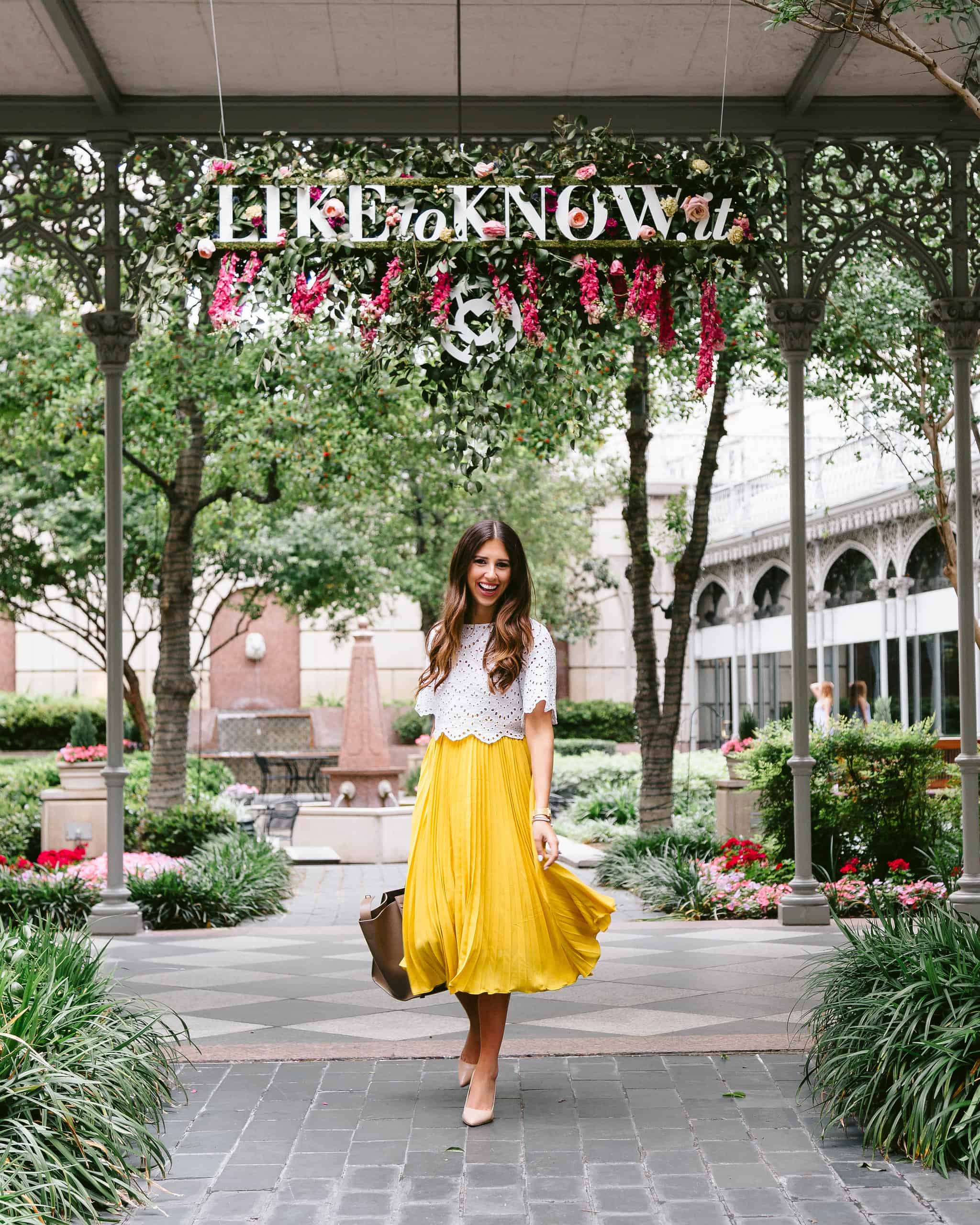 Skirt: Endless Rose (similar) | Top: Similar | Shoes: Sam Edelman | Bag: Trendlee
The following day I went with a more "buttercup" outfit with a bright yellow pleated skirt. I blogged about it here! Coincidently we were attending a garden luncheon so that worked in my favor! Tip next year for me to remember: get there early! That way you can take photos and get a seat inside where it wasn't freezing. I am notorious for being late so even when I was going to be early, I figured I had time to go to my room and freshen up.
After the garden luncheon, I had a couple meetings then thankfully had a break before the black tie event. Y'all, I can't brag enough about my roomies that I was so BLESSED to experience the trip with. Everyone was so uplifting, never had a negative thing to say, and we all got along really really well. I was so thankful to spend time with them during our breaks just to get to know them better and laugh about our stupid incidents we did that day. I think rooming with the right people makes a huge difference on any conference! I also am not a fan of being alone for too long and wondering what everyone else is doing so having a core group of girls to go back to is very helpful!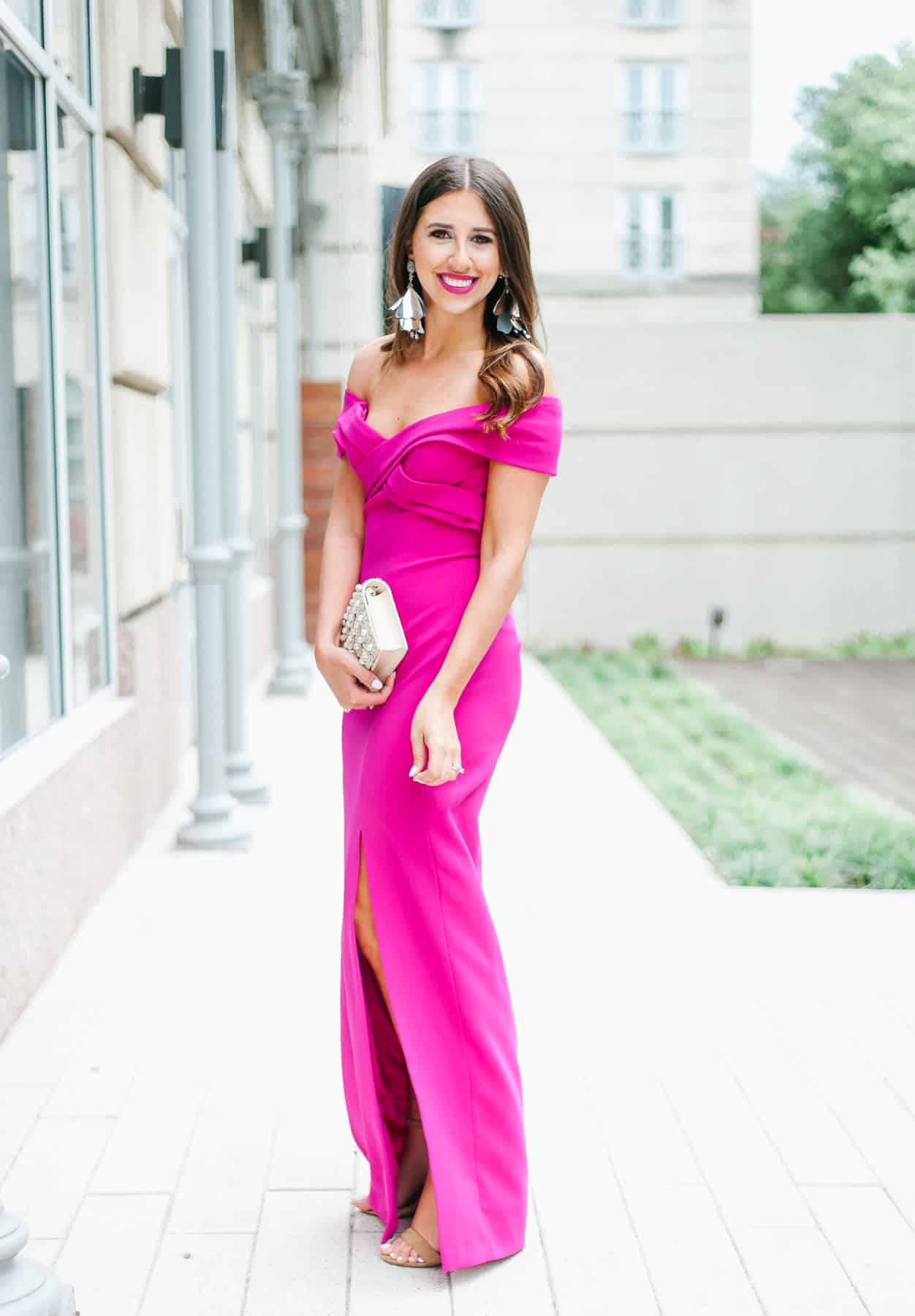 Dress: Theia (option 2)  | Shoes: Steve Madden | Purse: Zac Posen | Earrings: Oscar De La Renta 
Now for the black tie event, I always find myself on Rent the Runways website. I sent two different pink gowns that I shared on snapchat! I guess I wanted to keep going with the colorful outfits and the gown was perfect. I also rented these Oscar De la Renta earrings that made me feel like a million bucks. I so wish I could have kept them! If you didn't know, Oscar De la Renta actually was the designer of my wedding dress. I am thinking for our 5 year anniversary I am going to do a wedding recap since I miss it so much haha! You can see some pictures here.
Thats a wrap my darlings! I can't believe it's already Wednesday. I leave to Florida tomorrow for a week so I will be doing an Insta story session on some things I am packing shortly!