A Garden Skirt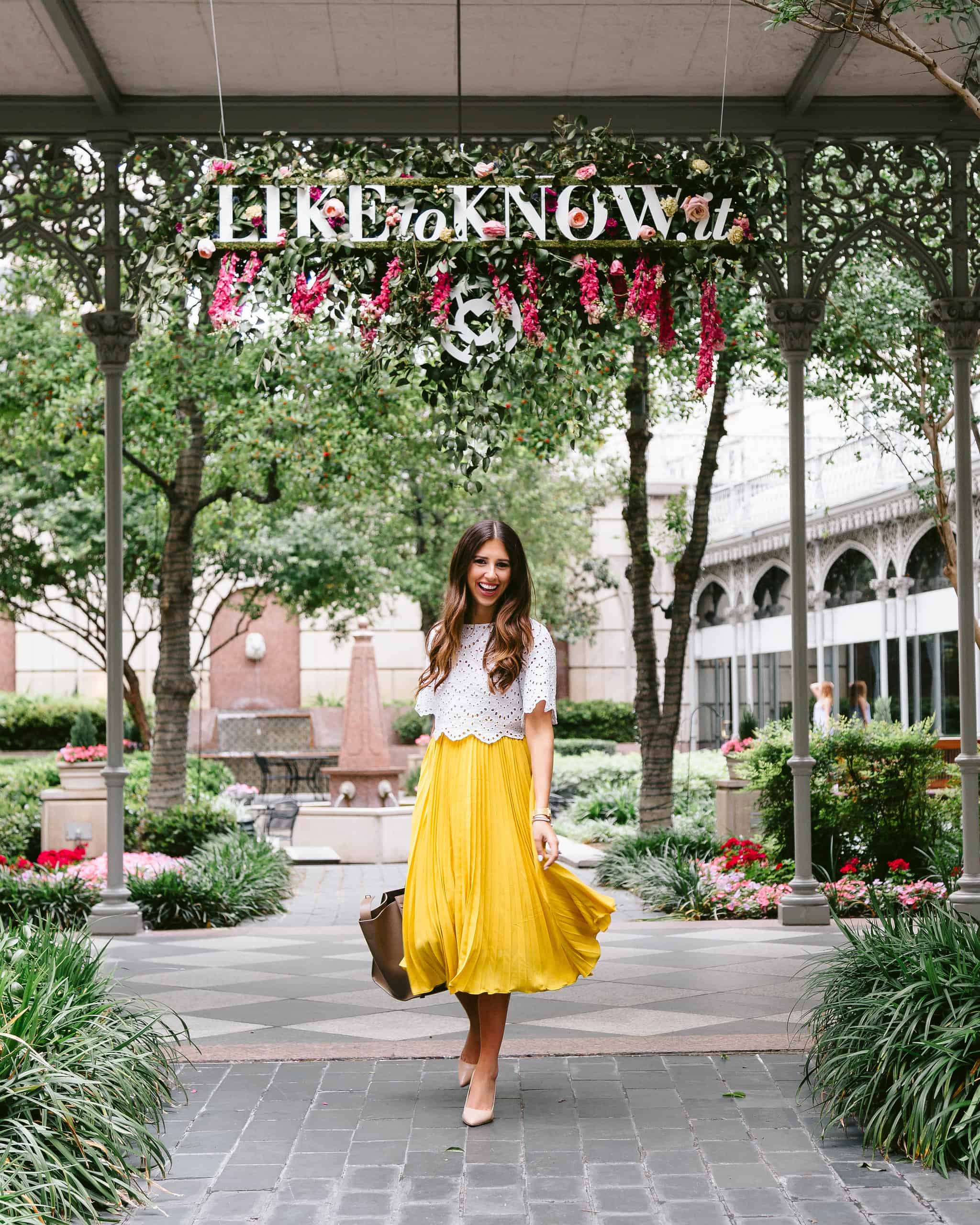 Skirt: Endless Rose (similar) | Top: Similar | Shoes: Sam Edelman | Bag: Trendlee
Hey babes! I am working on a conference recap on all my outfits but I wanted to share this garden theme look before the skirt sells out completely! It's one of those pieces that really makes a statement and like I said in yesterdays post, skirts + color have been my love. I didn't really mean to share back to back my favorite skirts but hey things just happen like that! I will also list a few similar skirts below since its low in stock. I wore this look during the day to some brand meetings since the yellow screams Buttercup! The top I actually picked up from Forever 21 about two years ago and I wear every once in a while. I wanted something with sleeves since it dropped down to the 50s and it was the warmest thing I packed.
This outfit happened to fall on Topshop's luncheon which was a garden theme. The wedding planner in my probably squealed since every detail was thought through and it had to of been my favorite event. Flowers are probably my favorite part of an entire event and they didn't skip out on the flowers, which made me oohhh and ahhh! I did get stuck outside since I was waiting on my roomies to get there and by the time they did, all the seats inside were taken. The ladies were not about the healthy garden salad options (to fit the theme of course) and freezing your booty off, while eating salad, so they opted to leave and head to Shake Shack. The normal Dede would have followed them in a heart beat, but I believe the flowers were calling my name, so I sat outside and froze! It really wasn't that bad once they passed around blankets.
Oh I also need to mention this bag real quick! A Celine has actually been a dream bag of mine ever since I started persuading Ted to start my collection of designer purses. I remember being in the Las Vegas shops trying to sell him on purchasing a Louis Vuttion and that man wasn't budging. I then thought of a genius idea to take him to the Celine store, where prices are much higher, which in return made him feel better about purchasing a Louis (I call this the wifey trick haha)! That was almost 5 years ago and ever since that walk in with Celine, a Celine has been on our list. I just love how classic and realistic it is for a day to day purse yet makes your outfit look glam. I also know friends who have had their Celine for YEARS which makes it a good investment if you ask me. Anyways, I came across Trendlee which carries preowned designer handbags. I never have purchased a bag preowned but wanted to try it out. I think the trick is, if the bag is still close to the original price, it means it's in new condition. I was blown away by the condition of this bag because someone could have sold this to me brand-new in the store and I would have had no idea. You can find a list of all their Celines available here!