Paris Travel Diary
Dress: ModCloth (ON SALE) | Vest: Revolve | Boots: Steve Madden | Luggage: Delsey | Watch: Michael Kors | Bracelet: David Yurman | Bracelet: David Yurman 

Coat: Love, Fire Jumpsuit: Anthropologie (ON SALE) | Shoes: Christian Louboutin | Clutch: Eloquii | Earrings: Tory Burch
My Outfit// Sweater: Top Shop | Skirt: Jcrew  | Shoes: Christian Louboutin | Clutch: Eloquii
Ted's Outfit// Coat: Bonobos | Shirt:  Men's Shop  | Pants: AG  | Shoes: Timberland

Shirt: Shop Bop | Pants: Free People | Booties: Kendall & Kylie ( ON SALE)  Purse: Givenchy | Earrings: Tory Burch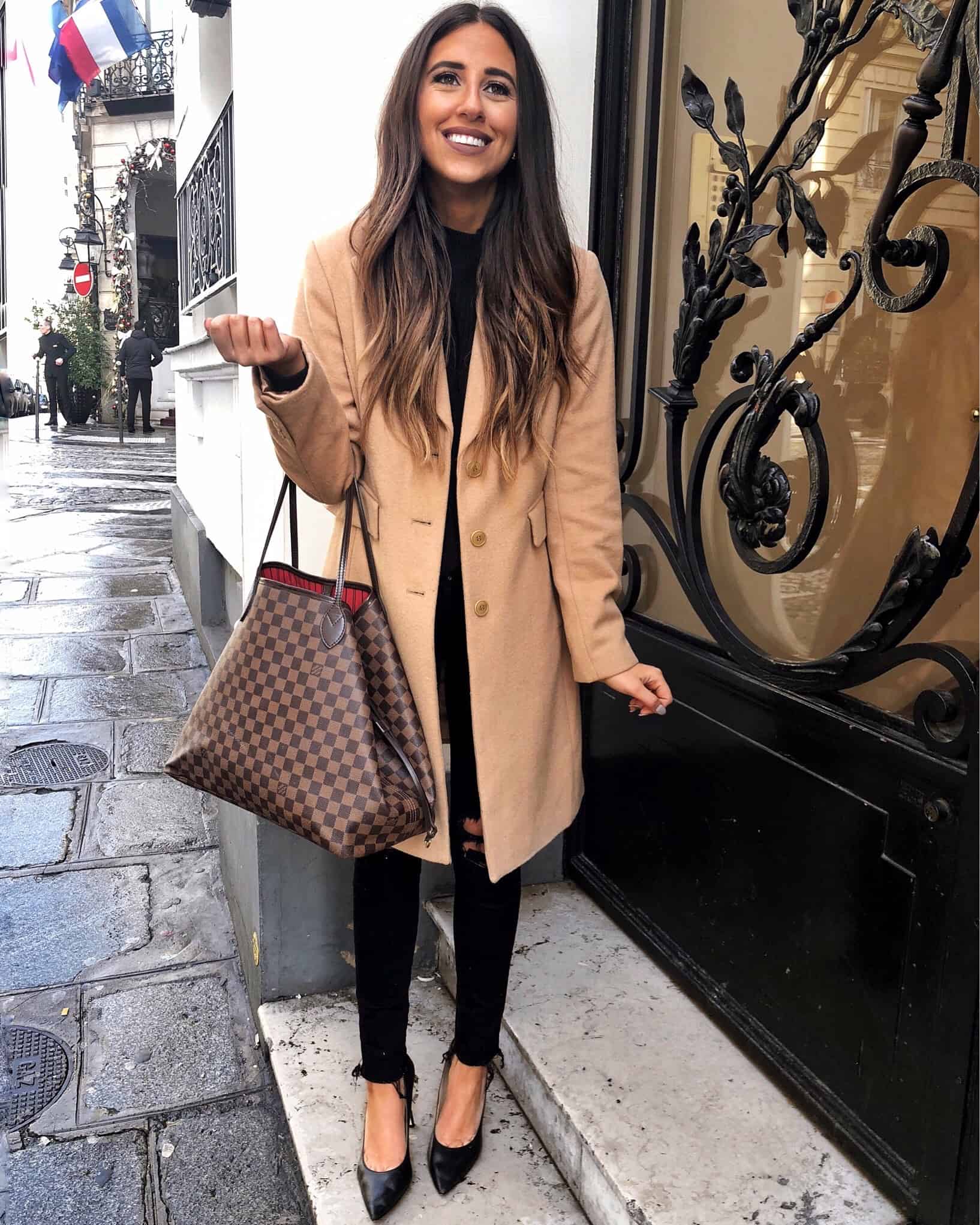 Coat: Kristen Blake ( ON SALE) | Sweater: BP. | Jeans: Top Shop | Shoes: Sam Edelman | Earrings: Tory Burch  | Watch: Michael Kors | Bracelet: David Yurman | Bracelet: David Yurman 

Coat: Top Shop | Sweater: Madwell ( ON SALE ) | Pants : Wit & Wisdom | Scarf:  BP. |  Purse: Givenchy | Shoes: Katelyn Pan |Ear Muffs: Nirvana Designs | Beanie: Treasure & Bond 

Dress: Show Me Your Mumu | Earrings: DISK | Shoes: Marc Fisher 
Where to begin! Paris was absolutely stunning! I know, cliche, but the more I travel, the more I realize the hype around Paris. I have been to Paris several times before but it truly is a romantic city with your significant other. This was our first time together and we made everlasting memories!
For this post, I am going to give you a quick round-up of what we ate, toured, and stayed for those who asked!

Eat: unlike other trips, this one, I was thoroughly prepared for reservations before we arrived. And believe me, this is a rarity, lol! Ted was impressed so I definitely will continue to do this for him 🙂

Les Climats

Les Climats is a high-end restaurant that serves top quality French food (1 star Michelin rating). Not budget freindly, but oh well, we were in Paris lol. I absolutely loved this place. The ambience was romantic, the service was good, and the food was delicious! We splurged a bit on this one and went with the Chef's choice (9-course meal) and a bottle of wine (or 2 lol). I would recommend going with this option, especially if you are not familiar with french food. The waiter will ask if you have any allergies, and the chef works around your needs. If you don't mind breaking the bank a little bit, I would highly recommend it. I especially loved siting by the fire. It was so Pariseanesque (not a word) lol!

Firmin Le Barbier

In my opinion, this is the cutest place on earth! Similar to Les Climats, Firmin is a high-end restaurant. The difference, the owners are literally in the restaurant too. This place seats about 15 people, and the food was fantastic. I ordered the Foie Gras, and the hubby had Escargot (heck, we were in Paris, might as well eat like they do, lol). Dinner was good, but the dessert was excellent!! Hubby and I shared the Chocolate Ganache with passion fruit ice cream, which I LOOOVED. I wish I didn't share lol. I honestly would go back to Paris just for this dessert. I think about it all the time!

Seine River Dinner tour

This one is a good combination if you want to enjoy an incredible view at night with a view. There are plenty of options online and make sure to read the reviews!

Frame

This restaurant is a California-fusion. What that means? No clue really, but that's what they said, lol. On the menu was a mix of American classics and french food. Also, eat outside and enjoy the fantastic view of the Eiffel tower!

Crepes, Croissants, Baguettes, etc., etc.,

I probably stopped at every crepe stand I could find, lol. They are so good and it is so fun to watch them make it! Nutella crepe allll the way.

McDonalds

You know, when you've had too much Escargot and Foie Gras, lol. I honestly don't eat McD in the states but I always have to make a stop. Reminds me of home!

Sights to see:

It's Paris. You can literally walk down any street and there is going to be a story there, with beautiful architecture and the cutest shops! Outside of the main attractions (Eiffel Tower, Louvre, Arc De Triomphe, The Louvre, Seine River tour, etc., etc.,), Paris is really yours to make. The hubby really wanted to do the Hop-on, Hop-off tours, since he so loves the history of the city, and they have English guides to explain everything. Unfortunately, I lost the tickets after the first day, lol, so we went around walking the city the old-fashioned way, and we absolutely loved it! I would recommend doing the same.
Where to stay:

Pullman Paris Tour Eiffel: Hubby had a ton of points with Accor hotels, and found the Pullman Paris Tour Eiffel with the Eiffel Tower view. Absolutely lovely! They had incredible service, conveniently located to the Eiffel Tower. I will say though the room was updated but the bathroom was not. The doors were chipped and needed a major renovation but other than that the bedroom was modern and did the job! Location was a bonus for this one!
Shangri-La Paris: Always a high-end classic. This is where hubby initially wanted to stay, but the place was completely sold it!