Oahu Hawaii Favorites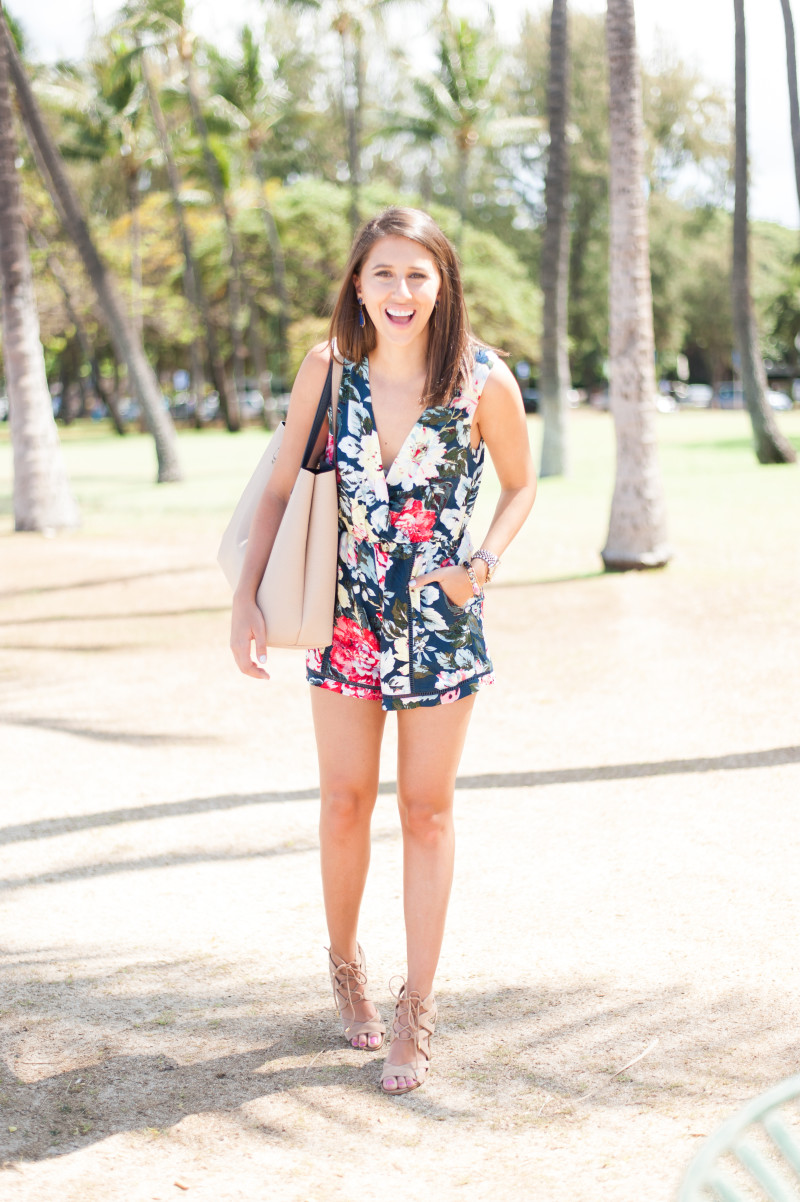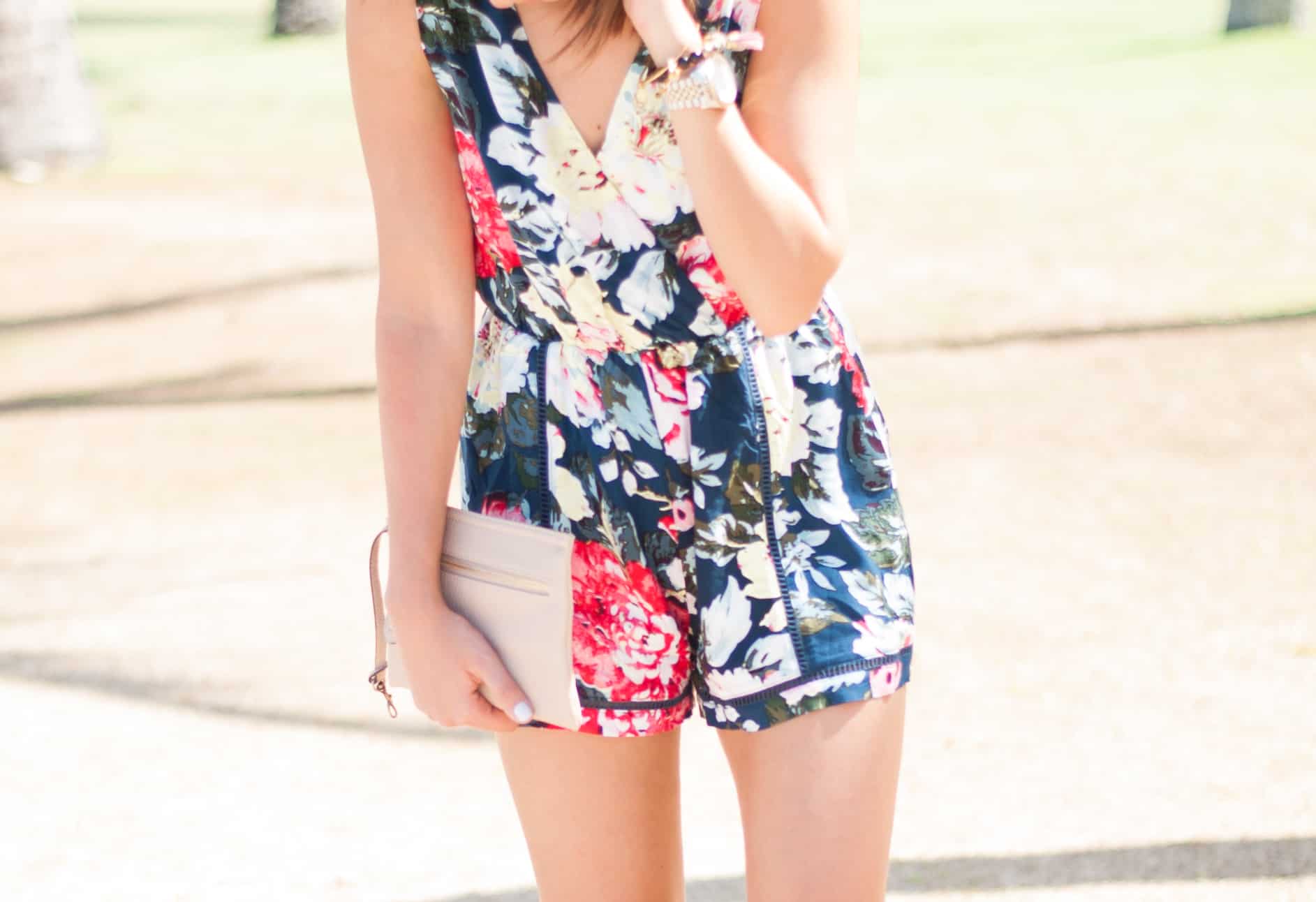 Romper: Mink Pink | Shoes: Sam Edelman | Tote: Street Level | Earrings: Kendra Scott
SO I wanted to first start with this darling romper that screams Hawaii! I am loving the deep v neck and the pockets. I have a black one like this that I bought years and years ago, I think high school, and I still wear it. It is probably one of the longest lasting item in my closet and the fact that this romper comes in this floral print is perfect. These shoes are almost sold out on every website but luckily Amazon has this color still available in majority of sizes. They are the rage this summer and you can see why. If you have been on the fence about them, I recommend snagging them now!
I wanted to share some of my Oahu favorites for those who plan to take a trip there. I have had some questions about our trip and I wanted to name must places to go/eat! I don't have all the answers but these are our favorites from our own experiences. I wanted to keep it short and sweet but if you all are interested in travel diaries, a detailed review, etc, just let a girl know! We are trying to travel as much as possible this next year so would love to hear your blog post recommendations. Don't forget to follow along on Instagram #raadstravel for all our adventures.
Stay: 
Honolulu (Waikiki)
East Side (Kailiu)

Local side. Houses can be rented. 
Food:
Ono Seafood*

 Ma & Pa shop serving Poke. Freshest Poke you will find. Super cheap and our favorite

Gyu-Kaku Japanese BBQ *

Happy hour is the BEST. For dinner you need reservations. Very tasty food and a fun activity to grill your self at the table. Very affordable and luckily there is one in Houston we just discovered. Cant wait to check it out. We went twice we loved it so much. 

Teddy's Bigger Burger

Great burger joint. Perfect for after a day at the beach. 

Acai Bowl

We went to a very random dessert place but you can find this anywhere. One of the best Acai bowls I have had.

Dukes

Oh man this place lol Apparently Jimmy Buffet has a song about this place? This place is very overrated to me. It's like an Apple Bees but you have to wait hours and the food is overpriced. ONLY In my opinion. I know tons of people have recommended this place. This was my second time trying the restaurant. Ted had to beg me to go so he could judge for himself!

Island Snow

Famous shaved ice. Obama has been here. Line is long but a very yummy treat after a day at the beach! Prepare for a line out the door but it does not take long. 
Beaches:
Lanikai Beach

Our absolute favorite. It is on our top 3 beaches that we have ever been too. Literally breahtaking. I have been thinking of our moments here all week. I recommend driving a little down and not parking at the public parking. That beach is packed and not as clear as if you drive literally 5 mins down the road pass the public park. We parked in a neighborhood and walked into beach accesses. If you are going here, let me know and I can send you a private beach entrance that is breathless. 

Sandy Beach

Sandy beach is not much for swimming but to watch surfers which Ted loved. The waves are enormous I wouldn't recommend swimming but watching the surfers was so fun. Lots of locals!

Waikiki Beach

The most popular/basic beach which we are not crazy. It was still nice but very very packed. Sadly trash was also found in the water. Still better than Galveston.
Hikes:
Pillbox

Such an easy beautiful hike. Loved this one! It was on the east side so perfect to hike then head to Lanikai.

Diamond Head

Breathtaking for a sunrise hike. We thought we were smart to do the sunrise hike but apparently busses of people are also waiting to get into the gates of Diamond Head (open at 6:00AM). Sunrise was at 6:27 but it took 10 minutes to wait inline for the park to open and pay. I would recommend getting there at 5:30. No matter what it was so unforgettable. We watched sunrise half way up the mountain and it was just as stunning. Best birthday morning I have ever had

Kokohead

This one is for those who want a good workout. We made it to the top DRENCHED. Literally it is stairs after stairs, 1,049 steps to the top. The view to the top is worth it and the feeling of accomplishment is unreal.
Extra: 
China Walls *

We didn't swim because it looks very dangerous but its nice to go see. It is right next to Koko head and one of the most unforgettable views. Click here for more pictures.

Hanauma Bay

A public beach for snorkeling. We didn't end up going because it was WAY to packed. We aren't for the touristy thing but if that is what you are looking for, you would enjoy this place. Another one I talked Ted out and won this one. He didn't mind!
We usually don't do any tours or excursions on our trip so basically we hiked, ate, beach, ate, watched sunset, then ate again! It was literally perfection. 
*  Highly Recommend