My Pregnancy Musts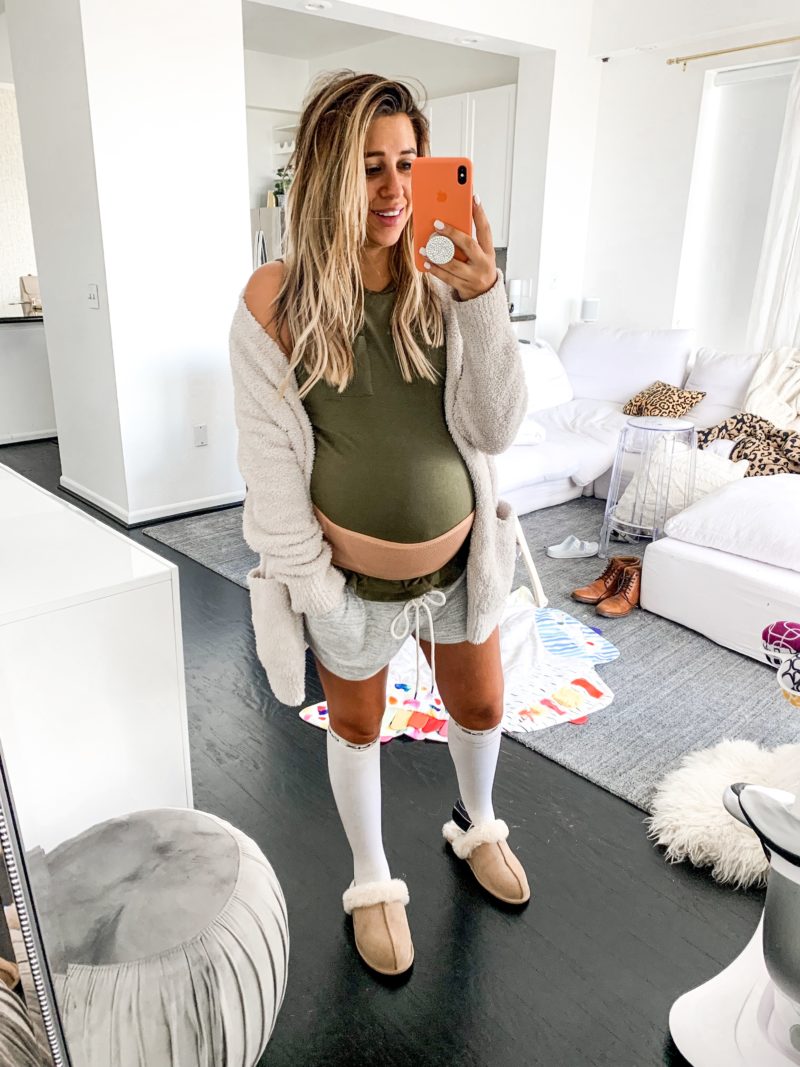 I wanted to share some pregnancy musts that I probably would not have been able to live without during the last 9-10 months. I didn't realize how much I didn't know about pregnancy and what to expect lol! I was so excited to be pregnant during the summer so I can just wear dresses but didn't realize how much I would swell because of the heat. You win some and loose some! Below are some of my amazon orders that saved me!
My Prego Musts
Prego Pillow: I refused to purchase one the first few months and honestly didn't really need one without a bump but now, I can't imagine a nights sleep with out it! Actually around 30 weeks I was sleeping at a hotel without one and woke up SO tired and in so much pain. I ordered one originally from a friends recommendation but it was MASSIVE. It took over the entire bed, it was bigger than me so I couldn't properly snuggle it right, and I felt like the material was itchy. I then ordered this one off of a whim and can't live without it! I also am a big fan of the velvet cover!
Compression Socks: I had NO idea compression socks were a thing until I started flying and noticing I started to swell. I either mentioned it to y'all over on IG or somewhere and so many people recommended compressions! They squeeze your feet, ankles and legs super tight. Being prego during the summer in this Texas heat is NO freaking joke. I've already gone about 2.5 shoe sizes bigger lolol super shocked and hope they come back! At least 10s are always discounted so I have been justifying it that way to buy new pairs of shoes lol! These compression socks help with the swelling along with a bunch of ice packs and elevated feet lol
Silicon ring: along with swollen feet come swollen hands. My wedding ring no longer was fitting so I got a cheap one off of amazon and love it! Ted actually wears a silicon band as his wedding band 365 days of the year lol more function-able and easier to replace!
Facial Sunscreen: This helped with malasma that came about during my second trimester. I never really took the steps to wear sunscreen unless it was already in another product before pregnancy. I then started to notice a major difference in using this product! I never had malasma before so one day I just woke up thinking I just didn't take my make up off properly the night before. Little did I know lol! I also have learned during this pregnancy that my skin has been SUPER dehydrating so lots of this Vitamin E serum and moisturizer. Other than that, I would check with your doctor about skin care!
Belly band: My friend Hollie told me about this little gem since she was walking the other
Maternity belt: During the end, my back has taken a toll from all the weight. This belly belt helps with the support and I can always tell a difference when I wear it.
Prenatals: These are super important to take! I get this question quit a bit so thought I would link them for y'all! I also was taking care / of prenantals but I just ran out of them so I bought this bottle.
Water Jug: I have been using the hospital one but before that I was using this one! Keeping hydrated is so important!
Epsom Salt: I try to soak in the bath with this to help with muscle relief 1-2x a week!
Clothes
Robe / Blanket / *Cardigan: I have become a material SNOB during this pregnancy and only want soft things on me so barefoot dreams has been my go to. I am taking this blanket and cardigan (on sale) to the hospital. First thing I do every morning is wake up and either put on this robe or cardigan.
Intimates: walking around the house or going to bed again I have been so picky about material so I sleep with this little bralette! I have so many of them now! Also have been wearing this pj set since Friday bc its so soft from Amazon!
Jeans: I tried to avoid jeans my entire pregnancy since it was spring and summer. Getting jeans on in the Houston heat was hard lol. But I did find the Good American maternity jeans that I liked along with these maternity shorts!
Bandage Dresses
Yalls Prego Musts / I asked y'all what were yall's prego musts on this IG post so below I will share a few top answers!
Help with Labor // I am by no means an expert (hello first child) but I have done research and talked to ladies about what has helped them with labor. To each its own and these are pretty much old tales but thought I would share this interesting list! Again consult with your doctor!
Dates: about 5-8 a day
Primrose Oil Pills
Raspberry Tea
Eggplant Parm
Walking