Holidays Are Butter Together
Here we are at the end of 2020. This year has been hard to say the least. It's affected a lot of people in many different ways. I know for most of us, especially this year, it's so easy to focus on just the bad. Believe me, thats where my mind goes on so many days. One thing I can always count on to turn my perspective around is looking back at this community. In the beginning of the year when COVID first hit, y'all had an overwhelming response to help. With your responses, I created Butter Together so that the community we've built online could put our hearts together and help those who needed it most. Together we were able to raise $70,000 for those who had been hard hit by COVID. I was beyond shocked and grateful that so many of y'all had the biggest hearts to help others. A couple months ago, we called on the Butter Together family to raise awareness for Breast Cancer Awareness in a virtual 5K. So many of you took the time to run with us and we were able to raise over $4,000. I was again, shocked and grateful for this community. Now I'm calling on the Butter Together family again. The holidays are such a wonderful time but also so hard on some. I'm sure everyone knows someone that is hurting and it's important to check on those now, more than ever. Even if you aren't able to help monetarily you can still make a difference. Next time you're in the neighborhood or have a free moment stop by to check in or call/text that you're thinking of them. The little things can make a big difference when someone is struggling.
A few weeks ago you guys sent in nominations for the Amazon Christmas Wishlist to send a couple families a little something extra to put under their tree this year. After randomly chosen, we spoke with these families and got to know them a little better. Below are their names and a little background info. We wanted to protect their privacy and respect any info they did not choose to share so some things may be changed or left out. You can follow the links below if you would like to send something their way!
---
Be sure to select the family's gift address when checking out!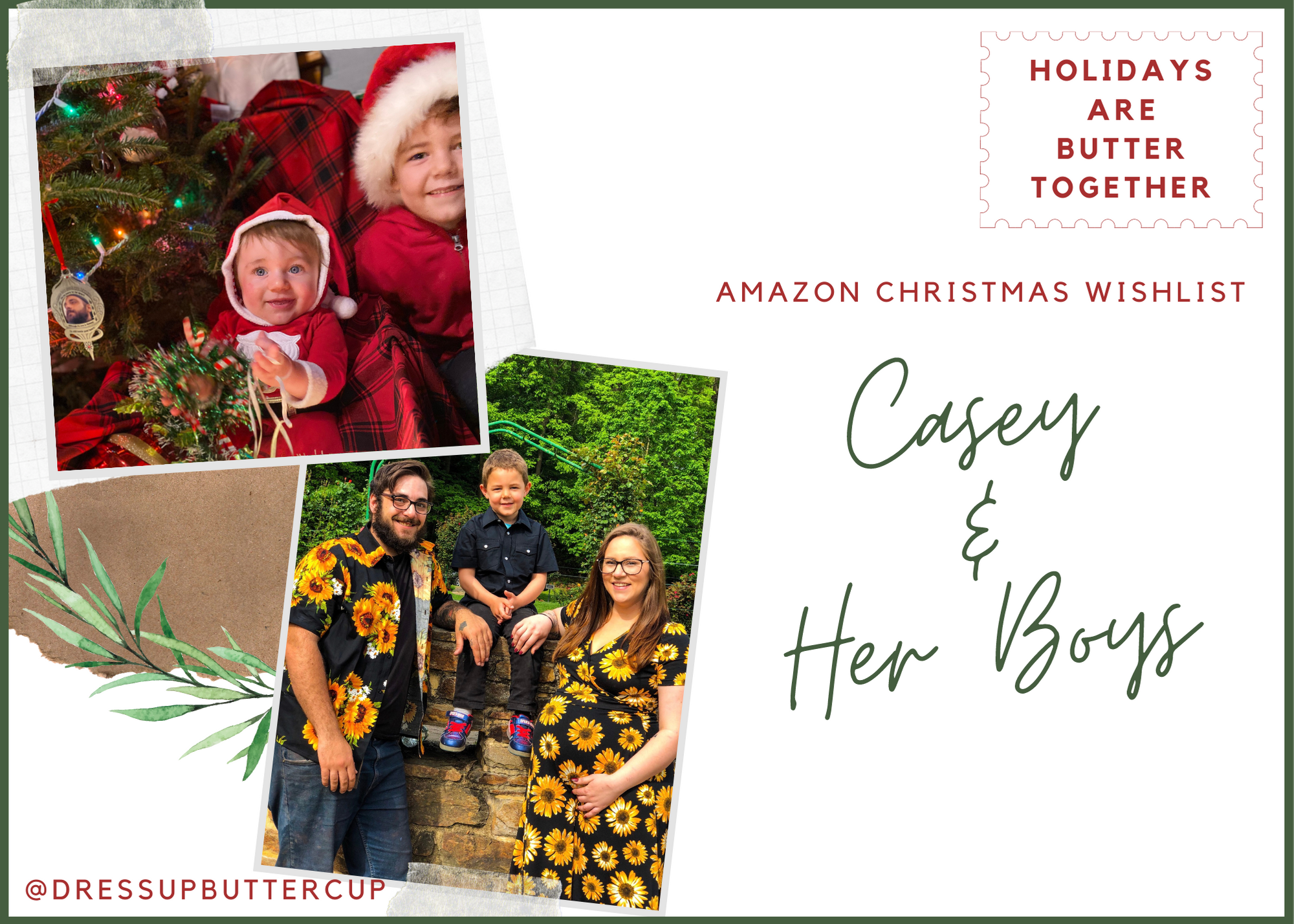 My name is casey, I am 27 years old and I have two beautiful kids ages 5 years and 6 months old. I work for an amazing small bakery in Wilmington Delaware. I had graduated from Wilmington University this past May with my bachelors degree in Business Management. Last year me and my amazing boyfriend brett had bought our first home and shortly after found out we were pregnant with our second child. Things seemed like they were looking up. But there was an underlying problem that popped its ugly head up from time to time. My boyfriend brett was struggling with his own demons that I couldn't fix. I was never ashamed of his problem nor will I ever. Because, to be honest, if you knew him, you would have never suspected him to have such a problem. When you hear of someone having an addiction or drug problem, you may think the worst. But me, his friends and family knew the real Brett. Brett was the love of my life, my best friend (still is),he tried his best to be the best dad he could be, and he tried to be the best son and brother. He would give the shirt off his back to anyone in need. He tried to do his best to provide for his family and make us all proud and that's why I stayed and tried to support him. But there were times of weakness. On September 10, 2020, our hearts were broken and our lives were shattered with the news that he had lost his long time battle with addiction. He was much more than his problem. He was a beautiful person with a beautiful heart and caring soul. That's probably hard to believe, but he truly was, and anyone who he came into contact with knew that. Things were not easy, life wasn't easy but I know he did his best to fight it. He leaves behind so much pain and hurt that it's hard to think about life without him. After his passing and thinking about how to raise two boys without their dad was and still is unthinkable. I'm so grateful to say that brett was brought up by two amazing parents along side with his amazing sister and her family. They helped in so many ways that I wouldn't even know how to repay them. My oldest son is dealing with a lot of hurt and as a mother you feel like a failure because you can't take that pain away, though you want to so bad and the overwhelming saddens knowing your youngest won't ever have the chance to know his father or Brett seeing our boys grow up. Due to covid my 5 year old has to do online school and with the help of his nonni and Poppop I'm still able to work to provide for them. And with the help of my amazing work family I am able to also work and take care of my kids without worrying about if I'll have a job or not. I can't put in words the amount of support I have from both parties and I'll be forever grateful for them all. Though brett has passed I know I'll still have a family supporting me (and I supporting them) through this horrible time. If it weren't for them I wouldn't know where I would be mentally or emotionally, especially being a single mother, upholding a home, working and trying to still grieve. This holiday season and everyday beyond that is going to be painful and hard to get through. No one thinks that they would have to bury a son or the love of their life, a brother or even a child having to say goodbye to their dad for the last time, all the crying sessions at night, and wondering how it's even possible to continue on while handling all the stressors of life. Though I still can't fathom my life without him, I also could never imagine my life without his family and my work family. I am forever grateful , appreciative and humble with their support and for this blog. So thank you!
Casey & Her Boys Amazon Wishlist
---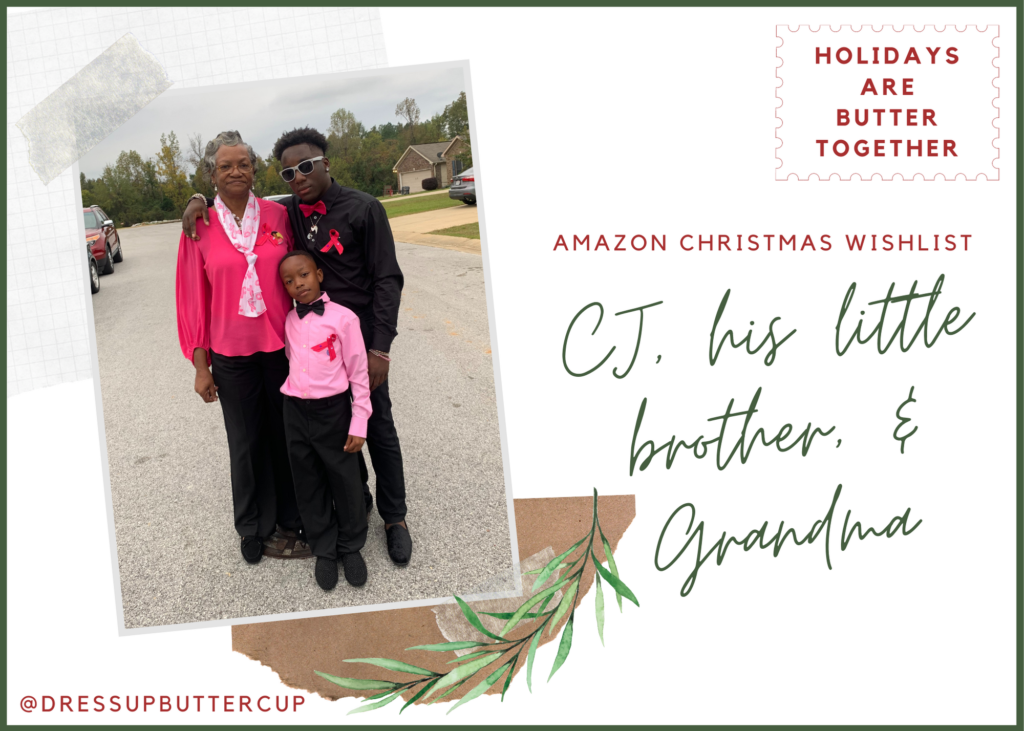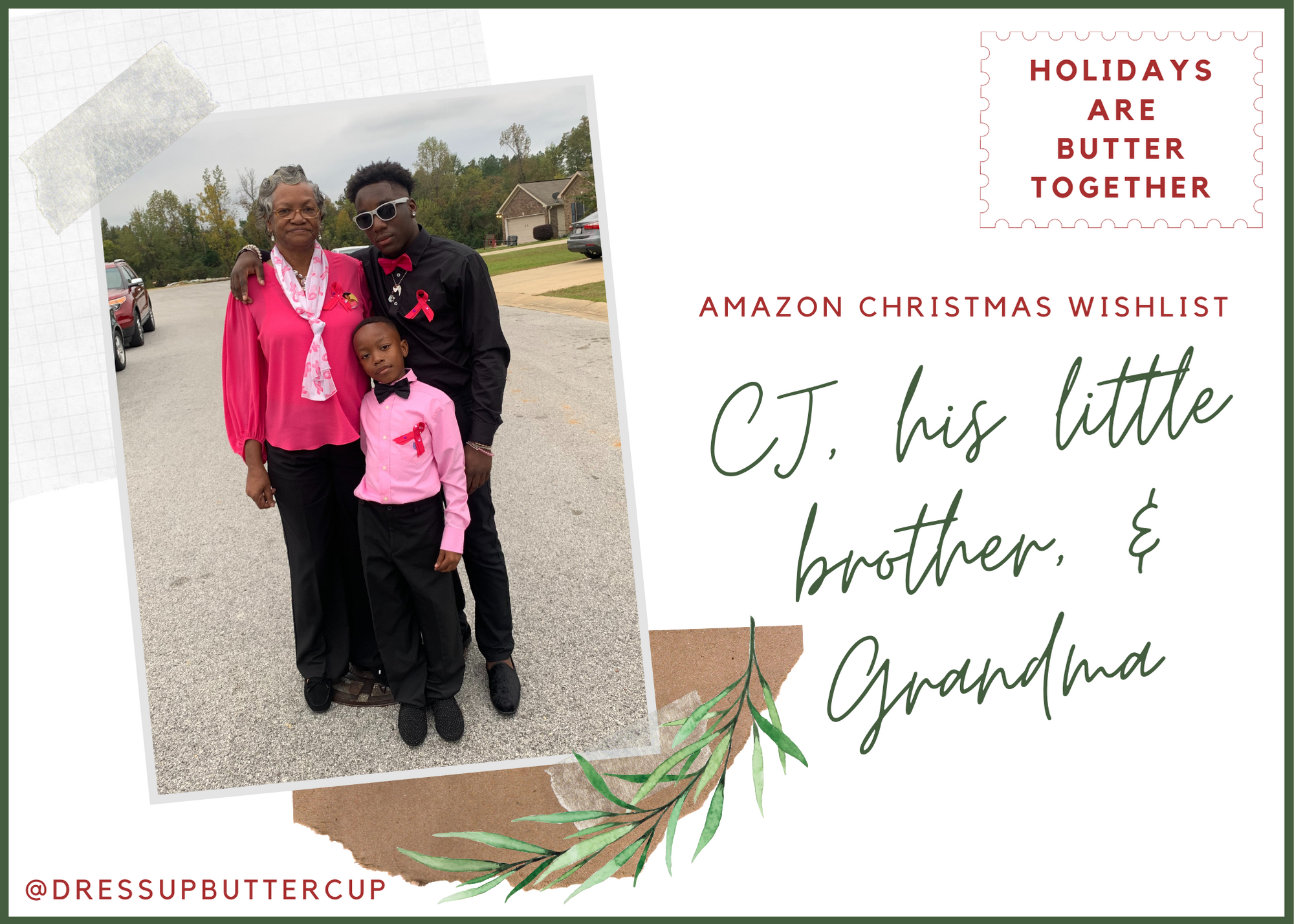 Hi my names CJ, I am 17 years old, a junior in high school in Tuscaloosa, Alabama. I have a younger brother, Ja'veon , who is 9 years old.
Our story comes when my mom, Tracey, was diagnosed with breast cancer in 2017, when I was just 13 years old. She was cured and beat it. Awhile after beating cancer the first time they unfortunately found another spot of cancer.
I am a student athlete at my high school and am very engaged in football. Throughout this season I saw the support of my coaches, friends and teammates that kept me going as my mom became more sick. Although my mom was very weak she was able to be golf carted to the end zone to watch my game on my 17th Birthday. Fast forward to my last home football game, October 30, the Lord blessed me by having my mom for one last night. She passed on October 31st. My amazing Grandma, Dinah, is who is taking care of me and my younger brother. I am very grateful for her and her strength to take care of us. Though this has been a very difficult season, I'm incredibly grateful for the people who surround me and my family with comfort and love.
Thank each one of you who even takes the time to look at our wishlists. We appreciate it so much
Cj & His Family's Amazon Wishlist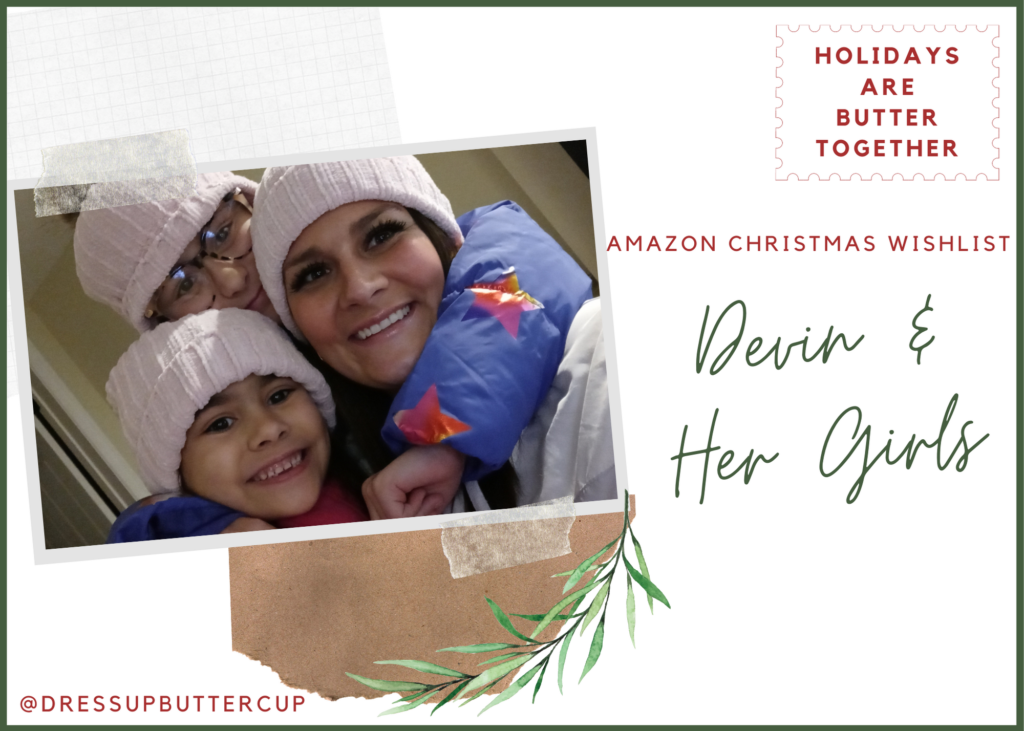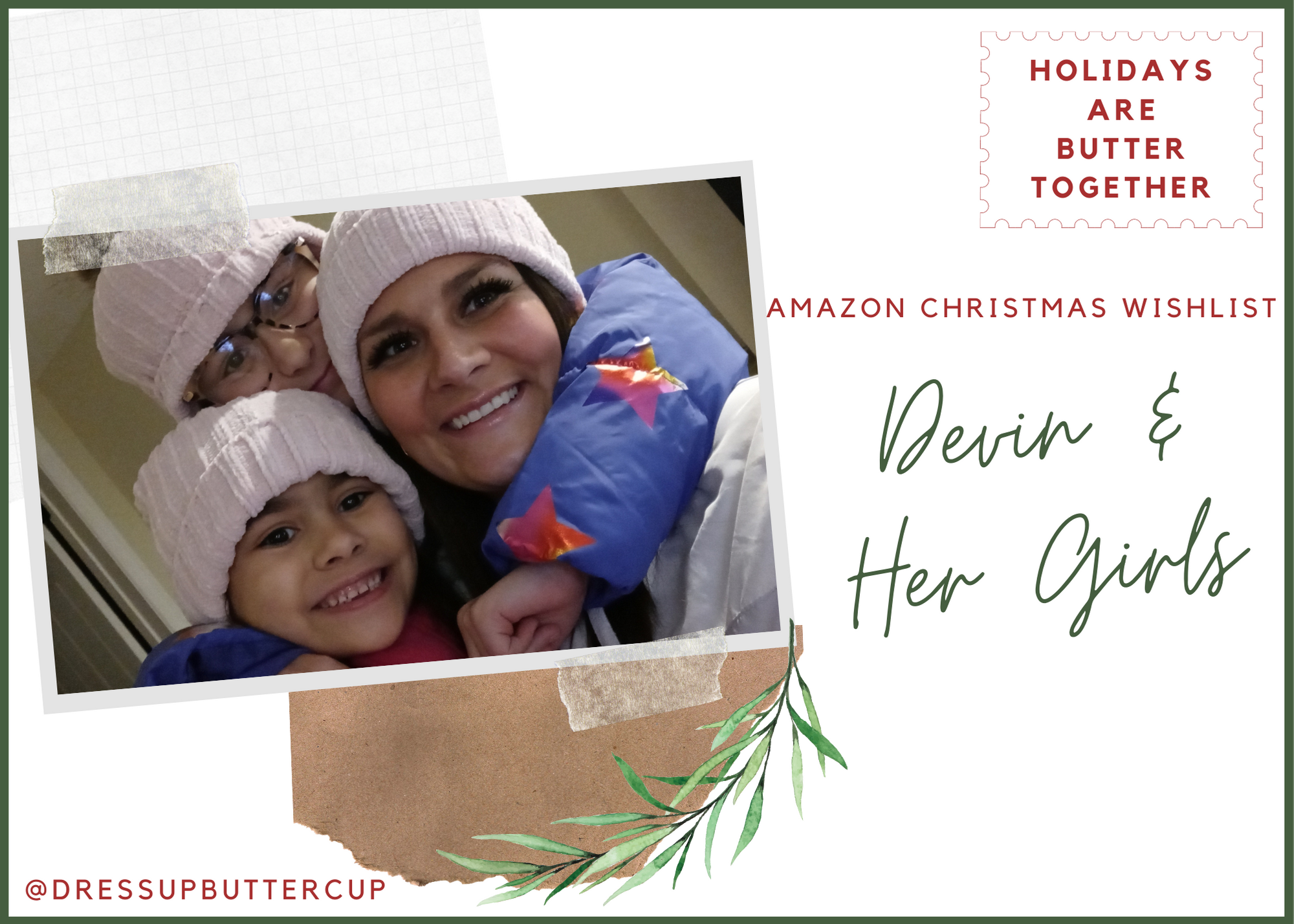 Hello, my name is Devin and I have 2 daughters ages 9 and 6 years old. A couple months ago I finally gained the courage to leave an abusive spouse and toxic environment. With the support of my family, we left in the middle of the night with just the clothes we were wearing and moved states away. We have been living with my sister and her family. I never felt I would be able to survive on my own. I realize now that he has broken me in more ways than any human should have to endure, but he doesn't have control now. I do.
I am interviewing daily and will be starting a seasonal position until I can find something permanent. I will be saving every penny to get an apartment and a vehicle for myself and my girls. We will need every basic essential required for daily life. When my sister told me that she nominated me as a family in need and that I was selected, I couldn't believe it. Nothing this generous has ever happened to me. I can not even say it outloud without crying. I am reminded that I have made the right choice, that I can survive and start a new life from nothing.
Thankfully, my sister, brother in law, and some of their very close friends are playing Santa for my girls this year. I have a lot to be thankful for on this world awakening journey, but I am very aware that there is a lot of work ahead. This is by far the hardest thing I have ever been through. I am so very thankful to have been selected, this will be a jump start to starting our lives over and being the strongest single mom I can be.
PS. If you are a woman that is in a situation like mine, this isn't easy but every day is so much better than the life we left behind. Don't give up, you are stronger than you think.
Devin & her girl's Amazon Wishlist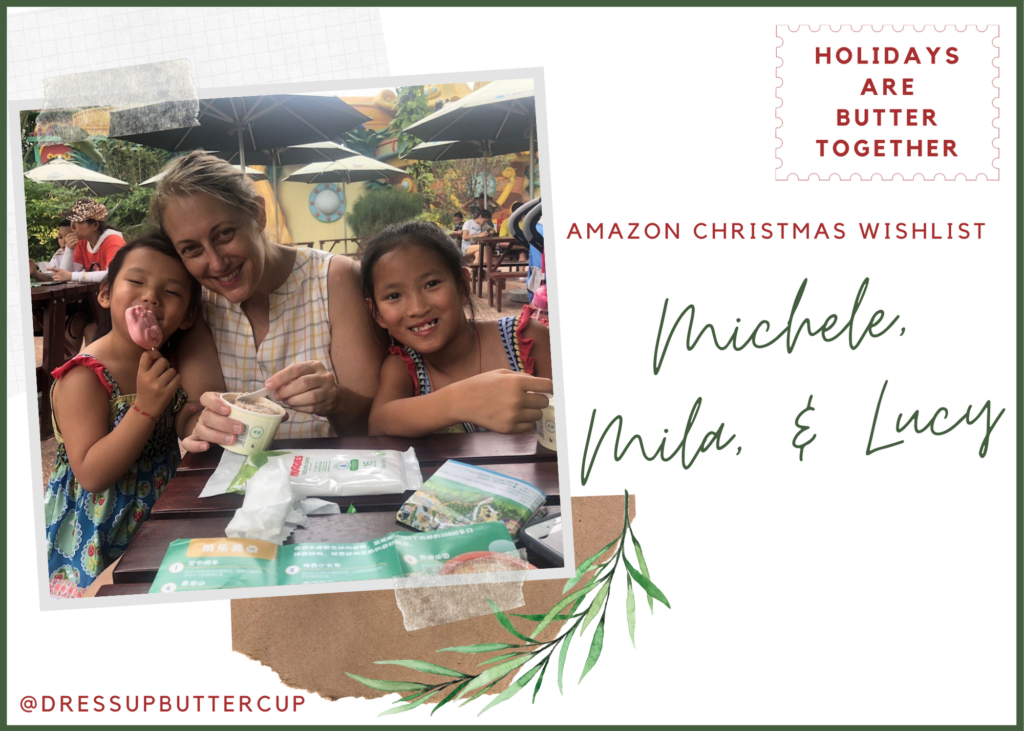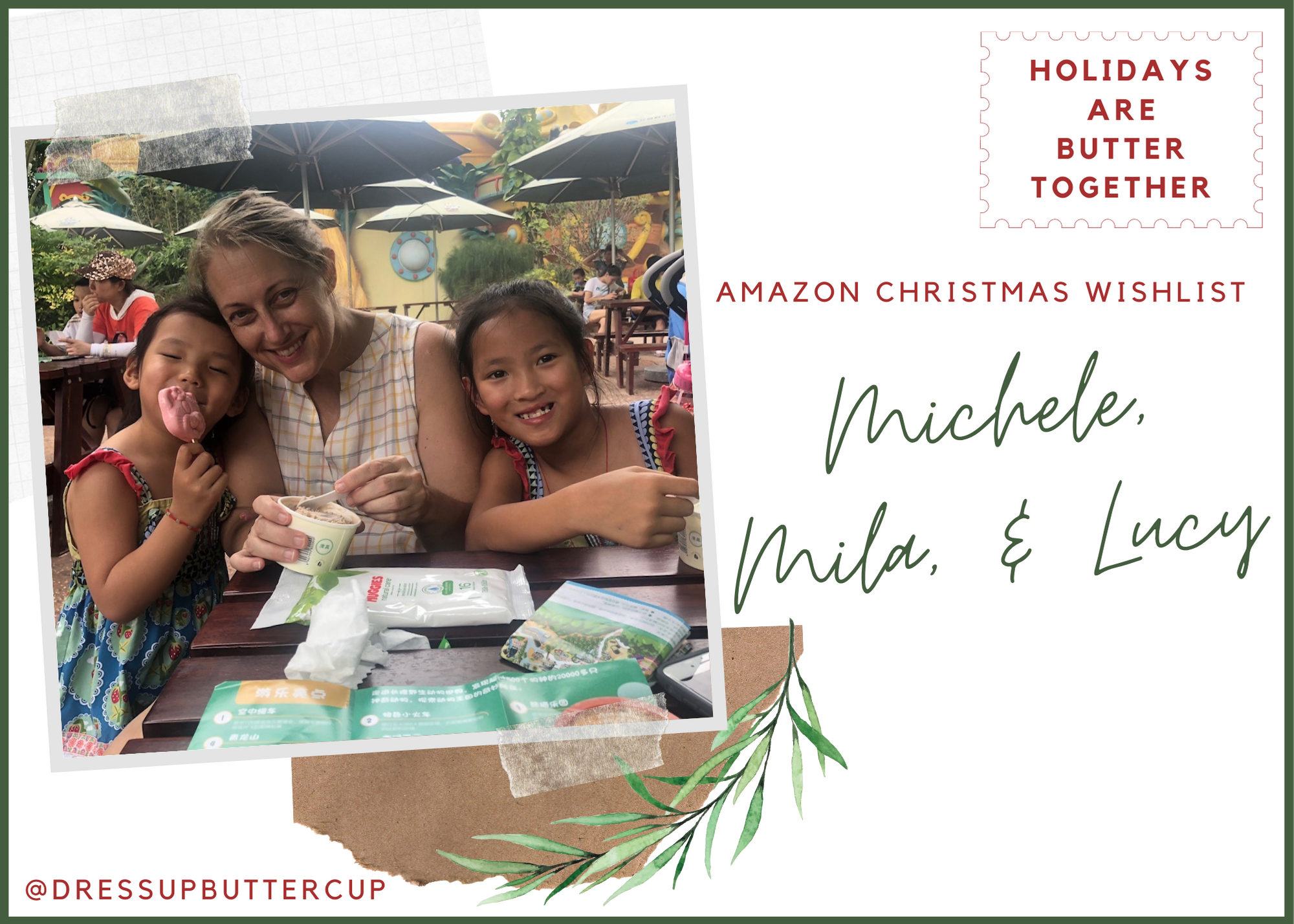 I'm a single mom to 6 children(4 grown and 2 littles) and a 20+ year lower elementary teacher. I adopted two little girls because I knew I had so much more to give. A good career, a teachers background to guide them, and not afraid to tackle medical needs that we would encounter as the girls grow up. We were blessed to bring Lucy home in September 2019, just a few short months before COVID hit. Both girls have special needs. My 10 yr old, Mila has a cleft lip and cleft palate and Lucy has Spina Bifida Myelomeningocele. Both girls came home in the kindergarten year and to school we went- pretty quickly after landing in the US. But when COVID closed everything down in March 2020 we were all home, for teaching, and learning. It gave me an amazing opportunity to work with the girls on their academic gaps and to allow them to make some developmental milestones they missed by living in an orphanage for their entire lives. But I also greatly looked forward to going back to school, working with my students, working with my coworkers, and the girls spending time with friends and learning in a typical setting.
Suddenly I was very overwhelmed when thinking about Lucy returning to a classroom setting daily with so many medical concerns. She underwent major spinal surgery in May, at the height of the COVID shut down, and requires medical intervention/support daily. Going to the school clinic 3x's daily suddenly seemed so unsafe, with sick children coming and going all day long. And then there was the worry over what would happen to me if I got sick- who would meet Lucy's medical needs?
After a few weeks of mass confusion in our district over how to safely open our schools, and a lot of advocating for our safety to meet Lucy's needs, I was finally allowed to join the online program in our district and teach my kindergartners from home. Both girls are home with me always. We learn, play, work, and teach together daily. We look forward to the day when we can return to school, friends and coworkers. I'm so grateful for my ability to teach from home- wow! – It has been a blessing for meeting Lucy's needs. It has been a huge learning curve, and sometimes a lot of practicing with technology skills, but I'm grateful everyday to be home with the girls, and grateful every day for my ability to continue teaching and grateful for those cute kindergarten children that I see on Zoom or who send me their little videos of their reading and learning. Thank you so much for choosing our family for this amazing gift. My Christmas for the girls is really small. I don't feel worthy, but I am so grateful. These little girls never had a Christmas before they came home. This is Mila's 4th Christmas and this will only be Lucy's 2nd Christmas ever. Thank you for making this magical for them. I am so sincerely grateful for this gift.
*fulfilled*
---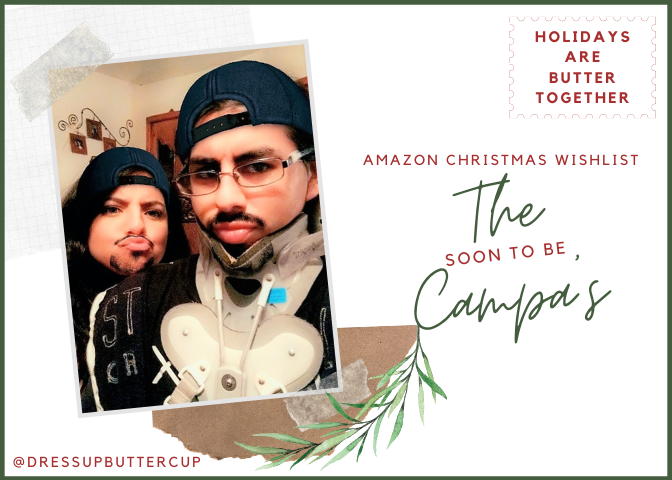 My name is Tasni (soon to be Campa) and My Fiancé is Martin. On December 17th, we will have been together for 7 years, but I would be lying if I said they've all been full of nothing but Joy. All couples, all families, all human beings have their ups and downs, their trials and tribulations, going through this thing called life. This is a bit of insight, on the rollercoaster that has been the last 4 years, that I'm happy to be able to share with all those that are reading. In 2017 Martin and I were ready to face what we thought would be our greatest blessing and most challenging obstacle, parenthood. We were ecstatic but scared as so many others are and began fantasizing, about our future, of what he/she would look like, of what name we would give them, and of course what our holiday family Christmas pictures would be.
But like a teacher snapping their student awake from their daydreaming I woke up one day to the feeling that something was wrong. We went to the doctor and received news that I would not go full term. It was a very dark time for both of us, but we stood together, and we found strength in one another. A year later and even to this day we carry that with us, but we were able to get ourselves to a better place. We became first-time homeowners and things were going well for us both until I received some news that would send me back down the rabbit hole. One of my closest friends practically my sister, had come face to face with some demons and took her own life, the feeling of helplessness to be able to do anything would send me back to the miscarriage and I felt lost all over again. Months went by and my boyfriend at the time would always fear for my mental health and try to make me smile. We got engaged on December 1st, 2018 and things were once again slowly getting better.
We were planning our wedding until August 18, 2019 when my Fiancé and I went on a family trip to yogi park in Burleson. It was an amazing vacation until the morning before we were planning on coming home. Martin and his mom were returning the rental golf cart when a man driving his personal vehicle had a seizure and hit them head-on, they were thrown out of the golf cart only to get run over. Martin had had his C1 and C2 shattered from where the truck went over his neck and had to be airlifted to Fort Worth hospital. He had his neck fused from his C1 to T1, and after an 8-hour surgery, the doctor said he was lucky to be alive, that most people would have died instantly and that the only reason he survived was that his ligaments were still intact. The days that followed were hard for him, he would have to learn to walk, eat, and sit all over again but I was determined to see him better than ever. He slowly recovered and was able to finally go back to work in February only to lose his job in March because of the COVID lay-offs. Fast forward almost a year later, he is back in the gym trying to take small steps to where he was, I am returning back to college and we are planning our wedding on July 24th, 2021.
Although we have experienced many things, we are incredibly grateful for our health and the chance to be a part of this amazing opportunity, not only to be blessed but hopefully somehow be a blessing on to others and remind people that "THIS TOO, SHALL PASS, When things are bad remember: It won't always be this way. Take one day at a time. When things are good, remember: It won't always be this way. Enjoy every great moment." Thank you to my fiancé's sister for nominating us, even before this she was one of our biggest blessing helping us every step of our journey, thank you Alma, love you sis.
(ps we chose the photo below it was three months after my fiance's accident and we didn't let that Christmas be a sad one)
*fulfilled*
---
---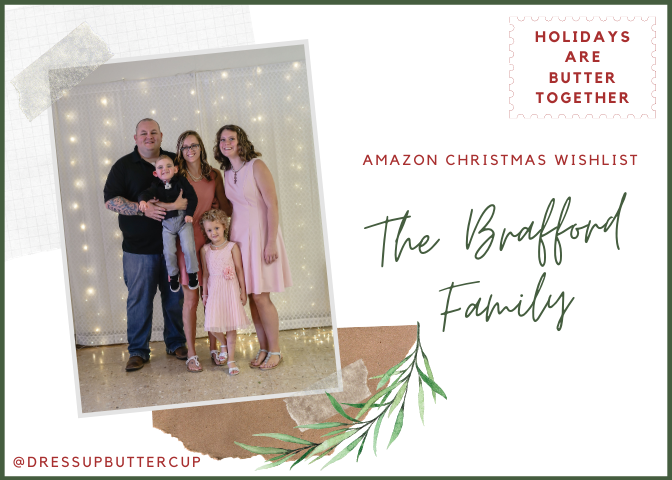 We are the Braffords. We have 3 children, one being special needs that rules our home but lights our life. As a single income family we have made it all work out financially. We are able to allow myself to stay home and work closely with the nurses and therapists that are needed for my sons care. And during this pandemic it has been an easier transition with me being home, to not have to worry about our school age girls having to remote learn. We have never wanted for much and are overjoyed and overwhelmed with being chosen for this opportunity to pick things that we never thought about wanting the little extras for our kids and our family. Thank you all so much!
*fulfilled*
---
---
---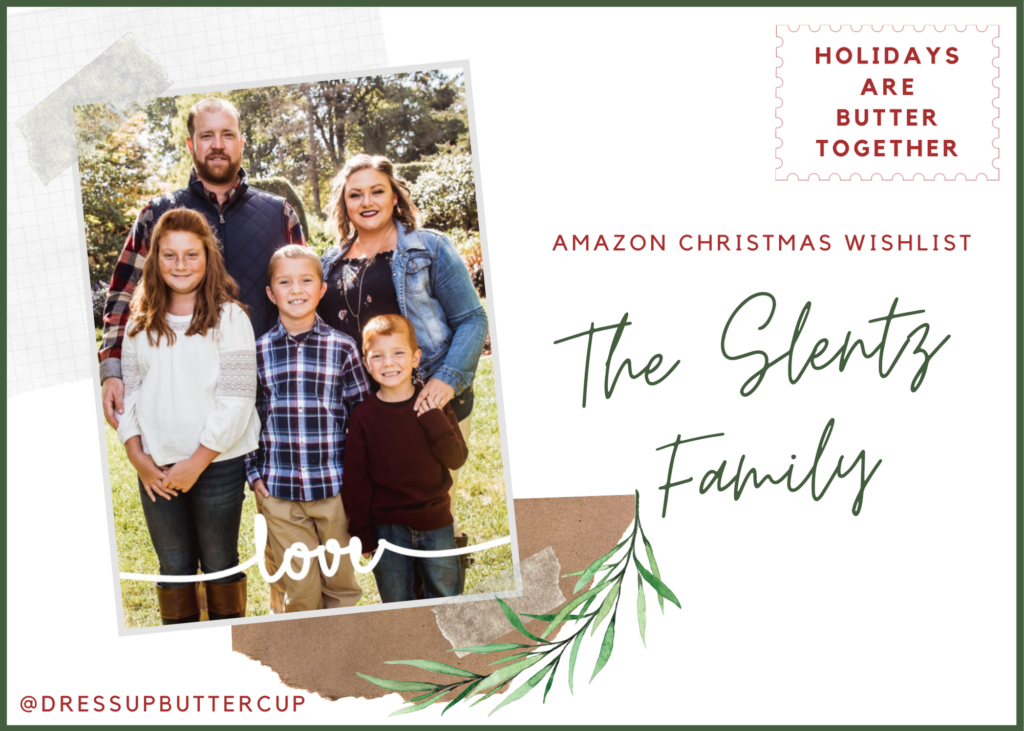 A little about us – The Slentz
My name is Stacy and my husband's name is Matt. We have 3 children (I am their step mother, I have no children of my own and we don't have any together), Taylor, Caden and Evan, despite their red hair – they aren't too wild. Matt and I have been together for 5 years and we will be married for a year on St. Patrick's Day 2021 and it's been a wild ride! We live in Canton, OH and my husband is currently working but I am not, due to my recent cancer diagnosis. In 2017, at 30 years old I was diagnosed with stage 2 breast cancer which I beat in 2018! In January of this year my hip broke without falling and I knew something was wrong. Scans showed that the cancer had returned and was metastatic, so at 33, I find out that I have cancer again and will not be able to fight it this time. Cancer has spread to my bones, lung, liver, pancreas, lymph nodes and brain. I have been doing treatments for about a year now and have been doing well but the cancer is still getting bigger in some areas and new cancer is showing up as of last month.
The past year has been really tough and without me working – Christmas was going to be small for our children this year so this opportunity is amazing!!!! My family is so thankful and the kids will be so grateful to have some more gifts under the tree!
*wishlist fulfilled*
---
---
---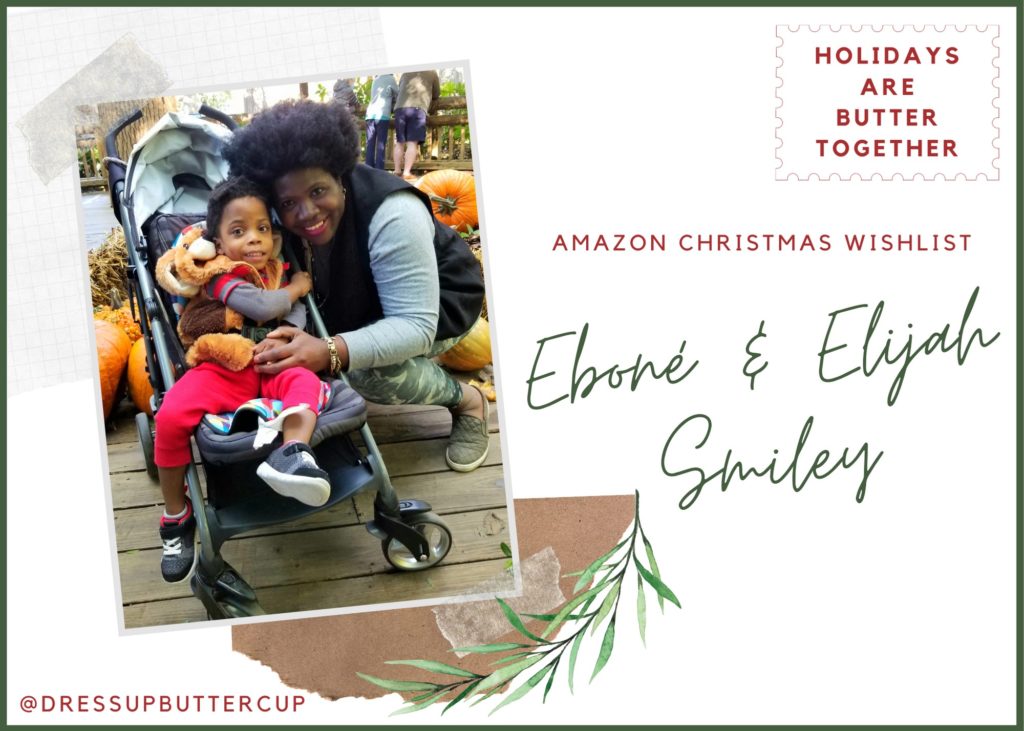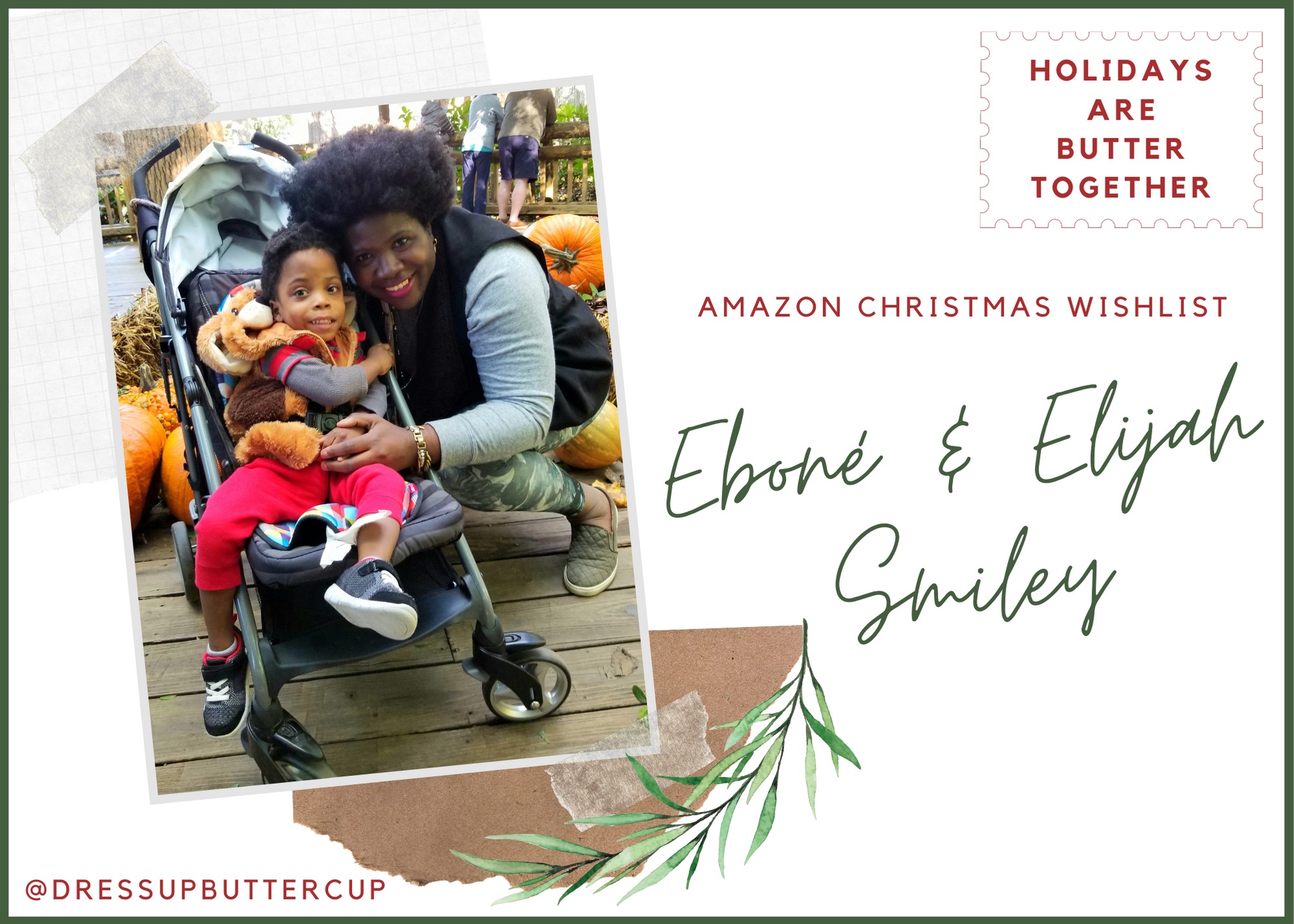 Our Story: I am a single Mom to my 3 year old son Elijah. He was born prematurely at 26 weeks gestation after I spent 2 weeks in the hospital trying to stay pregnant. He had other plans, and we spent his first 9.5 months in the NICU. Elijah is a fighter, just like his Momma, and while he continues to have development delays, he is thriving. We received his Autism diagnosis earlier this year which, on one hand was scary at first, but after educating myself more, we have begun a few different therapies which have been so helpful. Elijah now has ABA Therapy 5x/week plus weekly Speech and Feeding therapy sessions. Due to CV19, we haven't started Physical or Occupational therapy, but we hope to do so in 2021. I do work as much as I can, but with his therapy schedule, a 40 hour/week full-time job is not in the cards right now. I supplement my income with freelance writing, and my side-hustle, but I'm so very grateful for our village of friends and family like my friend Britt that nominated us.
Thank you so much for this opportunity to be featured.
*wishlist fulfilled*