Easy Super Bowl Snacks
Wanted to try out a couple easy Pinterest recipes for you guys that would be quick options for Super Bowl Sunday! These recipes are all so festive and are perfect to put out if you're hosting or bringing to friends house. All about working smarter not harder, so a lot of these recipes incorporate pre-made dips and ingredients you can stock up on from the store. Just plate them in a fancy way and ditch the containers and your guests will never know lol. Which one are y'all making?!
---
Football Bread Bowls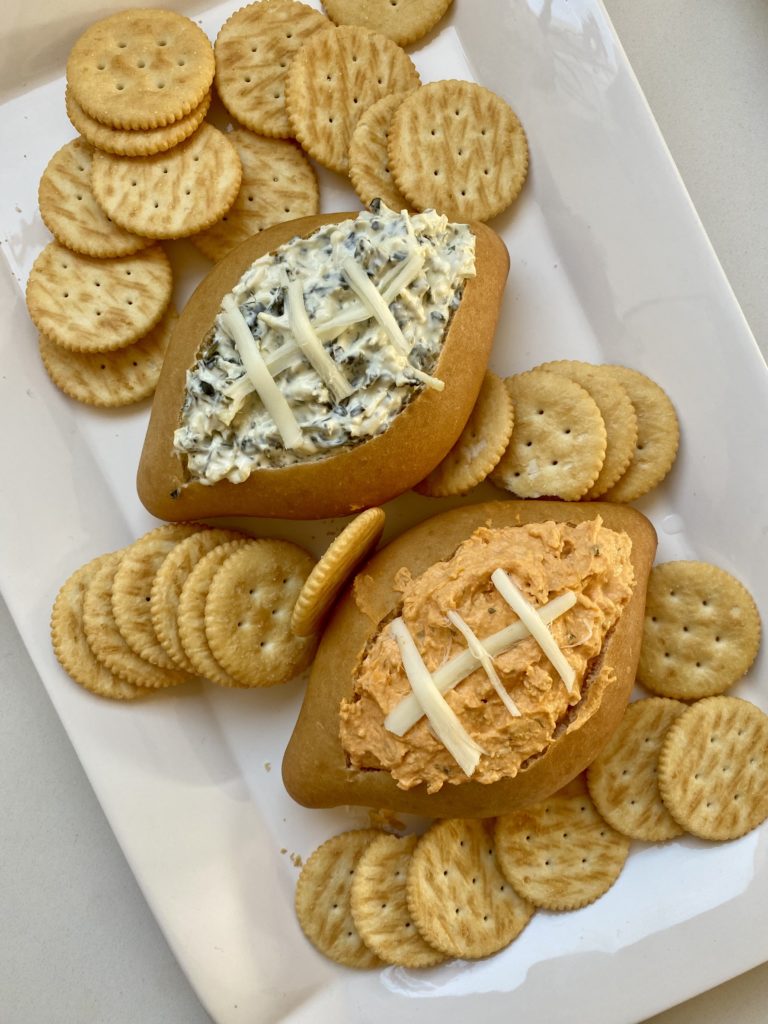 INGREDIENTS:
Bolillo rolls (already football shaped!)
Dip of your choice
String cheese
Crackers for serving
DIRECTIONS:
Heat dips of your choice
Hollow out football shape into each roll and spoon dips into bread bowls
Add strands of string cheese to the top of the dip for a cute touch!
Serve with crackers or tortilla chips.
Football Meatball Sliders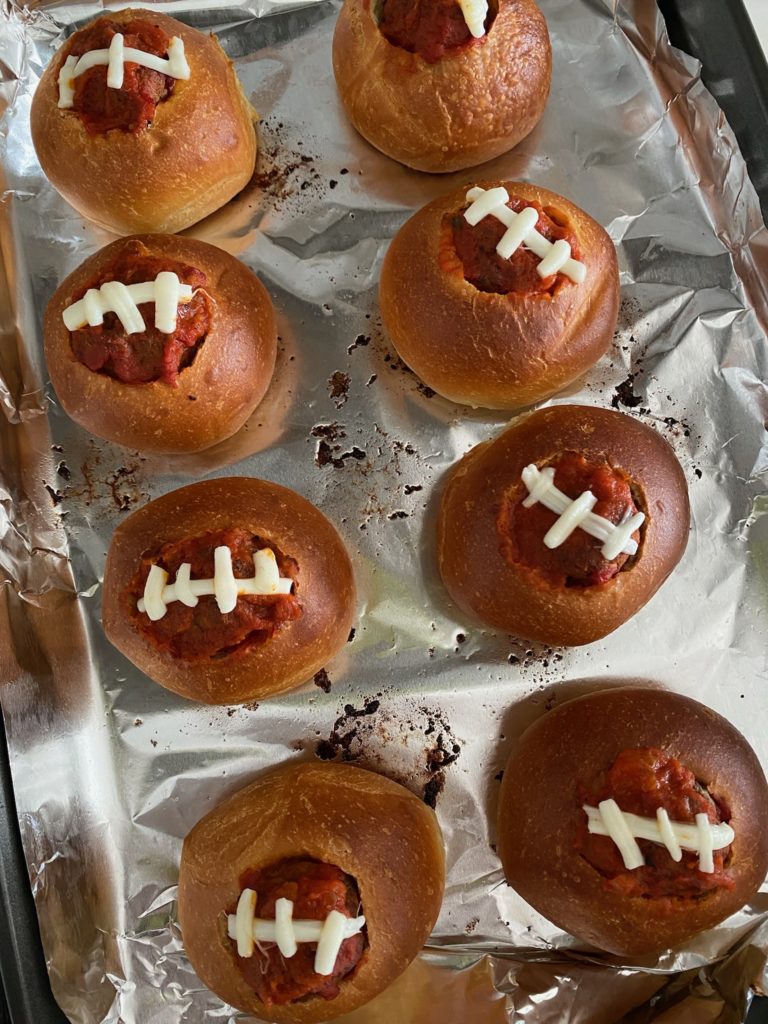 INGREDIENTS:
Dinner rolls
Marinara sauce
Frozen meatballs
Slide provolone cheese
Shredded cheese
DIRECTIONS:
Heat meatballs according to instructions on package
While meatballs are cooking, slice off the top of each roll and cut a small hole where the meatball will fit and add part of a slice of cheese to the bottom of the roll
Once meatballs have come out of oven, toss in marinara sauce and place meatball into the hole of the roll
Top meatball with string cheese to look like football stitching
Place prepared meatball sliders into the oven for an additional 7 minutes to warm roll and melt the cheese!
Cookie Football Field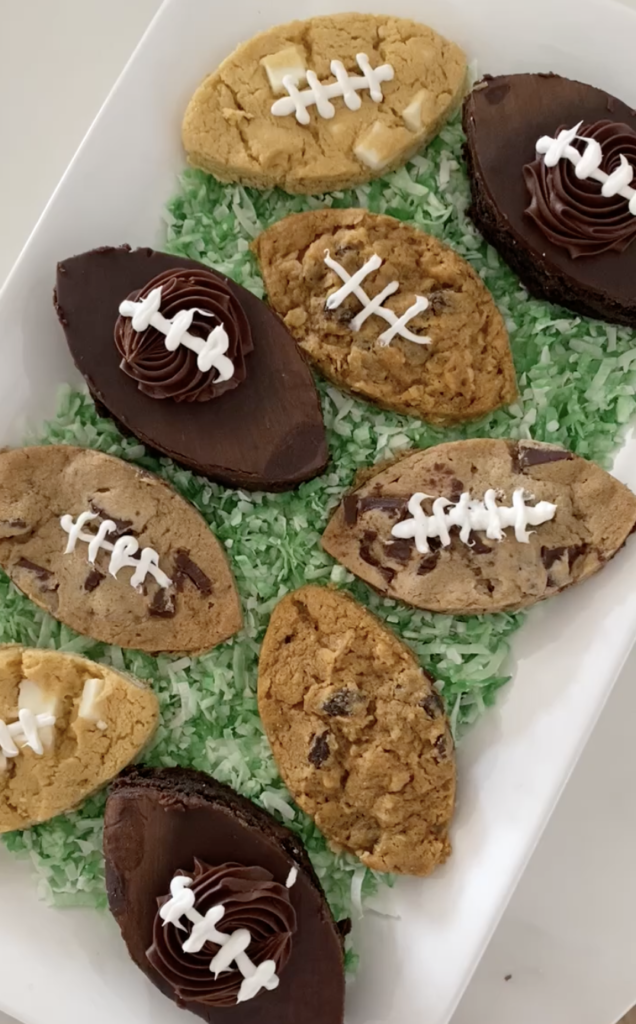 INGREDIENTS:
Shredded coconut
Green food coloring
Cookies (pick a few of your favs for a variety!) and or brownies
White icing
Football cookie cutter
DIRECTIONS:
Mix shredded coconut in a brown with a splash of green food coloring and spread out into thin layer on a serving platter
Use cookie cutter to cut the brownies and cookies into a football shape
Use white icing to decorate the brownies and cookies with white football stitches
Place decorated cookies on your coconut field!
Football Deviled Eggs Recipe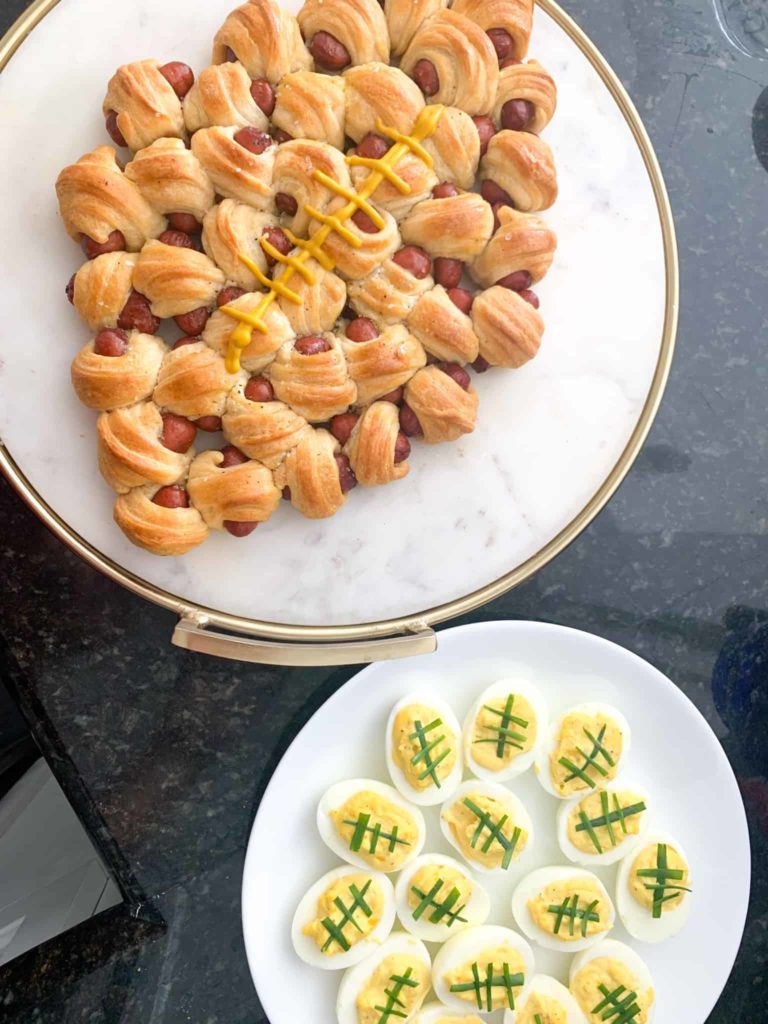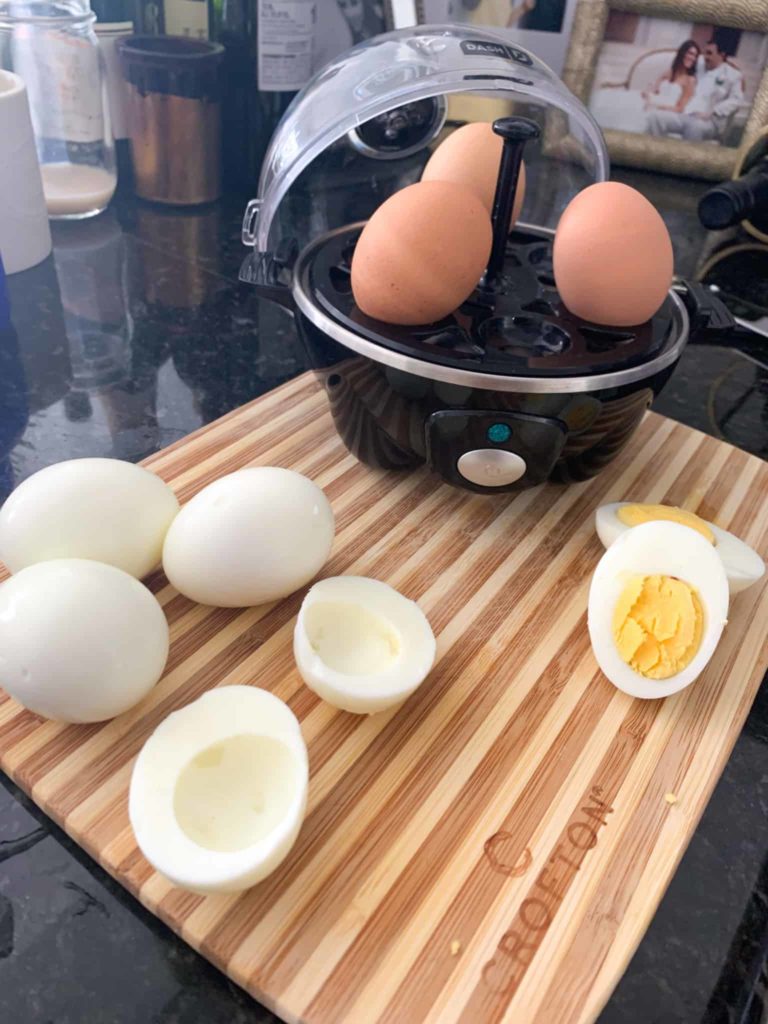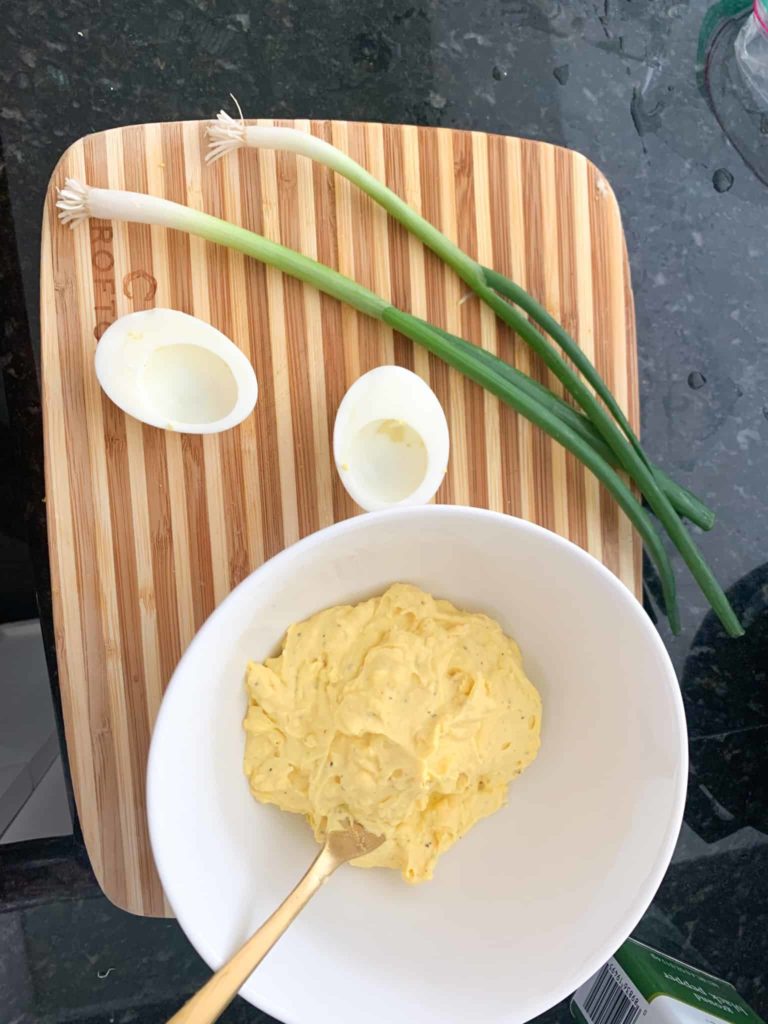 INGREDIENTS:
6 Hard boiled eggs
1/4 cup mayonnaise
1/2 teaspoon dried mustard
1/2 teaspoon lemon juice
1/4 teaspoon salt
pinch of pepper
green onions
DIRECTIONS:
Place eggs in a saucepan and cover with cold water. Bring water to a boil and immediately remove from heat. Cover and let stand for about 15 minutes. Pour off the hot water and rapidly cool eggs by running them under cold water (or place in ice water) until completely cooled. (or use the super easy egg cooker like I did lolol.) Peel the eggs and cut them in half, and place the yolks in a bowl. Reserve the whites on a serving tray.
Mix the mayonnaise, dried mustard, lemon juice, salt and pepper into the yolks. Spoon about 1 tablespoon into each egg white half. Add thinly sliced green onion to resemble the stitching on a football. Refrigerate until serving.
---
Pigskins in a Blanket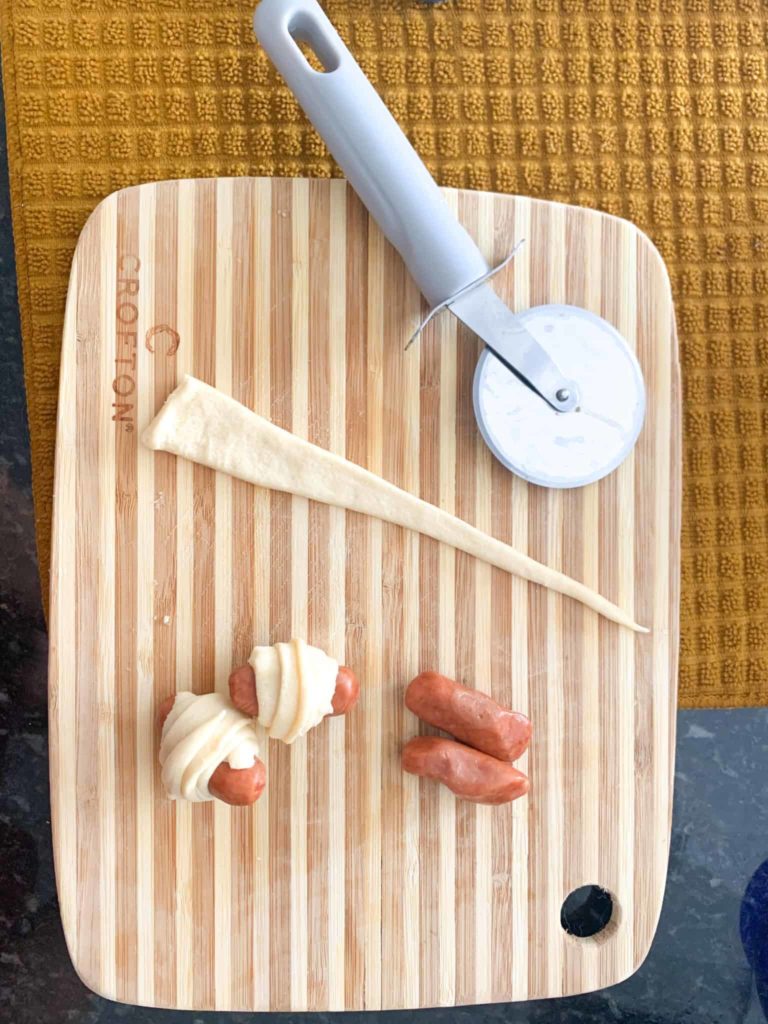 INGREDIENTS:
2 tubes (8 oz each) refrigerated crescent rolls
24 mini hot dogs
Egg wash
1 tsp. black pepper
1 tsp. coarse salt
Yellow Mustard
Ketchup, for serving
DIRECTIONS:
Preheat oven to 375º. Line a large rimmed baking sheet with parchment paper.
Slice crescent rolls lengthwise into thirds. Place a mini hot dog on the thick end of each triangle and roll up.
Arrange the pigs in a football shape, sided by side, on the baking sheet. They should be touching! Brush with egg wash and sprinkle with salt and pepper. Bake for 15-20 minutes, until the crescents are golden.
Draw lines with yellow mustard to mimic the laces of a football. Let cool for 10 minutes before serving. Serve with ketchup for dipping.
---
Bacon Wrapped Brown Sugar Smokies
INGREDIENTS:
Lil smokies cocktail links
Maple flavored bacon – cut into thirds
3/4 cup brown sugar
1/2 tsp. chipotle
Toothpicks
Preheat the oven to 350°F. Line a large rimmed baking sheet with parchment or foil spritzed with cooking spray. Set aside.
Remove the little smokies from packaging and pat dry with a paper towel.
Wrap each smokie with one piece of bacon. Secure through the middle with a toothpick.
In a gallon size bag mix together the brown sugar and ground chipotle pepper.
Add the bacon wrapped smokies to the bag. Seal and gently shake until evenly coated.
Arrange on the baking sheet.
Bake for 30 minutes or until the bacon has crisped.
SHOP THIS POST