Early Shoppers Gift Guide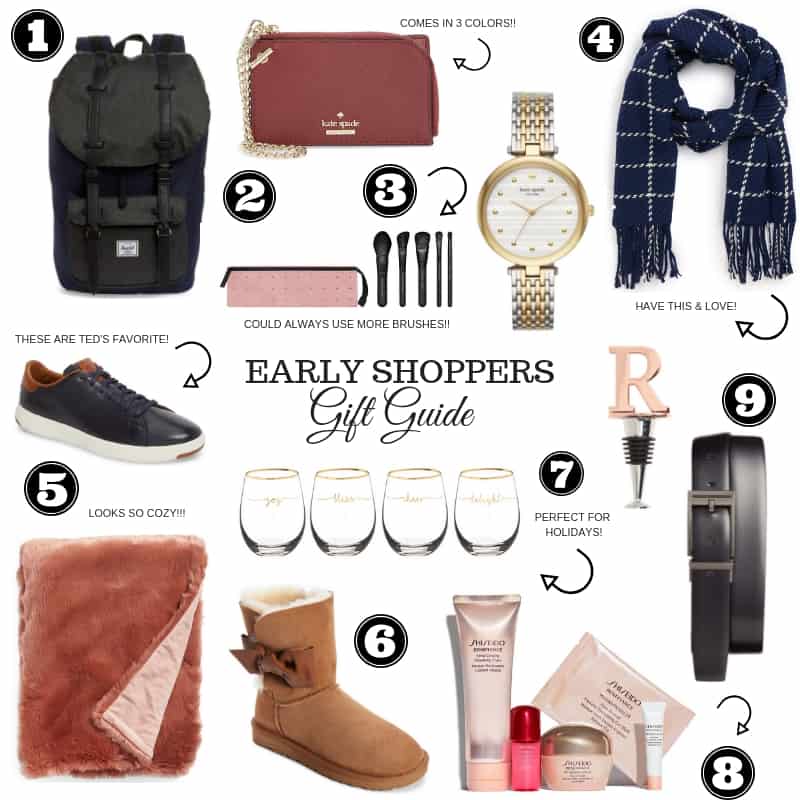 Early Shoppers Gift Guide
The early bird gets the deals!! I know it's stressful to already think about Christmas shopping, but these are some sale items that would be perfect gifts for your family!
1. Backpack: This backpack is one of my favorite brands because of how durable it is with still being stylish! Would be perfect for kids school backpack or a travel gift for the hubby!(Ted always is wearing a backpack to the airport)
2. Card Case: I'm so obsessed with this little card case! This color is my favorite, but it also comes in a light pink and grey that are so cute!!
3. Brush Set: This is a set of their basic brushes, but in a travel size so they are all mini! Such a great idea to make more space in your makeup bag!
4. Scarf: I have this scarf and absolutely love it so will definitely be picking up a couple to gift this year while they are on sale!
5: Blanket: This soft faux fur blanket looks like heaven! The color is amazing and everyone raves about it on the reviews. This might have to be a present to myself this year LOL!
6. Boots: Ugg boots are a staple for fall and winter! So easy to slip on when running to the store or wear around the house, but also so cute to dress up with jeans or leggings. These come in 3 different colors( I really like the black too) but they are selling out fast!!
7. Glass Set: A good set of wine glasses is always a great gift! I love the gold writing on these and think they would be perfect for the holidays!
8. Face Set: I haven't tried this brand out yet, but it always has such great reviews! It's a great 5 piece set for the price AND it comes with a free gift when you purchase it!!
9. Belt: A belt is always a good gift to get guys! It's something they always need and a staple they can add to their closet!
10. Watch: This watch is so great! I can't believe it is on sale for 40% off! I love watches with gold and silver that way I can wear both types of jewelry with it!
11: Shoes: I have posted about these shoes before because Ted is always wearing them and now I'm so excited they are on sale!!
12: Wine Cork: SO cute! Love that this is a small gift you could throw in for a little bit of a personal touch!