Crushing on Valentines Gifts for Him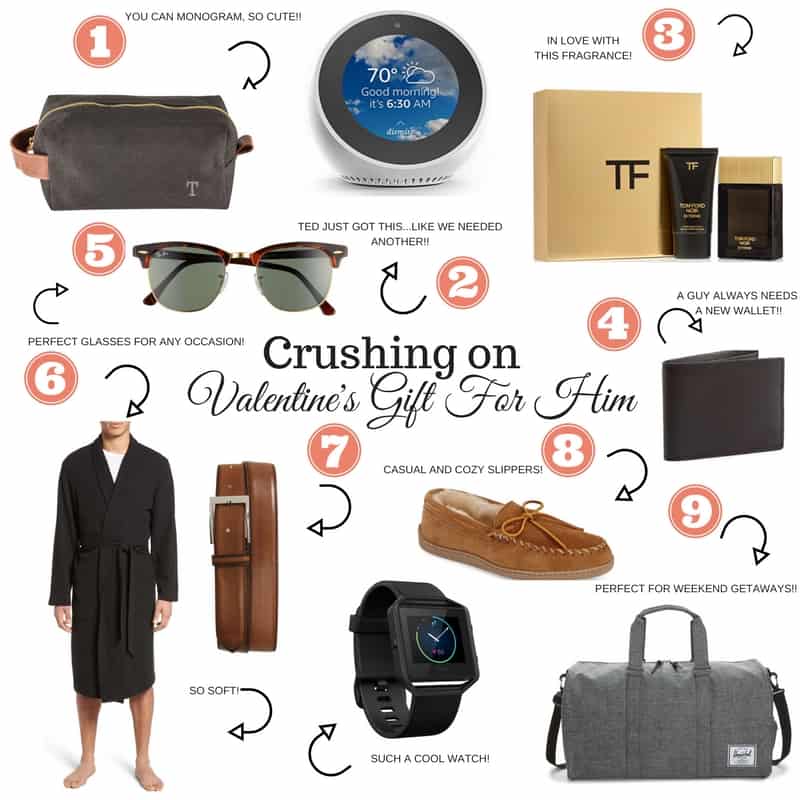 Crushing on Valentine's Gift Ideas FOR HIM
1.Toiletry: I love that you can monogram this bag. It adds more of a personal touch to the gift!!
2. Echo Spot: Ted just got this one and loves it. We definetly didn't need another one, seeing as we already have three!!
3. Fragrance Set: This Tom Ford Noir Extreme smells amazing and makes a great gift set!
4. Wallet: A guy can never have too many wallets and this Hampshire Bifold is simple and so perfect!!
5. Glasses: These Ray-Ban Clubmasters are classic and perfect for any occasion!
6. Robe: I love that this thermal robe is so soft and comes in four different colors to choose from!
7. Belt: A belt is a staple for every guy and not to mention would be great for a Valentines date night!!
8. Slippers: These cozy house slippers are great for lounging around the house and are so cute!
9. Bag: This duffel bag is perfect for a weekend getaway, I know hubby would love it!!
10. Watch: The Blaze Fitness Watch is sleek and sporty! Plus, so cool that it links to your smart phone and computer!