Crushing On Personalized V-Day Gifts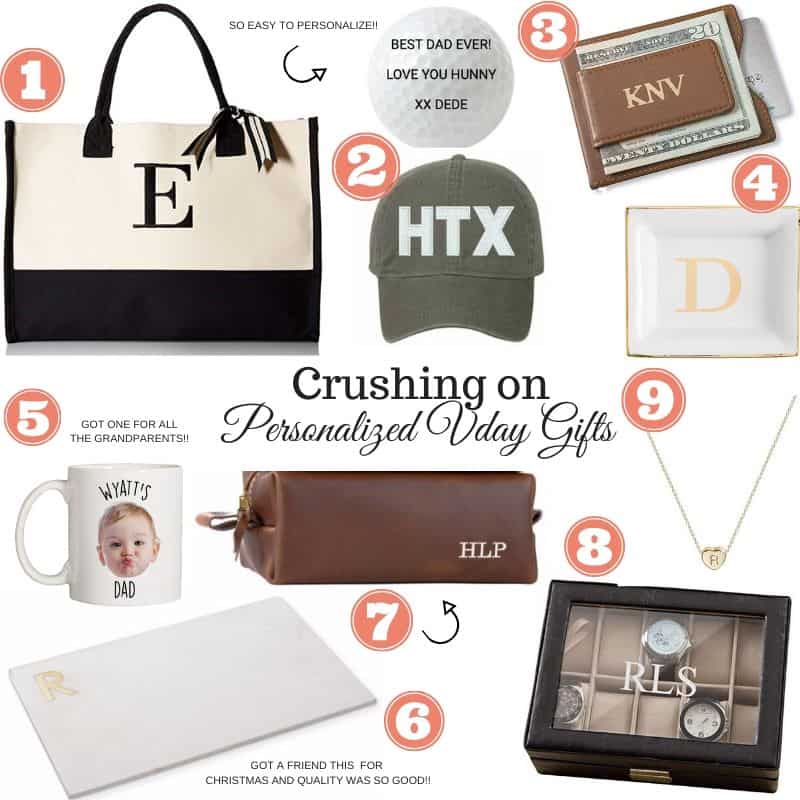 Sorta feeling like today is January 45th over here, anyone else?! It seems like this month has been going by so slow but I know once we hit February they are going to fly by again! Trying to prepare for Valentines Day early and start looks for hubs and the girl friends a little something.
1. Tote: First, I am a fan of the brand MudPie so was excited to find these! You can order from Amazon so you get free 2-day shipping too. This would be perfect for the beach or outdoor events or really anything!
Golf Balls: Found these online and didn't realize how easy it was to order a box of personalized golf balls! I think this would be cute for Ted since he is really into golf now lol.
2. Hat: I have a similar hat and love wearing it! You can customize to whatever city/state!
3. Money Clip/Card Holder: This looks super sleek and like how simple it is!
4. Jewelry Bowl: Love the look of these. I could use one for my rings and would look cute on the counter.
5. Personalized Mug: Ordered one of these for all the grandparents as well as me and Ted. They were a big hit!
6. Cheese Board: I ordered this as a gift for a friend at Christmas and was so happy with the quality when it came in!
7. Toiletry Bag: I have shared this before since it is what I have gifted Ted. Oh and its on sale!
8. Watch Case: This case looks so classy and perfect for any bfs/hubbys that love watches.
9. Necklace: Saw this on Amazon and could not believe it was only $12 with so many great reviews!!