Banff Travel Diary
Cardigan: Treasure & Bond | Top: June & Hudson | Jeans: Wit & Wisdom | Shoes: Halogen
Top: Zella | Leggings: Zella | Shoes: Adidas | Hat: 47
Cardigan: Free People | Top: Socialite | Jeans: Free People | Shoes: Steve Madden
Top: Wayf | Skirt: Blanknyc | Boots: Brinkley | Hat: Peter Grimm | Watch: Michael Kors
Top: Free People | Jeans: Wit & Wisdom | Shoes: Sole Society | Hat: Halogen(similar) | Necklace: Kate Spade
Vest: North Face | Leggings: Zella | Shoes: Adidas | Top: Bp | Glasses: Quay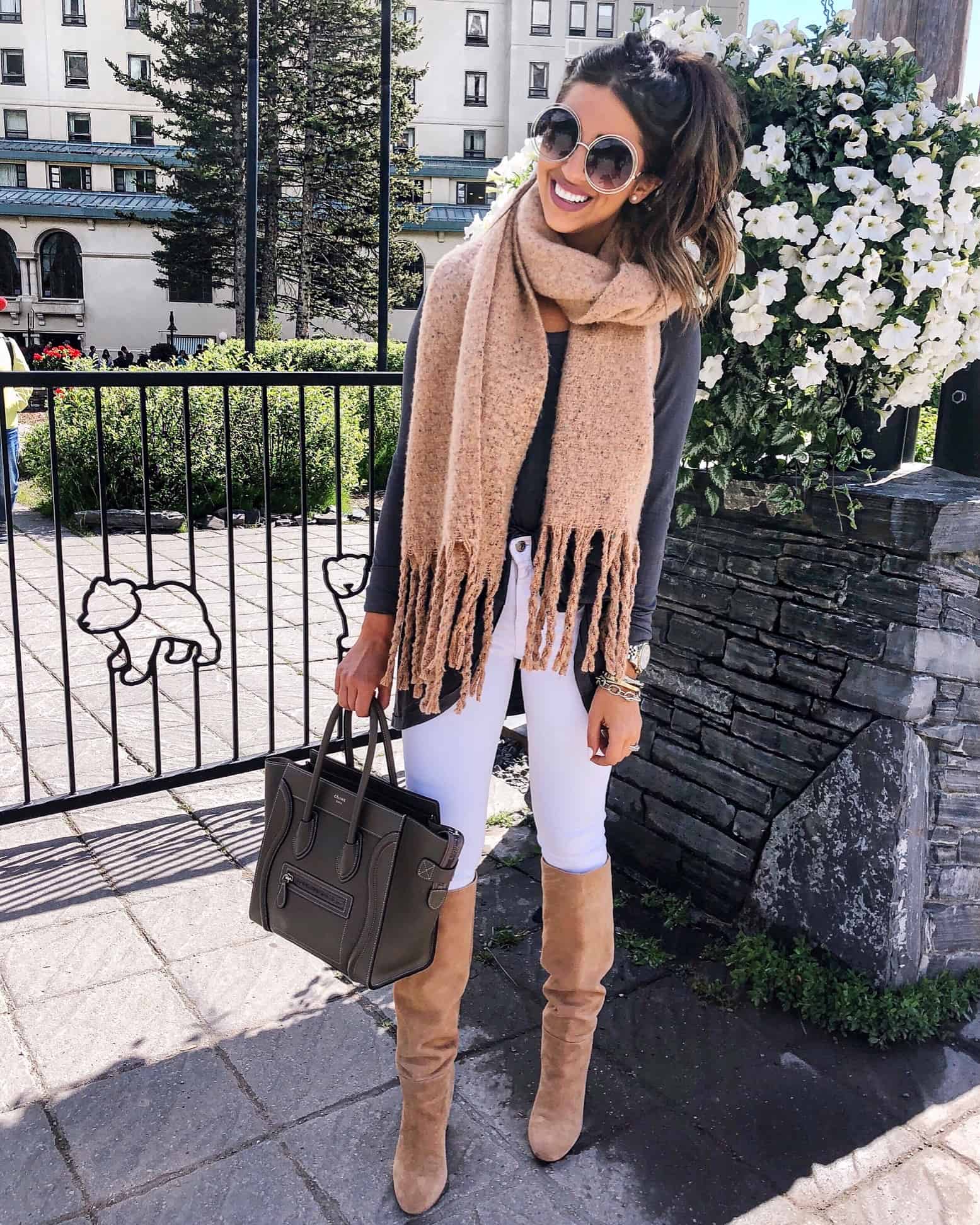 Top: Free People | Jeans: Citizens of Humanity | Boots: Sam Edelman | Scarf: Shiraleah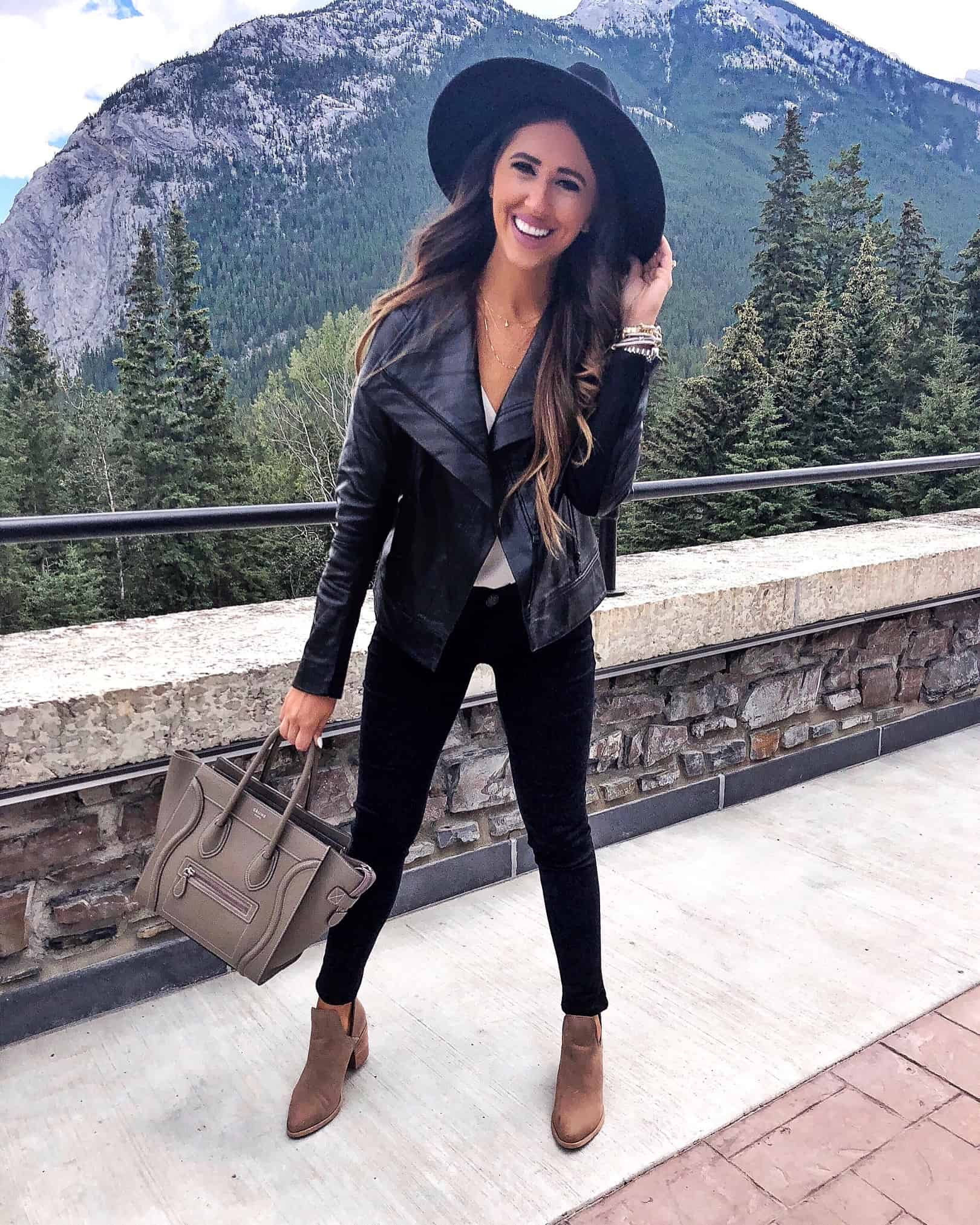 Top: Madewell | Jacket: Trouve | Jeans: Wit & Wisdom | Hat: Peter Grimm| Shoes: Steve Madden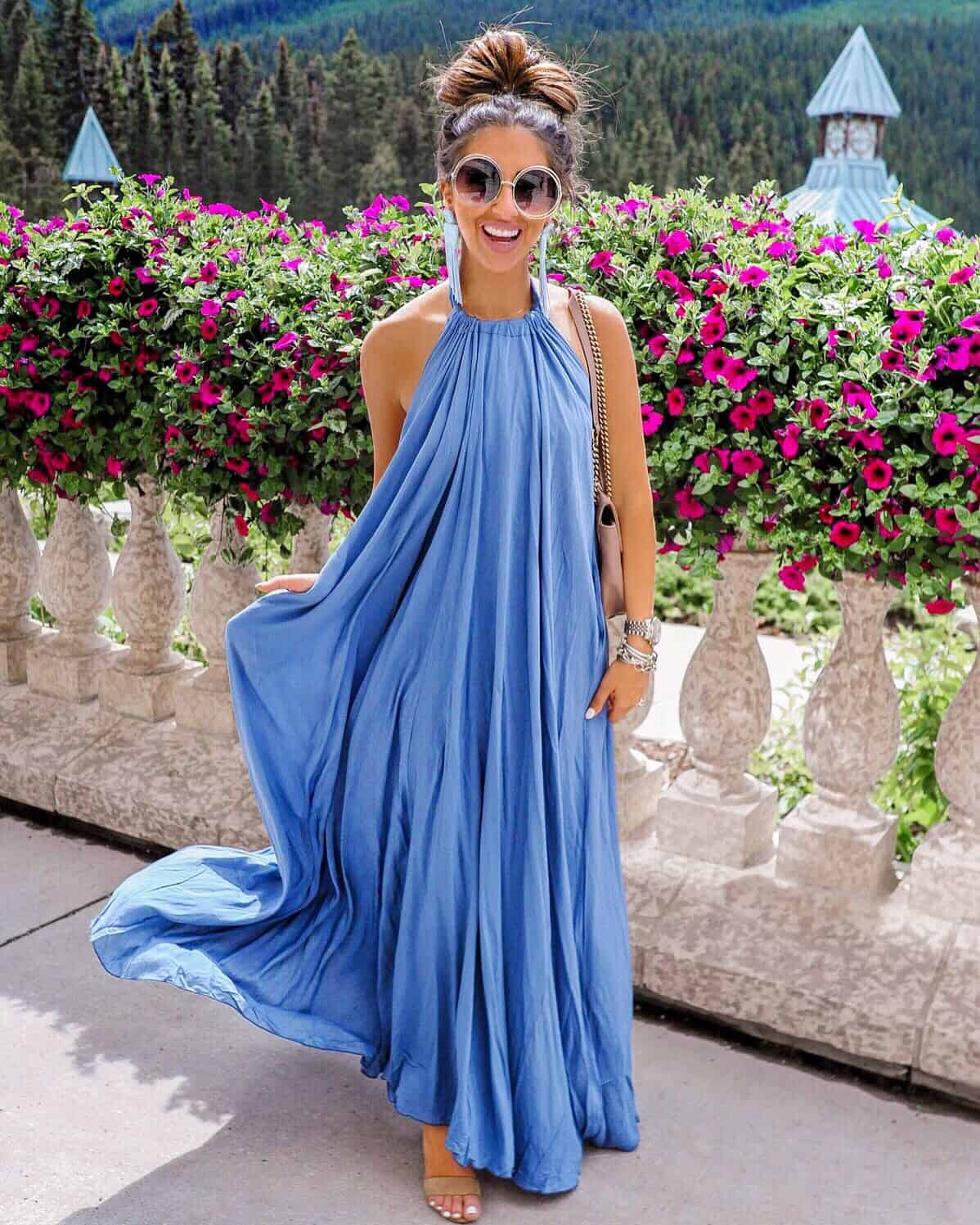 Dress: Vici | Shoes: Sam Edelman | Necklace: ModCloth| Earrings: New Friends Colony | Glasses: Chloe(similar)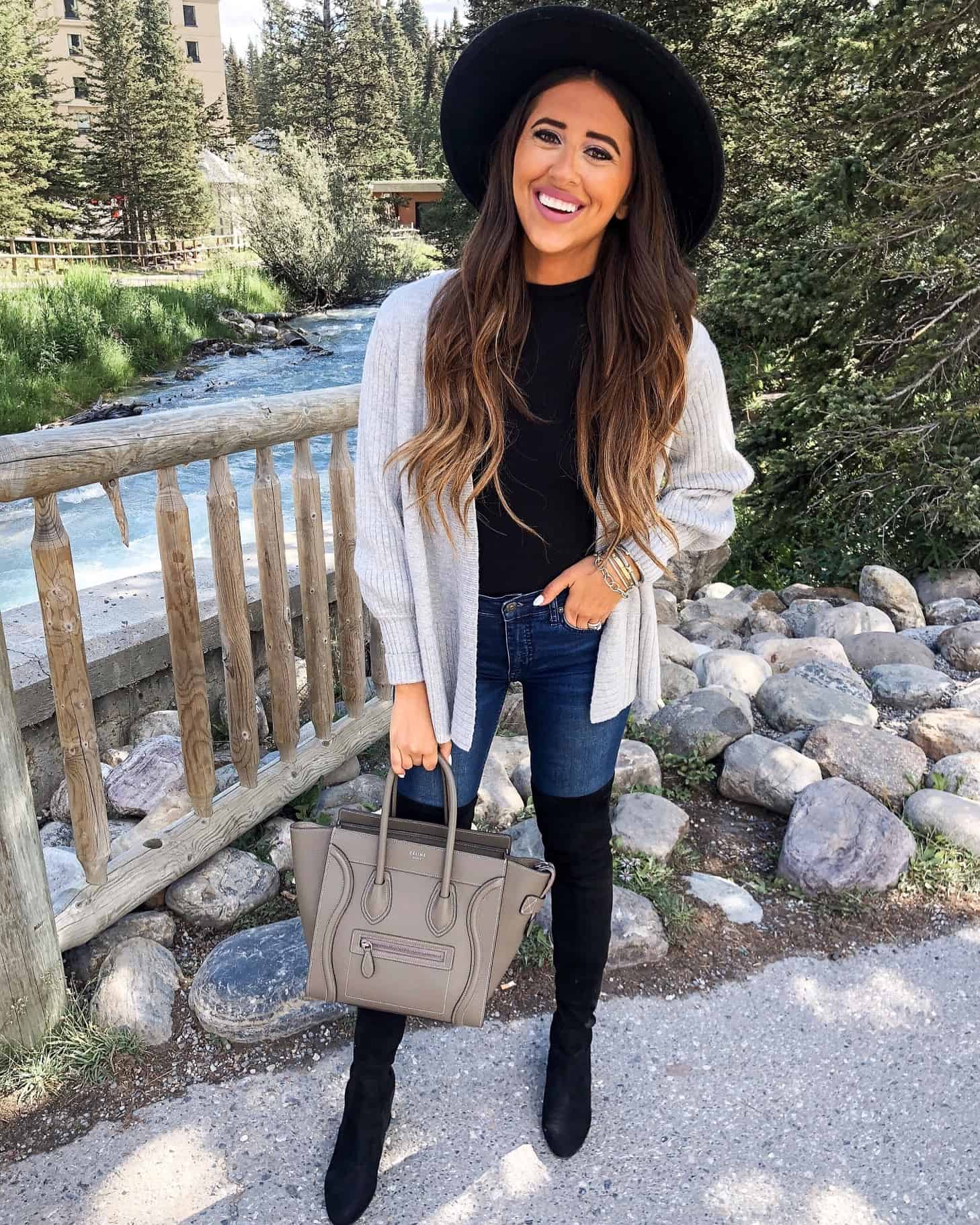 Top: Bp | Cardigan: 1. State | Jeans: Free People | Boots: Brinkley | Hat: Peter Grimm
I am finally putting together our Banff travel guide! Emily and I got the chance to come here last year and we immediately knew we wanted to come back after we got home. It was so special to bring Ted back here since I could not stop talking about Banff all year! We flew into Calgary and rented a car to drive to Banff (about a 1.5 hour drive). It really is an easy / beautiful drive to Banff! Last year we stayed in a small town about 30 mins from Banff called Canmore. You can read that travel diary here!
Stayed:
The Mount Royal Hotel: Was so excited about finding this hotel! We always book last minute so I want to say I found this hotel on Hotel Tonight (the app). At first, they were booked but like 3 nights before our trip, I called and they had availability! It is a super modern quaint hotel in the perfect location. It is in the heart of the city of Banff and you can easily walk to all the restaurants / bars! The hotel actually just reopened after a fire. Everything is brand new and remodeled! I would stay here again!
Food:
*Tooloulous: Emily and I ate here last year and knew we wanted to come back again! They have an amazing breakfast selection and even better pancakes. I typically let Em order pancakes and just take a bite from hers but I couldn't pass up the maple bacon pancakes this time! They were SOOO good. Make sure to order something while you are in Canada to try their Maple Syrup! Also there has been a line out the door the past 2 years we have gone but the wait goes by fast and is worth it!
Earls Kitchen + Bar: We went here for happy hour one night! After finding out this was a chain, I wasn't in LOVE with this place but that's just me getting in my head haha! I got the apple goat cheese chicken sandwhich and I loved how different it was! It was yumm and even though I complained about it being a chain, I would go back! haha!
Aardvark Pizza: If you are looking for quick and easy pizza, this place is it! A couple of locals recommended it and it was so good! We grabbed a box of pizza and stopped by the little wine place next door for a bottle and had dinner at our hotel's rooftop! What we didn't know was the hotel rooftop also served pizza and alcohol but I bet it wasn't as good as this place!
Cows Ice Cream: You can smell this ice cream from a mile away. I was so impressed! There also was a long line but it was really worth it! The entire town of Banff is filled with dessert stops but this one had a line so we knew it was going to be worth it haha!
Banff Fairmont: There are SO many different restaurants here! We had lunch at the Look Out area and could not stop staring all around us. The tacos were not anything epic but that's ok because the views were incredible. I really wanted to try the champagne bar or the steak place! Maybe next time!
*Lakeview Lounge at the Fairmont Lake Louise: If you go to Lake Louise, be sure to grab lunch here! You also should go before lunch around 11ish because once it gets busy, it is only reserved for hotel guests! We tried to go back for a drink later that evening and they denied us since we weren't staying at the hotel. If you go at 11am you can also request a table of your choice. We had an AMAZING view of the lake from our table through their huge glass windows. It was the best!
To Do:
Fairmont Lake Louise: This is a must for sure!! Both years we have gone here and have spent the entire day here. It is about an hour drive from Banff but so worth it! Lake Louise is where the canoeing picture was taken. It is so nice that they have the Fairmont on the property so you can spend an actual day here. Both years we have gone first thing in the morning when the canoes open and start there! That way there aren't that many people on the lake. Canoeing is a little pricey but so worth the experience. Then after you can have lunch on the property and then hike the trails around. Be sure to also go early because parking is a nightmare and they will turn you away once the lot is full!
Lake Moraine: We had to learn this first hand for Lake Moraine that their parking lot also gets full and they will turn you away. Lake Moraine is the pretty blue water photos with me in my work out outfit. It isn't that far from Lake Louise so it's about an hour drive from Banff. You also have a small .25 mile hike to get to Lake Moraine where Lake Louise you can just walk up to it! The only thing is Lake Moraine only has a small cafe (with no seating inside) so there isn't much to do after you take your pictures haha! Since we didn't get a spot in the parking lot, we found a shuttle bus that charged us! It was worth it but try to get the minimum time. We ended up begging him to take us back early since it was cold and rainy and we didn't have umbrellas. We obvy were not prepared! If we would have gone early and had a parking spot, we would have been fine too! All in all, so worth it. It is something I have never seen before in my life.
Banff Surprise Corner // Hiking is my love language so I am so glad we got a chance to do this! This gives you such a pretty view of the Fairmont and along Bow Falls. I mean Houston doesn't have much of a hiking trail or waterfalls so it was AMAZING.
Town of Banff: Of course walking up and down the town is so much fun to do! Stop at all the candy stores and do some shopping.
Other:
Of course, there is lots to do during the summer and we weren't able to do them all like hiking etc! During the winter there is of course skiing! Below are a few things we weren't able to do but were recommend it! Google them to see if you would be interested!
Gondola Ride
Tea House Hike