Mother's Day Gift Ideas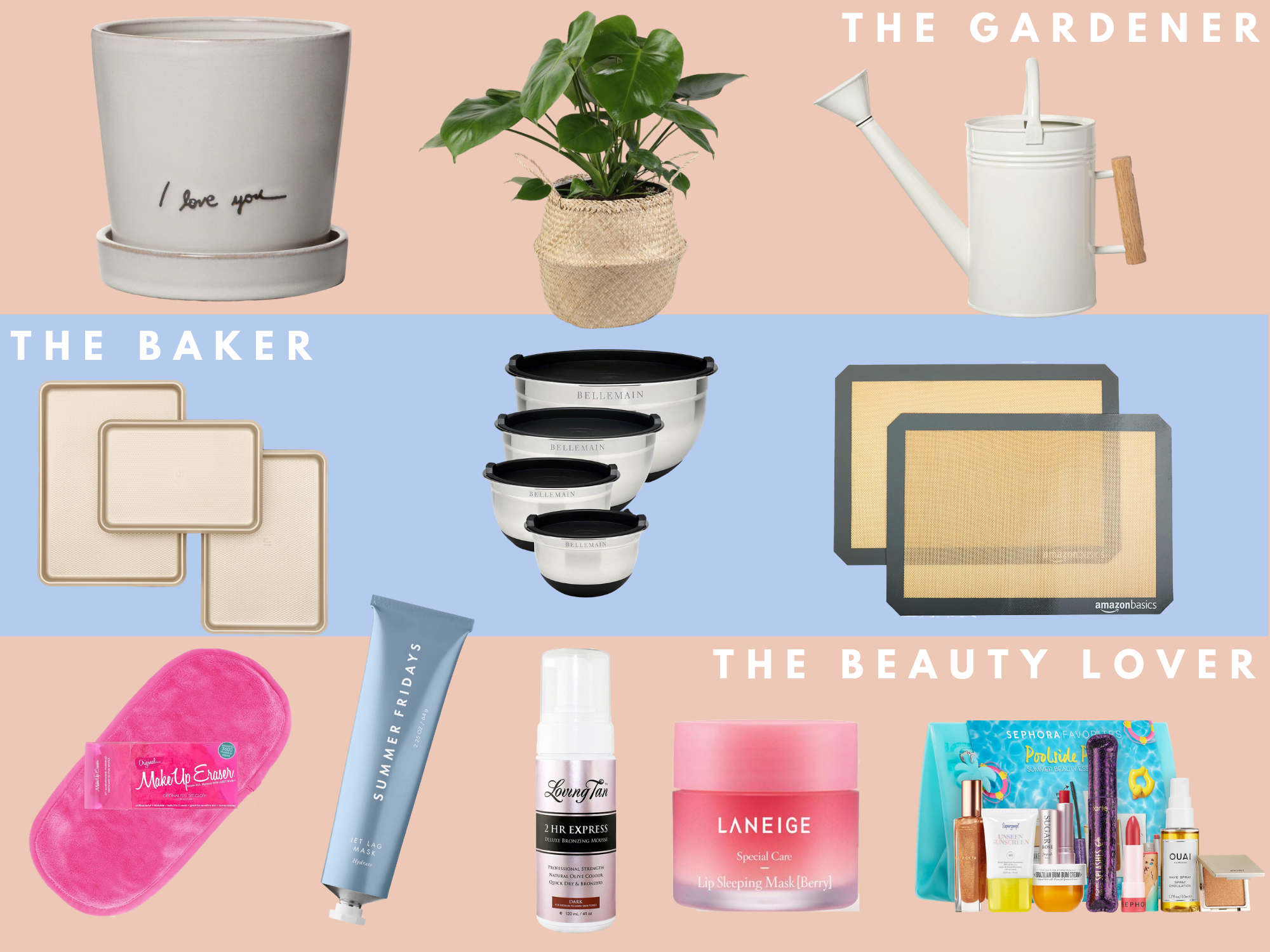 The Gardner
With all this time at home, adding in some pops of green can be so refreshing and it helps the air quality inside. Target has some cute planter pots that would be cute to stick in some herbs, succulents, or a larger plant like this one from Home Depot.
Swiss Cheese Plant in Seagrass Basket 
The Baker
Many have been reviving their baking skills this quarantine season, so there's no better time to freshen up those baking tools!
Cookie Sheets – These gold cookie sheets are so cute and have a beautiful texture on the actual pan
Mixing Bowls – I've just recently come across the non slip mixing bowls!! Did not know these existed. They have silicone coating on the bottom to help them not slide or spin on your counter while you're mixing. Plus, this bowl set comes with a lid for each bowl! I'd imagine these would be great for salads + storing them as well.
Silicone Sheets – Ditch the parchment paper and scrubbing those "non stick sheets", these are so much easier when it comes to baking. They're silicone so literally nothing sticks to them and are a dream to clean.
The Beauty Lover
Man oh man, I could go on all day with the beauty stuff!
Make Up Eraser – This is something I've been using for the past few months to remove my makeup! No more expensive make up wipes that are probably also bad for the environment. This takes the place of a wipe and all you need is water to take off all that makeup. I add in a little cleanser with mine just so I can kill two birds with one stone in this step. Throw it in the wash every few days and its good as new!
Jet Lag Mask – If your mom needs a super hydrating mask that can also dub as a primer, morning moisturizer, and nighttime mask, this is it!
Tanning Mousse – This is my favorite fake tan when I need a full reset. It only takes 2 hours (but I leave it on for longer) until you can wash it off and you're sun kissed! If you order from Ulta, you get a free tanning glove with purchase (which is $14.95 on its own!!)
Lip Mask – There was so much hype around this lip mask that I just had to try it. You can use it as a lip balm + an extra thick coat at night before bed. You'll wake up with hydrated juicy lips!
Summer Favorites – If the mama in your life loves trending products but doesn't know which to try, this favorites set has them all. Supergoop sunscreen (one of the best brands), some Patrick Ta body glow, the Bum Bum cream everyone raves about, Jen Atkin's Ouai wave spray for some beach locks, and so much more. Plus, it's $39 and discounted even more with the sale event Sephora has going on.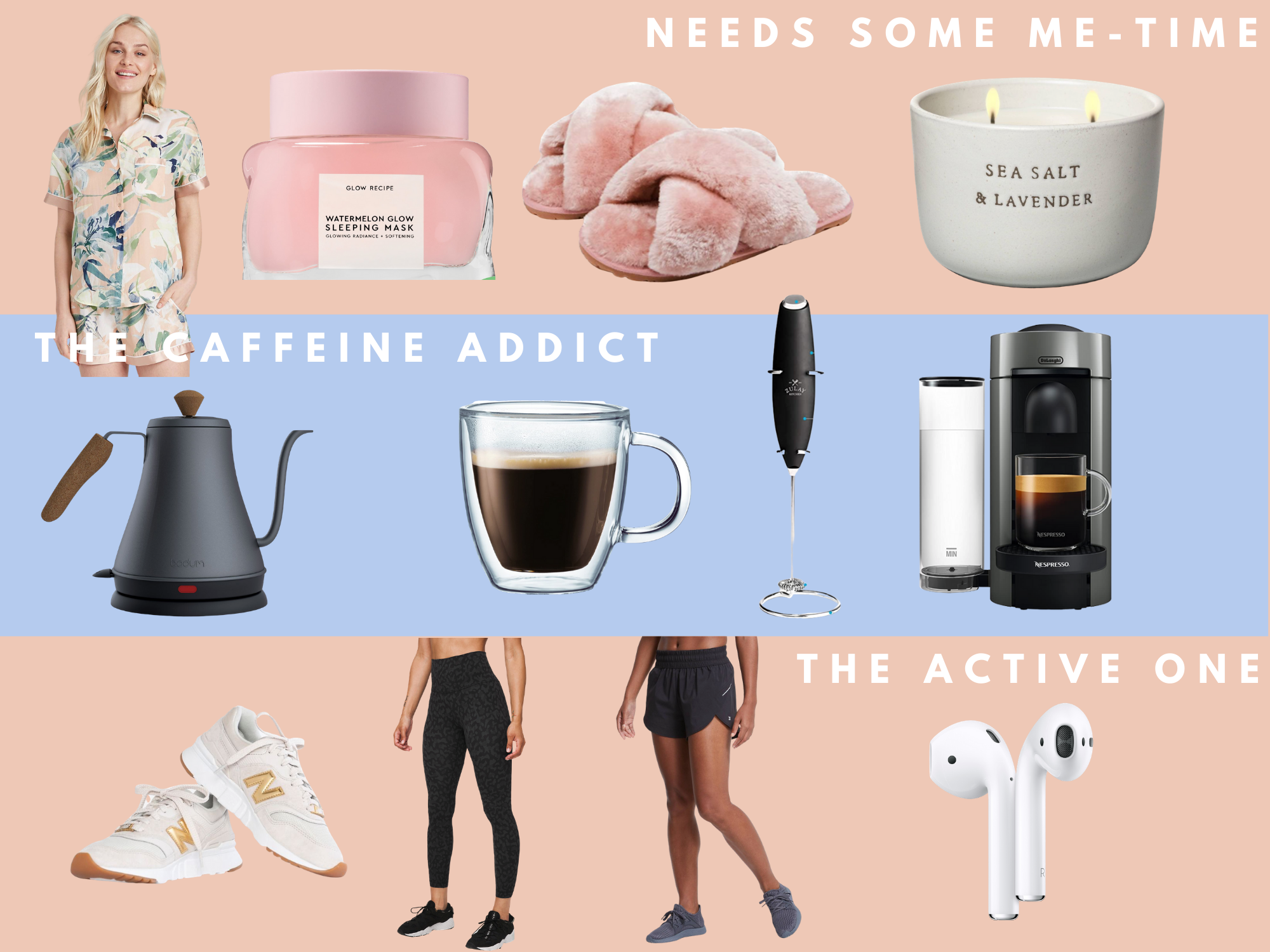 Needs Some Me-Time
Every mama deserves some me-time, so help her get into that zen mode.
Pajama Top / Bottoms – The Stars Above line from Target is so freaking soft! This pajama set is part of their 'cooling' line so perfect for the hot summer months coming up! Plus, it's cute enough to leave it on all day long.
Mask -I've been trying out the Glow Recipe brand for a few months now and love a few of their products. I love how refreshing they all feel with the fruit scents and have certified clean ingredients. This mask smells like watermelon and feels so good on the skin!
Amazon Slippers – If you watch me on stories, you'll know I live in these! So comfy on the feet and perfect for walking in all day long in the house.
Candle – Candles always make everything better. I feel like it makes the house feel cleaner! Lavender is supposed to help calm and de-stress so perfect for the hardworking mama!
The Caffeine Addict
Electric Kettle  – Electric kettles are so handy to quickly boil some water for tea or warming up baby milk! This one is so cute and trendy, and is the perfect shape for those who like to make pour over coffees with a Chemex or Hario.
Double Walled Mugs – This is all the rave in the coffee world making me want to get some. The double glass wall is supposed to keep your coffee hot longer or can be used as ice cream bowls to help insulate the cold temps!
Handheld Milk Frother  | Nespresso Frother – I just discovered this frother when I purchased my Nespresso and oh my goodness, no more cold coffee!! I pour in some creamer into this bad boy and it froths and warms it right up. A more affordable option is this handheld frother, but you'll have to warm up your creamer/milk in the microwave first before using this bad boy.
Nespresso Machine – My ride or die, my Starbucks replacement, this coffee machine is what I look forward to every morning! I love a strong double shot of espresso and this machine gives it to me.
The Active One
Shoes – The trendiest New Balances of them all, this pair is on sale for $81 and I just love the gold accent. This site always has discounted New Balances usually for under $50, but sell out so fast! So many of my New Balances are from here and I love the fun colors.
Leggings – No better time to splurge on mom than on Mother's Day. Lululemon leggings are quite the hype but definitely deserve it! Such a good quality legging and great for the active mom that loves some yoga or just walking around the neighborhood. These are my favorite dupes of these leggings from Amazon that are a fraction of the price but not always in stock!
Shorts – I've been purchasing a few more pairs of shorts as it warms up outside and just got these in from Target. Their new All in Motion brand is pretty great considering the affordable price! Also love these super affordable ones from Walmart that are just $9!
AirPods – These are perfect for the mom that likes to listen to music or podcasts while carrying baby and cleaning the kitchen. No cords getting tangled up!! I might have to get myself a pair! These are on sale for $20 off!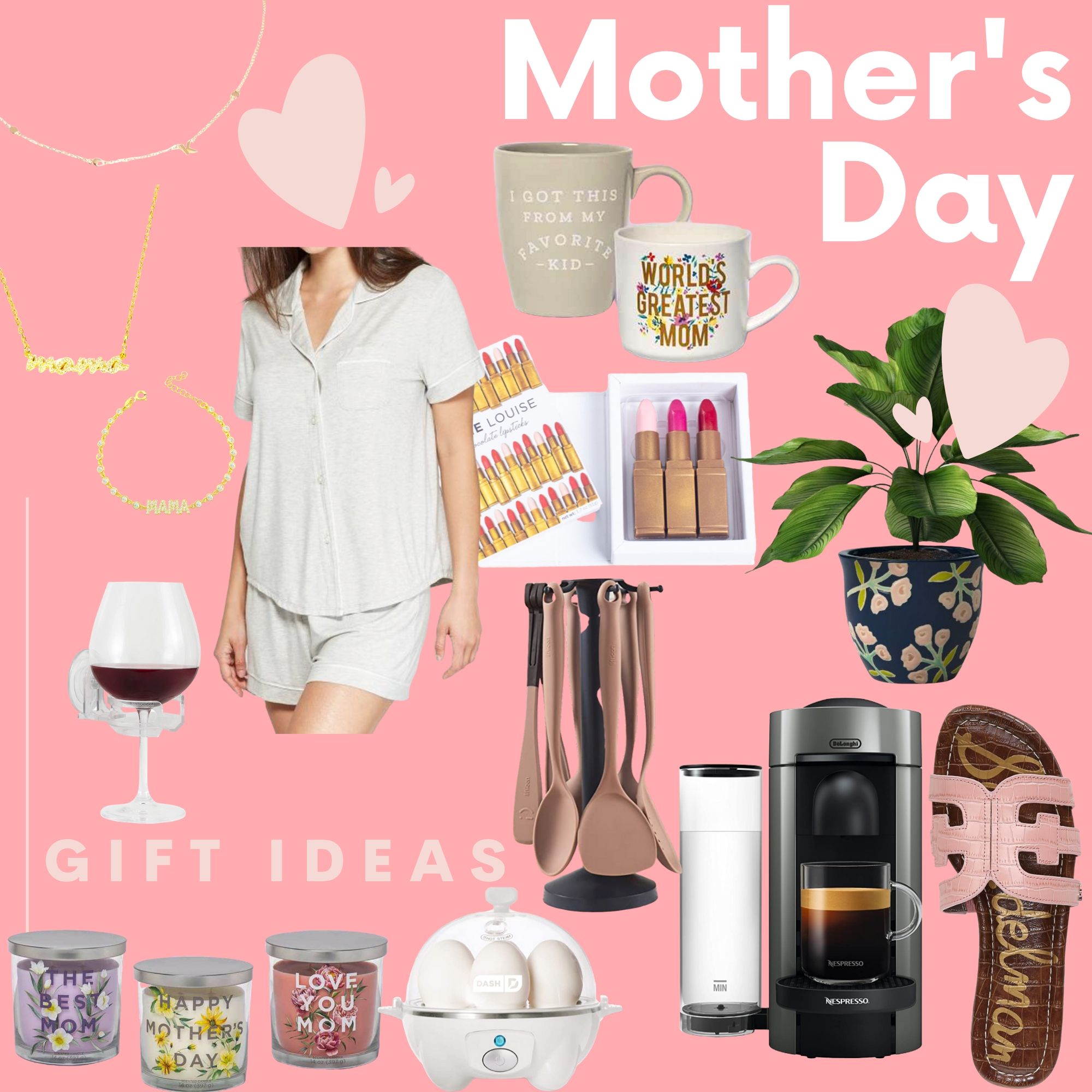 Initial Necklace – I recently order this and it has become favorite! Perfect to layer with.
Mama Necklace & Bracelet – Another one of my favorites and great for layering! Super cute and dainty. The bracelet would be great to add to a bracelet stack!
Pj Set – Could not believe these pjs are $22 from target! They look super cozy and cute.
Shower Wine Holder – One of you guys suggested this and I love it!!
Candles – Thought these candles would be a good addition to a little gift basket!
Egg Cooker – This thing is awesome! Cooking eggs has never been easier lol. Perfectly cooked so it makes them easier to peel!
Silicon Utensil Set – I actually need to order one of these for myself! I like that this set comes with holder and a couple different colors.
Lipstick Chocolates – These are the cutest chocolates to add to a gift! They are usually a little pricey but found these on sale!
Mugs(grey mug) – Easy gift to add and everyone loves a coffee mug!
Planter – Thought this was such a cute plant pot. Its on sale and the white option is so pretty as well! You could always add a plant to it or I found this one that comes with the plant!
Coffee Maker – Love love love my Nespresso machine. This version is a little bit more affordable and on sale here!
Sandals – Can not believe these Sam Edelmans are $35!!