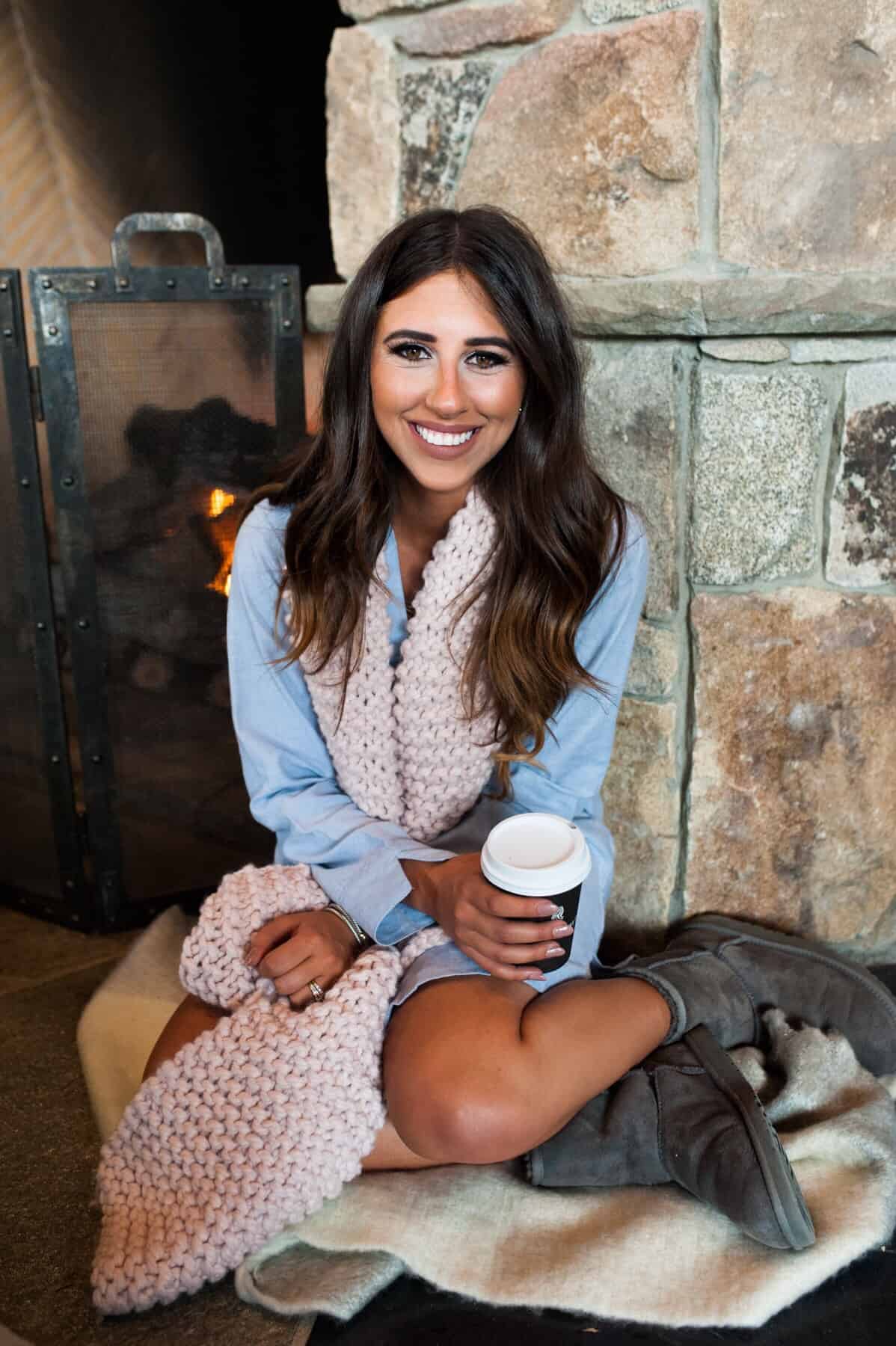 Nighty: Ugg | Scarf: Sole Society | Shoes: Ugg | Scarf: Free People (sitting on it) | Watch: Michael Kors| Bracelet: David Yurman | Bracelet: David Yurman

My Outfit// Sweater: BP. | Skirt: BLANKNYC | Boots: Steven Madden | Beanie: ASOS | Watch: Michael Kors| Bracelet: David Yurman | Bracelet: David Yurman
Emily's Outfit//Sweater: Halogen | Pants: Top Shop | Boots: GoodNight Macroon | Purse: Ted Baker (similar) | Scarf:  BP. (similar)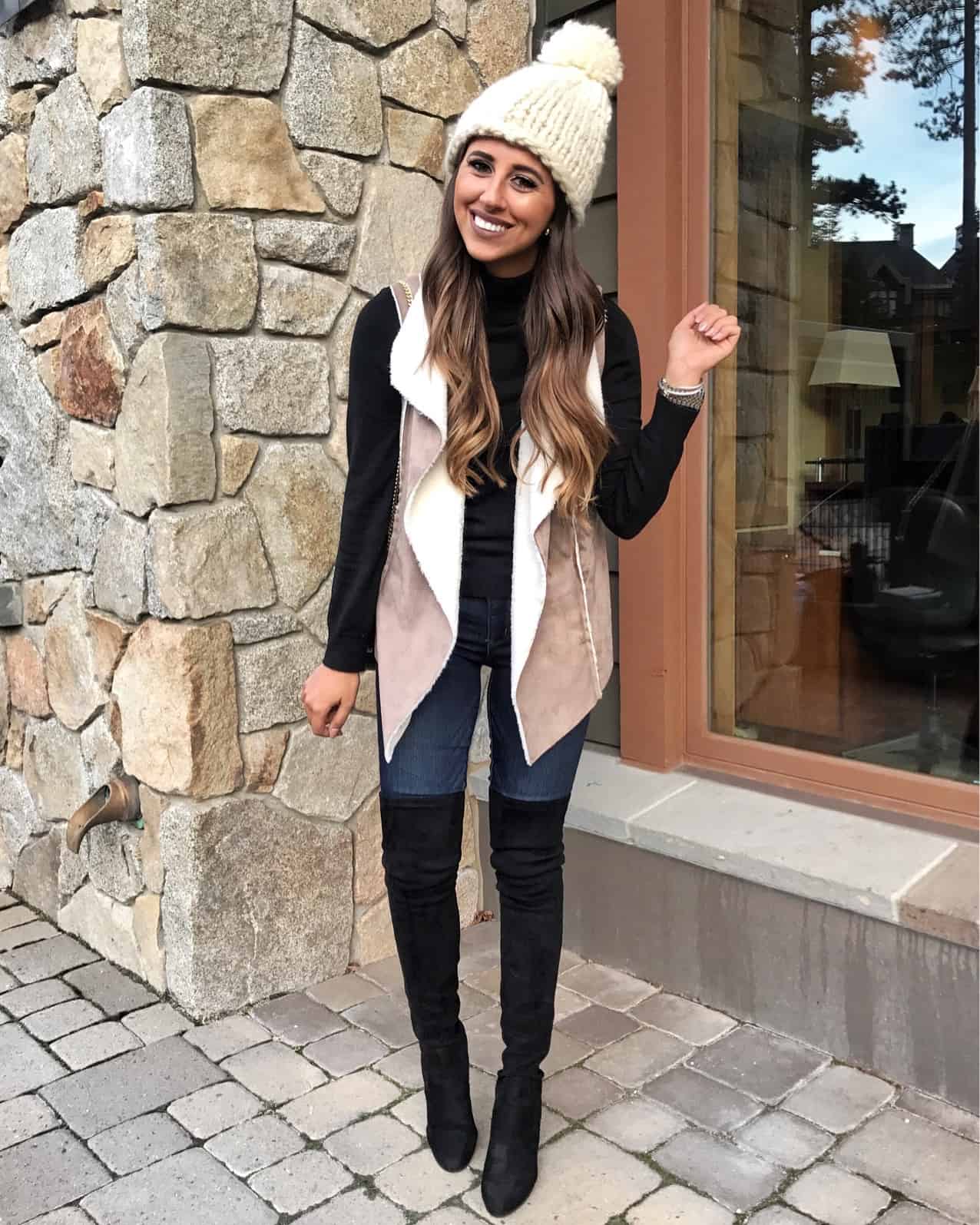 Vest: Madison & Lola | Black Sweater: Philosophy Cashmere | Boots: Steve Madden | Beanie: Melrose & Market (similar) | Watch: Michael Kors| Bracelet: David Yurman | Bracelet: David Yurman

My Outfit// Coat: Charles Grey London | Dress: Line & Dot | Boots: Steve Madden | Purse:  Gucci | Watch: Michael Kors| Bracelet: David Yurman | Bracelet: David Yurman
Emily's Outfit//Sweater: Banana Republic | Pants: Top Shop | Boots: Shop Bop | Purse: Saint Laurent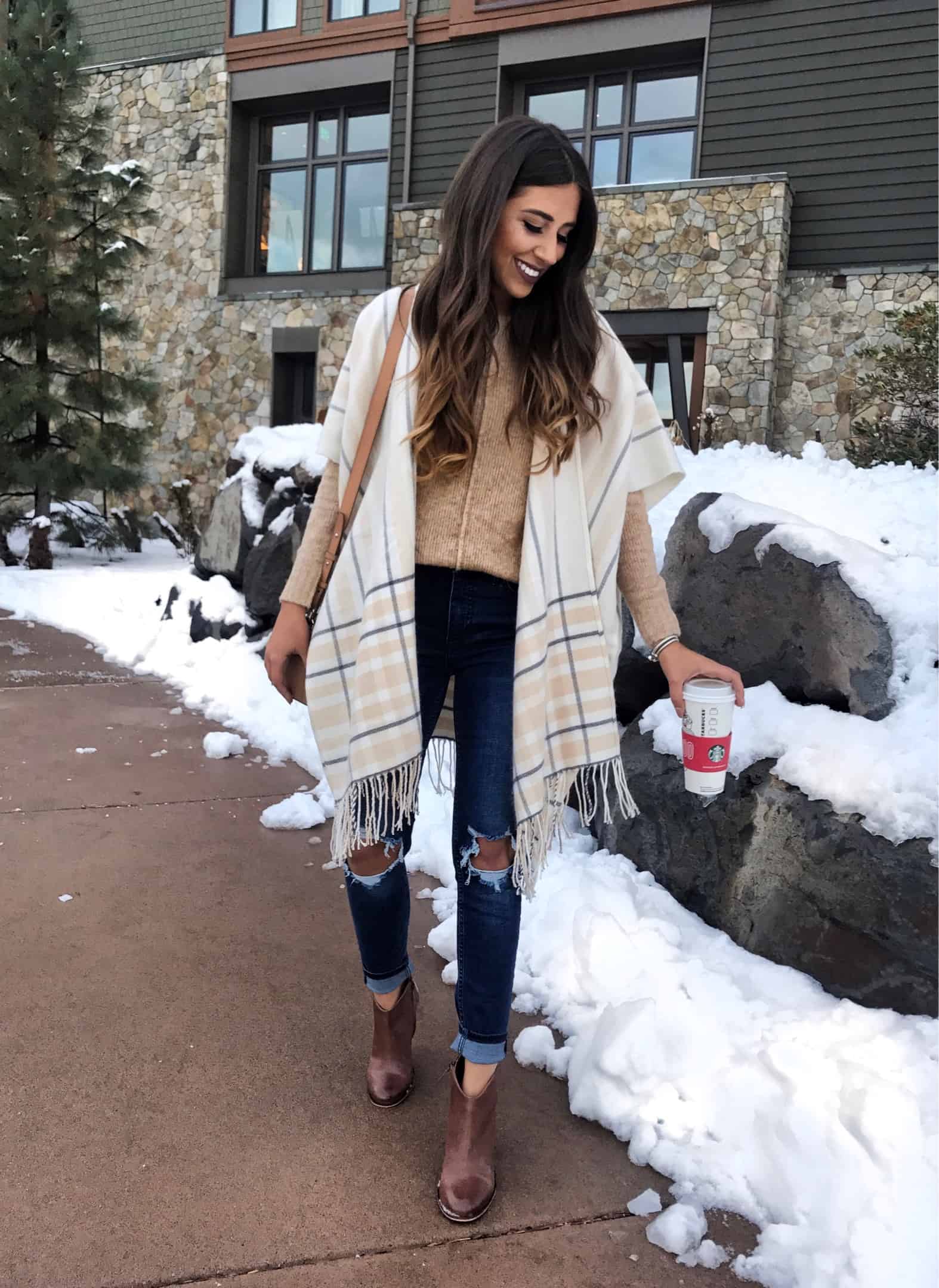 Poncho: Loft | Sweater: Loft | Boots: BP. | Pants: Shop Bop | Purse: Givenchy |Watch: Michael Kors| Bracelet: David Yurman | Bracelet: David Yurman

My Ouftit // Jumpsuit: Line & Dot (Similar)| Heels: Sam Edelman | Purse:  Gucci | Watch: Michael Kors| Bracelet: David Yurman | Bracelet: David Yurman
Emily's Outfit// Romper:Bardot | Heels: Sam Edelman | Purse: Ted Baker (similar)

Shirt: Banana Republic | Skirt: Madwell  | Boots: Stuart Weitzman | Watch: Michael Kors| Bracelet: David Yurman | Bracelet: David Yurman

My Outfit// Coat: Top Shop | Sweater: Trouvé | Pants: Top Shop | Boots: Vince Camuto | Purse: Ted Baker (similar) | Watch: Michael Kors| Bracelet: David Yurman | Bracelet: David Yurman
Emily's Outfit// Coat: GoodNight Marcoon | Sweater: Trouvé | Boots: Sam Edelman | Purse: Saint Laurent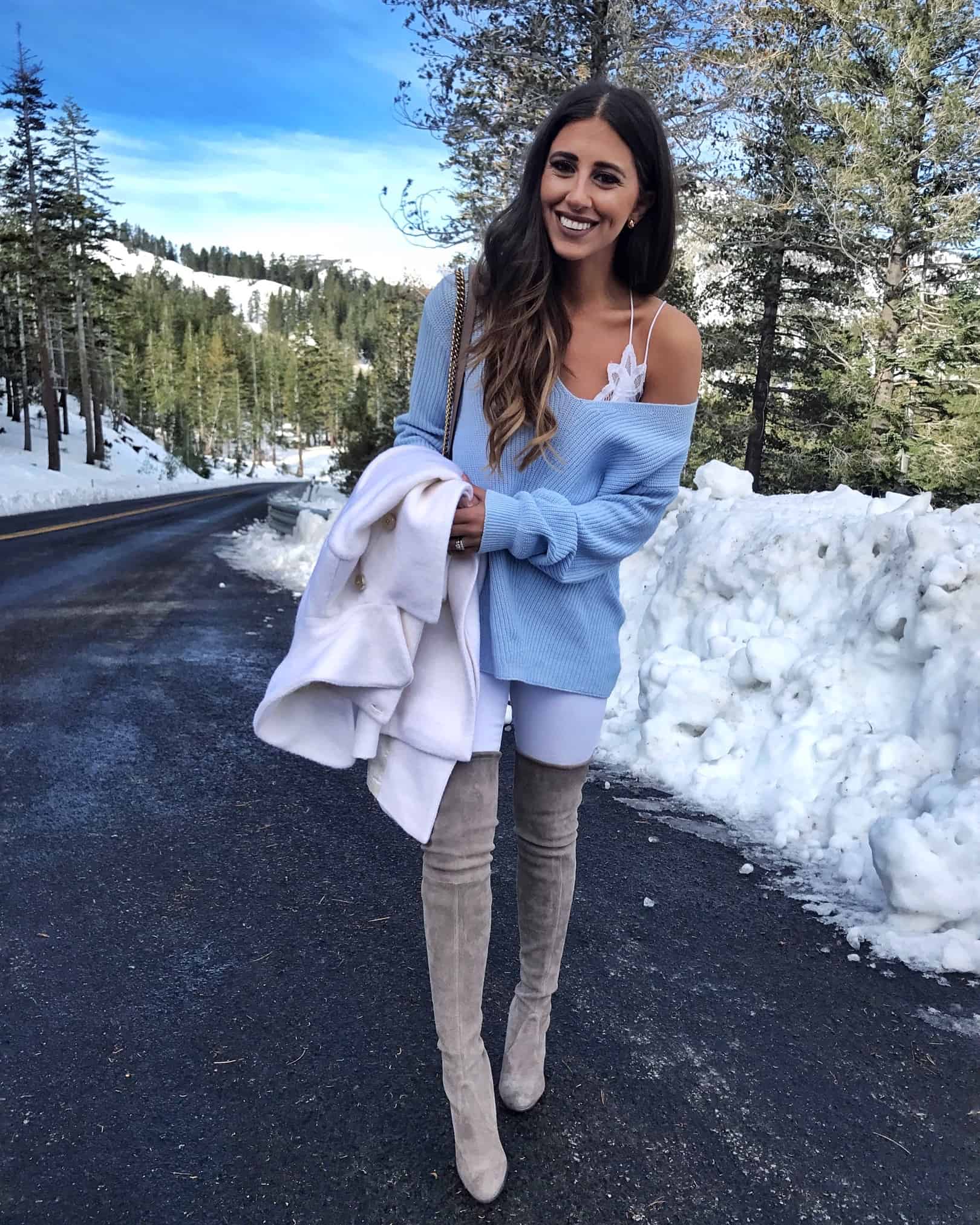 Sweater:  BP.  | Bralette:  Free People  |Pants: Top Shop| Coat: Guess (ON SALE) | Boots: Stuart Weitzman | Purse:  Gucci | Watch: Michael Kors| Bracelet: David Yurman | Bracelet: David Yurman

Coat: LOFT (similar)| Dress: BP.  | Boots: Steve Madden | Scarf: BP. |Purse: Ted Baker (similar) | Watch: Michael Kors| Bracelet: David Yurman | Bracelet: David Yurman

Cardigan: Sole Society | Dress: BP.  | Boots: Steve Madden | Purse:  Gucci | Watch: Michael Kors| Bracelet: David Yurman | Bracelet: David Yurman
Ted, Em, and I had sooooo much fun during our Lake Tahoe trip last week! Husband got straight off the plane from South Korea and not even 11 hours later hopped on a plane with us. It was SO MUCH FUN having him around on our trip! Both him and Em make me laugh so much and it's why I love them so much! We showed up to the airport with a total of 5 bags for 4 nights and 3 people haha not including each of our carry ons! Emily had never seen snow before so it was special to be with her during her first experience!
It was both Ted and I's first time in Lake Tahoe and we can't wait to go back! It was sooooooo darn pretty! We stayed at the Ritz Carlton and definitely made our experience so wonderful! We honestly didn't leave the resort the first couple days because it had everything we needed. It also is walking distance to one of the best ski resorts in the area. The slopes weren't open yet but how convenient would it be to have a room where you ski all day!
We did eventually make it down to a cute little town called Truckee, where we had dinner at the Tavern and candy apples downstairs at a cute candy shop. We also made it to Mt. Rose for more snow pictures since it ended up melting all away the last couple days. Some photos look cold, but really it was in the 70s and warm as can be! As for the other photos heck yes we were cold and ran right back in the car after we snapped a few shots haha! Hope you enjoy the winter outfits to kick off the new season and our take over on Like to Know it. Seriously, such an honor/dream come true!!