Gift Guides for the Athlete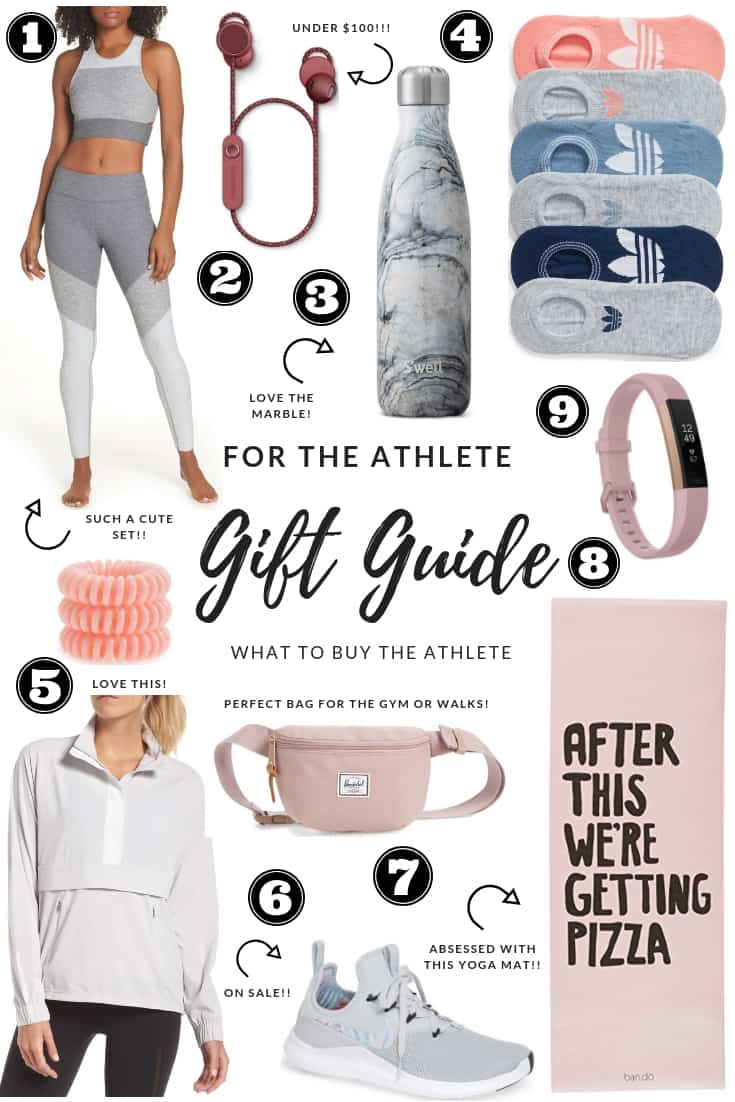 1 Top & Bottoms:(similar: Top & Bottoms) Love a good set like this one! The gray and white could mix and match with other pieces in your closet as well!
2. Headphones(similar): Wireless headphones are a must have for someone who likes to be active! These are a cute color and under $100!
3. Water Bottle(other option): These are so handy to keep your cold water on you and easy to throw in a purse or gym bag!
4. Socks🙁similar) You can never have enough socks! Especially some cute no-show ones like these!
5. Jacket(similar): This pullover jacket is cute and lightweight! Perfect for working out no matter what the weather!
6. Shoes(similar): Love these Nikes!! They have so many colors to choose from and they are on sale so hurry before sizes run out!
7. Fanny Pack(other option): This is perfect for carrying your phone and money/cards in to the gym or going on walks which Ted and I really like to do!
8. Yoga Mat(similar): Ok how cute is this?! I'm obsessed and need it for myself lol
9. Fitbit(larger version): Such a great gift for someone who is trying to keep track of their workouts or just daily activity!
Invisiboble: Thought I'd include these too since they are so good for workouts! They don't leave a crease in your hair so you could totally use for working out on your lunch break!