Fathers Day Gift Guide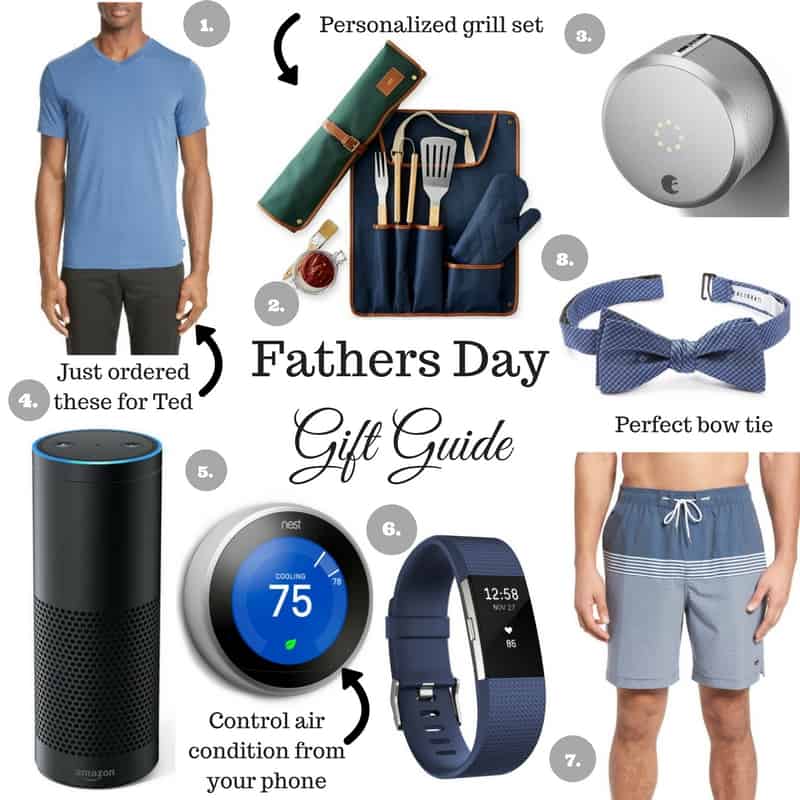 1. These V-necks are so amazing!! Ted wears them all the time! They are so soft and easy to grab and throw on. No, he isn't a father but the man deserves gifts all year round!
2. How amazing is this personalized grilling set?? It is a must have for all those grill loving dads!
3. I actually have this August Smart Lock at my house and I can't imagine having anything else! It automatically locks the door when you leave and auto-locks as you approach so no need worry about juggling a bunch of keys! Perfect for men who are on the go.
4. This Amazon Echo is seriously the best thing ever. It basically does everything! It answers questions, reads the news, reports traffic and weather, provides sports scores and schedules (we know how men love their sports updates!) ,controls lights, fans, thermostats, garage doors and so much more! 
5. Help dad stay cool this summer with the Nest Thermostat! This amazing device controls your air conditioning from your phone! It even learns what temperature you like and programs itself! Ted is obsessed with ours!!
6. For all those athletic fathers out there, this one is for them! The Fitbit charge 2 is the best way to keep track of your fitness journey. It keeps track of your daily steps, heart rate, calories burned and also shows caller ID, texts and calendar alerts! Need I say more?!
7. Every dad needs a stylish pair of swim shorts for the summer! These are perfect! I love the shades of blue and the stripes.
8. A man can never have too many bow ties! I love the detailing on this one, perfect for a night on the town!