Hubby Takeover/Camo in Vegas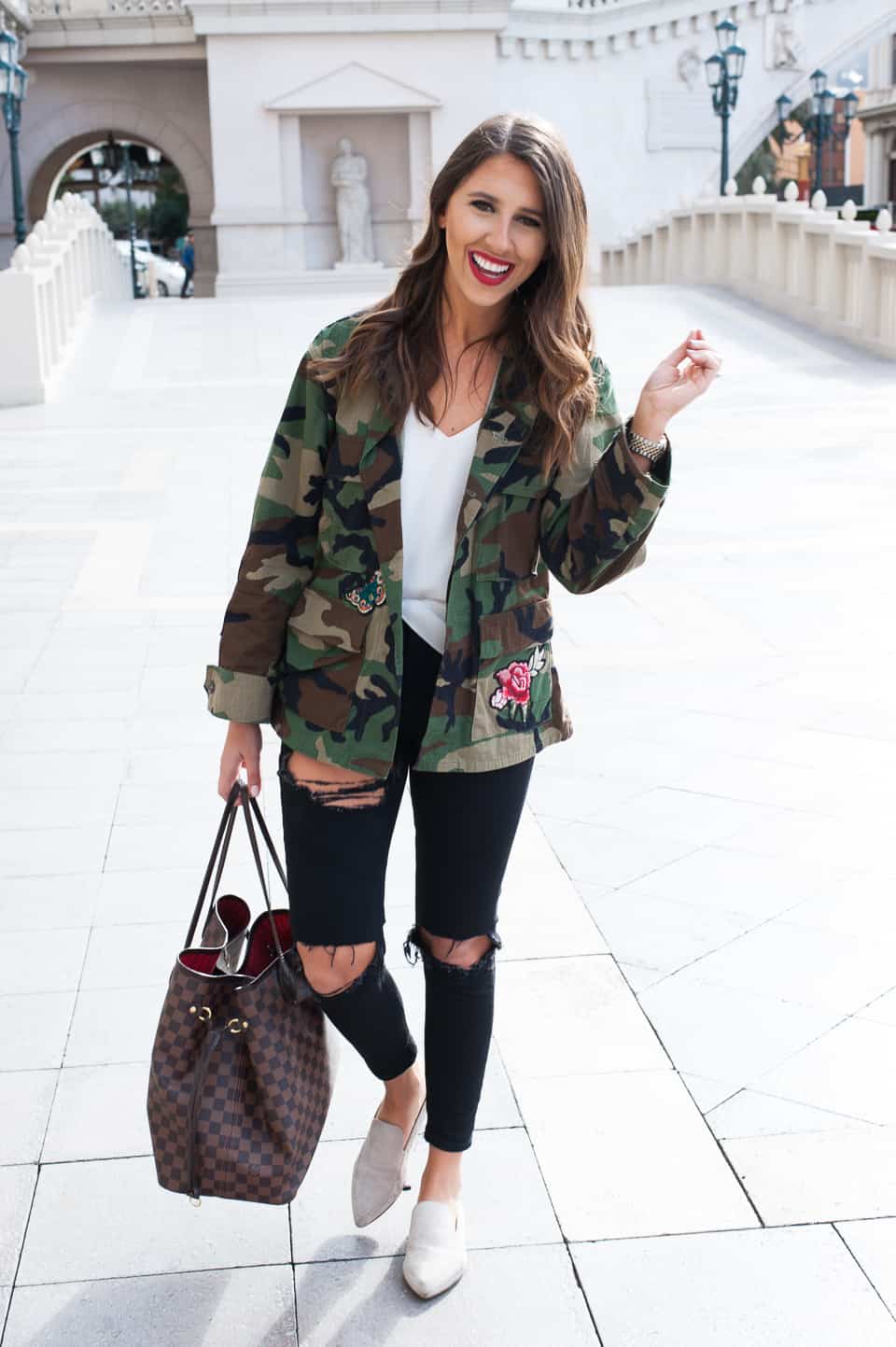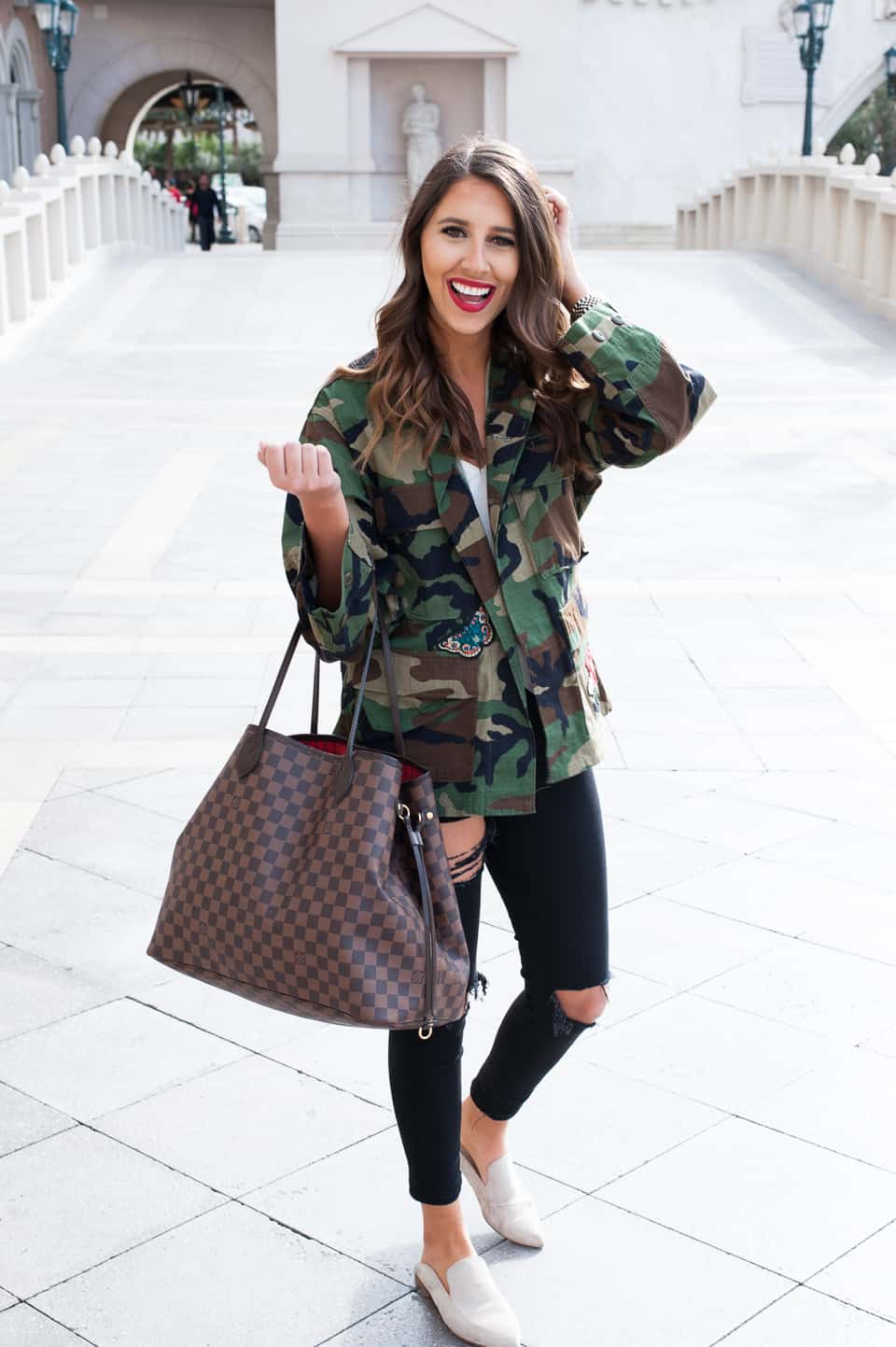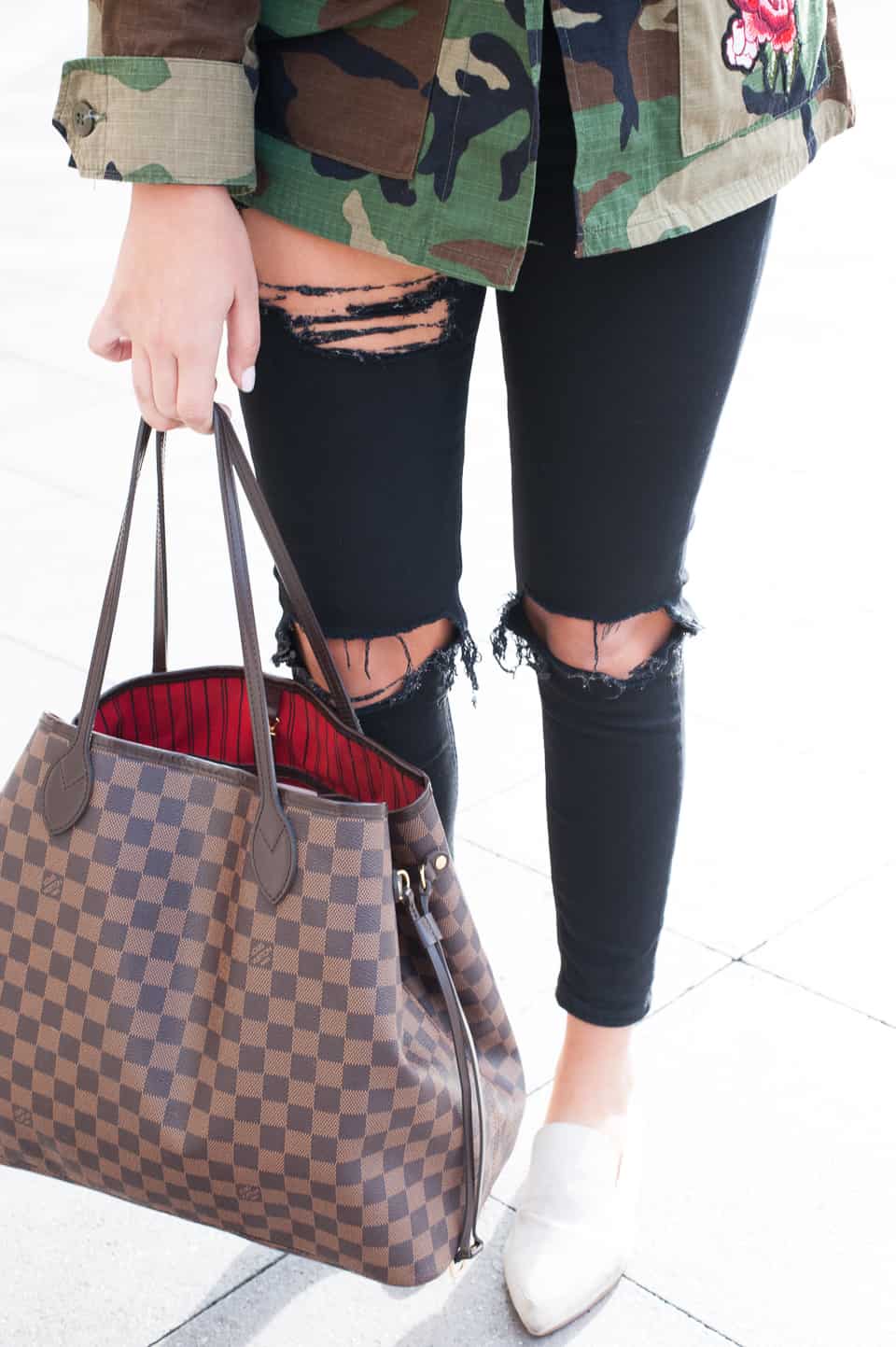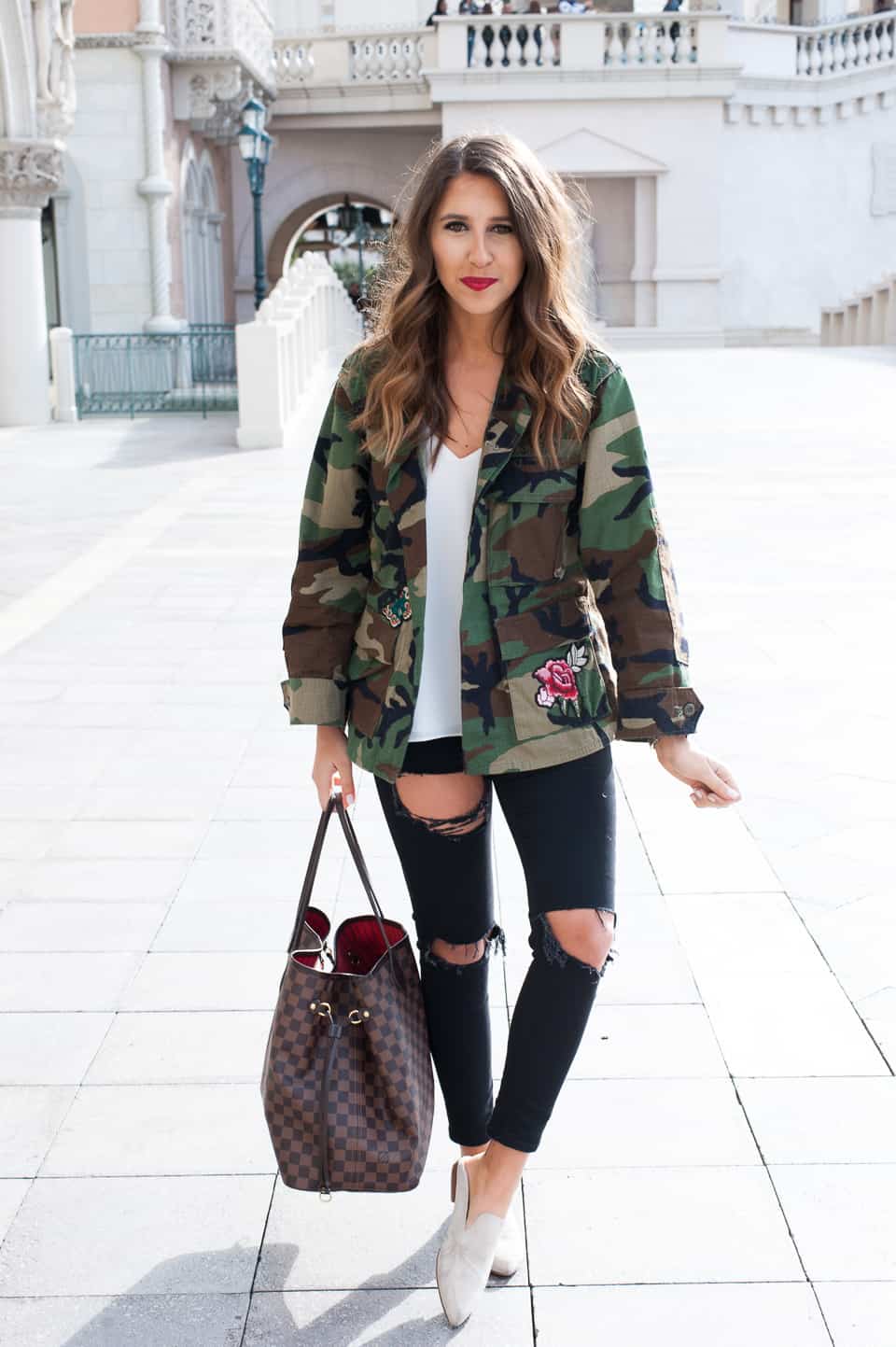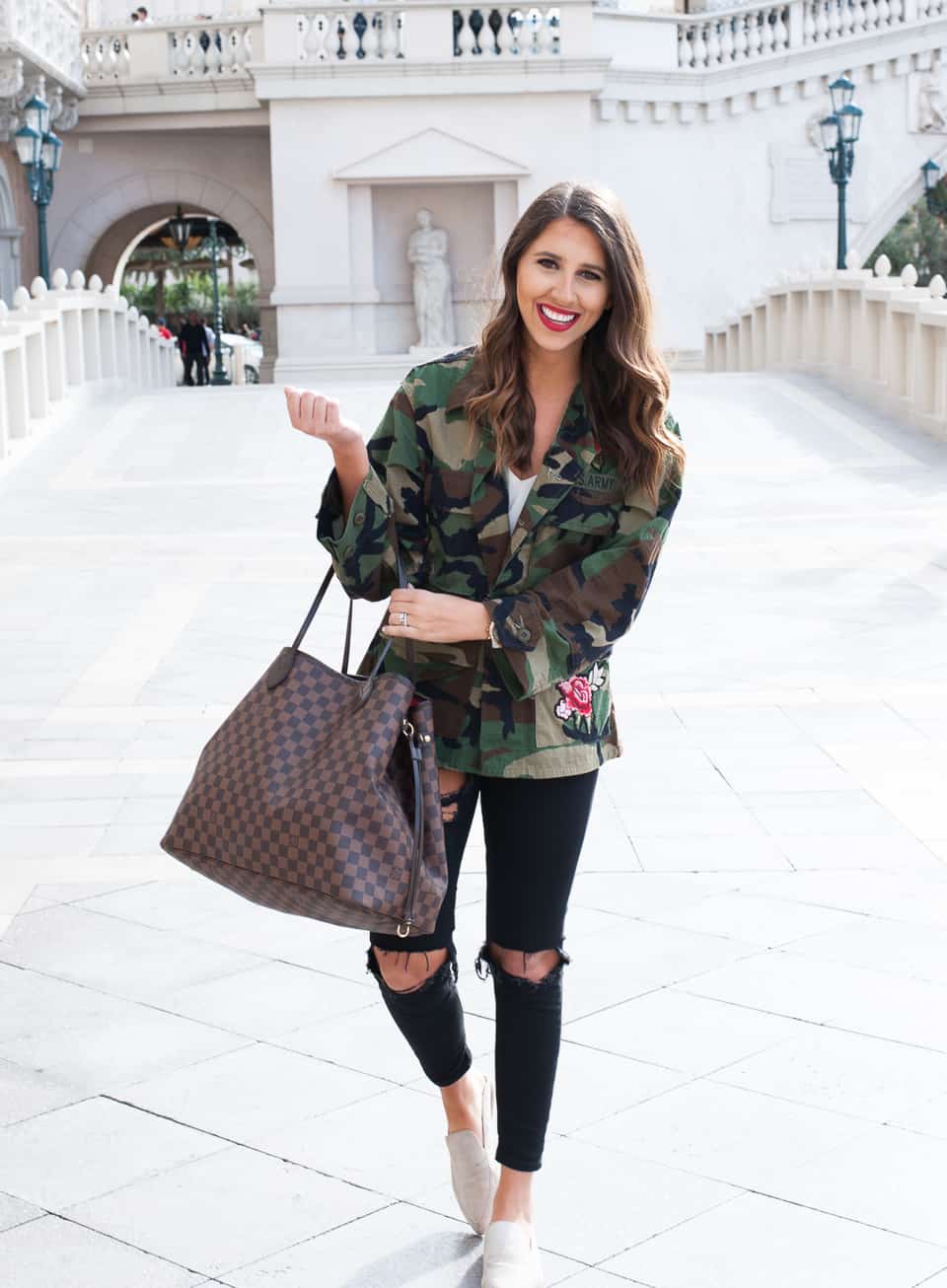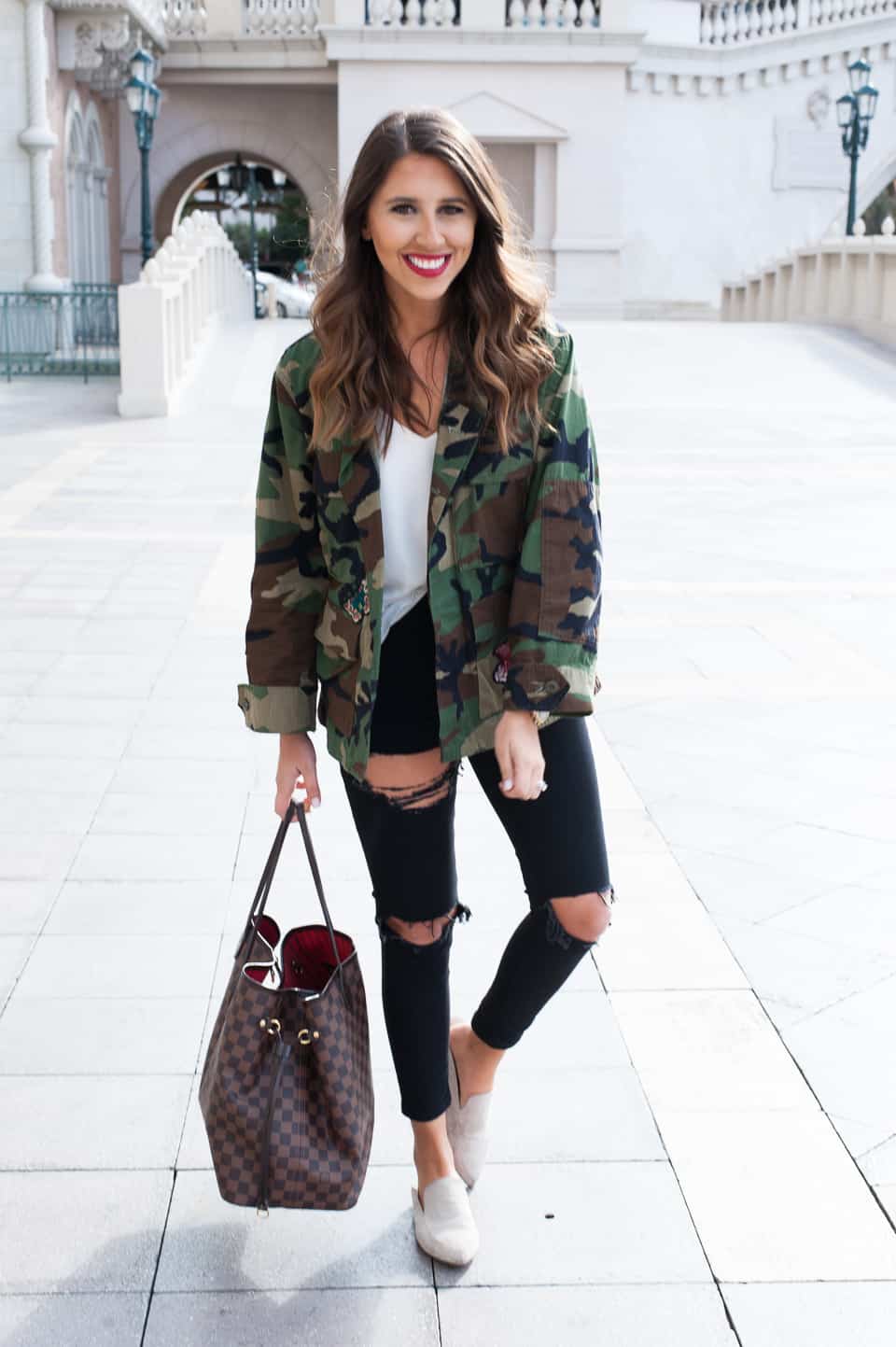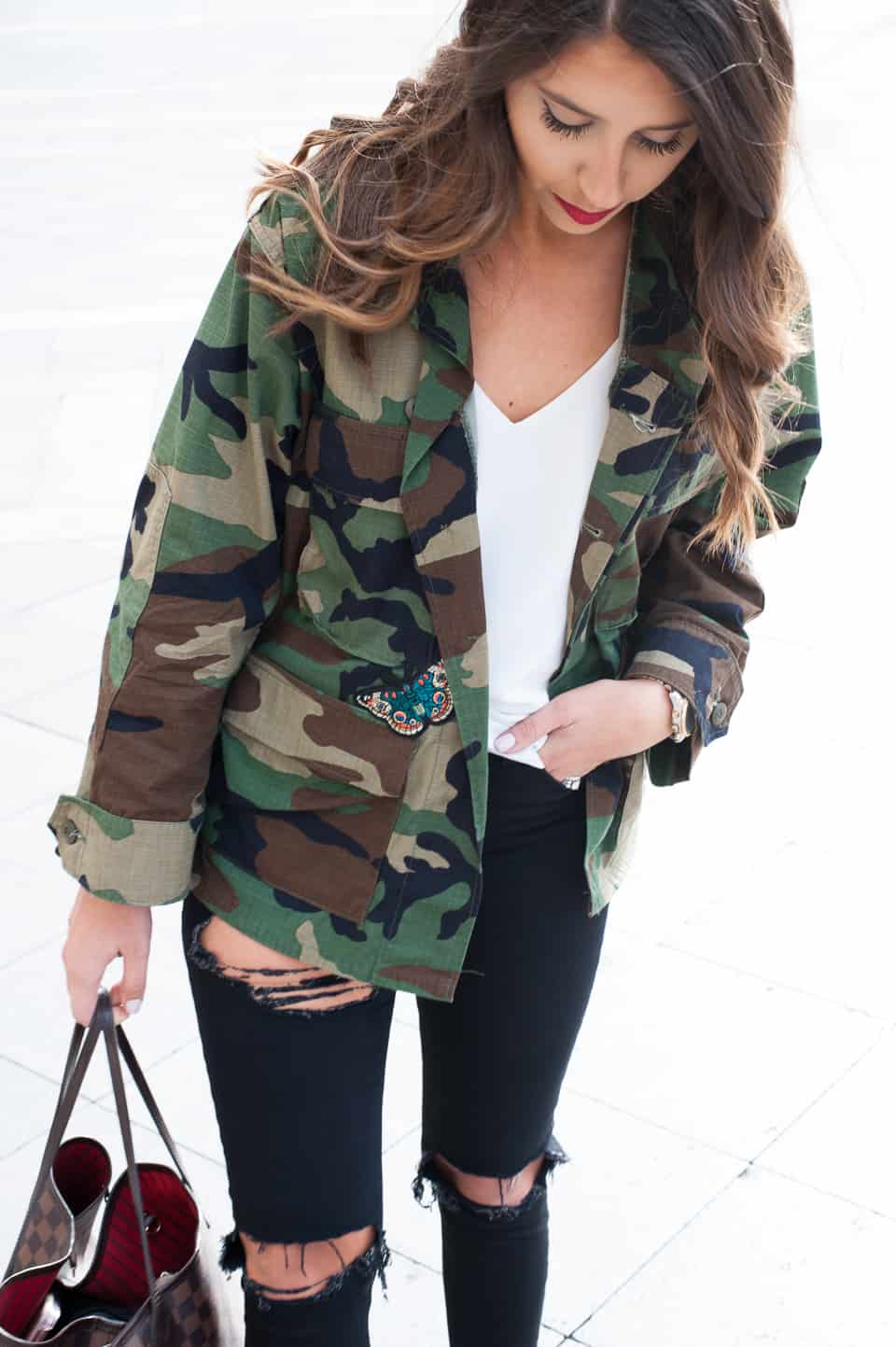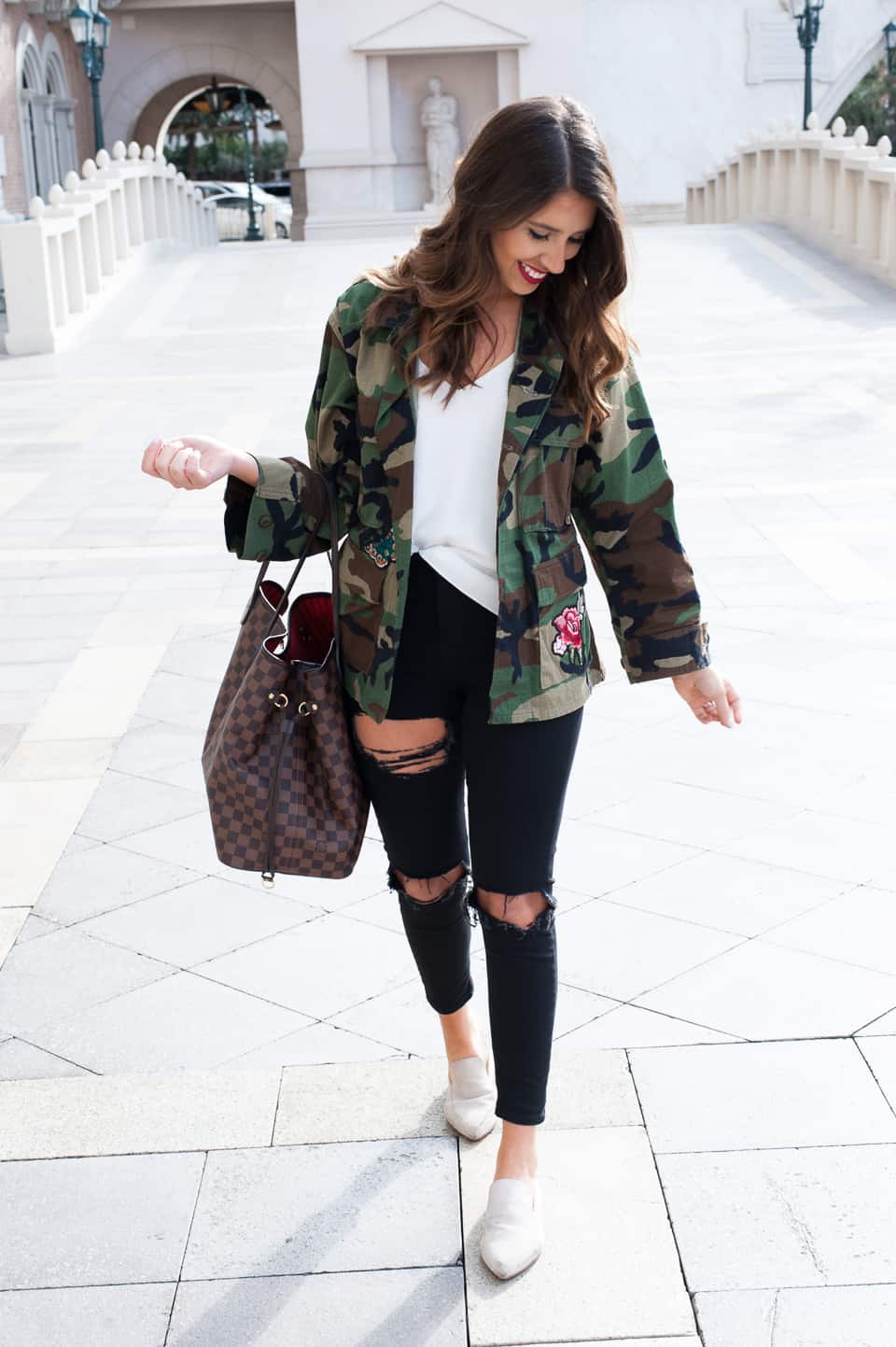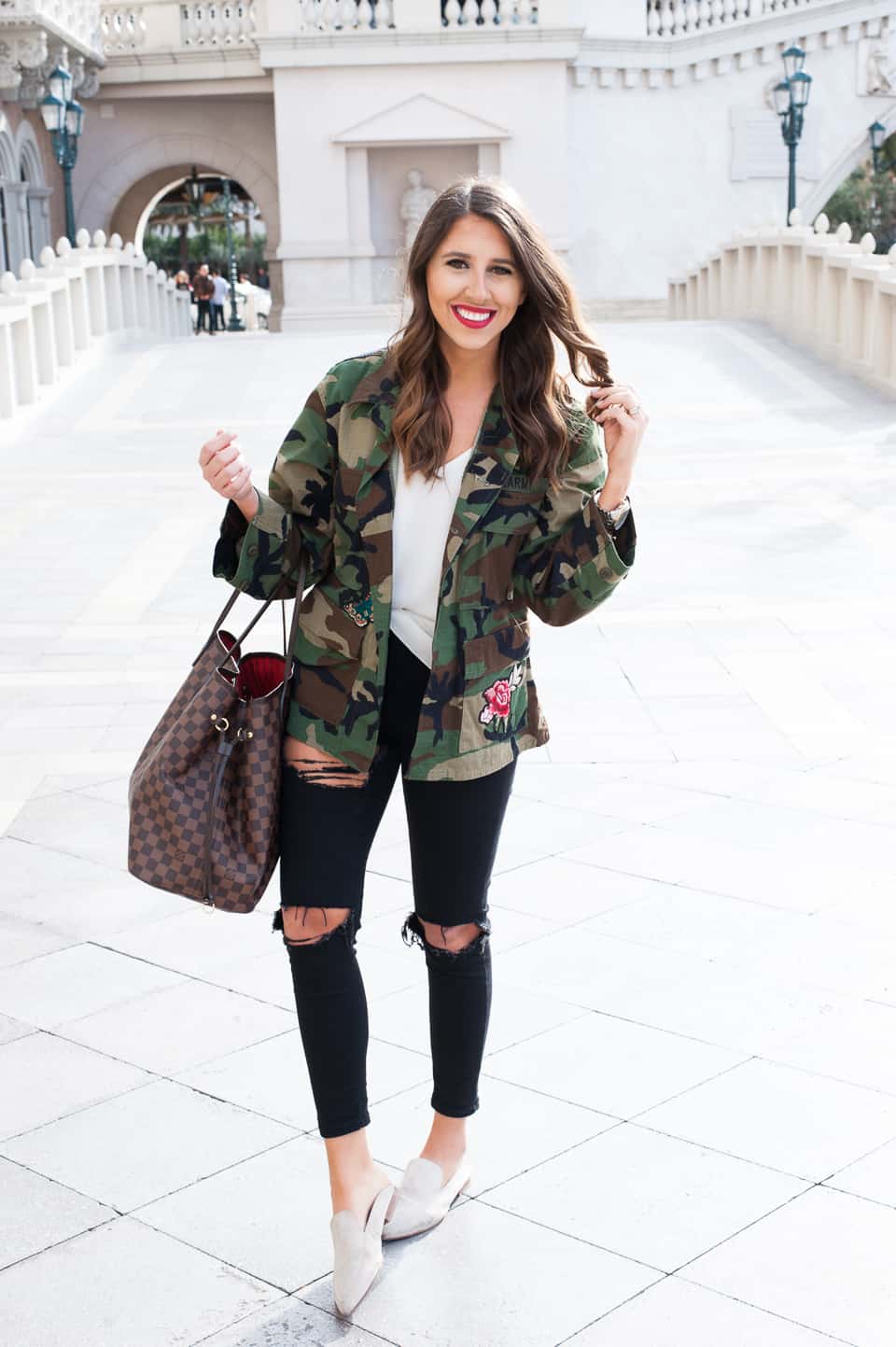 Jacket: Good Vibes (Similar) | Jeans: Topshop | Tank: Topshop | Shoes: Chinese Laundry
Hey everyone! Today you have the disappointment pleasure of reading a blog written by me, the guy behind the camera, Mr. Hubby (a.k.a. Ted). Dede's post that she spent writing last night did not save, and she is in meetings all day, so I thought I might jump in and say a few things about this outfit, my wife, and her passion for all things fashion. **Disclaimer: Dede has no idea I'm doing this….so it may be deleted soon 🙂
First, lets talk about this outfit. I literally have no sense of fashion, but I can tell when my wife is wearing a legit cute outfit. Before we began to take shots for Dress Up Buttercup, I we decided to take a stroll through the Venetian to find a place to get some brunch. Not sure if you all know this already, but Dede and fried chicken have a relationship that can't be compared! Luckily, we found Yardbird, which was probably the best fried chicken I've had (Note: I don't care much for fried chicken, but Dede was making noises when she was eating).
Back to the outfit. While taking our stroll through the Venetian, I couldn't tell you the number of people either giving Dede compliments (i.e. "Oh my gosh! Your jacket/outift is so legit totes cute!), or just straight staring at her as we were walking by. I can tell you that Dede never knows when someone is staring at her, but as her husband, I've got a sixth sense for these things. Needless to say, everyone loved the design of this jacket! The added design at the bottom is probably what made the jacket "pop" so much.
Next, let's talk about the wife for a second. When it comes to life, no one is more caring, sweet, and thoughtful than Dede. She always goes above and beyond for other people, for no reason at all, but to just make them smile. I remember early on in our marriage, I came home after work and I saw her wrapping a gift for someone. I asked if it was someone's birthday and she said "Nope! I just came across it and I know they would love it!".  I mean for real!? Who does that? I mean my friends are cool and all, but I'm not about to go buy them a gift for fun. But this is who she is. Constantly thinking about how she can make those around her happier.
Naturally, when she started this blog, she had no idea where it was going to take her, but she put in her heart and soul into it, working countless hours at all times of the day to make sure she was giving her readers/followers the best product they could get. There was, and still is, this unbelievable drive to be the best she can be for all of you. She sincerely cares about every single one of you, it's almost similar to her relationship to fried chicken! (She's not going to like that I said that lol).
This past year, there has been times full of a mixture of emotions, but she has consistently persevered through it all, and I couldn't be more proud of her. I know there a countless number of prayers around my wife, and I couldn't be more thankful to my Lord that He has consistently shown us His hand through this journey. My prayer for her as that she continues to seek the Lord's strength in all areas of her life, and to continue to use this platform for His glory. Without Him, all this is meaningless. Psalm 27:7-8 "The LORD is my strength and my shield; my heart trusts in him, and he helps me. My heart leaps for joy, and with my song I praise him. The LORD is the strength of his people, a fortress of salvation for his anointed one." There is nothing more satisfying than that!
I hope you enjoyed this novel for the day!! I tend to ramble, so that was me rambling on a computer. Oh, also, links above to everything, and thank you so much for following my wife through this journey!
-Ted